The Happy Pear: Beetroot & Mushroom Wellington
Mon, 11 December 2017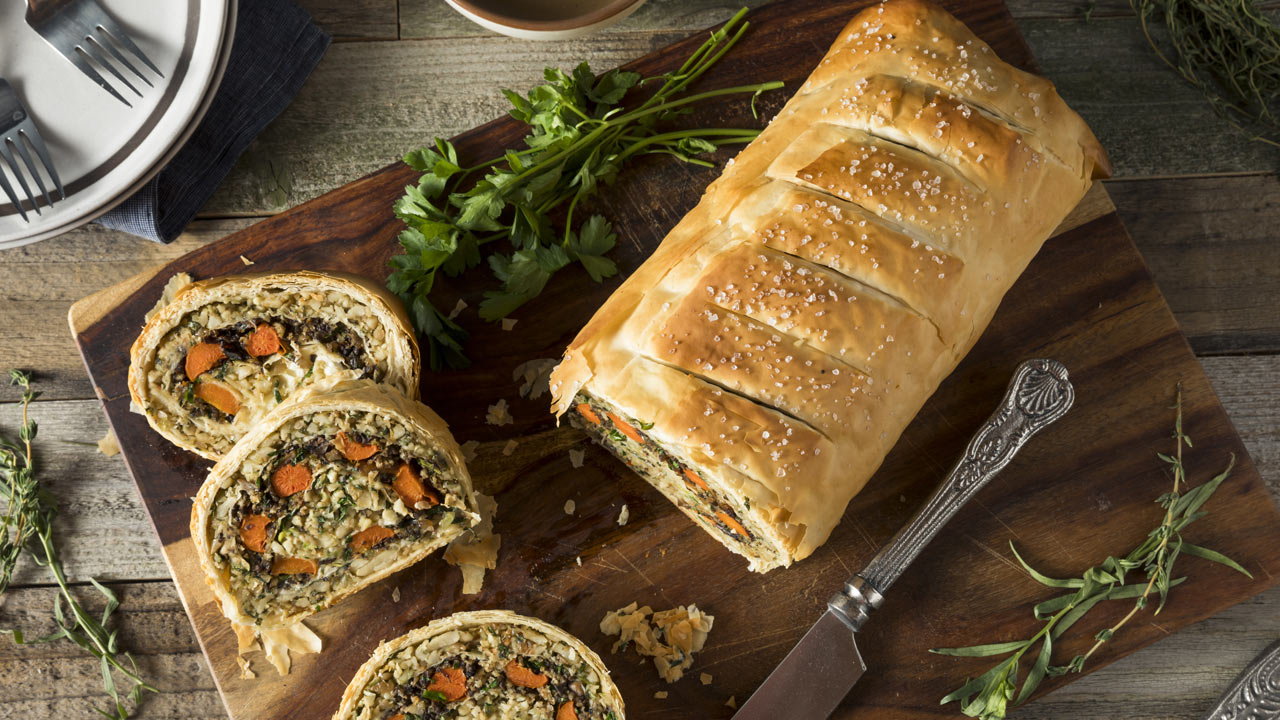 INGREDIENTS
· 1 roll of defrosted frozen Puff pastry
· 4 tbsp oil
· 2 red onions
· 2 cloves garlic
· 2 carrot (approx 200g)
· 1 medium beetroot (200g)
· 200g cashew nuts
· small bunch of fresh thyme (10g)
· small bunch of fresh sage (10g)
· 200g cooked oyster mushrooms
· 3 tablespoons tamari
· 1 teaspoons salt
· ½ teaspoon ground black pepper
· 150g of cooked couscous or quinoa (for quinoa follow instructions on pack to cook)
INSTRUCTIONS
1. Preheat the oven to 180 degrees Celsius.
2. Finely slice the onion, garlic. Grate the carrot and beetroot finely. Remove the thyme from the stalks and roughly chop the sage ensuring to remove any stalk.
3. Roughly chop the oyster mushrooms.
4. In a hot pan add 2 tbsp of oil. Once the oil is hot add the onions and garlic and fry at a high heat for 4 mins until the garlic starts to golden.
5. Add the mushrooms next and cook for 2 mins, then add the tamari and fry for a further 2 mins ensuring to stir well so that the tamari is well distributed amongst the mushrooms. Add the grated carrot and beetroot and 1 tsp salt and cook down at the high heat for 3-4 mins stirring regularly to avoid burning.
6. Remove from the heat.
7. Toast the cashew nuts in a dry pan for 6-8 mins until they start to brown. Chop roughly.
8. Add to the pan along with the thyme, sage, black pepper and quinoa and mix well.
9. Take out the puff pastry and roll out. Put the sheet on its side so that the long side is perpendicular to where you are standing. Add the mixture to the centre and roll the pastry ensuring it closes properly. Pinch the pastry to help it seal. Roll is over so that seam side is down and using a pastry brush apply a little oil to help the pastry golden. Bake for 20 mins until golden.
10. Remove cut and enjoy!