The Happy Pear Double-Choc Brownie Cake
Tue, 10 July 2018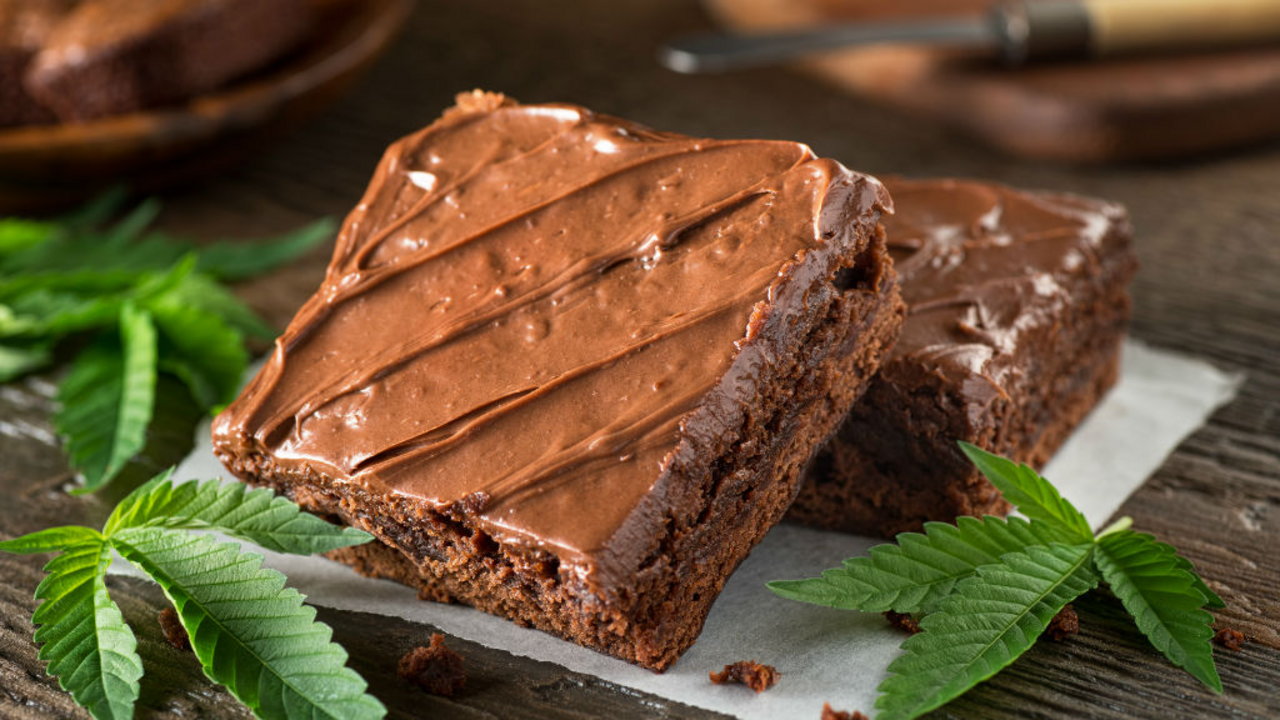 Ingredients:
For the Cake
· 100g ground almond
· 150g white flour
· 2 teaspoons baking powder
· 25g cacao powder
· 1 teaspoon sea salt
· 150g coconut oil
· 250ml maple syrup
· 50ml rice milk
· 1 tablespoon vanilla extract
For the chocolate mousse icing
· 200g dark chocolate
· 150ml boiling water
· A handful of ice
· Cold water
For the filling
· 100g yoghurt of choice (we like coconut)
· 125g fresh raspberries
Method:
1. Preheat the oven to 160°C/325°F/gas mark 3. Line a brownie tray/baking tray with high sides with baking parchment.
2. Sift the ground almonds, flour, baking powder, cacao powder and salt into a large mixing bowl, and stir everything together.
3. Melt the coconut oil in a small saucepan over a high heat. Remove from the heat and add the maple syrup, rice milk and vanilla extract. Mix well, then make a well in the centre of the dry ingredients and pour in the wet ingredients from the saucepan. Mix well - it should result in a very wet brownie batter.
4. Pour the brownie batter into your prepared tin so that it's about 3cm deep and bake in the preheated oven for 25 mins. Remove and leave to cool.
5. Now make the chocolate mousse. Get 2 metal or plastic bowls, one a bit smaller than the other one. Into the larger one, put the handful of ice and about the same volume of cold water.
6. Chop the dark chocolate into small pieces, put into the second bowl and pour the boiling over. Using a whisk, stir continuously until the chocolate has all melted and it is like a hot chocolate.
7. Take the bowl of melted chocolate and place this bowl inside the bowl of ice and cold water. Stir continuously for 3-5 mins. The ice bath lowers the temperature of the chocolate, allowing the cacao butter to harden and emulsify with the water, resulting in an amazing moussey texture! Stir until the chocolate sticks to the whisk without falling when you hold it above the bowl.
8. Next, take the cooled cake and cut into 8 similar-sized brownies. Place 4 brownies on a plate to make the base of the cake, ensuring they are all touching in the middle. Spread half the chocolate mousse on top of these. If the mousse is too thick, add a little more boiling water to give it more of a buttery texture.
9. Next, spread the yoghurt on top of the chocolate mousse and evenly distribute half the raspberries on top. Place the remaining 4 brownies on top of that, again ensuring they are all touching in the middle. Cover with the remaining chocolate mousse and top with the rest of the raspberries. Cut into smaller brownie cake bites or leave as large brownie cake portions.