< Back to Announcements
Announcement
Virgin Media Television Announces New Season Schedule
31st August, 2023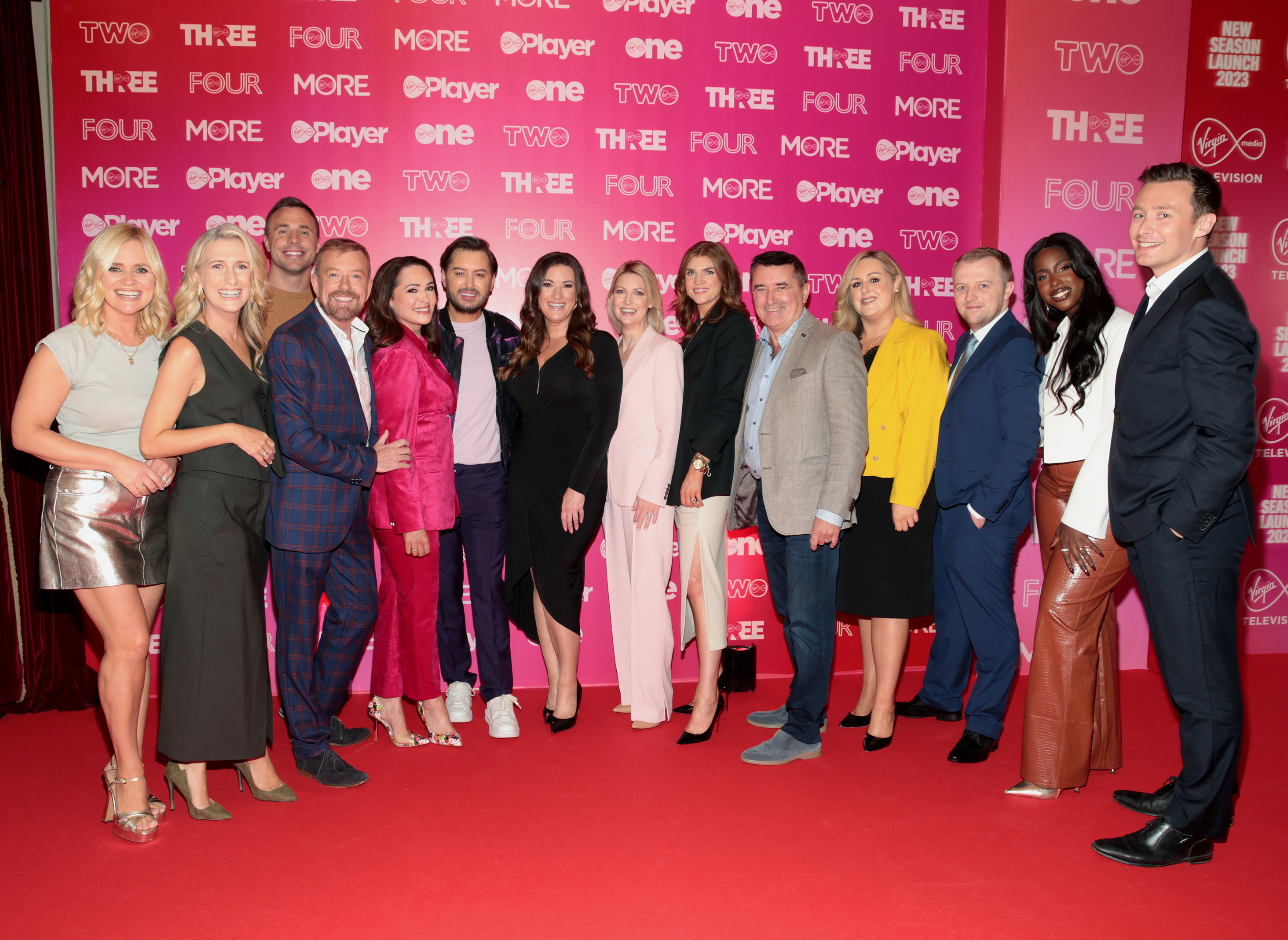 Virgin Media Television today announced details of its New Season Schedule which promises to bring viewers the very best of free-to-air content and original programming; from prime entertainment, gripping Irish and international drama, real life Irish true-crime stories and docuseries, news, and current affairs to all your favourite sporting action.
Get ready for a brand-new dating show with a twist, 'Grá ar an Trá'. This is the Gaeltacht like you've never seen it before! Bean an Tí, Síomha Ní Ruairc and James Kavanagh, have thrown open the doors of their 'Love Teach', where under the watchful eye of Cinnire Gráinne Seoige, 10 singletons will be put through their paces to learn Irish to find love. Contestants will split their time between flirting and foclóir with the ultimate aim of being crowned the 'couple with the most focail', walking away with €10,000! Focail up, things are about to get rocky!
Brian Dowling and his fashion-forward team of interior designers, up-cyclers and tradespeople are on a mission to prove you can achieve the home renovation of your dreams, without it costing the earth. 'The Salvage Squad' will transform Ireland's tired, old rooms into unique and stunning showstoppers. The twist; they can't buy anything new. With a maximum spend of €1,000 and just three days, they must only use second-hand, free-cycled, salvaged, up-cycled, homemade, or pre-used materials to create their dream rooms. This is the home makeover show for the world we live in today, kicking off as part of Climate Action Week in October and supported by Coimisiún na Meán's Sound and Vision funding scheme.
Ireland's favourite girl next door Lucy Kennedy is back for another series of 'Living With Lucy'. She lodges with a new line-up of celebrities including; media personality and model Katie Price, sports broadcaster Des Cahill, Coronation Street star Simon Gregson, comedian Andrew Maxwell, and former footballer turned pundit Richard Sadlier.
The widely acclaimed 'Gogglebox Ireland' is also back for another season, with the nation's favourite armchair critics returning, along with some new faces. We bring you into their homes, as they commentate on the hottest television shows in real-time.
Gripping true crime comes to the fore on Virgin Media Television, kicking off on 4th September with 'Confessions of a Crime Boss'. This ground-breaking three-part series sees Ireland's most notorious criminal lift the lid on his life of crime and the role his gang played in carrying out the murder of brave crime journalist Veronica Guerin, an atrocity that would change the way the country was policed forever and would be the beginning of the end for the former drug baron.
The highly acclaimed series 'The Guards' also returns for a second series on 4th September, delving into the world of gangland crime, following the guards in their fight against Ireland's criminal networks. 'The Guards' explores how young men are enticed into criminality, the dangers they face and the devastating impact it has on their lives. It also sheds light on the grave issue of domestic violence, as we follow the ground-breaking and unprecedented first ever conviction for coercive control in Ireland.
'To Die For: Cosmetic Surgery in Turkey' sees Virgin Media News investigate the rising number of people travelling from Ireland to Turkey for medical and cosmetic procedures. Why are they going? How does it work? And who's responsible if it all goes wrong? With 1.2 million people going under the knife in Turkey each year, news correspondent Zara King travels to the country to meet surgeons treating Irish patients, while back home we hear from families who have lost loved ones and are still waiting for answers.
'Faith & Courage: The Sinéad O'Connor Story' follows the career of the late and celebrated Irish musician. One of the most controversial and influential figures in pop music, O'Connor's raw, powerful voice and outspoken personality made her a star, but her willingness to challenge the status quo also made her a target of criticism. This documentary tells the story of O'Connor's life and career, from humble beginnings in Ireland to her remarkable rise to fame in the early 1990s. It explores her struggles with mental health, her activism, and how her contributions to music and culture have been reassessed in the aftermath of her untimely death.
Over the course of a year, we follow the journeys of staff and families at the busy neo-natal unit at Cork University Hospital. With unprecedented access, 'Born Too Soon' gives a unique insight into the dedication and care that goes in to offering life-saving treatment to vulnerable newborns at the Cork hospital. This series is supported by Coimisiún na Meán's Sound and Vision funding scheme.
Virgin Media Television will continue to be home to some of the biggest international shows. The godfather of reality TV, 'Big Brother' makes its long-awaited return after a five-year absence. AJ Odudu and Will Best take over as the show's hosts, as a cast of house-mates lodge together under constant surveillance.
Keep an eye out for Davina McCall's 'My Mum, Your Dad' which follows a group of single parents who have been nominated by their grown-up kids for a second chance at love. Dubbed the 'Love Island for oldies', the single parents live together at a stunning country house retreat with one objective: to find true love. But there's a twist – unknown to the parents, their kids are watching their every move from a nearby location called 'The Bunker'. It's there in the surveillance room that they'll be able to witness all the action of their parents' journeys to find love, plus get the opportunity to play matchmaker and decide their mum or dad's dating fate.
Thrilling drama series 'Litvinenko' tells the story of Alexander Litvinenko, the former Russian Federal Security Services and KGB officer, whose death from Polonium-210 poisoning in November 2006 triggered one of the most complex and dangerous investigations in UK history. During police interviews, Alexander provided meticulous details from his hospital bedside about the events leading up to his illness, which he knew would prove fatal. His information would ultimately help detectives track down two Russians who had poisoned Litvinenko with the highly toxic radioactive substance, Polonium-210.
'The Long Shadow' is a seven-part true crime series, detailing the desperate five-year manhunt for serial killer Peter Sutcliffe – commonly referred to as The Yorkshire Ripper – who was finally caught and imprisoned for life in 1981.
Familiar favourites 'I'm A Celebrity Get Me Out Of Here', 'The Voice' and 'The Graham Norton Show' all have new instalments. Along with people's favourite soaps including 'Coronation Street', and 'Emmerdale'.
Sport takes centre stage this autumn. There will be live coverage of the 'Rugby World Cup 2023' throughout the entire tournament, as Ireland look to make history in France. Live games include Ireland's group opener against Romania on September 9th, the crunch Pool B game against Scotland, and their potential quarter-final along with the other ties from the last eight that day. Other live games include South Africa v Scotland, Wales v Australia, the semi-final, the third-fourth place play-off and the world cup final itself.
There's no shortage of top-class football, with live coverage of the Euro 2024 Qualifiers, UEFA Champions League, Europa League and Conference League, along with SSE Airtricity League of Ireland Premier Division football. The season kicks off this Friday 1st September with the highly anticipated Dublin Derby between Shamrock Rovers and Bohemians FC at Tallaght Stadium.
The popular 'Sport Stories' series continues as WWE superstar Sheamus sits down with Bernard O'Toole for an in-depth interview about his life inside and outside the ring. The best of UK horseracing also features, along with weekly WWE and PGA Tour coverage. Virgin Media Television will broadcast NFL action all season, up to and including February's Super Bowl.
VMTV's homegrown shows will continue to offer viewers the very best in live entertainment across the day, delivering 38 hours of live, native content per week.
'Ireland AM', the country's longest-running breakfast television show, will wake the nation seven days a week, setting the daily agenda, breaking stories and bringing viewers a mix of showbiz, fashion, beauty, food, health, sport and so much more.
'The Six O'Clock Show' continues to host some of the biggest international and local names for chats and updates. Fabulous food, musical performances, and regular experts on everything from consumer affairs to the latest trends round off the entertainment show live every weeknight.
'Virgin Media News' will continue to keep viewers fully updated throughout the day with bulletins at 12:30pm, 5:30pm and 7:00pm while Gavan Reilly, Richard Chambers and Zara King team up once more for 'The Group Chat', discussing all the latest news and current affairs.
Claire Brock and Ciara Doherty are back for a new series of 'The Tonight Show', which returns on 4th September with nightly guests discussing all the latest developments in Irish politics and beyond.
Virgin Media Player, home of the most streamed show in the country last year 'Love Island', will be reloaded, ready to watch whenever and wherever you need this autumn. New drops include 'Keeping Up With The Kardashians', 'Real Housewives of Beverly Hills' and 'Below Deck Mediterranean'.
Anthony Nilan, Head of Content Strategy, Virgin Media Television said: "Public service broadcasting remains at the heart of Virgin Media Television and this season reflects our continuing commitment to deliver informative, engaging and entertaining content to our viewers nationwide. As we celebrate our 25th autumn schedule, today also marks the fifth anniversary of the Virgin Media Television brand. This season is a testament to the responsibility we hold to create a positive impact in the Irish broadcasting landscape, delivering an important alternative voice to Irish viewers.
"Building on a year that has seen us achieve record share of viewing, we're going to close out 2023 with sport taking centre stage with the Rugby World Cup 2023 and a schedule offering something for everyone with documentaries, drama and entertainment. We're continuing to celebrate and promote home-grown creativity with new and returning original Irish formats and series. Our home-produced programming remains rooted in values and interests that resonate with our audience, and reflects the complexity and richness of Irish society, led by our daytime, news and current affairs output.
"With Virgin Media Player on track to record its best year to date, we'll be continuing our growing investment in the platform. In response to viewer demand to view content their way, this autumn will see some exciting new shows stream exclusively on Player as soon as they drop internationally, meaning our viewers won't have to avoid dreaded spoilers and can be part of the conversation on their own terms".
Virgin Media Television's New Season Schedule has something for viewers everywhere, broadcasting nationwide across Ireland, free to air and on the Virgin Media Player.