< Back to Opportunities
Opportunity
Let's Talk Rugby World Cup 2023
20th July, 2023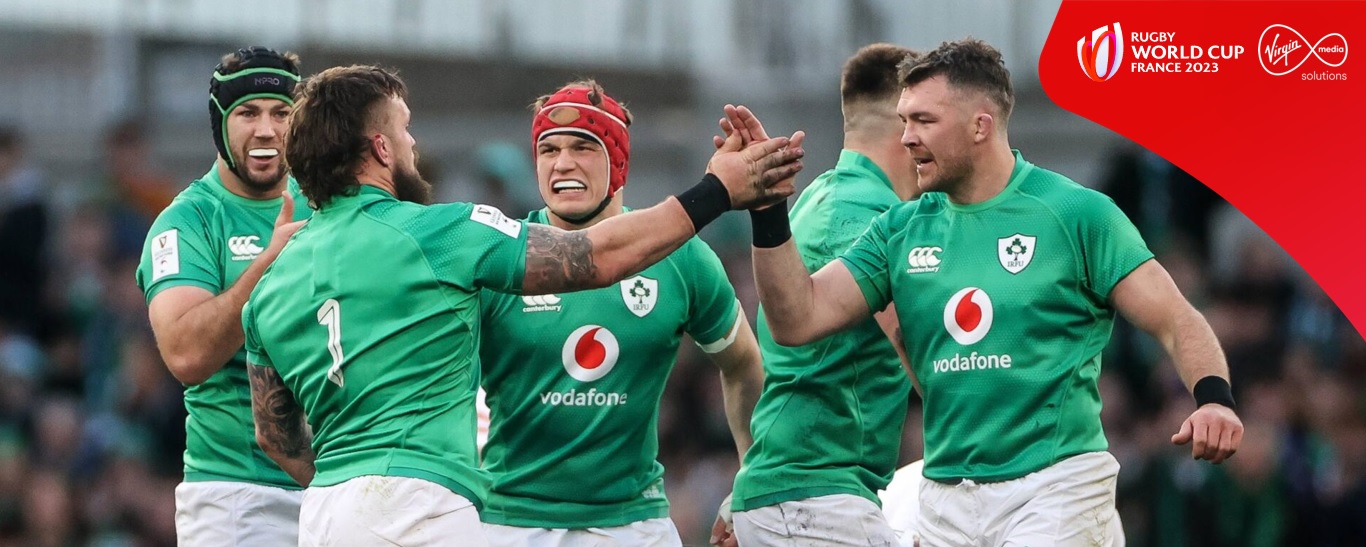 Get your brand in the scrum this Autumn
We are now just weeks away from the jewel in the crown of the rugby calendar, Rugby World Cup 2023. After securing an impressive Guinness Six Nations Grand Slam earlier this year, Andy Farrell's Ireland side will look to finally deliver on the world stage.
We have opportunities and packages for all budgets, including Spot and VOD packages as well as captivating and engaging innovations like VM Link. Check out what we have on offer below and reach out to the Virgin Media Solutions Team today.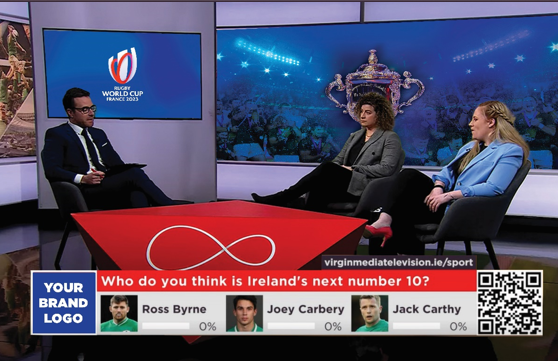 Rugby World Cup VM Link Partner​
Sponsorship Opportunity ​
VM Link is VMTV's new engagement tool that gives your brand an excellent opportunity to engage with Rugby World Cup 2023 viewers over the course of 24 games live on Virgin Media Television. ​Lead the conversation and have your brand front of mind by sponsoring this exciting non-skippable editorial engagement tool. VMTV is the first free to air broadcaster offering a 2-way conversation in real time.​This tool will drive engagement with measurable KPI's while the nation is glued to the tournament.
Media Fee for 24 games: €108,000 (includes production)

Twitter Amplified​
Rugby World Cup 2023
Virgin Media Solutions & RTE Media sales are delighted to provide near live content from this Autumn's Rugby World Cup. This Twitter Amplify package will give your brand 6" pre-rolls in front of nearly 100 near lives clips, from in-game action to the biggest studio clashes and talking points.
Full Tournament:
Number of Clips - 100+
CPV - €0.02
Video Views - 3M
Cost - €60,000
Knockout Stages:
Number of Clips - 20+
CPV - €0.02
Video Views - 1.75M
Cost - €35,000
Group Stages:
Number of Clips - 80+
CPV - €0.02
Video Views - 1.25M
Cost - €25,000
For more information on Twitter Amplify email - ClientSolutions@virginmedia.ie

Rugby World Cup Competition​
In Studio Analysis and Promo Airtime​
Give Virgin Media's Television viewers the chance to WIN an incredible prize with thanks to your brand. ​Run a 40" promotional competition around one VMTV Rugby World Cup week of your choice. ​Choose one week from 8 weeks of live Rugby World Cup matches on VMTV. ​Your competition will run in studio airtime, a premium non-skippable format and in promotional airtime across Virgin Media's 4 channels. (2-3 games per week)​​
Media Fee for 1 competition week: €20,000 (does not include prize, to the value of €5,000 or greater)​
Subject to availability, first come first served, 8 available. ​
Brand and prize are subject to approval by RWC regulatory body.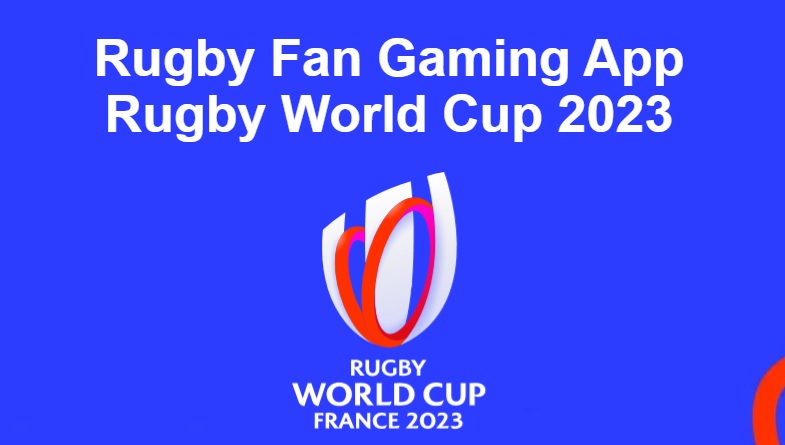 ​
Rugby Fan Gaming App ​
Sponsorship Available
A partnership opportunity taking rugby games to a whole new level. Brand new gaming experience with VMTV. ​Working with your brand to produce a custom-made mobile game designed to complement the Rugby World Cup Tournament.​Captivate the RWC audience on VMTV with thrilling viewer versus viewer, mobile tournaments, with great prizes to be won (to be provided by client) for the winners! ​Capture the attention of players simultaneously – pre, post or even during half time breaks of the matches. The combination of fun games and live mass-participation technology, the experience provides unrivalled thrill, whilst connecting people with others, with thanks to your brand.​VMTV are looking for a brand to partner with across the entire RWC tournament. VMTV will work closely with brand to develop the game ensuring optimum branding opportunities and key messages.​
Partner will receive the following amplification package:​
€75,000 worth of spot and VOD advertising on Virgin Media Television.​
Logo and branding featured heavily throughout the game.​
On air promotional package minimum of 100 promos in total.​
Supporting social media across VMTV channels, minimum of 8 posts per channel.​
Media Fee: €200,000 (not including prize fees)

Ident Takeover on Virgin Media One ​
Sponsorship Available
Opportunity for your brand to activate and run a premium Ident Takeover across Virgin Media One and Virgin Media Two for the duration of the World Cup On Virgin Media Television, 8 weeks in total. ​Your brand will be incorporated alongside the channel identity and will air across the daytime and peak schedule at the top of every hour for 20" with a minimum of 10 airings per day. ​Bespoke Ident creative will be produced in house using your brands existing assets.​
Media Fee for 8 weeks: €200,000​
Production Fee: €3,000 – €20,000 depending on the amount of Ident creatives required.

Social Media VMTV Fan Zone: Gold Package
Taking inspiration from the England National Team's "The Lion's Den" content, The VMTV Fan Zone (sponsor naming rights option available) aims to create an unmissable Social Club that puts Irish rugby fans at the centre of the conversation – Unmissable chat and craic!​Hosted by a well-known media personalities, the VMTV Fan Zone will include everything from interviews with ex-players and special guests, to challenging & exciting fun games and even an odd prize or two (Provided by sponsor). The wide variety of social content aims to get rugby fans in Ireland over the FOMO of not being in France!
6 X Weekly Vodcast: Looking to fill the longer form content void, our weekly Vodcast will have extended interviews, in-depth chats and a weekly challenge leader board that will be shared across our YouTube Channel. These clips can be repurposed and used as promotion across additional social media channels. Talent to include a mix of VM SPORT Pundits and Celeb Guests.​
Our Weekly Vodcast will be amplified with additional Bite Sized Bits: From Table Tennis challenges to fast fire questions and upcoming match predictions, these short 1.5-minute bite sized pieces of content aims to keep our social audience engaged and hungry for more, while driving traffic to series. ​
Fan Zone Roadshow: To make both our Fan Zone and content as engaging as possible we will bring our Fan Zone on the streets of major Cities in Ireland to get fans involved in challenges, chats, and a chance to win some amazing rugby related prizes​.
​Including €3,000 Social Media Promotion​
Total Media Fee: €50,000
Social Media Silver & Bronze Activation
Silver Activation Opportunity: ​Shoot Your Shot ​
6 X Weekly Content Pieces filmed across 6 locations where we set members of the public a mix of challenges and trivia to win prizes!​
Each week a new location will be announced across VMTV social as we challenge the first 6 people to get there to take part. (Think Ant & Dec SNTA location challenge)​
Sponsor 5" logo placement included every 30"​
Content to be edited and promoted across VMTV Platforms​
Including 2k social media promotion.​
Total Cost: €25,000​
Bronze Activation Opportunity ​
Your Shout on RWC '23​
6 X Weekly Vox Pop Series where we take the big RWC issues of the week to the public for their thoughts and insights post across VMTV Social Platforms. ​
Sponsor 5" logo placement included every 30"​
Series Naming right open for discussion with sponsor​
Prize opportunity open for sponsor to supply​
Estimated 90sec Duration of each​
Clipped shorter form versions cross promoted across Stories, feed, and reels.​
Including 2k social media promotion.​
Total Cost: €18,500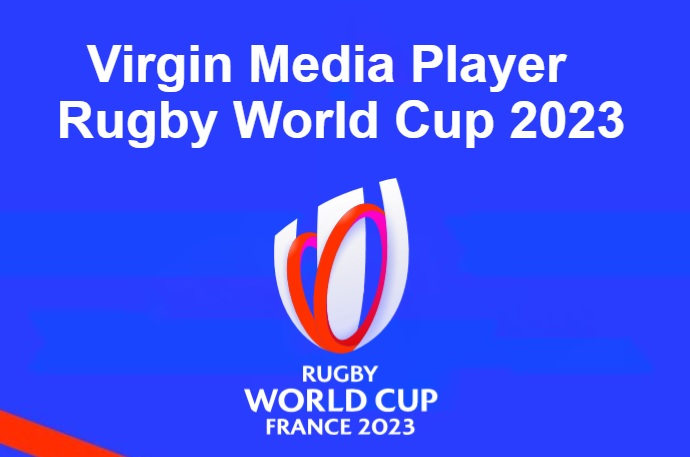 Virgin Media Player​
VOD Packages Available: ​RTÉ and Virgin Media Television will deliver the packages 50:50​
350,000 impressions €19,250​
500,000 impressions €27,500​
Budgets for all joint packages will be split 50/50 between RTÉ & VMS and a separate Caria must be sent to both parties​
Once a booking has been confirmed, 100% cancelation fee will apply to any cancellations​
Costs are fixed and non-reconcilable​
VOD rates based on 0-30 sec and TV rates based on 30sec​
Digital packages include live and VOD