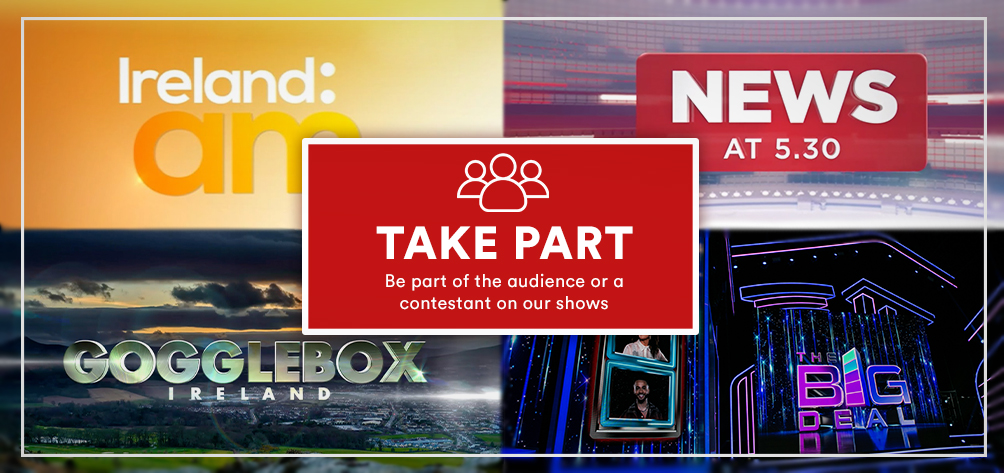 Having already brought you a host of hit Irish shows from our state of the art Virgin Media Television HD Studio, including Keith Barry: Brain Hacker, The Lie and Crossfire, now it is your chance to get involved and take part in some of Virgin Media Television's incredibly exciting new shows.

The Great Big Irish Thank You
The Great Big Irish Thank You hosted by Muireann O'Connell for Virgin Media One in association with Independent.ie, is a heart-warming, inspiring and topical TV event at this landmark time in Irish history. With music, celebrity chats and filming from around the country, this special show will entertain and shine a light on those who we are all thankful for in these unprecedented times. It's time to showcase how incredible the nation has been and continues to be during the Covid-19 crises.
So we want you at home to be part of The Great Big Irish Thank You. Who would you like to thank? Did your local shop deliver food when you couldn't get out? Did you mother, brother, sister, friend call you and make you laugh when you needed it most? Or was there a complete stranger who lent a hand in your hour of need? It's the small acts of kindness that have meant the most in the last few months so let's celebrate them. What we want you to do is send us your videos telling us who you want to thank and why.
Please film your video the following way:
Turn your phone on its side and film LANDSCAPE
Make sure we can SEE you and HEAR you
Once you've filmed your video please send it to:
Email: thankyou@tyrone-productions.ie or WhatsApp: 087 680 8315
Eating With The Enemy
Are you curious? Are you opinionated?

Have you ever wondered what it would be like to spend time with someone who is completely different to you?

Eating With The Enemy is a brand new TV series where strangers with opposing views come face to face and have a real-life conversation over dinner. Maybe we all have more in common than we think?

Eating With The Enemy is produced by Animo TV for Virgin Media Television. If you're interested in being on the show, just fill out the application here.

Join the cast of a brand new series of Gogglebox Ireland
Gogglebox Ireland is coming back to Virgin Media Television for a brand new series this autumn and we want to hear from Ireland's most opinionated telly lovers.
The team behind the show that gives you a rundown of the most weird and wonderful telly from the last seven days are looking to hear from fathers and sons, brothers and sisters and even sports fanatics who just can't get enough of what's on the box. So if you know your Marty McFlys from your Marty Morrisseys and are just as gripped by the 'Bake Off' as you are by 'The Sunday Game,' then you might just find yourself joining the nation's funniest TV fans.
If you think you've got what it takes, then now's the time to get in touch by emailing casting@kiteentertainment.com.