Veggie Bake
Fri, 8 January 2016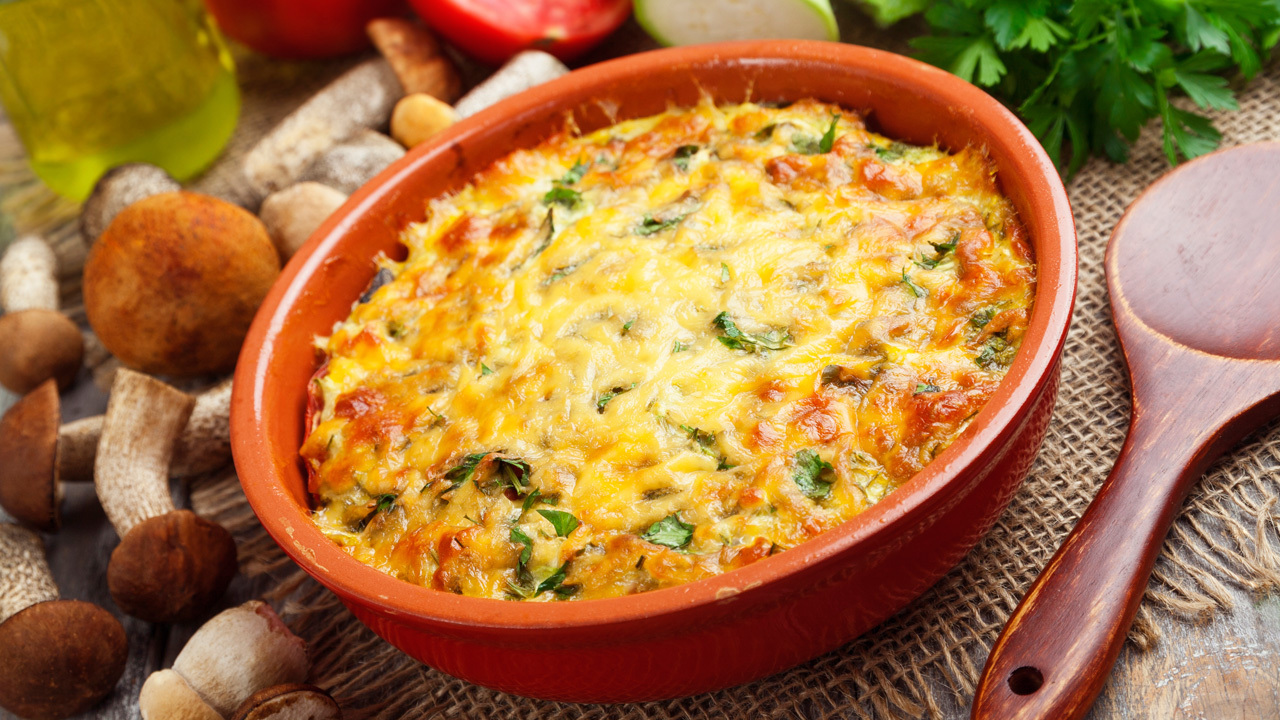 Chef is Oliver McCabe, Author of 'The Fuel Food Cookbook' bakes a 'Veggie Bake'

Ingredients:
1 litre of water
2 low-salt, yeast-free, gluten-free vegetable stock cubes
200g brown lentils, washed and rinsed
750g floury potatoes, washed and rinsed
200g baby spinach
200g sweet potato, peeled and cubed
1 tablespoon of olive oil
Salt and pepper to season
1 tablespoon harissa paste
1 teaspoon ground turmeric
2 tablespoons rapeseed oil
150g onions, diced
150g red peppers, diced
2 large cloves of garlic, minced

Method:

1. Preheat the oven to 180°C/gas mark 4/350°F.
2. Boil the water and add the vegetable stock cubes. Stir to dissolve and leave to one side.
3. To begin with, you need three medium saucepans. In the first saucepan, cover the lentils with 400ml of the vegetable stock. Simmer for 25 minutes, until the stock has been soaked up and the lentils have collapsed. Add some more water and continue to cook for 10 minutes more, until the lentils are cooked through. Drain off any excess water in a colander or sieve and set aside.
4. Another saucepan is for the potatoes. Again, add 600ml of the vegetable stock and medium boil for 20 minutes, until potatoes are tender.
5. While the potatoes are cooking, use a sieve to steam about 50g of the baby spinach over the saucepan. This will take 5 minutes. Set aside.
6. When potatoes are tender, place in a colander or sieve to drain off any excess water and set aside.
7. Then mash with a little olive oil & salt and pepper until fluffy.
8. The last saucepan is for the sweet potatoes. Cover them with hot water and simmer for about 20 minutes, until soft.
9. Drain and place the sweet potatoes back into the saucepan.
10. Mash with the harissa paste and turmeric until you have a thick purée.
11. Heat 1 tablespoon of the oil in a wok over a medium heat. Add the onions, peppers, the rest of the baby spinach and the garlic. Sauté for 5 minutes, until the vegetables are soft.
12. Add a little water to the base of the wok if it looks too dry. Remove from the heat once the vegetables are soft.
13. Grab a medium-sized deep baking tray or dish and grease with the remaining tablespoon of oil.
14. Add the mash potato as your base, using a spatula or wooden spoon to flatten it.
15. Next add the vegetable mix on top of the of the mash potato, again flattening it. (This is where you could add some meat or fish if you wanted to as the next layer.) Add the lentils and flatten them, then top it off with the lightly spiced sweet potato mash. As you do so, mix the steamed baby spinach on top and create your own
design.
16. Finally, pop the dish in the oven for 20 minutes, until the top is toasty.
17. Cut servings with a large knife and serve with a spatula.