[Closed] [WIN] Fatigue busting Liquid Iron from Blueiron
1st Jun 17 | Giveaways
To celebrate Blueiron's new look packaging, we have ten bottles of their Liquid Iron to giveaway.
A lack of iron can wreak havoc on your body, from causing extreme fatigue and tiredness, to weak and brittle hair, nail and skin.
As well as eating a well balanced diet, another easy way to get more iron into your system is to take an iron supplement such an Blueiron.
And to celebrate their brand new look packaging we are giving 10 lucky readers the chance to win a month's supply of Blueiron liquid iron.
With a great fruity taste and no metallic overtones Blueiron is rich in immune-boosting vitamin C, a source of powerful natural antioxidants, Vitamin B12, Folic acid and Zinc to help boost immune defences, along with added Biotin and Vitamin E.
Unlike many traditional iron supplements, Blueiron is gentle on the digestive system resulting in fewer of the side effects most commonly associated with iron supplements, such as constipation or abdominal pain.
It can be difficult to keep our meals rich in iron while balancing them in a way that ensures foods aren't working against each other in the absorption of this essential mineral.
Dr. Eva Orsmond, nutrition and weight loss expert says: "It is important for everyone to recognise the symptoms of iron deficiency and not to write off fatigue as a phase or blame it on the weather."
"Eating a well-balanced, healthy diet in the long term is essential to keeping iron levels topped up while a good daily iron supplement like Blueiron is sometimes needed to give your system a much-needed boost, whatever the season."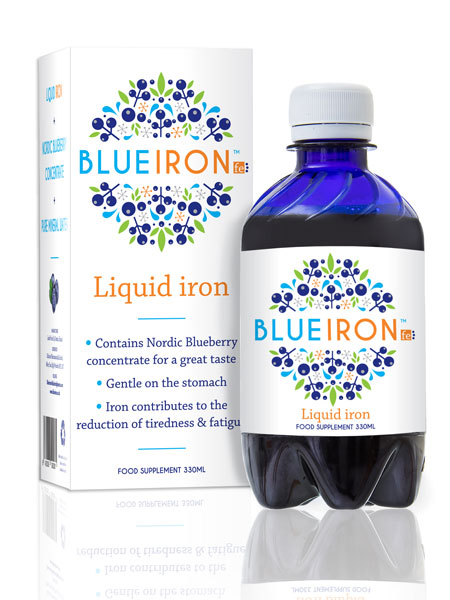 New look Blueiron can be found in store this midsummer and beyond in Boots, Hickeys, McCabes, McCauleys and Meaghers pharmacies nationwide.
A 330ml month's supply retails at RRP €17.49.
All you have to do to be in with a chance of winning a months supply of Blueiron is answer the question below.
Who presents Love Island?
This competition has now closed.