[Closed] [WIN] Want an exfoliating cleanser that's not harsh on your skin?
7th Oct 16 | Giveaways
This glycolic acid foaming cleanser is a perfect alternative to typical exfoliating scrubs
We all like to give our skin a good scrub every now and then. There's nothing quite like removing all those dead skin cells and leaving behind a face that's a smooth and soft as a peach! Finding a cleanser that isn't full of microbeads or that leaves your face a little red for hours afterwards can be quite the task.
REFORM Skincare might be about to change all that with their new cleanser. The award winning Irish based brand has just introduced its Glycolic Acid Foaming Cleaner to their range. The foaming cleanser promises to exfoliate dead skin cells and increase cell turnover which in turn improves skin overall quality, tone and texture.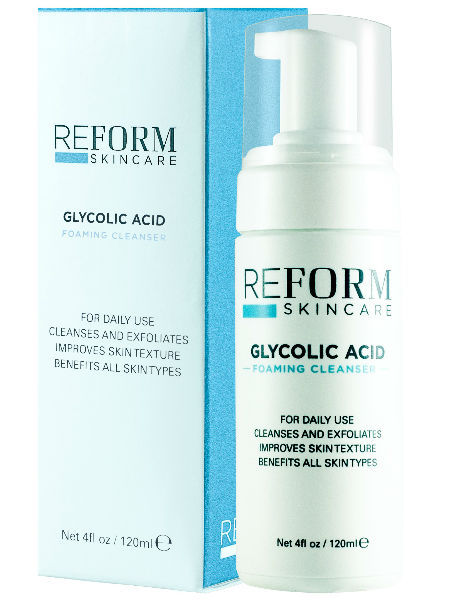 The magic ingredient in the cleanser is the glycolic acid, a naturally stimulating exfoliate, that's also known as an anti-ageing ingredient. Best of all, it can be used on all skin types!
We decided to test out the cleanser with our beauty panel. See what they had to say below and don't forget to enter the competition to get your hands on one for yourself!
Mary 33 Office Manager
I have used the same face wash for years so was delighted to try something new. I love Reforms serum so hoped that that the foaming cleanser would be just as good. It works great and you only need to use a very small amount to get a nice lather. It smells really fresh too. I've used it for two weeks now and can definitely see an improvement in my skin texture. I find that if I use it at night, my night cream is also more effective and sinks in to my skin better. Happy to add another Reform product to my skin care regime and would definitely recommend!
5/5
Sonia 29 Producer
I usually stick to about 2 or 3 cleansing products as I've had some bad reactions in the past but I liked the sound of an exfoliating cleanser as I'm a little tired of using scrubs full of microbeads. I wasn't exactly sure how it would work considering it was a foaming cleanser but my skin was just as soft as it would be after using a scrub and it wasn't as inflamed either. I definitely noticed an improvement in the overall quality of my skin, my face was less patchy than usual after 2 weeks use. I was concerned about using it every day because I though the glyconic acid would take a toll on my skin but in fact it was quite the opposite. I'm highly impressed by this product and will continue to use it daily! The only thing I would say is avoid getting it anywhere near your eyes, it stings worse than other products I've used!
4/5
Jane 26 Publicity
I love this product! Since using it, I have been getting compliments on how bright and fresh my skin looks – not to mention how soft it feels. I have quite problematic skin and regularly suffer from hideous breakouts of adult acne. I have been using this foaming cleanser every morning for the past four weeks, and my skin has completely cleared! I have also noticed that any dark blemishes I have from acne scarring has become visibly lighter.
This is an amazing product if you are looking for a great cleanser to address combination or problematic skin – I would definitely recommend it!
5/5
All you have to do to enter the competition is answer this simple question: which judge is mentoring the groups on the X Factor this year?
This competition has now closed.