As Selena Gomez is maid of honour - here's what 11 celebrity bridesmaids wore on their BFF's big day
28th Dec 17 | Weddings
So what does an A-list star wear for this very important supporting role?
Selena Gomez has become the latest celebrity to take on bridesmaid duties we learned this week – and a very good one she's proving to be as well.
The singer's cousin Priscilla DeLeon posted a video on Instagram of the pair with the caption 'When your maid of honor makes your dream dress a reality and surprises you with it!'
The bride was holding a sign that read 'I said yes to the dress,' and we bet at that moment she was glad superstar Selena said yes to being bridesmaid.
Sadly, we've yet to see what the bride or her famous bestie will be wearing to walk down the aisle, but while we wait to find out, here are 11 other celebrity bridesmaids and what they wore for their supporting role.
1. Taylor Swift
Taylor Swift wore a Reem Acra gown with a lace bodice and pleated skirt when she was maid of honour for childhood best friend Britany Maack. The bride wrote on Instagram that she had 'the best friend, the best family, the best groom and the best day'. Awww.
2. Rachel Bilson
When Rachel Bilson was bridesmaid at costume designer Gelareh Khalioun's wedding, you just knew the dresses were going to be stunning – and they were. The American actress chose a figure-hugging blush pink gown accessorised with a delicate floral headband.
3. Pippa Middleton
OK, she wasn't super famous at the time, but Pippa Middleton's starring role at sister Kate's wedding in 2011 cemented her celeb status, thanks in no small part to the stunning floor length ivory Alexander McQueen gown she wore.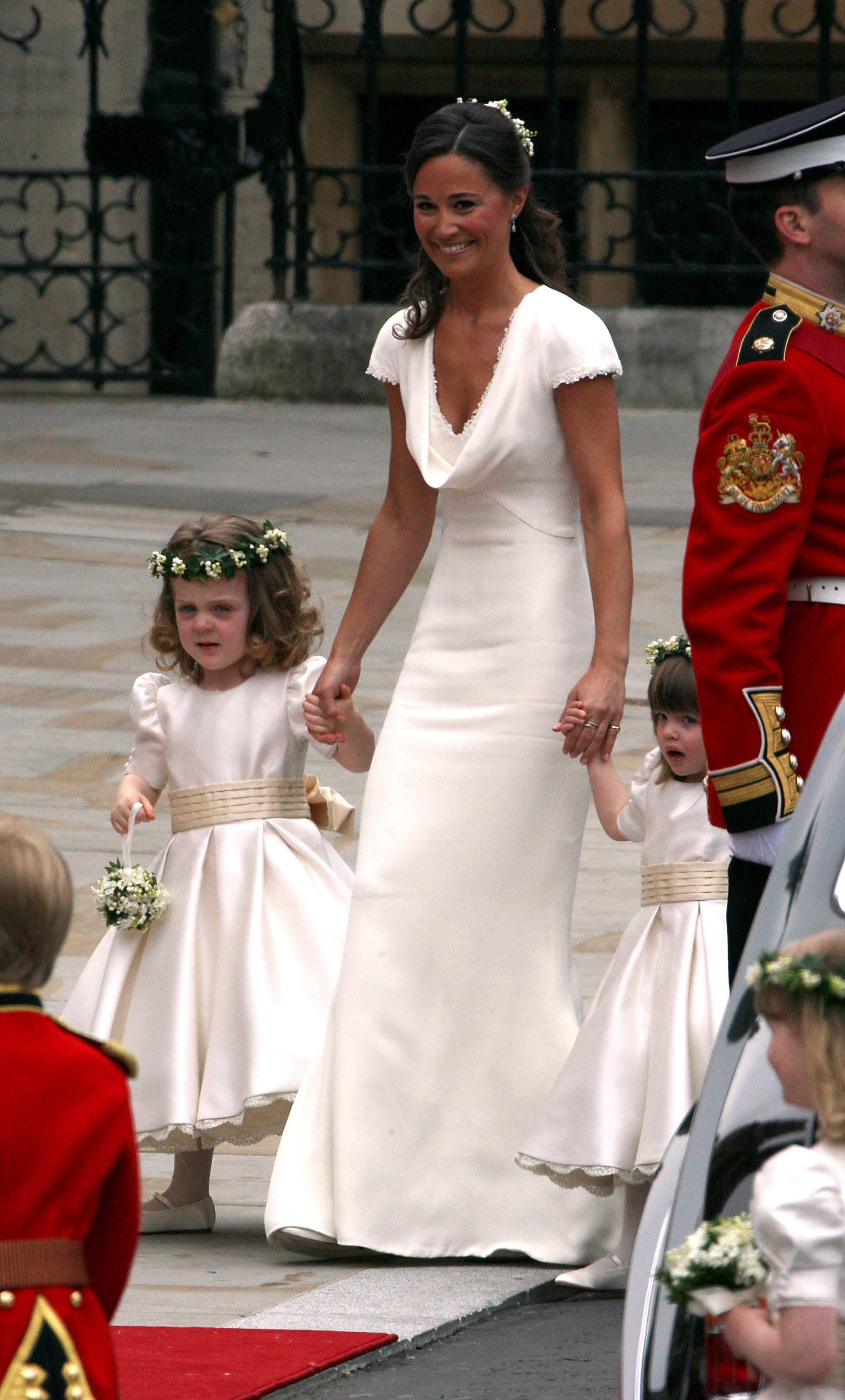 Pippa Middleton at the Duchess of Cambridge's wedding in 2011 (Steve Parsons/PA)
4 & 5. Mary-Kate Olsen and Ashley Olsen
DJ Cassie Coane had no less than 18 bridesmaids at her July wedding, all of whom were given free rein to pick their own outfits for the occasion. Among them? Actress turned designer sisters the Olsens. Ashley (left of the bride) chose a dark lace dress while Mary-Kate (far right) wore a kimono-style floral silk number with green satin mules.
6. Miranda Kerr
Wearing white to a wedding is usually a no-no, but that was the colour theme at the nuptials of Matthew Kerr, brother of Miranda, in December 2016. The Aussie model, who tied the knot herself this year, and all the bridesmaids wore white floral lace dresses with colourful flower headdresses when Matthew married partner Jimmy in Hunter Valley, Australia.
7. Emily Ratajkowski
Emily Ratajkowski didn't reveal who she was bridesmaid for when she shared this photo on Instagram last year, but we do know she won't have had any quibbles about her outfit. Why? Because she designed the peach fluted-sleeved minidress herself as part of a collaboration with American brand Christy Dawn. Nice work, Em.
8. Dianna Agron
Peach seems to be a popular choice for famous bridesmaids. US actress Dianna Agron wore a simple but elegant wrap dress in the hue at the nuptials of friend Megan Mitchell.
9 & 10. Isabeli Fontana and Alessandra Ambrosio
There aren't many brides who would want a pair of Victoria's Secret models amongst their bride tribe, but when you're a VS catwalk regular yourself like Ana Beatriz Barros – who wore FOUR different dresses on her Big Day – the chances of being upstaged are significantly reduced.
Fellow models Isabeli Fontana (far right) and Alessandra Ambrosio (second from right) wore pink and peach maxidresses for the ceremony which took place in Greek hot spot Mykonos in July 2016.
11. Rihanna
Never one to shy away from the spotlight, Rihanna rocked a low-cut lilac gown at the Hawaii wedding of her assistant Jennifer Morales in 2015. The singer posed up a storm on the beach with her bridesmaid squad, easily taking crown for the coolest bridesmaid of all time.


© Press Association 2017