What this week's vote on same-sex marriage means to gay Aussies living in the UK
13th Nov 17 | Weddings
The results of the marriage law postal survey will be announced on Wednesday.
After months of campaigning and a uniquely complex process, the results of Australia's postal vote on gay marriage will be revealed this week on November 15.
The vote was announced on August 8, and Aussies have been sending their answer to the question, "Should the law be changed to allow same-sex couples to marry?" until voting closed on November 7. However, a "yes" vote isn't to say that same-sex marriage will then be legalised in the country.
Prime Minister Malcolm Turnbull – who himself has campaigned for the "yes" vote – has said he will push forward legislation legalising same-sex marriage if the majority of Australians vote for it.
Aussies! #loveislove & it's for everyone. Today is the final day to make sure you're enrolled. Don't wait! ❣️https://t.co/6FNRm0uNXJ

— kylie minogue (@kylieminogue) August 23, 2017
It's been a contentious and lengthy process, and unique in many ways. As a postal vote, submitting responses is not actually compulsory – unlike a regular vote is in Australia.
Many in the LGBTQ community feel that the nature of the process has belittled this human rights issue. This aside, a 'yes' vote would widely be seen as a huge win, and according to polling, the postal vote is set to come out in favour of same-sex marriage.
We spoke to three gay Australians living in the UK to find out what a 'yes' vote would mean to them, and why they think same-sex marriage has taken so long to be legalised in Australia.
"It's long overdue"
For nutritionist Rick Hay, the whole process has been a difficult one.
"I think it's long overdue, and it's a disgrace that it has taken this long," he says. "It will be good in that Australia will finally join so many other countries, but the fact that it has taken so long leaves me feeling a little sad."
Rick is originally from Western Australia, and moved to the UK eight years ago. Even though he no longer lives in Australia, he's clear on how important the vote is. "A 'yes' vote would mean an equal society, and this will have a positive effect on young LGBT individuals," he explains. "Hopefully it will mean that one day sexuality is not an issue."
The political nature of the vote has left a nasty taste in Rick's mouth. "I see same sex marriage as an issue of equality – I see it as a basic human rights issue, and I'm saddened that it became a political football in Oz," he says.
Dear Aus LGBTIQ* community. I'm so sorry things are awful right now. You are loved, supported, important. We will get through this together.

— Susan Carland (@SusanCarland) August 11, 2017
The effect that the politicisation of the issue has had on the LGBTQ community is vast. "The debate has been nasty and makes LBGT people feel like second class citizens who need permission from the heterosexual community just to have the same rights as they do – not more rights, just the same," Rick says.
Even though a "yes" vote is much needed and on the cards, Rick is worried about the damage that has already been done."The whole thing has been a disaster and an international embarrassment – I feel like Australia is living in the dark ages," he says. "I will be happy if it's a 'yes' vote though – any move towards equality needs to be celebrated."
"There is still one big green monster lingering over homosexuals in Australia"
Much like Rick, PR consultant Rhys Reynolds is hoping for a 'yes' result, but thinks the vote shows how backwards Australia's attitude towards homosexuality is.
"It has been a number of years since I 'came out' and can't say I have ever been happier," Rhys says. "But there is still one big green monster lingering over homosexuals in Australia, and that is inequality in the eyes of the law when it comes to marriage."
This is what makes the vote so important for Rhys. However, he's aware that religion consistently proves such a barrier to marriage equality. "Religion has been and still is one of the biggest arguments against same sex marriage (not all, but a large majority). The church should have no say in government business," he says.
Rhys adds: "Churches should not feel that they have the right to overstep their views on this into mainstream society and stop governments from legislating for equality. At the end of the day, that is all we are asking for."
My darling young LGBTQI tribe Do not lose hope! Grieve, yes But then rally, safe in knowledge that by far most Aussies love & support us 🌈❤️

— Magda Szubanski (@MagdaSzubanski) August 9, 2017
Another big issue Rhys has is the way the vote has been conducted. "The postal vote is not an ideal situation and is certainly a waste of money, but the pragmatic side of me can't help but think – this is the first time we have ever progressed this far, let's just do it," he says. "It's not ideal, and it is expensive, but I do have hope that the Australian people will return a 'yes' vote."
Rhys is optimistic about the result but knows that there will be backlash. "If a 'yes' vote is passed the 'no' voters will speak their minds, and in a democracy they are entitled to this," he says.
"It will be a few months of negative statements, slanderous comments and bullying for some. This is not OK, but it will happen. However, us gays didn't get this far in society without generations before us fighting for equality. Which is what we will continue to do and future generations will continue to do."
"I feel like the country I grew up in isn't really willing to be a part of the modern western world"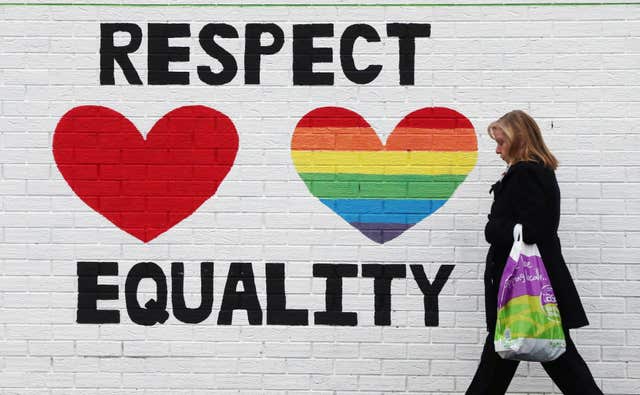 (Niall Carson/PA)
For many Australians living away from home, it's been easy to forget that gay marriage is still not legal in the country of their birth.
This was the case for Glen Greer, who comes from Queensland but has been working in finance in London for the past seven years.
"Whilst I have been living in the UK, same sex marriage in Australia hasn't been at the forefront of my mind," Glen explains. "I am fortunate enough to live in the UK, and as a result I can marry whoever I want and that's the end of it.
"The plebiscite in Australia has reminded me that there are many LGBTQ people in Australia that don't have the right to marry who they want. This imbalance makes me feel like the country I grew up in isn't really willing to be a part of the modern western world."
Glen thinks the issue has taken so long to even come to the table because it's been pushed aside by both former governments and the wider public – gay marriage just hasn't been a priority.
"I personally hope that the plebiscite will show the government (on both sides) that the majority of Australians aren't scared of gay marriage, and it's something they are willing to have in their country," Glen says.


© Press Association 2017