Scorpio
9th Mar 18 | Horoscopes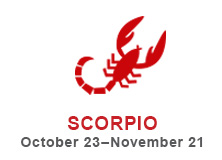 Prepare for a spot of jealousy as your well-earned reward lands in your lap.
Red assists survival issues and grounding. An immanent decision is looming, so make sure you see the bigger picture and take everything into account. You have unusually been led astray against your better judgment. Self-forgiveness is vital
To arrange an appointment with Sarah, check web site www.sarahdelamer.com or phone 0894249254 For your daily SMS PREDICTIONS Text: SARAH SUB ARIES to 53307 or SARAH SUB plus your star sign to 53307 18+. Entertainment service. Calls cost €1.28 per min from an Eircom landline. Calls from mobile may cost more. SP Phonovation Ltd. Helpline 0818 217100.