Video: Discover how this artist knitted a 5ft 8in human skeleton
27th Dec 18 | Real Life
Ben Cuevas created a knitted heart, brain and intestines as part of his art, which was inspired by his HIV diagnosis.
An artist who knits sculptures of human body parts – ranging from an entire skeleton to a heart and intestines – has revealed how his HIV diagnosis has led him to raise awareness of the condition through his work.
Suffering with depression and anxiety, Ben Cuevas, 31, first began knitting in 2007 to ease his symptoms, as he tried to make it in America's fiercely competitive Hollywood film industry.
Ben, of Los Angeles, California, USA, said: "I started knitting when I was 20 and living in Hollywood, aspiring to work in film as a director or producer."
He continued: "My neighbour knitted and I was fascinated when I watched her, so I asked her to teach me a bit, and I soon discovered it was a wonderful tool.
"I found it so interesting and slowly started making it a hobby by just knitting rubbish scarfs and hats in my spare time.
"I'd had anxiety and depression for as long as I could remember and knitting was a form of meditation which took me to a calmer place."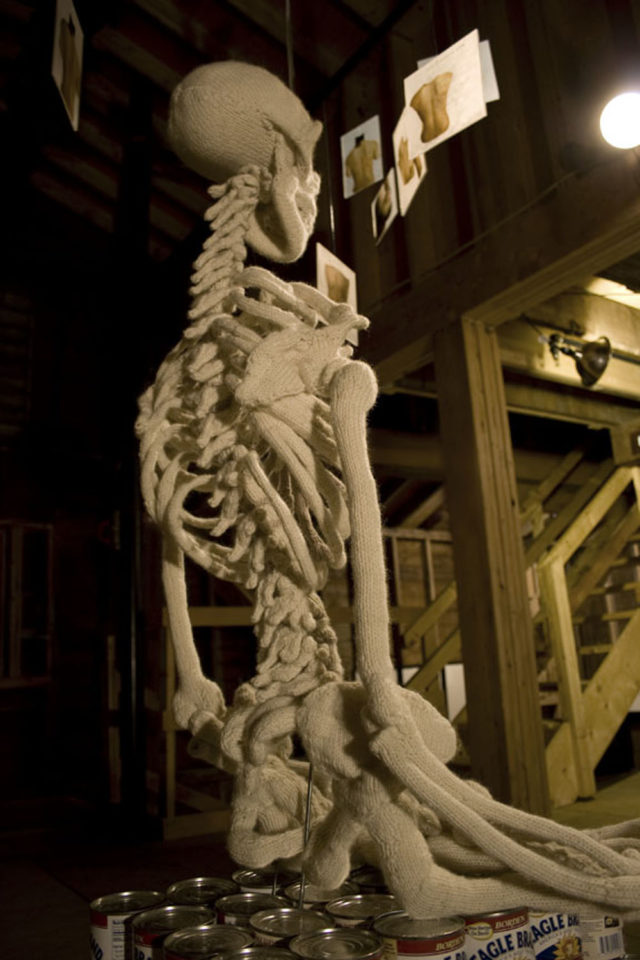 Soon realising film was not for him, in 2007 Ben enrolled on a two and a half year art course at the renowned Hampshire College in Amherst, Massachussetts – bringing his knitting skills into his work, when tasked to create a sculpture for his final assignment.
Fascinated by anatomy and the inner workings of the human body, he explained: "I knew from the word go that I had to utilise my knitting skills for this project.
"I made a knitted heart, which took me two weeks straight to complete and a week to plan."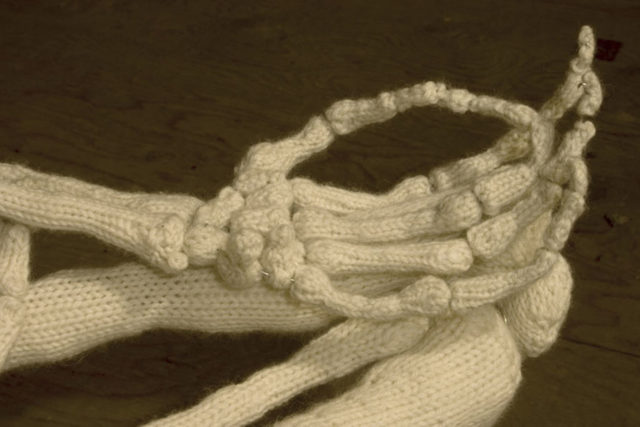 He continued: "I used about five balls of yarn, with each ball costing around £12. I didn't make a pattern for it, or for any of the sculptural work, as it slows things down. And since I don't intend on my work being replicated by others, there isn't much point in making a pattern.
"All my knitted sculptures are made intuitively. I research 3D models online of what I would like to knit. I study their shapes and break the object down into component parts. With the heart, for instance, I broke down into four parts – the main chambers, the aorta and the two arteries.
"My professors were impressed, as we would rarely be asked to use those kind of materials for these projects. No-one was graded a mark, but I got a glowing evaluation from my professor who said it was extraordinary."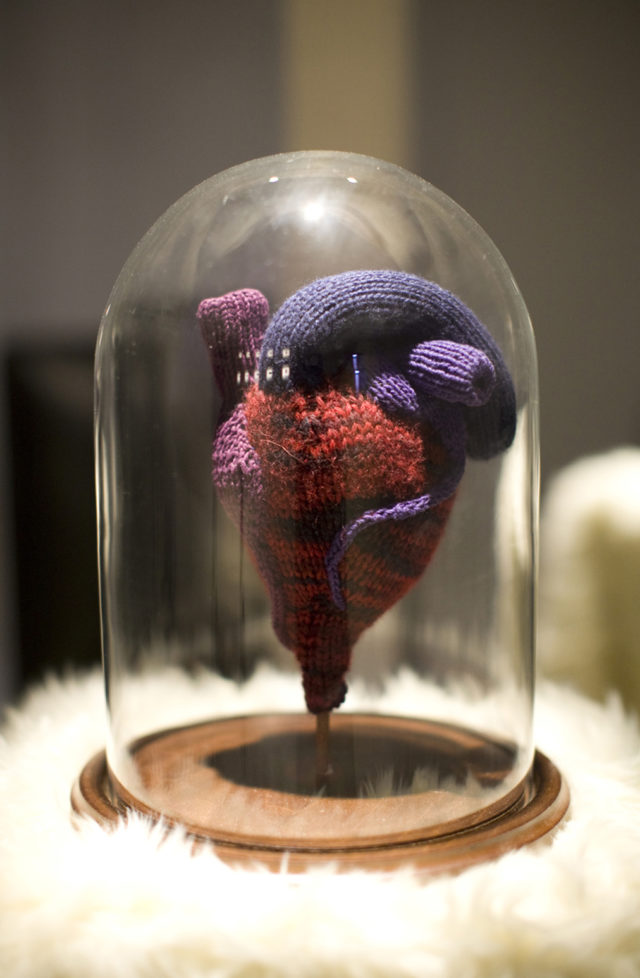 Finding a niche, Ben decided to take his unique anatomical textiles a step further and, a year later, knitted an incredible 5ft 8in tall human skeleton, sitting in a lotus position.
To create the different parts of the skeleton, Ben used a variety of wool, including a type of yarn for the bones, a 100% Peruvian highland wool and a special wool/silk blend, for the cartilage.
Using a classroom skeleton, like those used in biology lessons, Ben studied the forms, in order create his knitted version accurately.
First, he built a frame, using a slightly bent steel rod and sturdy aluminium wire, then knitting around it and taking a gruelling three months to stitch everything together, like sewing up a jumper, covering each individual bone.
Luckily, Ben's hard-work paid off, and the skeleton was on show at the Wassaic Project's Summer Festival in New York's Hudson Valley a month after he left college.
Since then, he has gone on to knit a human brain, veins, and eyeballs outside the sockets, complete with an optic nerve.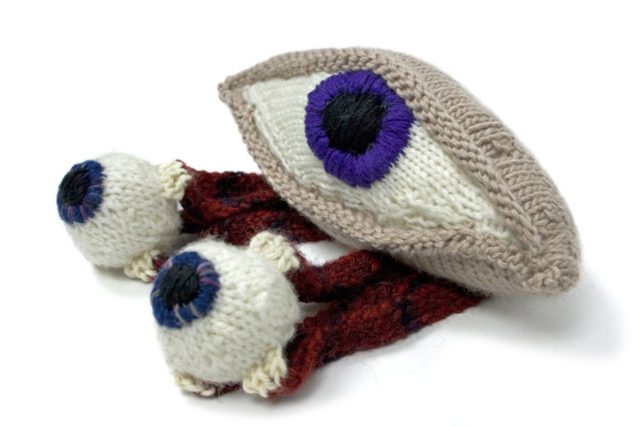 He said: "I like to play with opposites, like making bones look soft or bloody organs look cosy.
"It came naturally to me, especially as I've always been obsessed with biology.
"I remember being a little kid and looking through my mum's books. She had a Grey's Anatomy colouring book that I got hold off and I went through it over and over again. I loved learning about the body – it's fascinating."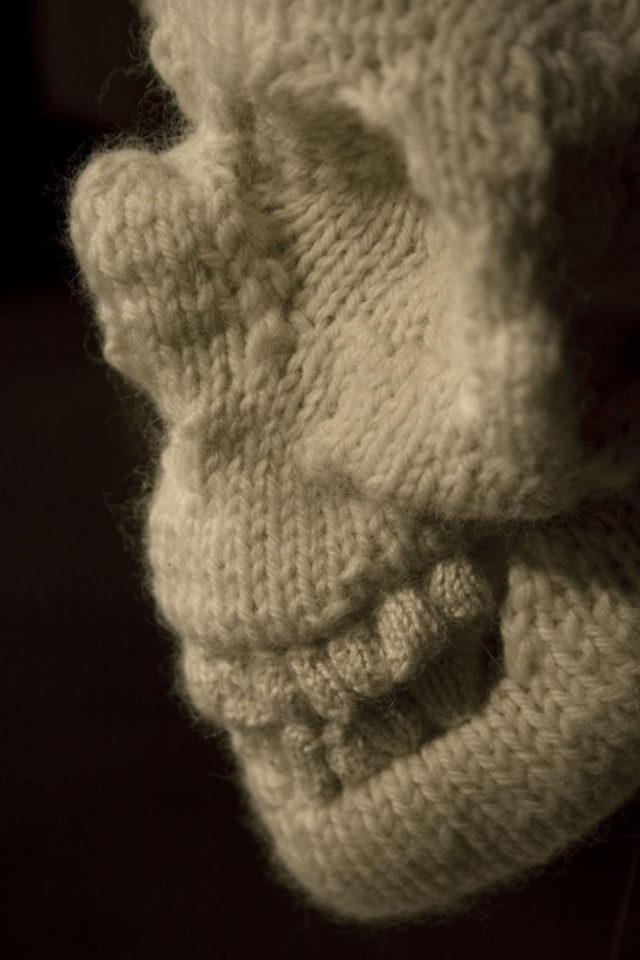 Ben is able to earn his living through artwork by selling to collectors, working on commissions and being featured in exhibitions.
One of his favourite – and most bizarre – commissions was from a client who lost a toe due to diabetes.
He explained: "The client wanted a new toe to display on their wall, it ended up being very cathartic for them and I felt honoured to work on such a personal and outside of the box piece."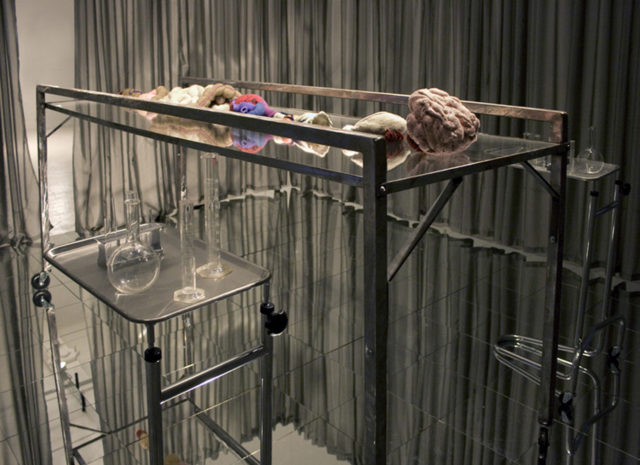 Diagnosed HIV positive in 2011, again Ben found salvation in his work – this time mounting a tactile, interactive exhibition of his soft sculptures, with a twist, at the Viral Illumination exhibition in LA.
On the surface, it just looked like a room full of 12 inviting, knitted pillows.
But, on closer scrutiny, they were what Ben calls PILLows – with each one resembling one of the pills used to treat HIV.
Ben continued: "I created the PILLows for HIV awareness. All the pills are part of the treatment for the condition, such as Genvoya, a four in one pill I take once a day.
"I wanted people to feel comfortable talking about HIV and the treatment around it. So, what better way to make people feel comfortable than to get them in a room full of squishy pillows?.
"The pill pillows are autobiographical to an extent and show my body's functionality – where it has failed and what I've had to do to make myself better."
Facing the fragility of his own body, after being diagnosed with HIV, deepened Ben's interest in the human form.
He said: "It changed the way I thought about my work, such as when I created the knitted veins installation – I was thinking more about blood than ever before and it become a powerful symbol to me.
"When people see my work, I think they see something odd, but I also believe it makes them feel calm because of the softness and detail. I want people to think more about the internal workings of our body and about the wonder, beauty and machinery of the human spectacle."
© Press Association 2018