Mum reveals her baby's "flat head" which sees her wear a helmet for 23 hours a day
6th Dec 18 | Real Life
Lindsey Helmick's baby Evelyn wears a similar helmet to model Chrissy Teigen's son, Miles.
Hot on the heels of model and TV presenter Chrissy Teigen sharing a picture on Instagram of her baby boy, Miles, wearing a special helmet, a single mum has spoken out about her own experience of "flat head syndrome."
Noticing her baby girl Evelyn's head was flatter on one side then the other when she was just four weeks old, concerned, Lindsey Helmick, 27, of Winterson, North Lancashire, showed some photos of it to her mum, Carolyn, 54.
But she suspected she was over-reacting, after Carolyn said she was "over-thinking," explaining: "I noticed Evelyn's head looking slightly strange, as though it was flat on her left side."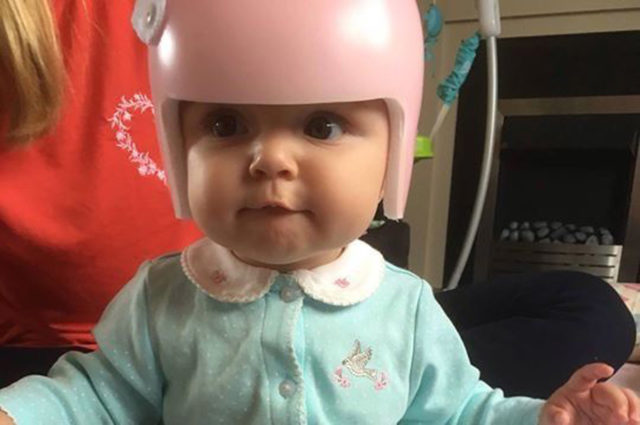 She continued: "Being a first time mum, I was alarmed by it, but my mum said all babies have strange heads to begin with.
"I brushed it aside as just "first time mummy anxiety" and carried on as normal, until I felt like I had to go with my gut and check with a specialist just to be safe.
"And when I Googled 'my baby's head is flat,' the first thing that came up was plagiocephaly and brachycephaly – or flat head syndrome, which I'd never heard of."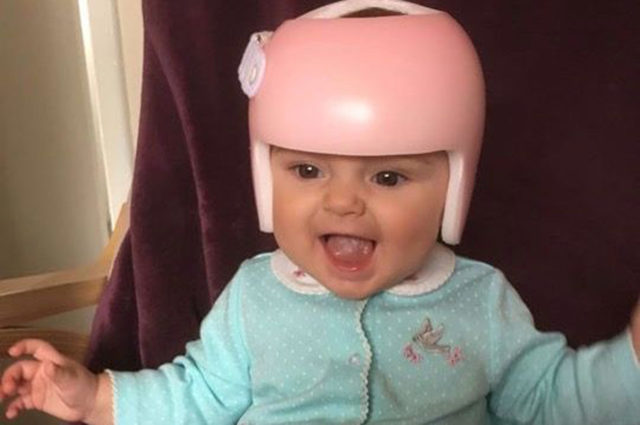 Lindsey, who does not work, found a private craniosacral fascial therapist herself, who said Evelyn had a strain in her neck which only allowed her head to move and for her to lie on her left side – which Lindsey describes as "it was as though her head was on an elastic band, she would ping straight back to the left whenever she turned to the right."
Suspecting the strain had been caused by her positioning in the womb, another NHS professional reassured her that, as Evelyn grew and began to crawl, her head would even out.
But Lindsey felt unsure – keeping a close eye on her baby and realising that, no matter how hard she tried, the tot's head would not turn to the right.
"I stayed with her at night and tried to turn her head, but she would lie like that for a minute, before springing straight back to the left and staying like that all night," explained Lindsay, who is no longer with her baby's dad, who she does not wish to name. "This went on for months and months. Nothing was working, and her head shape was still flat."
After researching what else she could do, Lindsey came across the helmet treatment – like that used by Chrissy Teigen – online, designed to reshape an afflicted child's head, making it symmetrical.
She said: "I went to Technology in Motion, a company suggested by other mums online, to get the helmet, as it wasn't available on the NHS since they stopped supplying it three years ago as they believe it was only a cosmetic issue."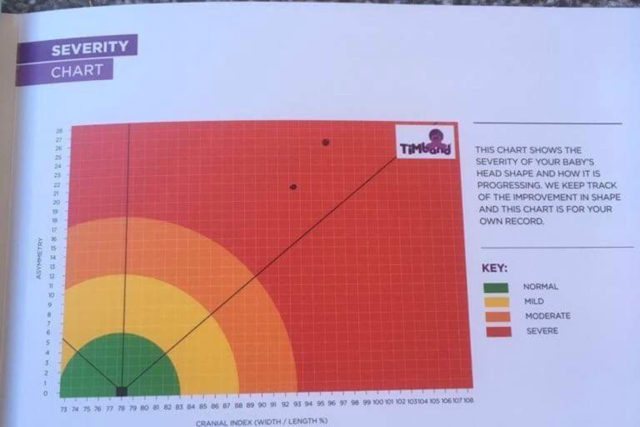 She added: "We spoke to the specialists and were shown a 3D screening of Evelyn's head, compared to a normal child's. The difference was quite shocking. I knew there and then I had to get her the right treatment."
After being officially diagnosed with plagiocephaly in June 2018, Lindsey discovered that the special helmet would cost her just over £2,000, which she could not afford.
But a friend suggested crowdfunding, so in August she started a GoFundMe page, raising £1,720 in four months – although she has now managed to pay for the rest herself with the help of a charity Head Start 4 Babies who made a donation.
"There are so many different things I've heard about flat head syndrome and the possible consequences of not treating it," Lindsey explained.
"It can affect cognitive functions, such as speech, but it can also be purely cosmetic.
"Either way, I wanted to fix it, as I couldn't stand the thought of Evelyn one day being bullied for having a different shaped head, once she hit her teens."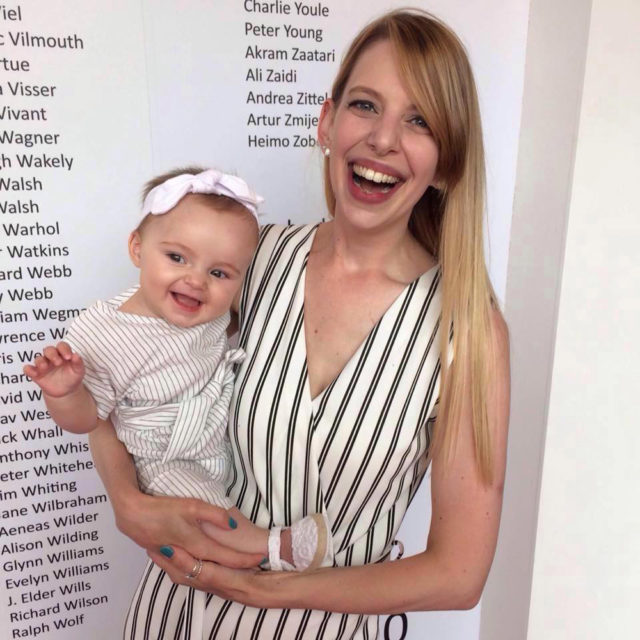 She added: "Even as a tiny baby, it was affecting her ability to latch on during breast feeding, as her jaw was a wonky shape."
Acquiring her custom made pink helmet in August this year at seven months old – three months later than was recommended by the specialists as she wasn't yet aware – Evelyn now wears it for 23 hours a day.
Most of the time, now 11-months-old, the toddler copes with it very well, according to her mum, who continued: "The helmet's solid on the outside and soft inside."
She continued: "It was some trouble at first, as she had to wear it during our massive heatwave and it only made her warmer.
"She's fine with wearing it, but every now and then it can rub and I've seen it peel some skin from her forehead.
"Still, the treatment has been worth it, as her misshapen head has gone from severe to moderate, based on the charts given to us by her specialists."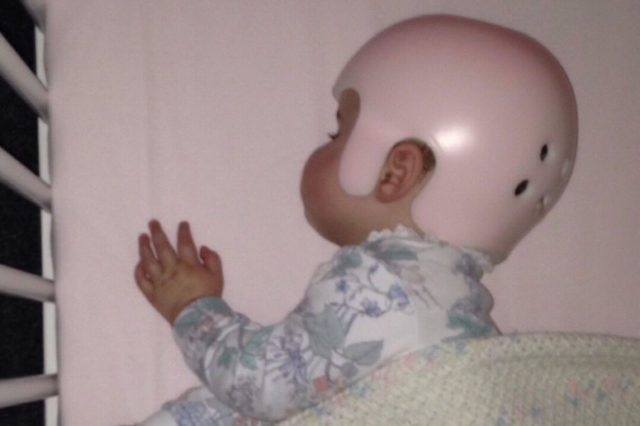 But seeing a baby in what looks like a crash helmet has attracted some strange comments, according to Lindsay, who said Evelyn is expected to have to wear it for another two months.
She said: "People always ask me questions about it. Some even assume she's had brain surgery.
"I just explain she has a funny-shaped head and they usually move on."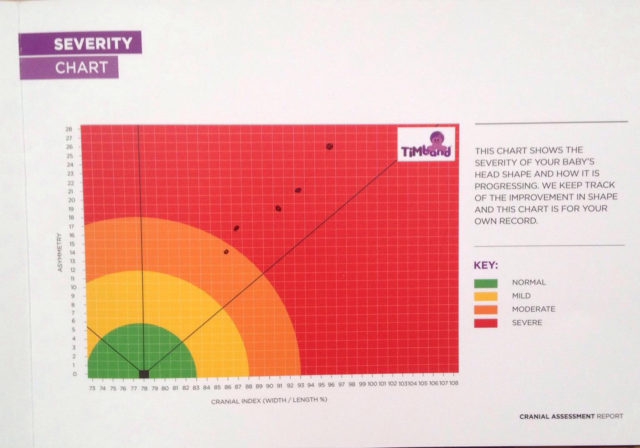 She added: "With people like Chrissy Teigen posting pictures of her baby wearing one of the helmets, I think people will be much more aware that it's a condition to watch out for, which is great.
"As mums we're always bombarded with information about what's right and wrong, such as how making babies sleep on their back can prevent cot death.
"But we aren't told that by putting them on their back we could be making their head misshapen, and by having a baby with a misshapen head you can be judged as a bad parent. The advice we get is complicated and I wish I'd done something for Evelyn sooner, but I guess it's a case of better late than never."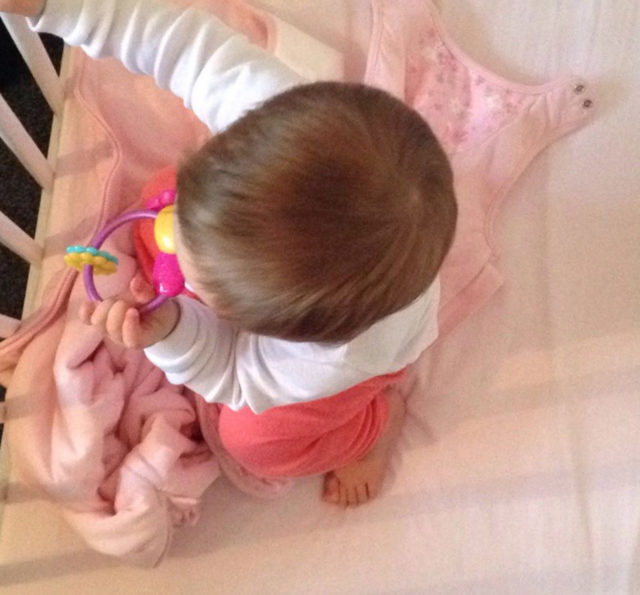 The NHS does not advise using helmets for babies with this condition.
Its website says: "These helmets and headbands generally aren't recommended because there isn't clear evidence to suggest they work. They often cause problems such as skin irritation and rashes.
"They're expensive, typically costing around £2,000. Your baby will need to be checked every few weeks to monitor their head growth and make any necessary adjustments and they may be uncomfortable and distressing for your baby."
© Press Association 2018