Teenage couple are reunited 39 years after this picture was taken - and now they are MARRIED
6th Nov 18 | Real Life
When Carol Verity Mann-Sebbage stopped hearing from her first love in 1974, she was heartbroken - but fate threw them together again.
Teenage sweethearts who met decades before the internet was invented revealed how they married after reconnecting on social media nearly 40 years after losing touch – going on to launch a digital business together.
Just 13 and at boarding school in 1974 when she was left heartbroken, after handsome drummer Mike Sebbage stopped writing to her, Carol Verity Mann-Sebbage assumed she would never see him again.
But in July 2011, after spotting each other on the now defunct website Friends Reunited, they reconnected, fell back in love and tied-the-knot in 2015 – combining their six children from previous marriages.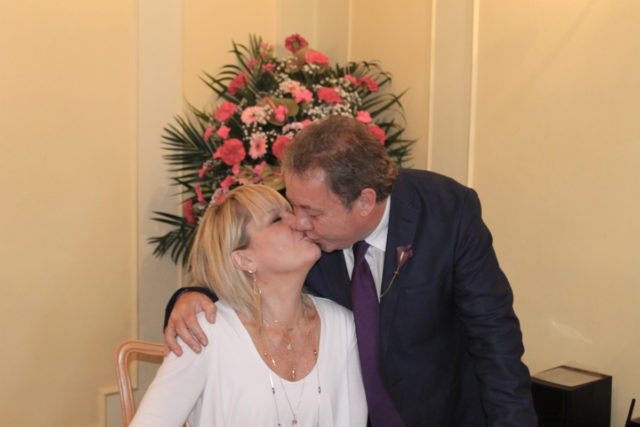 Carol, 58, of Cockfosters, north London, who now runs internet businesses We Get Digital and Women on the Web with Mike, 61, said: "I never thought I would marry my first love.
"I look at the old picture of us and cannot believe we found each other again.
"Mike is the nicest, kindest man and I am so happy we were reunited."
The couple's eyes first met back in September 1972 when, studying at private boarding school Box Hill School, near Dorking, Surrey, Carol, then 12, was bewitched by an older, 14-year-old boy – Mike – who played the drums in a band.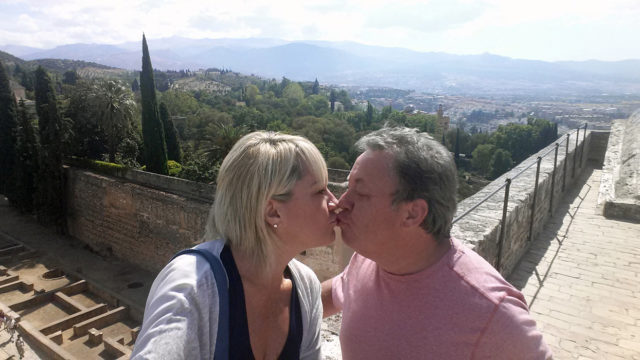 "He was so cool and gorgeous," she smiled.
"I can remember writing 'I love Mike' on my school books, after seeing him for the first time on the school lawn."
Innocently dating a few months later, smitten Carol's heart was broken when, by then 16, Mike left school the following year.
The lovelorn teen even poured her heart out about Mike to her dad, actor Walter Gotell – known for his role as KGB head General Gogol, opposite Roger Moore as James Bond – in letters home.
"Even though Mike left school, we still continued our little romance," she said.
"He'd come to see me and visit his old pals.
"But, over time, the visits and the letters became less and less frequent and dried up. I was genuinely heartbroken, after being in love with him for nearly two years."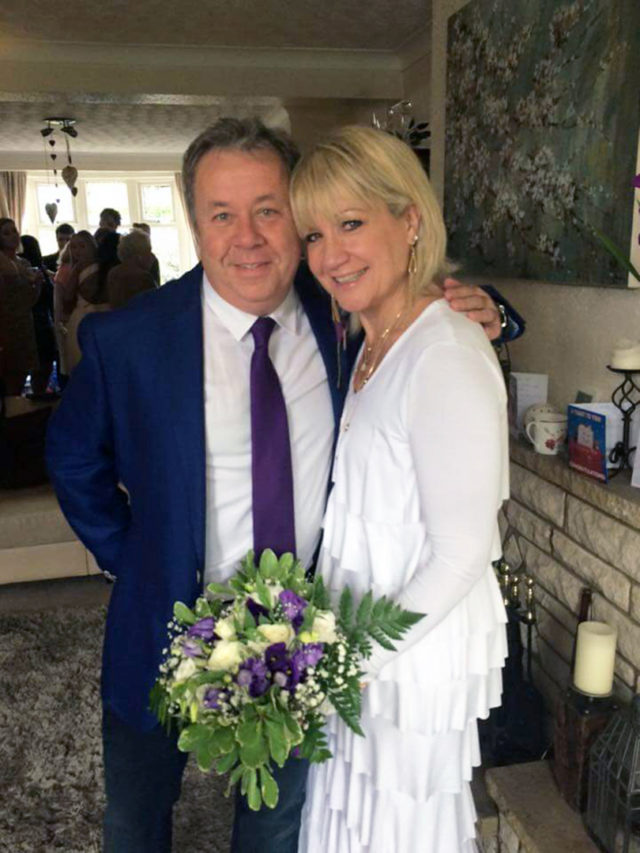 After leaving school, Carol moved to Tarifa in Spain to teach English and forgot all about him.
Returning to London, where she started working in property, she went on to meet her first husband in 1989.
Meanwhile, Mike started working in sales and marketing and also married and started a family.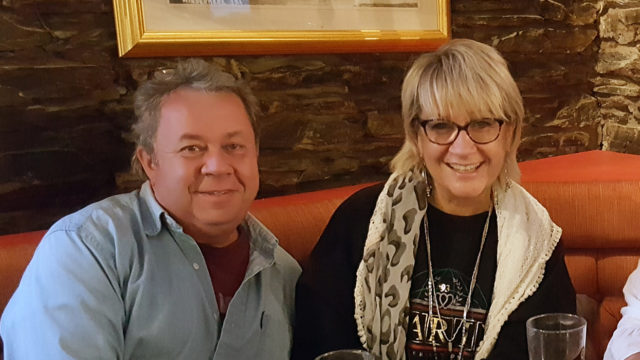 But, when their paths crossed again online in July 2011, Carol and her husband had just decided to separate and Mike's marriage had also ended.
"We'd spotted each other on the website Friends Reunited and then started chatting on Facebook," Carol recalled.
"I looked at his profile picture and thought he was still gorgeous. He still had that charming, cool look about him that I fell in love with all those years ago."
Exchanging messages on Facebook, when the pair revealed they were both newly single they formed a plan to meet within the next two weeks.
Choosing a picnic spot in their old stomping ground, near Box Hill School, when Mike climbed into Carol's car outside the pub where she had arranged to collect him, he leaned in for a kiss.
"He put his finger to his lips, as if to say, 'Don't say a thing,' and then kissed me. We hadn't even said hello," Carol recalled.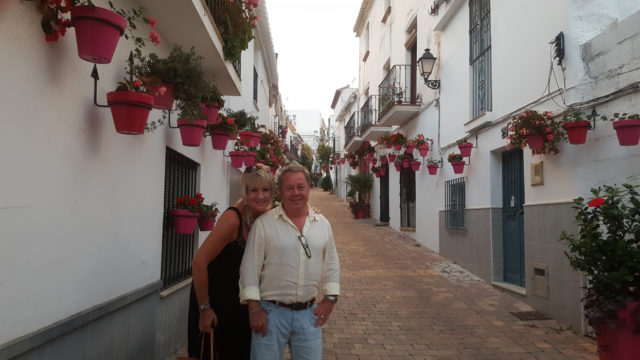 She added: "That was it for both of us. We knew it was love and we have been together ever since."
Then, over a picnic near their old school, the pair caught up on the three-and-a-half decades when they had been apart.
"It was perfect," Carol smiled. "Mike was the same and I felt so young around him."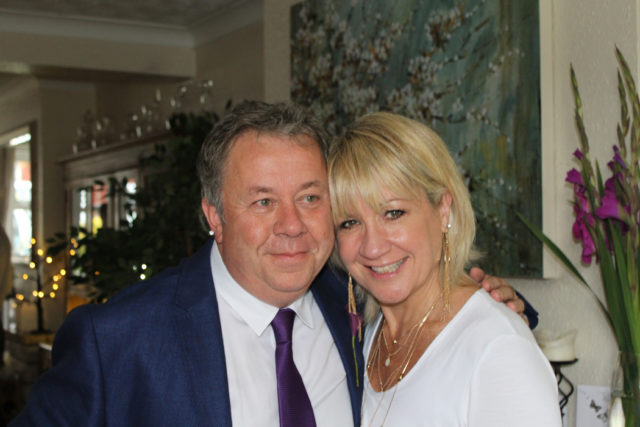 Keeping their romance a secret, they split their time between Carol's home in Cockfosters and Mike's place in Hereford – 155 miles away.
Then they revealed their romance to their families – Carol's sons Alex, 26, Nick, 25, and Jamie, 22, and daughter Tasha, 18, and Mike's daughter Jo, 24, and son Harry, 20 – and they were all thrilled to see them so happy.
Mike then moved in with Carol in April 2013, before proposing in August 2014 on a caravan holiday in Swanage, Dorset.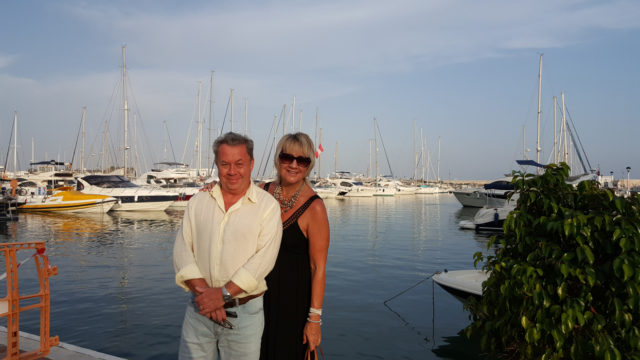 Finally, tying the knot on September 18, 2015, at Enfield Register Office in north London where we had old school friends come celebrate.
"We had a big party in our garden the day after we tied the knot," Carol said.
"We had 140 guests, an inflatable pub, ate curry and celebrated all night long with Mike's band playing too."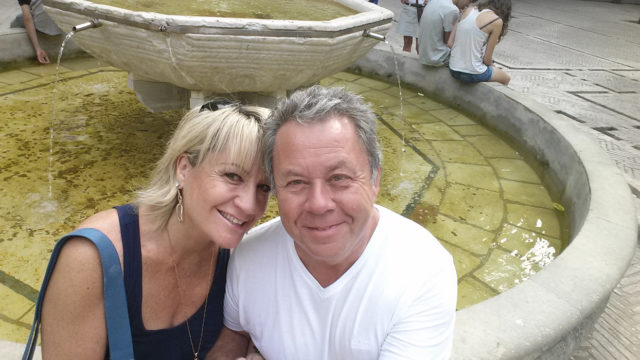 And, ironically, after meeting in an age when the internet would have sounded like science fiction, not only did it bring them together, but it is now providing their income.
"It is strange that the internet brought us back together and now is the bread and butter of our business," Mike said.
"Seeing Carol again was incredible, 39 years after we first met in 1972. We hadn't seen each other for so long but she was exactly as I remembered. She is very warm-hearted and I have even written a song for her too, she is the love of my life."


© Press Association 2018