Dad swaps nine to five for a 99 - going from life as a banker to ice cream man
17th May 18 | Real Life
Darren used his redundancy payment to buy an ice cream van.
Meet the dad who swapped his nine to five for a 99 – ditching his high-flying banking career for a knickerbocker-glor-ious life as an ice cream man.
Made redundant in December 2016, after 33 years working for Lloyds Bank, Darren Whyman, 51, from Douglas, Isle of Man, invested his pay-off in a specially designed van – and Manx Whippy was born.
The dad-of-two, who went into banking as a cashier when he was 17, said: "I have absolutely no regrets. Sometimes I pinch myself, because I have landed on such a great opportunity and now I get to spend so much time exploring such a beautiful place where I live."
Working in senior management for his last 15 years with Lloyds, Darren claimed to have worked in "almost every role in the branch," before restructuring led to his redundancy.
Seeing the chance for a new start, Darren, who has a daughter, Sophie, 17 and a son, Josh, 13, explained: "I put a lot of thought into what direction I wanted to take. I had no interest in staying in the banking sector and started to brainstorm some ideas – including the idea of an ice cream van.
"I spent a few months looking into the idea and completed my catering qualification. I then went to an ice cream exhibition in Harrogate, North Yorkshire."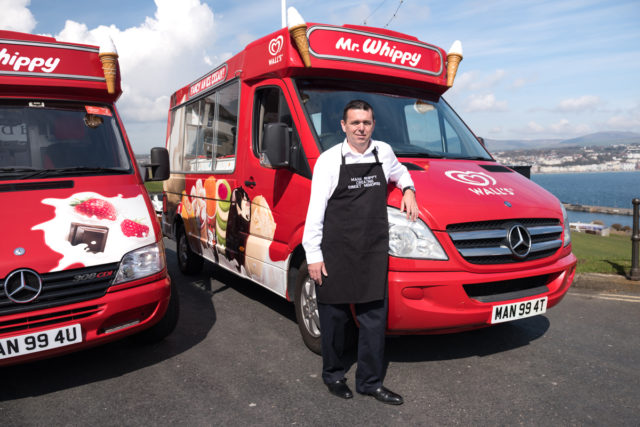 He added: "By that stage, I was so sold on the idea that I used my redundancy package to buy an ice cream van there and then and drove it home, so Manx Whippy was born.
"I knew I just had to take the leap of faith and go for it and I've never looked back. Our motto is 'creating sweet memories' and it's fantastic that I get to spread joy to people."
Now, instead of donning a suit and tie for days of long meetings, Darren spends the morning scrubbing the van down, before setting off across the island, selling ice cream.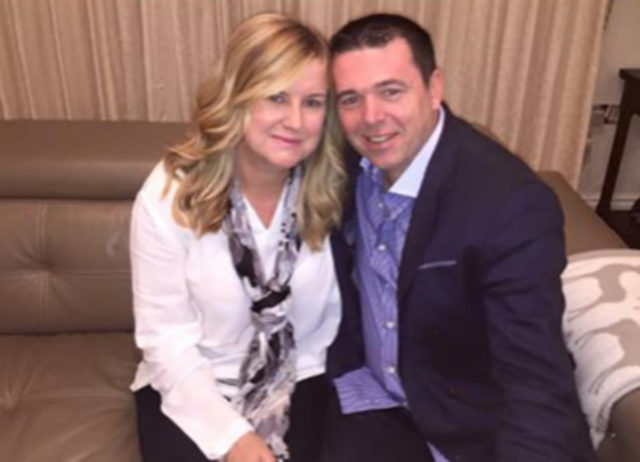 Even his wife, Louise, 49, is on board – after leaving her role in retail property management, she now works with him full time.
He said: "We use social media to publish our route and our posts are seen by about 8,000 people, which is incredible, when there are only 85,000 people in the island.
"We stick to a strict schedule, so we don't let anyone down and use social media to alert our loyal fans if we are going to be late."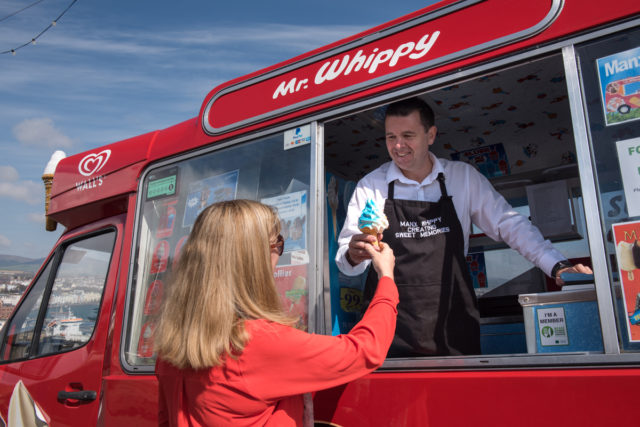 He added: "Sometimes it's like we're mini-celebrities, because we are known as Mr Whippy across the island.
"It's amazing going from an office job to getting out and about and meeting so many people. The Isle of Man's bustling towns are steeped in history and surrounded by beautiful rural villages with close-knit and friendly communities, who I get to bring ice cream to on a daily basis.
"The Island offers a supportive and rewarding environment for individuals looking to establish a business, and for businesses looking to grow, with financial incentives and other guidance available."
Now in their second year of business, Darren and Louise have been so successful, they have added a second van to their fleet.
Darren said: "It means I can do my normal route and Louise can go and do events, like weddings or parties, without disappointing our normal customers.
"There have been challenges along the way. Ice cream is very much a seasonal thing so, during the summer, I'm working long days, almost every day and then really reduce it in the winter."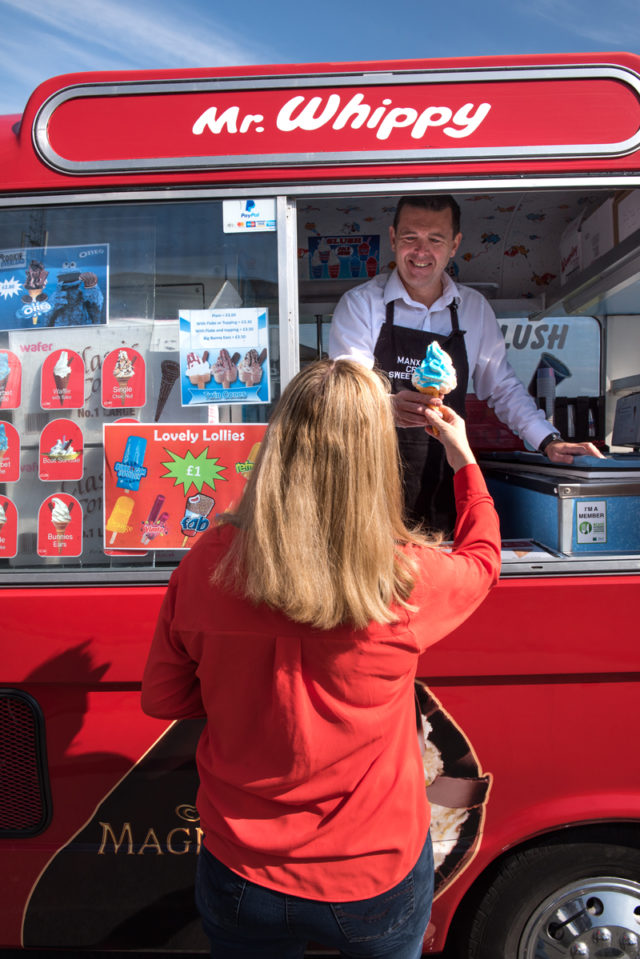 He continued: "When the Isle of Man TT starts, there are 40,000 extra visitors to the Island. You get to meet so many new people and really enjoy the amazing atmosphere.
"Working for yourself does mean some sacrifices – like last year, when my wife and kids went on holiday abroad and I was at home serving ice cream, because I didn't want to let our customers down.
"But there are so many positives. I spent years of my life in an office and now I can't imagine ever going back to that. This is a much better way of life. I love it."
For more information about Manx Whippy, visit https://www.facebook.com/ManxWhippyIceCreamVan/
© Press Association 2018