Meet the teenage Royal superfan who spends hours recreating Kate Middleton's iconic outfits
16th May 18 | Real Life
Student Ruby Davis says her mantra is, "forget Kim Kardashian, I'd rather look like Kate."
A teenage royal superfan who spends hours painstakingly recreating the Duchess of Cambridge's classy outfits for a fraction of the cost has adopted the mantra, "forget Kim Kardashian, I'd rather look like Kate."
Student Ruby Davis, 17, of Newcastle-Upon-Tyne, Tyne and Wear, is part of an Instagram community known as the 'replikates' – who expertly mimic Kate Middleton's iconic style.
But the student, who has aped some of the future queen's most admired looks on the cheap, spending £450 in total on a combination of cut price pre-owned, or convincing copycat versions, admitted: "I do get some nasty comments, especially on social media."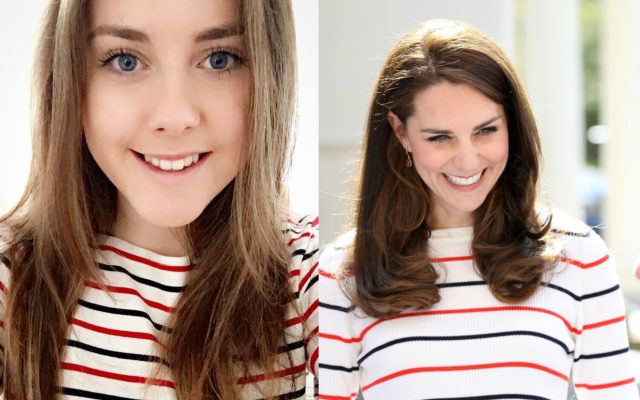 She continued: "People think it's sad for a teenager, to be so in to the royal family. But the way I see it, it's no different to idolising any other celebrity.
"Most girls my age want to be Kim Kardashian – dressing like her and getting lip fillers. There's nothing wrong with that, but it's not for me. I'd rather be Kate Middleton."
A fan of the regal clan since she was small, Ruby first spotted Kate Middleton on her April 2011 wedding day, which was televised across the world.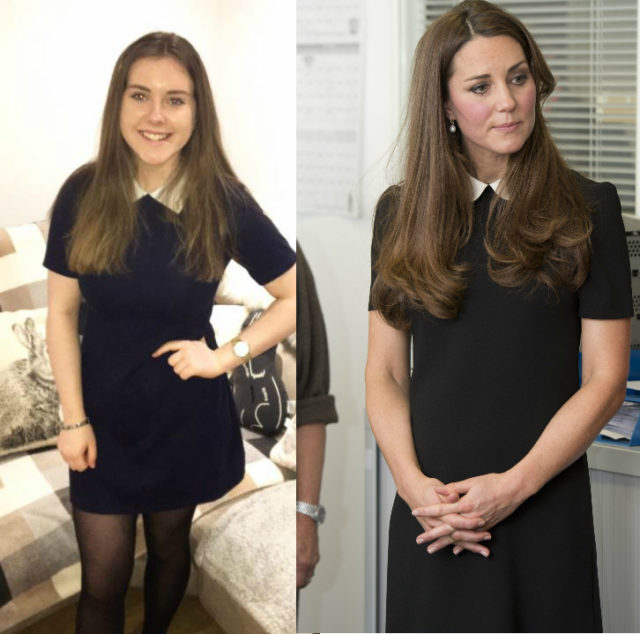 She continued: "I'd been to Los Angeles, USA, on holiday with my family, but we'd put our house keys in our luggage, which got lost en route, so we were locked out.
"We went to a neighbour's to pass the time and they were all watching the royal wedding.
"I was absolutely captivated. I can't explain it, but when I saw Kate in that dress, she looked sparkling. Even though I was jet-lagged and exhausted, I stayed awake to watch the whole thing. I was only 11 at the time. I felt like I was watching a real life fairy-tale."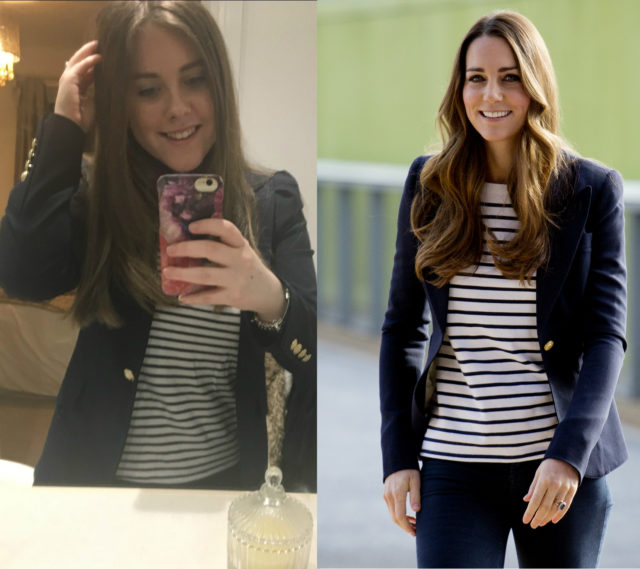 Once Ruby was old enough to use social media, she followed scores of Kate Middleton fans' accounts – many of whom devoted hours to meticulously recreating her coveted style.
When one particularly good copycat outfit caught her eye, she messaged the page's owner, asking where she had got it – facilitating her introduction to the world of replikating.
"I got introduced to women from all over the world, who all dress exactly like Kate," she said. "I thought it was such a lovely thing to do, and they're a really supportive community. We're all different ages and from all over the world, but we've got Kate in common."
Together, the replikate community will study photos of Kate's outfits and piece together where they originally came from.
Ruby will then buy the exact version if she can afford it, or find the closest copycat version possible.
"I'm a student, so I can't spend loads, and a lot of her clothes are designer," she said, adding that she makes most of her purchases on marketplace-style sites like eBay, Depop and Etsy.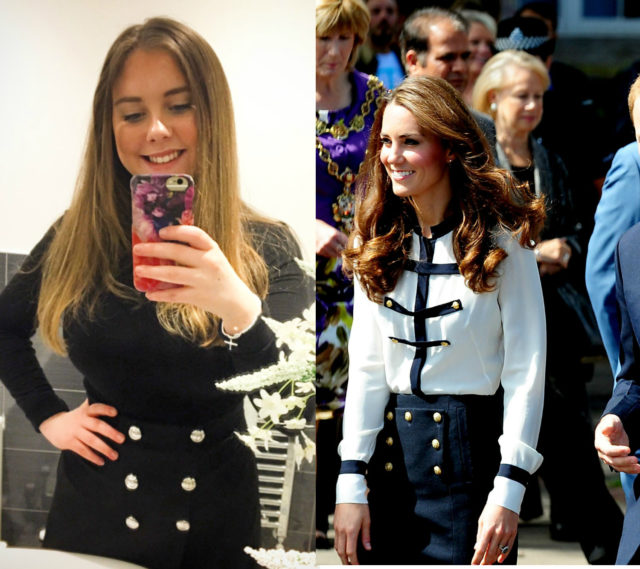 She added: "If it's something high street, as she does wear a lot of Topshop and Zara, then I'll get one of my own.
"But if it's something more high end, like her gowns, then I have to be a copykate.
"People know how much I love her, so I get a lot of Kate stuff for Christmas and birthdays. I recently got a gorgeous pair of earrings that were just like some she'd worn that originally belonged to Diana."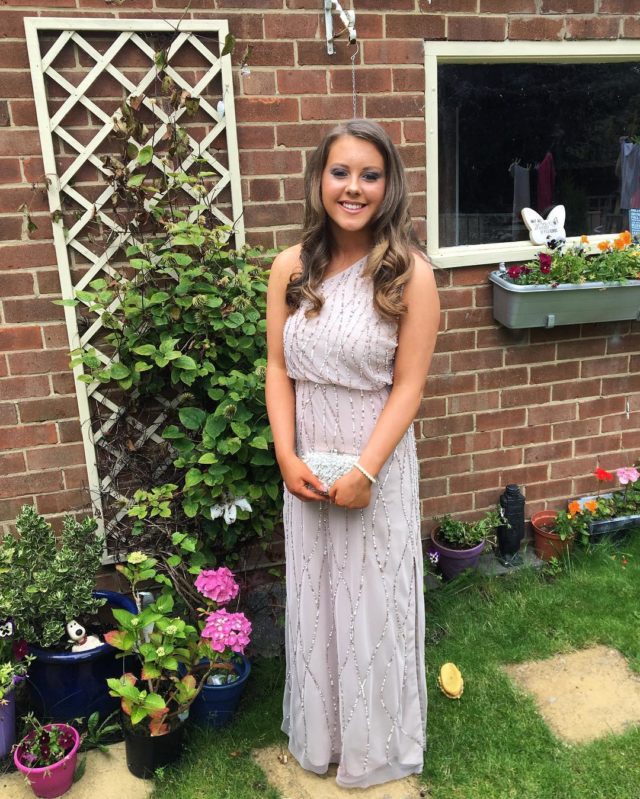 More wearable and affordable, mostly Ruby mimics her idol's casual looks, although she is desperate to track down the beige Reiss dress Kate wore to meet the Obamas in 2011, as well as her iconic blue Issa engagement dress.
"I saw the Reiss dress on eBay a little while ago, but I just missed out on the bidding. I was gutted," she said. "I love the engagement dress too. It looked so gorgeous on her figure, and it's done the same for other girls I've seen wear it. It's a really flattering style.
"Another look of Kate's I adored was when she wore that red dress after having baby Louis last month. It was such a beautiful tribute to Diana, who'd worn a similar outfit when she had Prince Harry."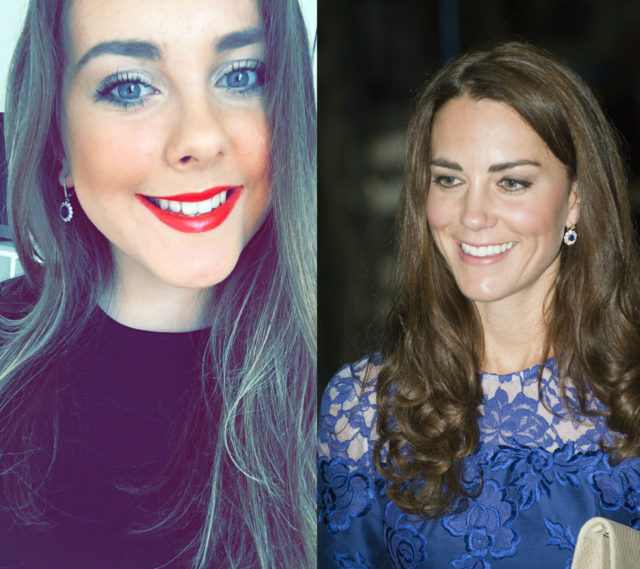 And now, with royal wedding fever reaching fever pitch, Ruby admitted that she has added former Suits actress Meghan Markle to her list of royal idols.
"I saw a photo of her wearing a crisp white shirt at the Invictus Games, and went straight out to buy my own," she said.
"I love how Meghan injects her personality into her style. I can't wait to see her wedding dress, when she marries Prince Harry on May 19. If I ever got married, I'd want one like Kate's, but I know Meghan's will be stunning, too."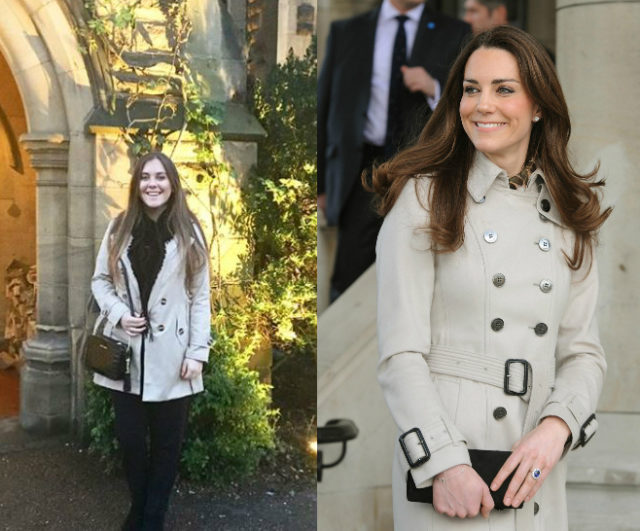 She continued: "I was going to have a royal wedding party, but I know what I'm like, and I'll want to watch it all undisturbed in silence, so I'm staying home instead."
Encouraged by pals, who are all supportive of her hobby, Ruby has set up an Instagram dedicated to her 'replikate' outfits – dealing with any trolling comments by deleting them.
"I wouldn't dignify them with a response," she said, stoically. "I'm just living my life, dressing how I want and showing off my admiration for the royals. What on earth could be wrong with that?"
© Press Association 2018