Bride and groom celebrate their big day by scaling a mud-covered obstacle course alongside 40 guests
16th Apr 18 | Real Life
Becky and Rob - who lost his right leg during a military mission - even managed to persuade her 70-year-old dad to take part.
A heroic former soldier, who lost his right leg on an Army mission in Rwanda, celebrated his wedding to the woman of his dreams, by scaling an inflatable, mud-covered obstacle course, with her and 40 of their guests.
After saying, 'I do,' at the Holiday Inn in Brentwood, Essex, on May 13, 2017, Rob and Becky Copsey, of Dover, Kent, quickly changed clothes and joined their wedding party for the 7km Nuclear Race challenge.
Completing it in aid of Blesma, the military charity for limbless veterans, nurse Becky, 38, said it was the ideal way for the couple, who also run marathons, to celebrate, adding: "Obstacle course racing is what we love and I love seeing Rob doing it."
She added: "It seemed like the perfect idea for our big day and made it really special."
After meeting through friends 13 years ago, Rob, 47, now a civil servant, and Becky fell in love, getting engaged nine years ago when he proposed in Barbados after sailing across the Atlantic for charity.
Initially, they had hoped to marry in 2007, with a more traditional wedding in Kent, only to discover the venue had been double booked – leading to a legal wrangle, which resulted in them shelving their plans.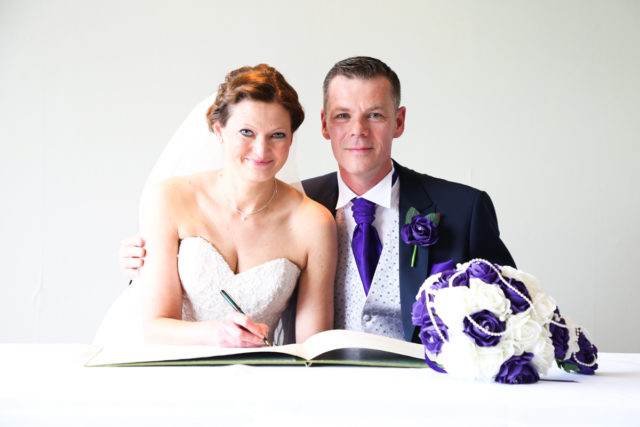 Then, a few years ago, they started discussing weddings again.
Former soldier Rob, who needed a below the knee amputation to his right leg, after being injured by a landmine in Rwanda, in 1994, had started working with limbless veterans' charity Blesma, doing everything from sky diving to sailing and skiing.
In 2015, wanting to give back, he took part in an obstacle course race called Tough Guy to fundraise for the charity – something Becky was also eager to try, after going along to support him.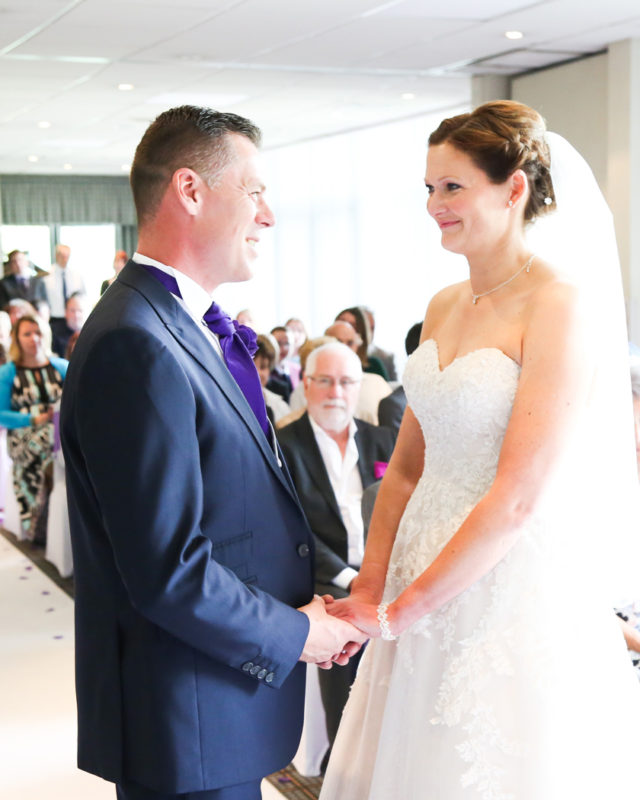 She said: "I thought it looked like a lot of fun.
"It was a struggle, as I have type 1 diabetes, which made it more difficult than it would otherwise be, but following Rob's lead, I completed an obstacle race called Nuclear, with a group of friends."
Since then, the couple have competed in numerous races together, so when they began discussing wedding plans again, Becky had a bright idea.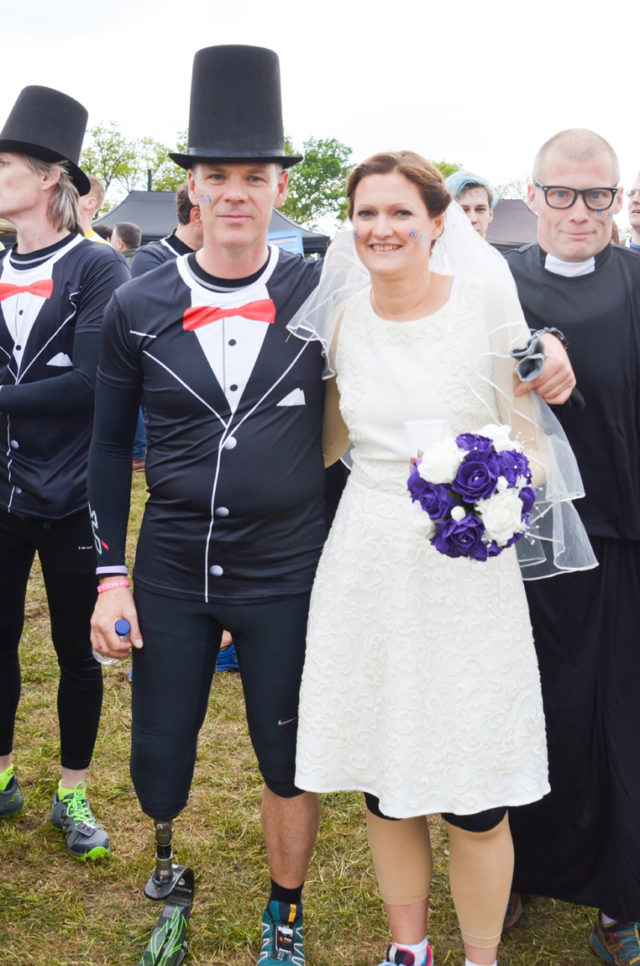 She said: "We only started talking about weddings a few years ago again, but didn't really want the stress of repeating the process.
"I was out on a run with friends, when I mentioned the idea of having a wedding obstacle race to them, thinking they'd say I'd lost the plot. But when they approved, I thought maybe it was a good idea, so decided to mention it to Rob.
"It was all my idea, but I see a different side of Rob when he does these runs. He needs these challenges and thrives on them. He doesn't stop smiling when he's doing this type of thing and I thought that would make it the perfect wedding day."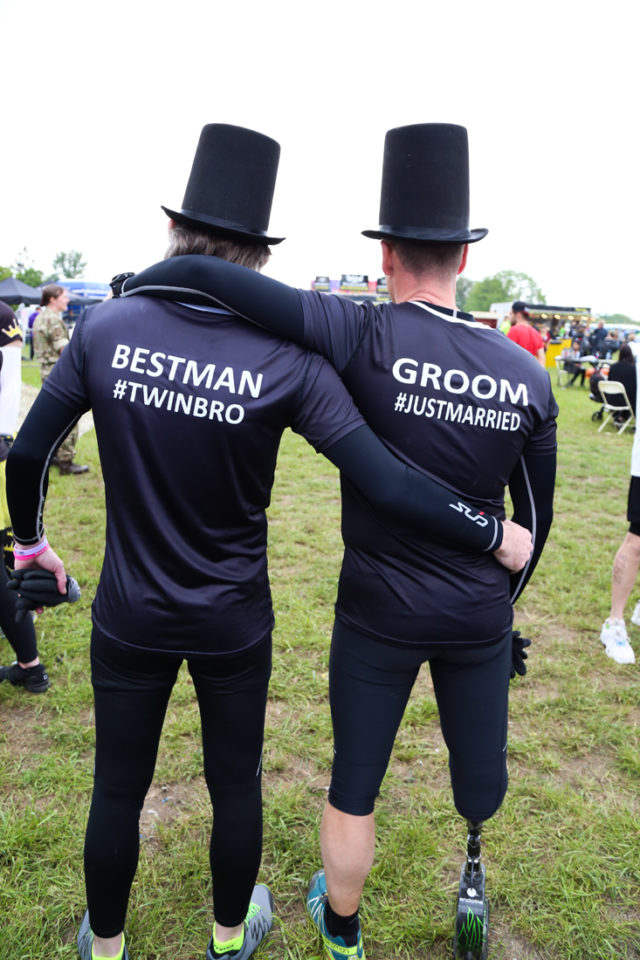 The couple soon found their family and friends to be board, with Becky's 70-year-old dad Peter McGuire even agreeing to take part, and Rob's twin brother Tim flying over from America to join them.
Becky laughed: "Tim was reluctant at first but as he was best man, he wanted to give it a go. He loved it so much, he's done more since."
So, they organised a ceremony at the Holiday Inn in Brentwood, also contacting the race director of Nuclear Races, who agreed to save tickets for a slot for their family and friends to book in.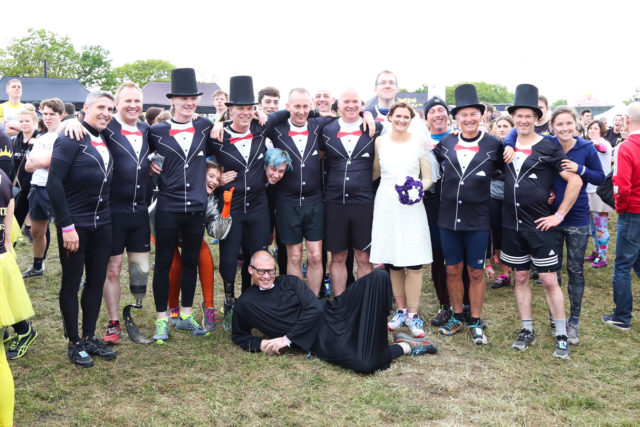 Becky then teamed up with Blesma, who signed up 185 participants to run at the same time as the wedding party.
She continued: "Finding the Holiday Inn on Google, when I spoke to them, they were happy to work around us!.
"Thankfully, we kept the whole thing quite simple and that way, there was less to go wrong."
Sending out their wedding invitations, Becky also broke the news of what the big day would involve – making it clear that guests who did not want to participate could just watch.
She said: "We struggled with some people, but were also surprised by others, who were really up for it including my dad, even though he was awaiting a hip replacement.
"We also had a few surprise entries on the day, which was amazing. Some guests who had declined wished they hadn't when they saw how much fun we had."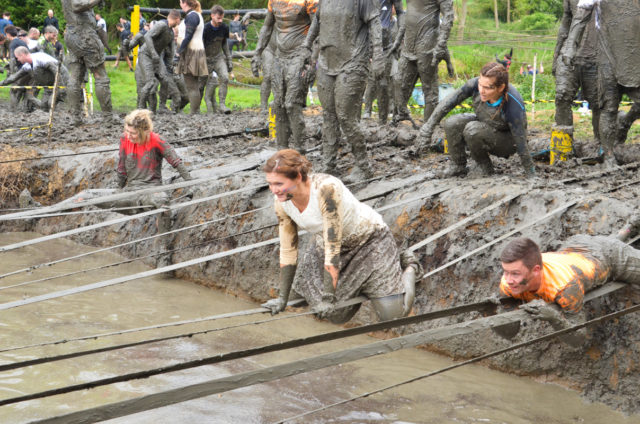 She added: "I had a group of mudd queens (an internet based band of ladies who are all participants of obstacle races) and they were wonderful, helping to organise things and running with us on the day."
Becky said her unusual wedding came as no surprise to her parents.
" Nothing I do shocks them really and they are very accepting," she laughed. "They know how Rob loves a challenge. It just seemed perfect for us both."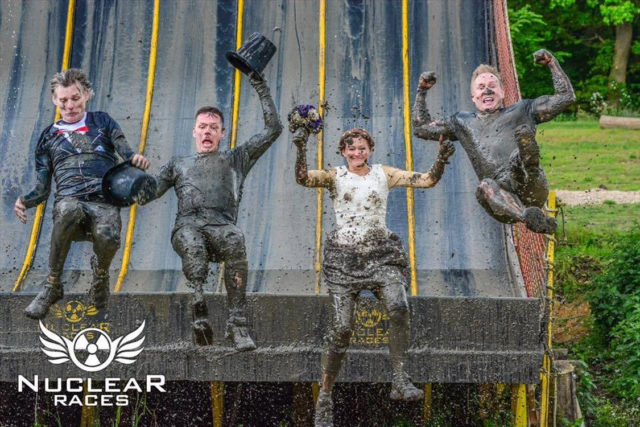 On the day, Becky and Rob married in front of 80 guests at the hotel at 10am, wearing a traditional gown and suit before quickly changing into their themed running gear a shorter white dress for Becky and black running clothes with a top hat for Rob.
Then they headed over to the permanent Nuclear Race at Kelvedon Hatch in Brentwood.
The race kicked off at 12.40pm, with 40 guests taking part, while the rest watched.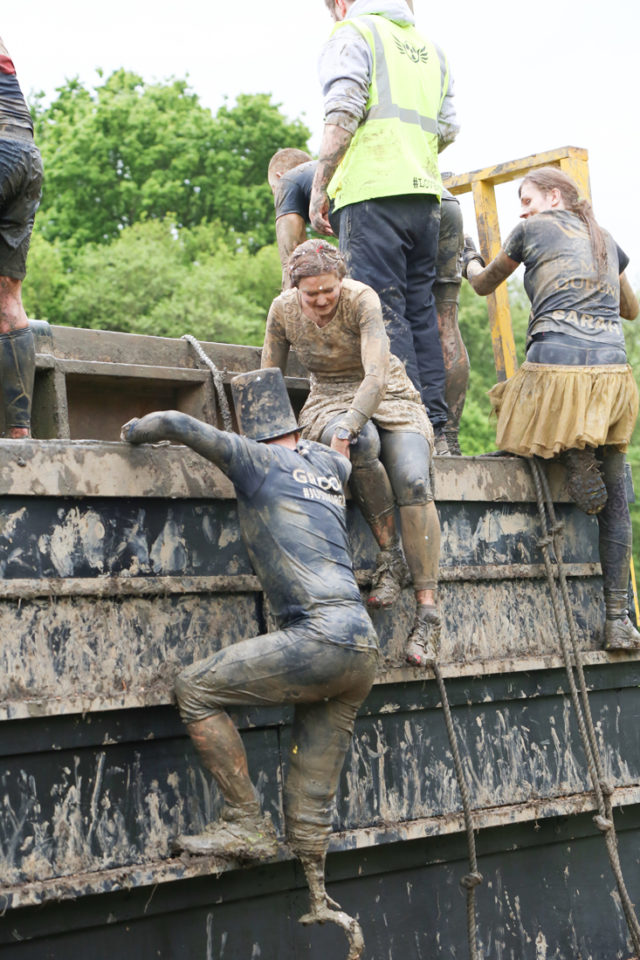 "It was so much fun," Becky said. "But people started to suffer with the cold a little.
"It was a chilly day, despite being May. We had to cut our run from 12km to 7km, as we took much longer than anticipated.
"My hair and makeup in the evening was a very rushed affair, as I was two hours late getting back to the hotel."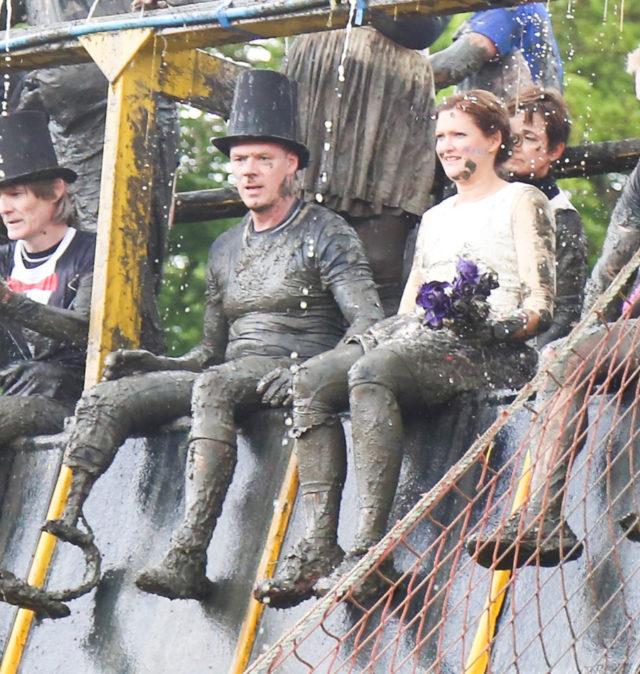 Despite a few mishaps, the guests all thoroughly enjoyed the unusual wedding day celebrations.
"One of our guests twisted his ankle in the first kilometre and was hobbling," Becky recalled.
"We had an amazing ultra runner, Stuart Queen – one of Rob's friends – who really helped a lot with keeping an eye on everyone.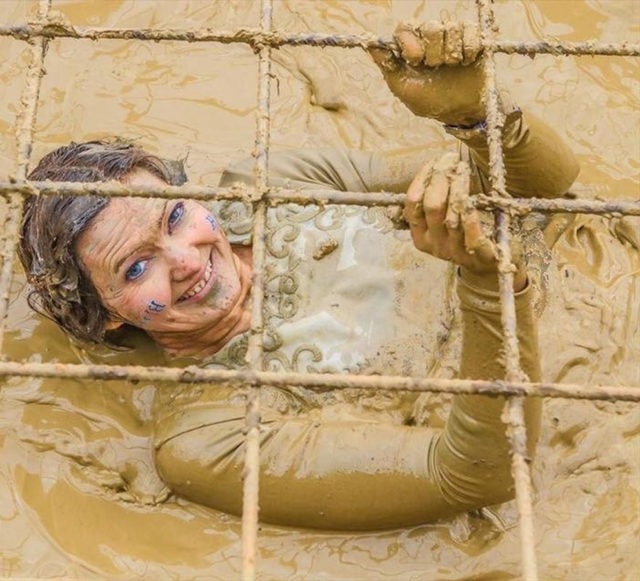 Becky continued: "We also had Jamie, an old Army friend of Rob's and a fellow amputee, who kept an eye out for everyone.
"Most people made it through to the end and loved it."
After drying off and wiping the mud from their faces, Becky and Rob had one more change back into their more formal wedding attire before they headed back to the hotel for a proper party.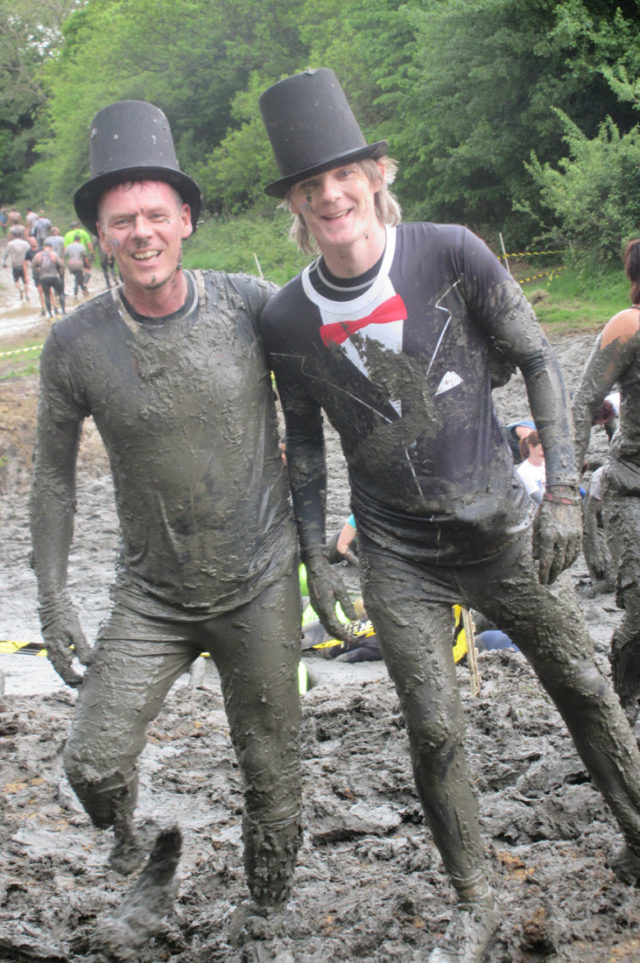 "We had such a special day," Becky said. "We didn't have wedding presents – we've been together too long so have all the kettles we need.
"Instead, we asked for donations towards Blesma. In total, I think we all raised in the region of £5,000."
Despite being married now, the couple are still rising to many a challenge,
"My husband is now running an ultra marathon for Blesma, called DDay 44, in France and I'm training for the Amsterdam Marathon," added Becky.
For more information about Blesma, visit https://blesma.org/ or to donate to Rob's fundraising, visit https://www.justgiving.com/fundraising/rob-copsey1
© Press Association 2018