A heart-stopping delivery - mum-to-be goes into cardiac arrest moments before her baby arrives
2nd Mar 18 | Real Life
Shockingly, Sharon has been unconscious for both her daughters' births - for Jaime-Leigh she had a cardiac arrest, and Ellie-May she was under general anaesthetic.
A mum who was unconscious during both her daughters' births, told how doctors delivered one child while trying to restart her heart and the other under general anaesthetic.
Due for a caesarean with her first baby, Sharon Deacon, 42, was having an arterial line fitted – a process to measure blood pressure, when she suffered an unexplained cardiac arrest, her heart stopped and she slipped into unconsciousness.
Sharon, 42, of Keighley, near Leeds, West Yorkshire, whose partner, Darren Armstrong, 47, works for B&Q, said: "As one team of doctors battled to resuscitate me, another team delivered my baby girl, Jaime-Leigh. We were both fine, which was amazing."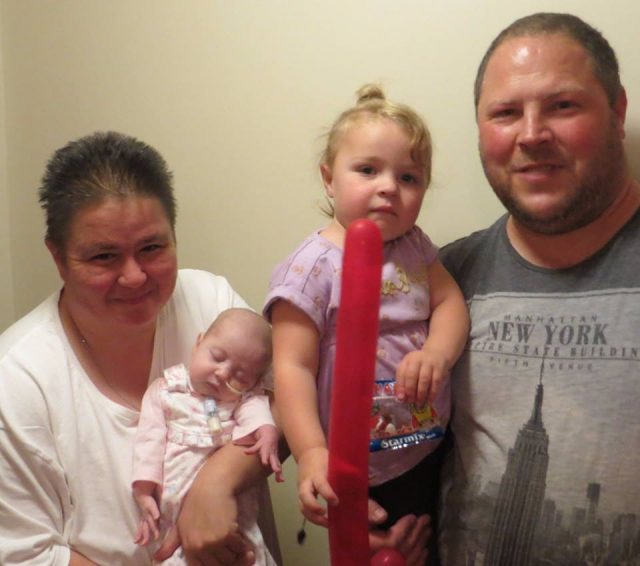 On that occasion, back on January 8, 2015, Sharon had been due to have a C-section, after developing gestational diabetes - causing high blood sugar -and pre-eclampsia - causing high blood pressure – in pregnancy. Problems during the birth of Jaime-Leigh, now three, then led doctors to arrange a caesarean for her second baby, Ellie-Marie, at the end of July 2017.
But, the local anaesthetic, which would have meant Sharon was conscious throughout the birth, failed, meaning doctors had to administer a general – so she was out cold for her baby's birth again.
"I've delivered both my girls unconscious," marvelled Sharon.
Already a mum to Joshua, now 14, from a previous relationship, Sharon and Darren were delighted when she fell pregnant again in the summer of 2014.
"Darren and I were over-the-moon," she recalled. "We wanted a baby and everything, initially, seemed to be going well."
Told at their 20 week scan at Airedale General Hospital, near their home, they were having a girl, they began excitedly preparing the nursery and discussing names. But, following blood tests at 20 weeks, Sharon was told gestational diabetes – a condition of pregnancy – had set in.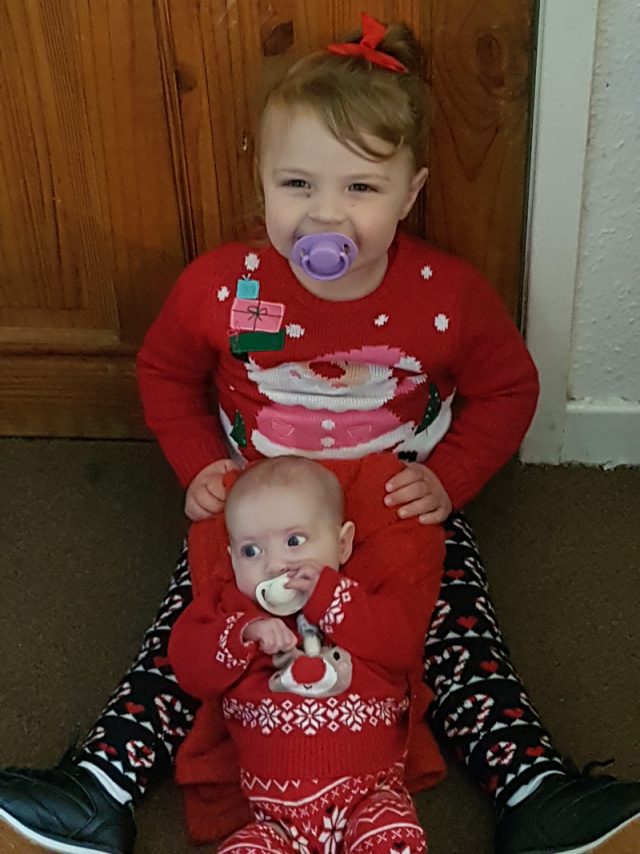 With her condition initially controlled by diet and then medication, she was assigned specialist nursing care and regularly tested – learning at eight weeks that she had pre-eclampsia and sky-high blood pressure.
"I wasn't initially worried," she explained. "I'd suffered from it with Joshua, so he was delivered six weeks early, and weighed 3Ilbs 14oz. But now he's strapping - more than 6ft."
Still, doctors admitted her to hospital, ordering bedrest and monitoring. Within a few days, however, they became concerned that her blood pressure was rising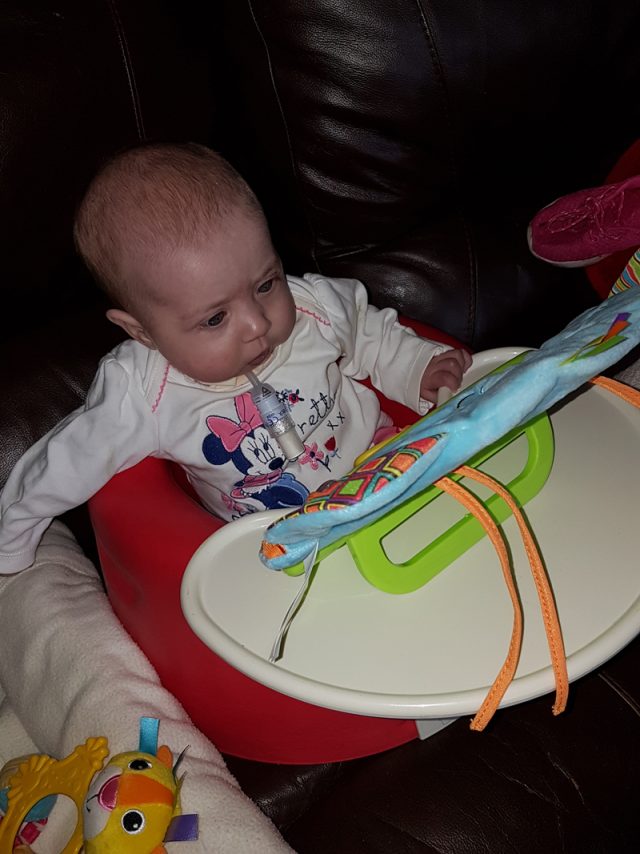 So, at 35 weeks, she was told she would need to have a caesarean the following day.
"I was then taken to theatre for an arterial line to be fitted. I had a nebuliser on my face, but wasn't unconscious," she continued. "But, suddenly, I felt my chest tighten... that's all I remember." Sharon had suffered a cardiac arrest, when your heart suddenly stops pumping blood around your body.
Doctors at Airedale General Hospital managed to resuscitate her, but also - as an emergency - delivered her baby. Jaime-Leigh weighed 6lb 6oz and, while she was taken to neo-natal intensive care as a precaution, she was healthy.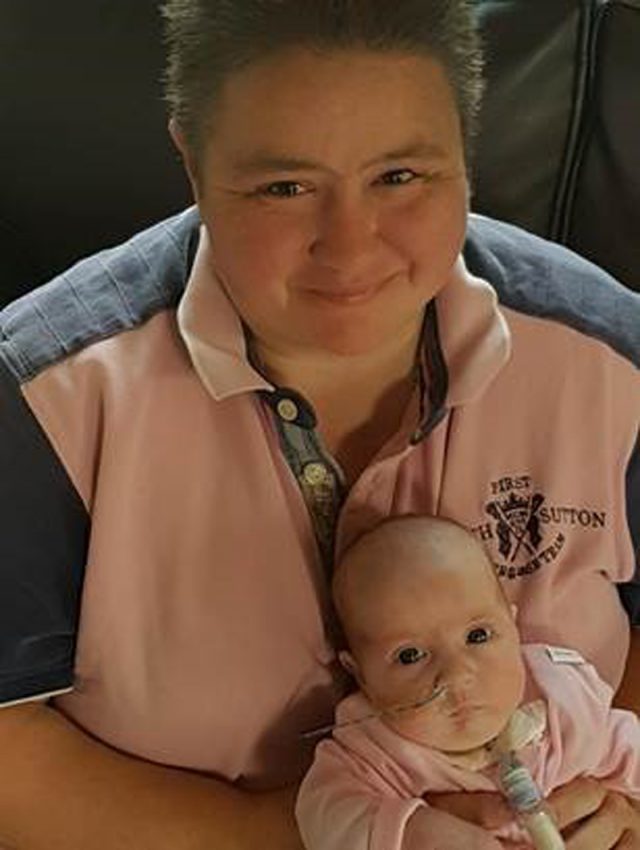 "I didn't wake up for two days though," said Sharon. "When I did I had a daughter."
Too sick to visit Jaime-Leigh in neo-natal intensive care for over a week, she added: "It was emotional seeing her."
A month later, back at home, Sharon was told the cardiac arrest had triggered her angina - chest pain, caused when the blood supply to the muscles in the heart is restricted. She was also warned against failing pregnant again.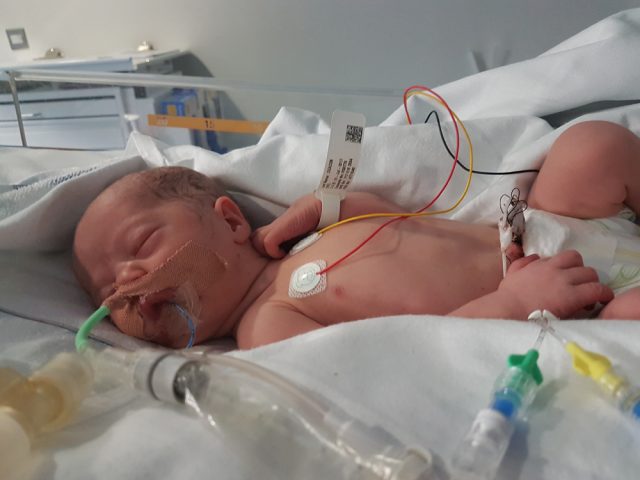 "But I wanted a sibling of the same age for Jaime," she said. "So, I disobeyed the doctors' advice."
Again, she discovered she was expecting a girl, but, once more, she developed gestational diabetes.
"This time the doctors were more prepared," she recalled. "I was under very specialist care at Leeds General Infirmary (LGI), and a caesarean was planned for July, 2017."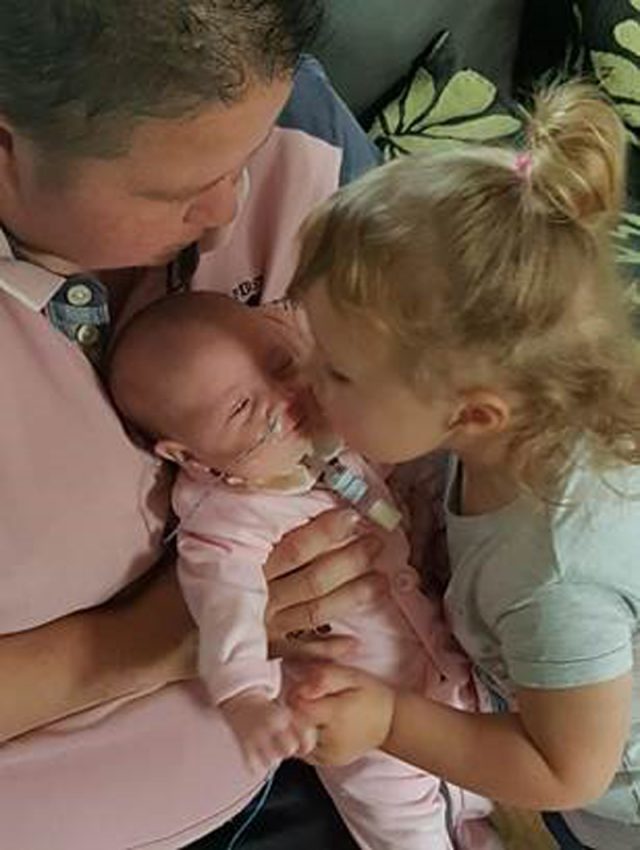 When the local anaesthetic failed and Sharon was put under for Ellie-Marie's birth, there were yet more complications.
Her baby was critically ill, with Pierre Robin Sequence (PRS) – which the Cleft Lip and Palate Association (CLAPA) describe as a rare illness, affecting fewer than 50 babies in the UK, annually – of which a smaller lower jaw, breathing difficulties and a cleft palate.
And when her umbilical cord was cut - severing her oxygen supply from her mum - she was left unable to breathe and nearly died.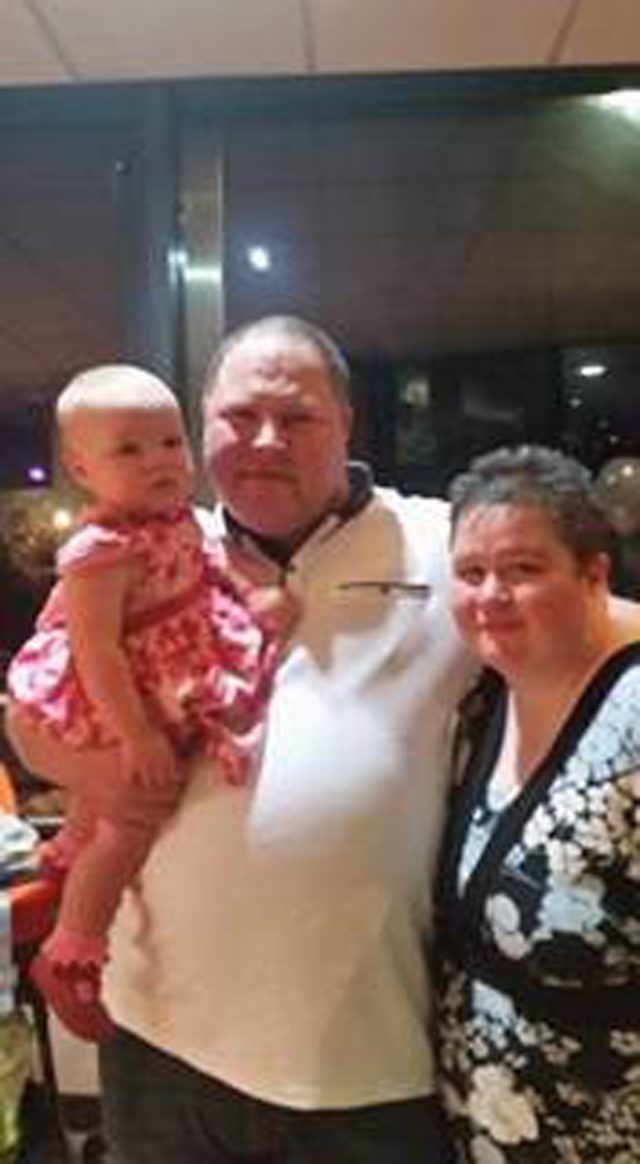 Sharon recalled: "When Ellie-Marie arrived she wasn't breathing. It took the doctors more than 45 minutes to establish an airway and all that time Darren watched on helplessly, fearing I might never meet get to meet our new daughter, because I was unconscious. Finally, they managed to incubate her – inserting a tube so she could breathe – but it was a huge struggle."
Waking an hour later, Sharon listened in horror, as doctors told her what had happened to her baby.
"It was me who was meant to be the one at risk, not my baby," she said. "I had to wait a few hours before doctors would allow me to see Ellie-Marie. Darren and a nurse took me to see her in a wheelchair – in a room on her own, with a nurse watching over her, hooked up to a ventilator with tubes and wires all over her tiny body. My heart broke. I felt helpless, I couldn't even hold her."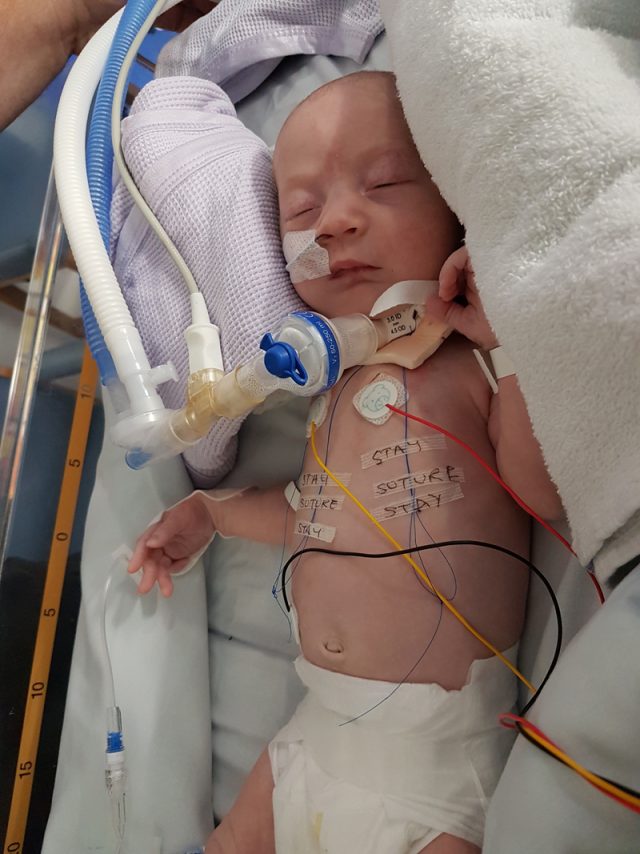 At two days old Ellie-Marie needed surgery and PRS was diagnosed.
Then, at 18 days old, she had another operation to have a surgical opening created at the front of her neck, through which a tube was inserted into her windpipe, to help her breathe.
In total, Ellie-Marie spent three months in hospital, before eventually being released in time for Christmas. But her problems were not over.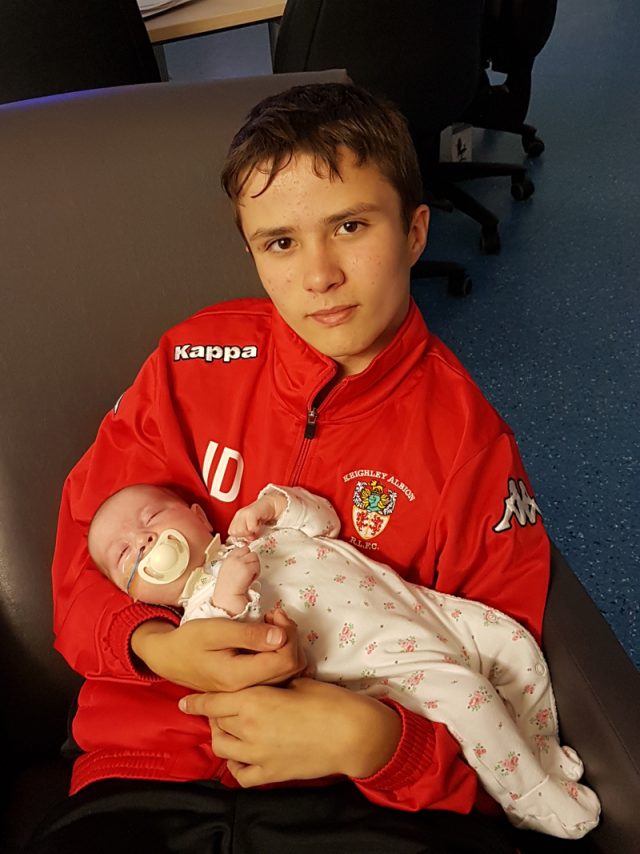 In January this year, after her breathing tube became dislodged, she went into respiratory arrest.
"Thankfully, she was saved again," said Sharon. "Now, she is back at home and we treasure her and her siblings." While Ellie-Marie was in hospital the family were supported by the Sick Children's Trust who provided accommodation away from home. "They were amazing," said Sharon. "We stayed in a room near the hospital nearly the whole time."
For more information visit http://www.sickchildrenstrust.org/
© Press Association 2018