Couple release amazing photo album detailing their premature baby's first 80 days of life
28th Feb 18 | Real Life
Born at 28 weeks, Alfie's parents have photographed his every day on earth.
A couple whose baby was born three months early, weighing less than an iPad, have opened their amazing photo album - after they took pictures of him every day, as he battled for survival.
When Alfie Knight arrived in the world during the early hours of August 23 last year, at just 28 weeks, weighing just 1lb 2oz – 3oz lighter than a 1lb 5oz iPad – he was not expected to survive.
Remembering his paper-thin skin, through which his blueish veins were clearly visible, his solicitor mum, Holly Knight, of Bilbrough, near York, said: "He was so tiny and so amazing."
Popped into a supermarket-style freezer bag, immediately after his birth, to recreate the warmth of Holly's womb, she and her electrician husband, Lewis, 33, prayed their tiny baby would survive.
Determined to remember every last second they spent with him, they took his photograph and have continued to do so, recording every day of his life.
Now, at 26 weeks, Alfie has left Leeds General Infirmary, where he was born and spent the first two-and-half months of his life and has settled in at home, with his doting parents, who have opened their treasured photograph album, to demonstrate his progress and how much he has grown.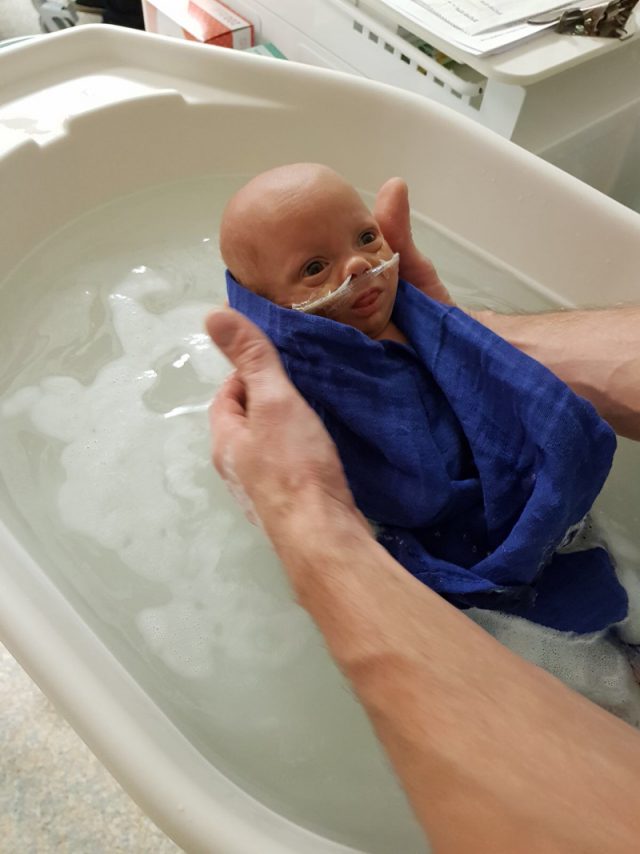 "We want other parents of premature babies to know that the early days do pass," said Holly. "Alfie is proof that they can come home and not just survive, but thrive.
"Looking at him on day one - when he was so, so small, and comparing it to now, is amazing."
Leafing through the album, there are pictures of the first time he saw the world - with a card propped against his tiny body boasting, 'Today I opened my eyes,' and - rather cheekily - one announcing the first time he passed a stool.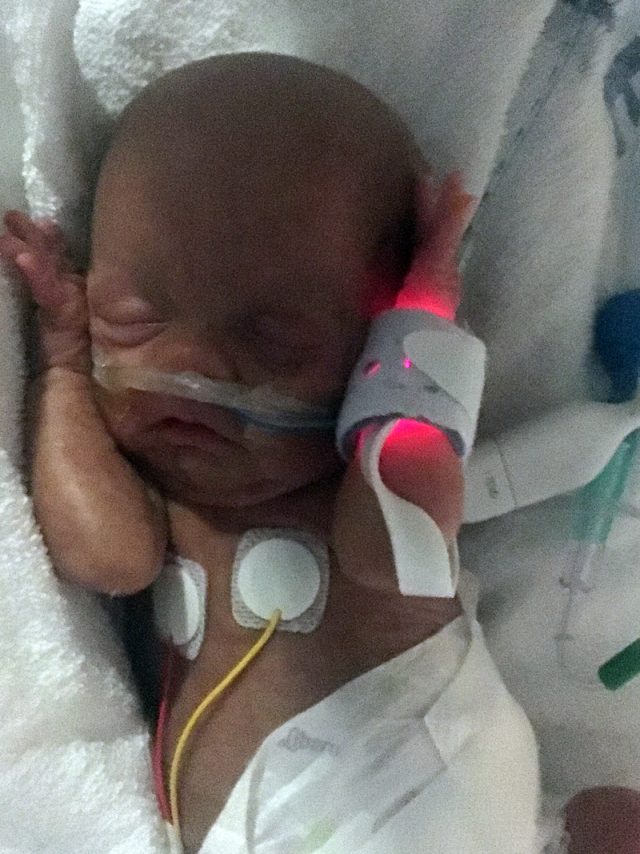 Small achievements to most people, but huge milestones to his proud parents, who feared they would lose him at three days old, when his bowel became distended and blackened – the result of a blockage.
Little Alfie has also battled E. coli, an infection that can cause diarrhoea, blood in stools, vomiting, stomach cramps and fever, and staphylococcus aureus, an infection in his blood
But now, living cosily at home, his birth weight has increased five-fold and he now weighs 6lb 4oz.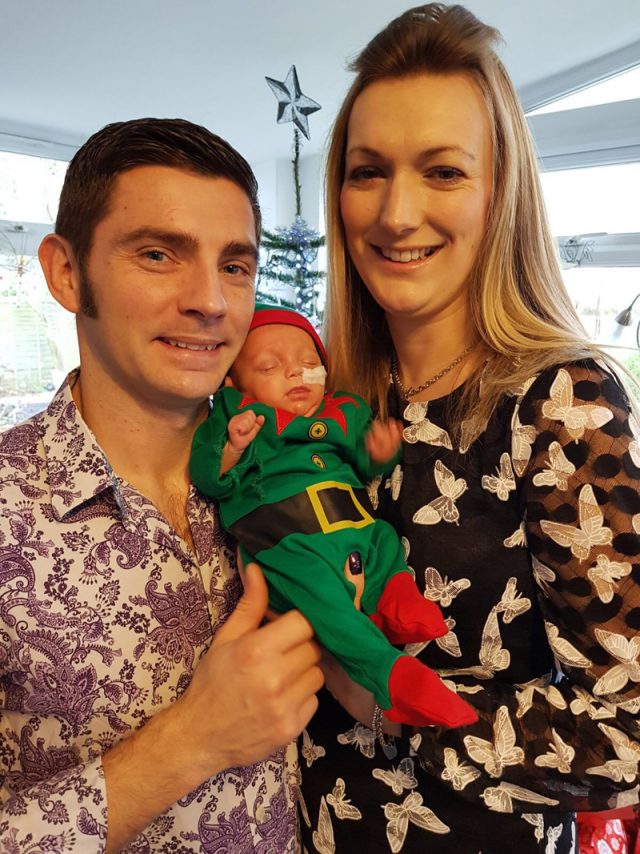 "The early days are a time we will never, ever forget," said Holly, who first discovered she was expecting in February, 2017, after a visit to the doctor because she "felt off".
He suggested she had bowel problems, but she was pregnant.
At 20 weeks, a scan indicated her baby was small, with dwarfism mooted as a possibility, although a subsequent scan ruled this out.
But the real problems started at 23 weeks, when "things started getting little bit worrying," according to Holly, who added: "My baby didn't seem to be getting any bigger.
"It wasn't until I was 28 weeks, though, on Monday, August 21, 2017, that I was told my placenta was failing and that Alfie was very small and would need to be delivered within a month."
One night later, while at home, to her horror, Holly began bleeding.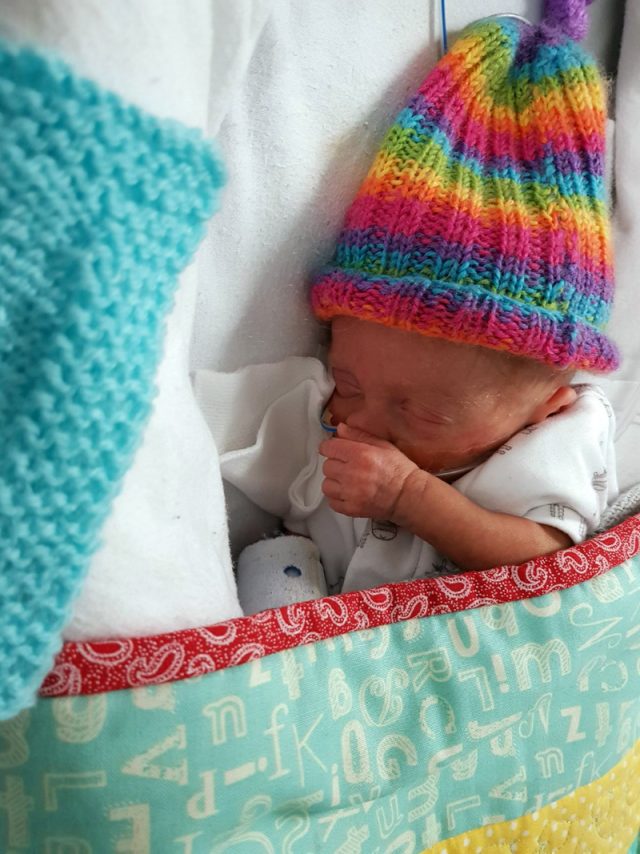 "It was absolutely terrifying," she said. "I thought I was going to lose my baby.
"Lewis rushed me to Leeds General Infirmary, but we had no idea what was happening with Alfie and when we arrived the doctor almost immediately performed an emergency caesarean.
"The reality hit, that I might lose Alfie."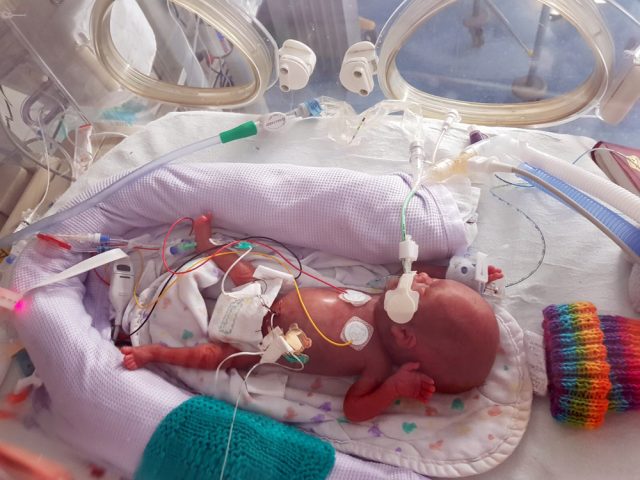 Born shortly before 2am on August 23, Alfie was wrapped in a plastic bag to moderate his body temperature, before being whisked to neo-natal intensive care.
Five hours later, Holly was able to see him for the first time.
"It was a wonderful moment," she said.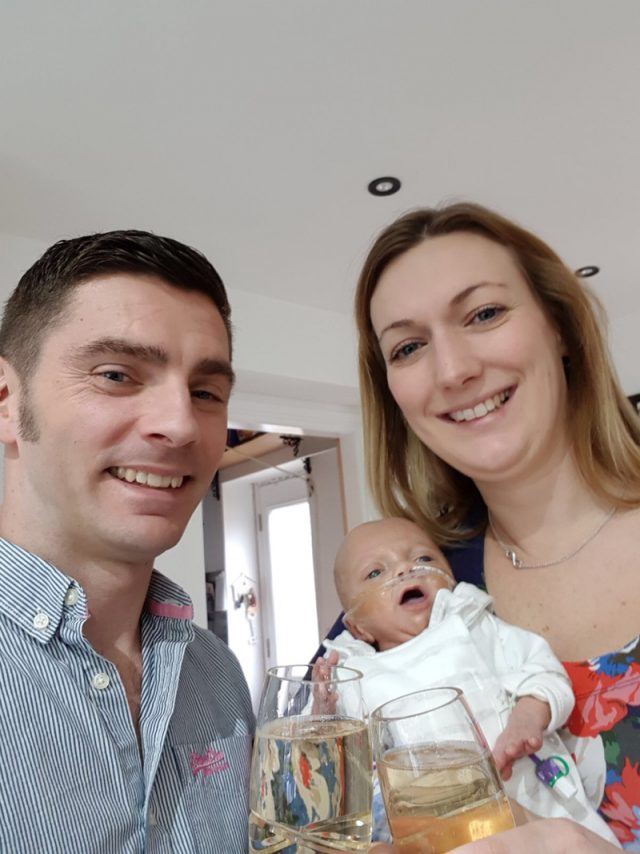 The couple were offered a home in the hospital by The Sick Children's Trust, but Holly declined.
"I just didn't think he was that ill, despite him weighing the same as the average 23-week old," she said. "We only lived 40 minutes by car away."
But, three days later, the couple received an urgent call from the hospital, informing that that Alife had deteriorated suddenly, and his stomach was swollen and blackened, a result of his bowel not fully functioning.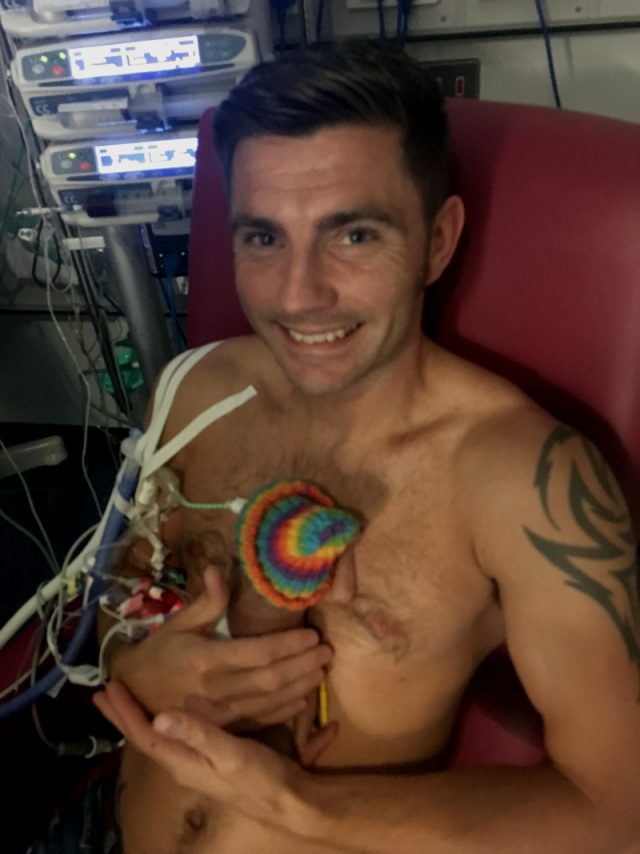 "Arriving at hospital, I realised he was incredibly sick," said Holly.
Thankfully, following intravenous antibiotics, he pulled through - with his mum, obviously, snapping a picture of him.
Other key moments she and Lewis photographed included on September 5, 2017, when he opened his eyes, and September 2, 2017, when he went to the toilet for the first time.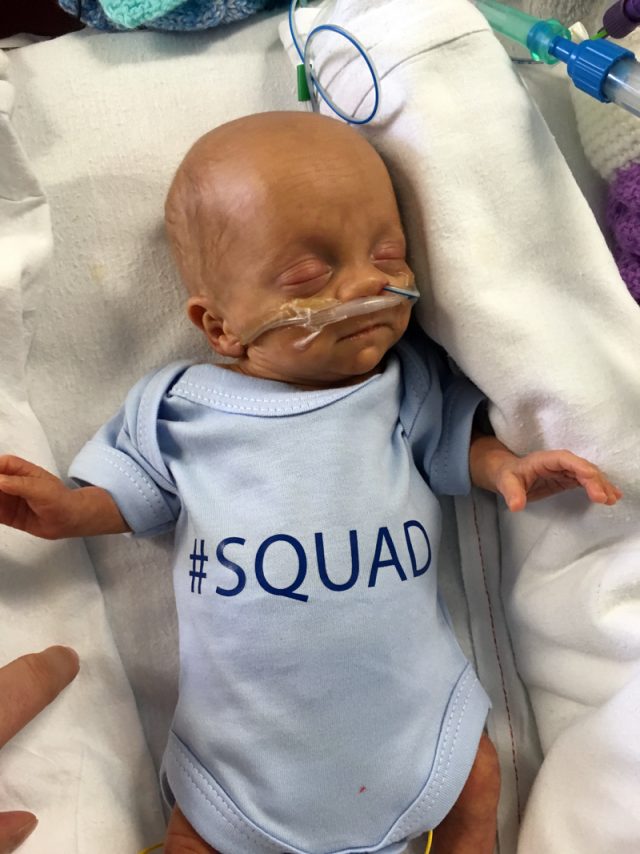 "We were delighted," Holly laughed.
And, with his weight steadily increasing, by August 30, 2017, he hit the scales at 1lb 3oz - meaning the couple were finally able to hold him.
Nurses took a photograph as, wearing a colourful bobble hat, Holly and Lewis cuddled Alfie for the first time.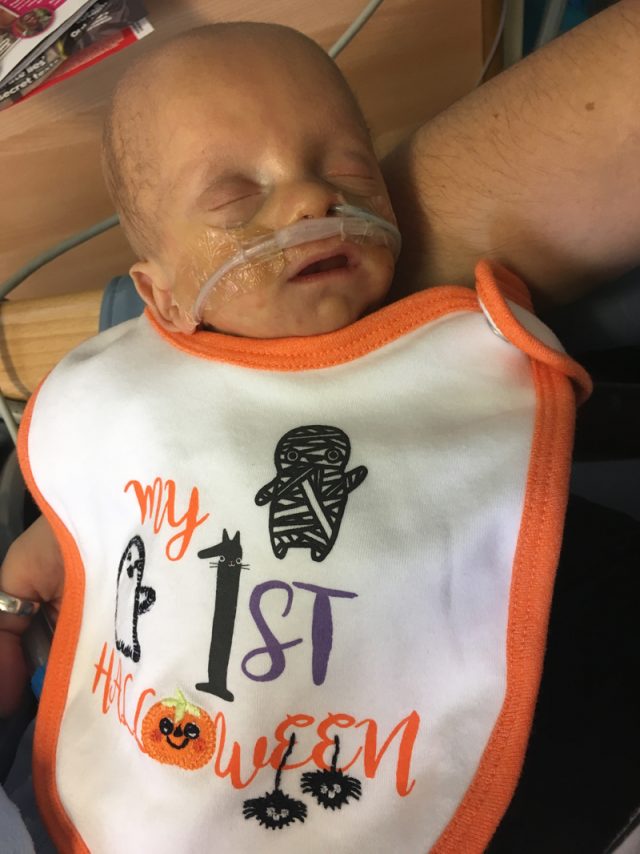 "It was so emotional," Holly recalled.
Then, weighing 4lb 4oz, on December 7, he was allowed home.
"Walking out of the hospital, baby in arms, was amazing," said Holly. "The first thing we did when we got home was pop open a bottle of Champagne and pose for a picture."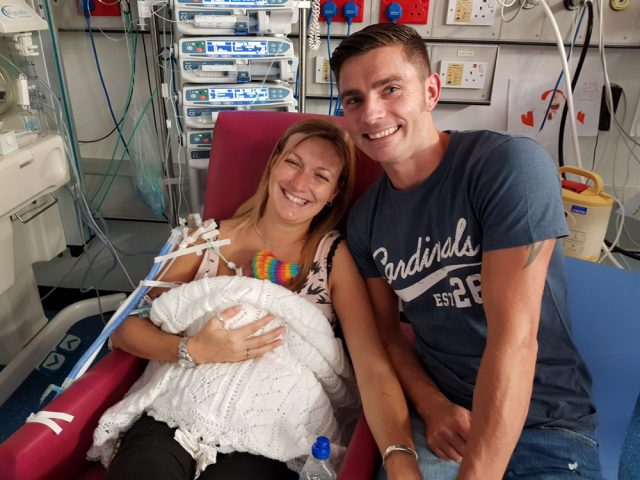 By Christmas, weighing 5lb 2oz, Alfie was smiling... and his mum and dad posed with him in the snow.
Another treasured image is of Alfie, beaming under the tree, his presents surrounding him.
Now, with just one feeding tube, he is a happy - and naughty - 26-week-old.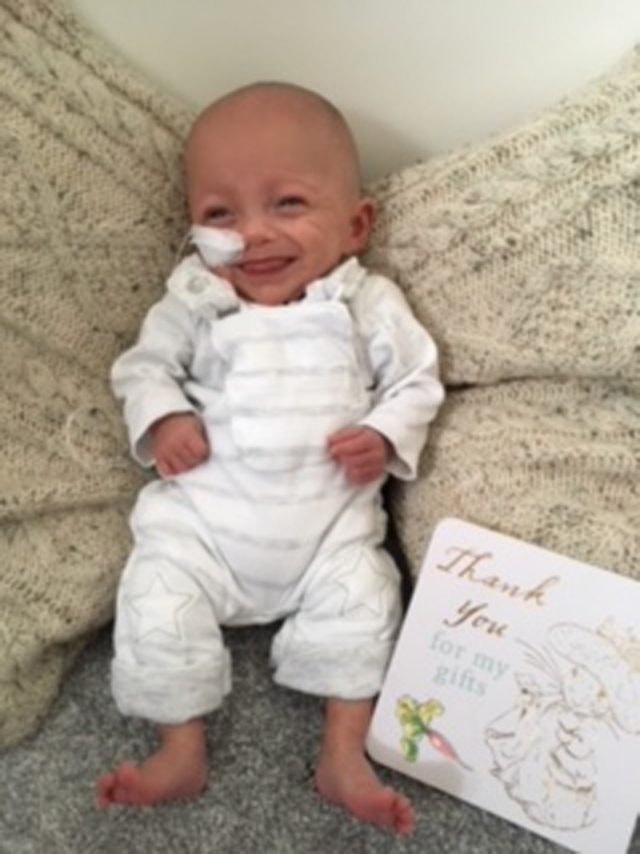 His long-term prognosis is not known, but he appears to be thriving.
Discussing his future, Holly said: "He's the light of our lives. He's wonderful.
"He's so happy and loving. Hearing him squawking away... he is one of a kind."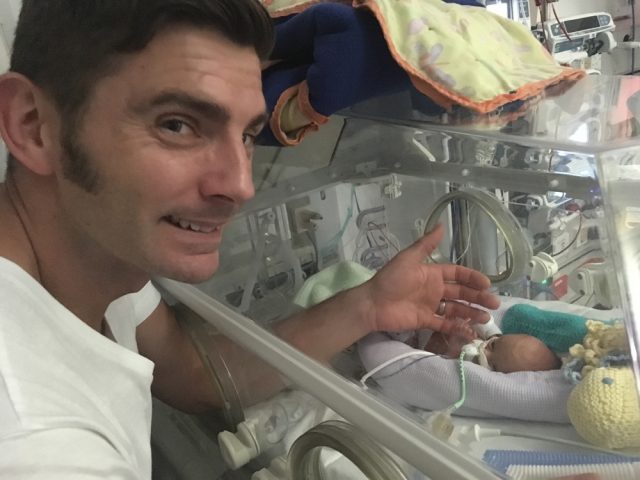 The Sick Children's Trust provided Alfie's parents with free accommodation at Eckersley House, just a few moments from NICU whilst he was being treated at Leeds General Infirmary. They are hugely grateful to them, as well as hospital staff.
© Press Association 2018