Nurse thought her husband had 'man flu' - but the truth was much more deadly
26th Feb 18 | Real Life
Now Kirsty is warning people to be aware of the dangers of sepsis.
A woman who mistook her husband's life-threatening sepsis for 'man flu,' has revealed how he turned yellow, "like Homer Simpson," after an infected gallstone blocked his bile duct.
When supervisor Rob Bland, 43, started feeling ill on February 9 2017 – shivering and complaining about a headache – his wife Kirsten thought he was being over-dramatic. A nurse, Kirsten, 36, of Poole, Dorset, admitted: "I thought it was the dreaded man flu. He was acting feeble and said he had a headache. I thought he was being a bit dramatic."
But that night, seeing him under the bright bathroom lights, she was horrified. "In the darkened room he looked okay but, under the bathroom lights, he looked yellow. I was incredibly shocked... he looked like Homer Simpson," she said.
Calling her GP, followed by 111 - the non-emergency NHS number - once she had explained what was happening, an ambulance was sent to drive him to Poole Hospital. Immediately taken to acute care, he was diagnosed with sepsis – a potentially deadly condition that develops when the body's response to infection causes injury to its own tissues and organs.
Pumped full of antibiotics, it transpired that Rob's sepsis had happened as a result of gallstones, which had been causing him problems for about a year. Hardened deposits of digestive fluid - usually cholesterol - which can form in the body, they had flared up and one had become dislodged.
The gallstone had moved, blocking the entrance to his bile duct. As well as causing a build-up of bile - leading to his yellow pallor - it had become infected with sepsis, which was attacking his gallbladder. "Rob's sepsis was caused by his gallstones," said Kirsten. "They were really painful, but we never thought they would nearly kill him. He'd been having ongoing issues with them, was on regular pain relief and was due surgery."
But, as doctors battled to save Rob, it soon became clear that sepsis and not his gallbladder problems, were the priority. And, a few hours after his arrival, he was moved to a surgical ward.
"A while after that, late at night, a specialist said his gallstones had definitely caused the sepsis," said Kirsten. "They said they could remove them on Monday, February 13. In the meantime, doctors explained that they would have to hit the sepsis with everything they had."
Fed antibiotics and painkillers, Rob's sepsis was brought under control. Then he was sedated, while the gallstones – the root cause of the sepsis – were removed, before he was discharged the following day.
"It was a great Valentine's Day present, having him home, looking a healthy, pink colour," said Kristen. "He had to have antibiotics, but he went back to work soon afterwards."
In March 2017, he had his gallbladder removed in an hour-long operation at a private hospital, but under the NHS. A year on, Kirsten and Rob are now keen to raise awareness of sepsis.
"I feel really guilty for thinking he had man flu," said Kirsten. "He had the flu recently, and I was really nervous. I kept panicking. More often than not you probably do have man flu - but just that once, it could be sepsis."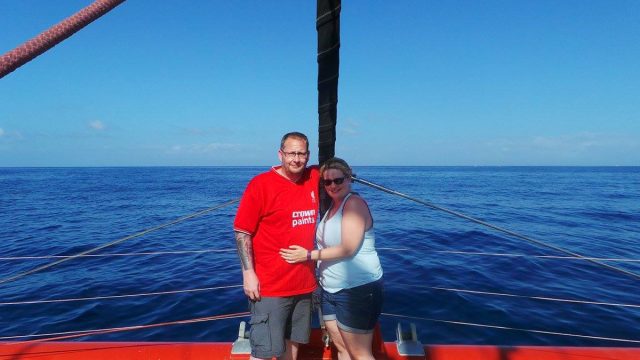 Kristen was supported by The Sepsis Trust https://sepsistrust.org/
© Press Association 2018