Baby who was only expected to live a week thriving at ten months - thanks to her "handmade heart"
21st Feb 18 | Real Life
After essentially being born with "half a heart," little Macy was saved by quick-thinking doctors and a valve donated by another baby.
A baby born with half a heart and only expected to survive for a week is now thriving at 10-months-old, thanks to doctors who built her a "handmade heart" using another infant's valve.
Mum Amber Fullarton, 18, of Glasgow, Scotland, says she will be eternally grateful to the baby's brave parents – who currently remain anonymous – for donating their late child's organs and saving her daughter Macy's life.
"Doctors have essentially reconstructed Macy's heart with veins and a valve, donated by a family whose little one had passed," said Amber. "She has a handmade heart now."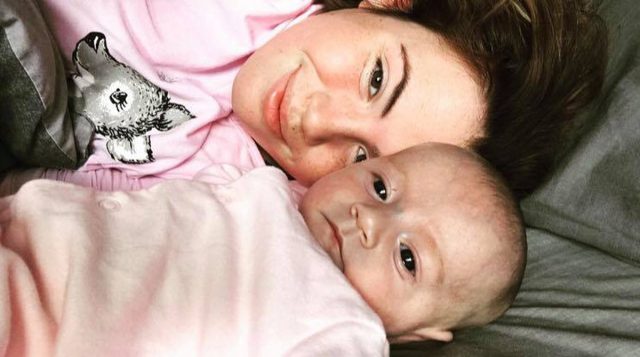 She added: "One day, I want to write to the donor family to tell them how thankful I am for what they did."
Macy's life hung in the balance, after she was born in April 2017 with hypoplastic left heart syndrome.
The condition means one of the heart's pumping chambers does not develop properly and the organ's mitral valve is either closed or abnormally small, essentially leaving sufferers with half a heart.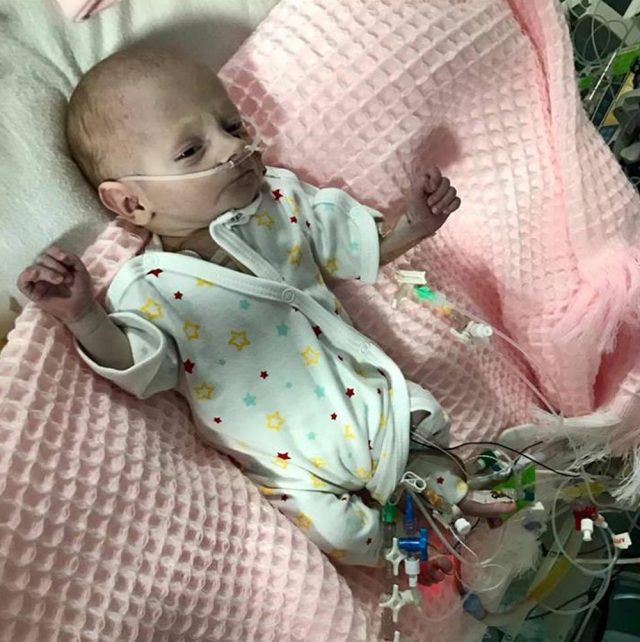 But, having outlived her original gloomy prognosis, she is now a happy tot, meeting milestones and looking forward to her first birthday in April.
Amber, who is her daughter's full-time carer, added: "We're so proud of how far she's come. She's an amazing little girl and smiles every single day."
Enjoying a text book pregnancy at first, Amber and her partner Peter McInnes, 19, were excited about becoming parents.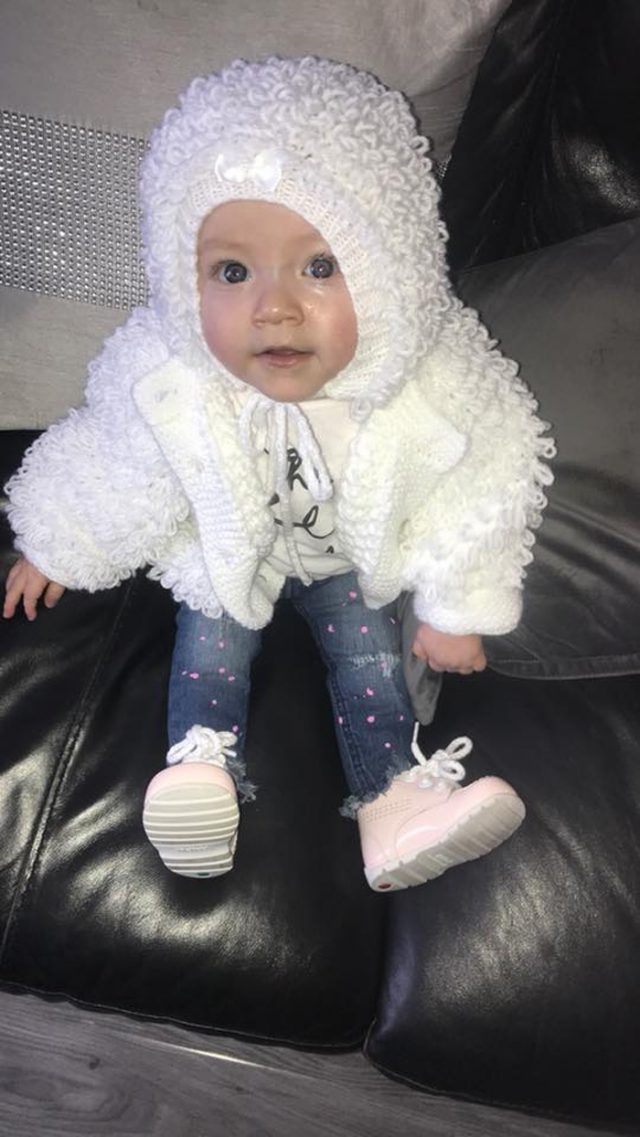 Then, at her 20-week scan, medics realised a chamber of Macy's heart was not developing.
Referred to a cardiologist, the expectant parents were given the official hypoplastic left heart syndrome diagnosis.
"It was horrible to hear," recalled Amber. "We were offered a termination but said no."
She went on: "We were told there's no real cause. It's not down to anything I did or didn't do - it's just one of those things that can happen out of the blue."
After that, Amber was given weekly scans to monitor Macy's progress.
And on April 19 2017, 10 days before her due date, the baby arrived into the world weighing 5lb 5oz, following a natural delivery, at Queen Elizabeth University Hospital in Glasgow.
At birth, she was diagnosed with four more complex heart conditions – transposition of the great arteries, where two main blood vessels are switched over; atrial and ventricular septal defects, which are essentially holes in the walls separating chambers and tricuspid atresia, where a major valve is either missing or abnormally developed.
Amber continued: "We were warned she'd be blue and weak, struggling to breathe. But she wasn't. She didn't look poorly at all.
"She was taken off straight away to have a line put in through her belly button to administer medication, that would help keep her heart valve open. After that, I got a quick cuddle before she was taken to the neonatal unit."
When Macy was two days old, doctors brought Amber and Peter – who shares his daughter's around-the-clock care – into a side room and broke some difficult news.
Because her heart problems were so complex, Macy needed to be transferred to the more specialist Birmingham Children's Hospital for urgent surgery.
"The doctors told us if she didn't have the operation, she wouldn't make the end of the week. It was absolutely horrendous to hear," said Amber.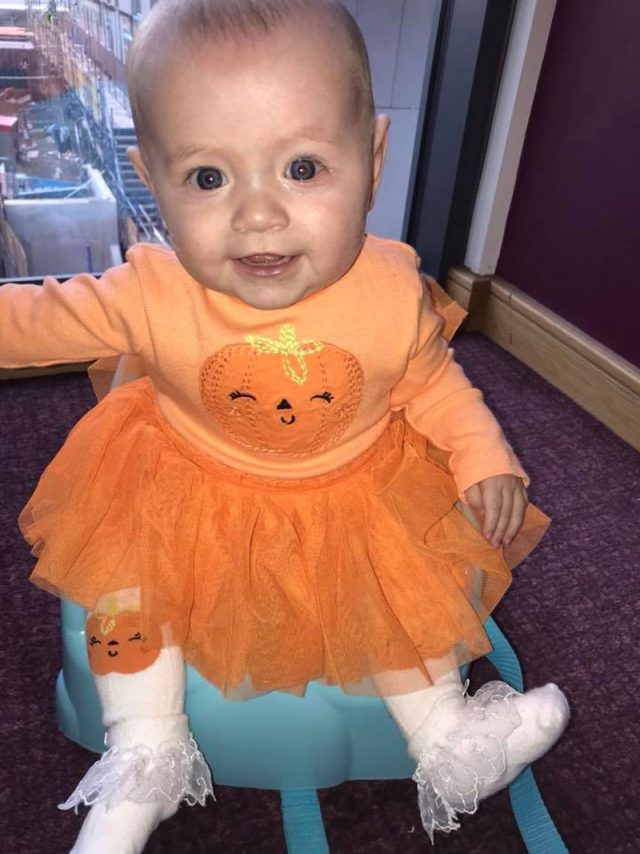 On April 21, Macy was sent to Birmingham in an air ambulance, with her parents following closely behind on a separate flight.
In an eight hour operation, known as the Norwood procedure, surgeons reconstructed the heart and well as inserting a shunt to aid blood flow to the lungs.
After a tortuous wait, Amber finally saw her girl in intensive care as she came round.
"She looked really grey and bloated, due to fluid build-up. It was so hard to see - she looked like a different baby," she said.
Post-operation, Macy remained in hospital until the end of June, when she was sent home to prepare for a second round of surgery.
The family suffered a slight set-back when, towards the end of 2017, she developed a blood clot in her leg, leaving her in agony.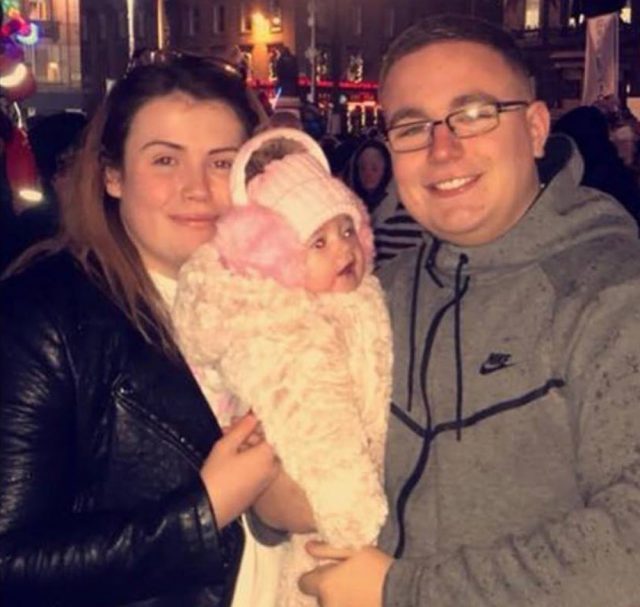 But, thankfully, doctors managed to treat her with blood-thinning injections.
Strong enough for the next procedure at Birmingham Children's Hospital, by October, surgeons put in a larger stent to cater for her growing, also implanting the donor valve.
After a four-week recovery period, during which remarkable Macy went from strength to strength, she was allowed home once again in time for her first Christmas.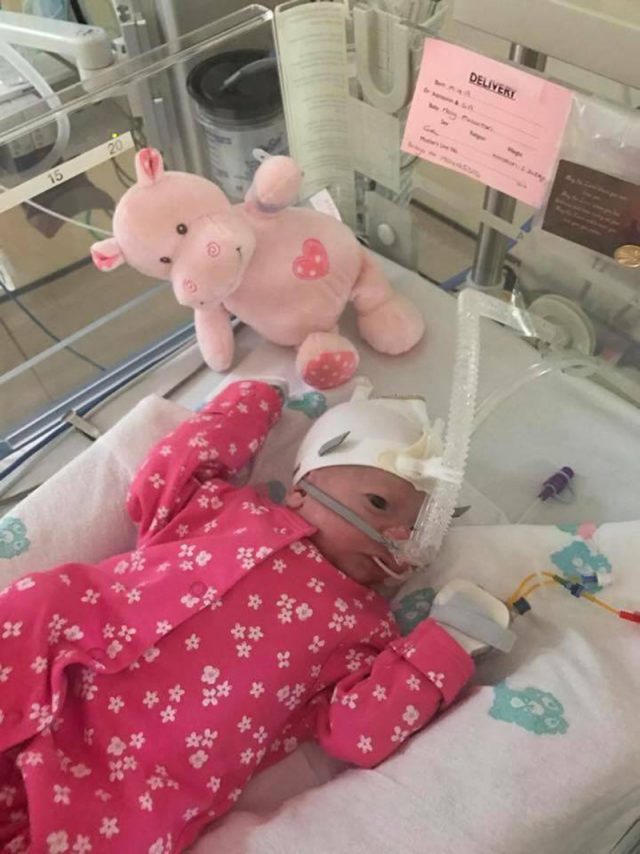 During both hospital stints, the family stayed in Ronald McDonald House charity accommodation and have praised them for stepping in when they most needed help.
Despite needing daily medication to keep her heart muscles relaxed and her blood thin enough to prevent further clotting, doctors are astonished by Macy's progress.
Earlier this month, her aunt, Demi McInnes, 17, expressed her pride at Macy's strength on Twitter, only to be met with a flurry of congratulations and 20,000 likes from strangers.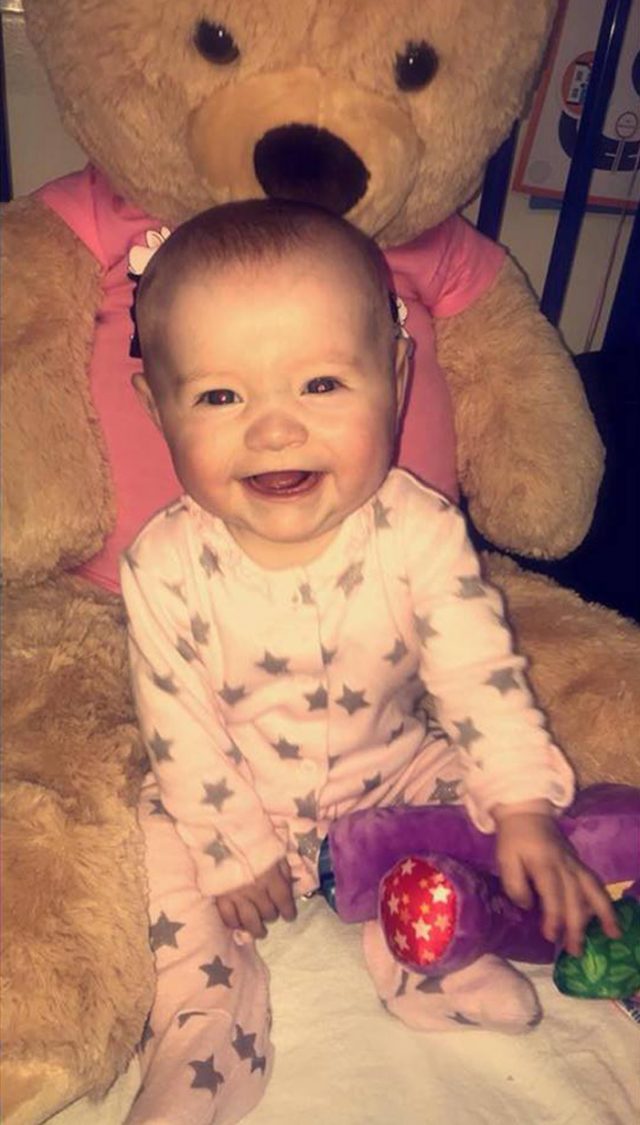 Now, Amber feels positive about the future and is sharing her story to give comfort to other parents of sick babies.
"We had a check-up in December and don't need another now until March, because Macy's doing so well," she said.
"Even after everything she's been through, she always smiles and never complains. We are so proud of her."
© Press Association 2018