Mary Robinson stands by veganism call despite local council backlash
20th Oct 18 | News
The former Irish president refused to heed Co Mayo's call for her to withdraw her comments on climate change.
Former president of Ireland Mary Robinson is standing firm on her call for people to go vegan to tackle climate change, despite a backlash which saw her local council ask her to withdraw the comments.
The long-standing campaigner, who runs a climate justice foundation in her name, said she spoke "from the heart" when she made the remarks two years ago and stands by her call for people to consume less.
The former UN High Commissioner for Human Rights told the audience at the One Young World summit in The Hague on Saturday that her comments, made at the same summit in Ottawa two years ago, prompted a formal letter from her local council in her native Co Mayo.
Mrs Robinson faced criticism from some in Ireland's farming community following her comments in 2016.
She said on Saturday: "I said (in 2016) we all have to do more. We have to be more energy-efficient, we have to recycle, we must think about what we eat, we need to eat less meat, maybe become vegetarian or even vegan. And I got a big cheer.
"But, back in my country, Ireland, this didn't go down too well and it ended up with the local authority in my county in Ireland, Co Mayo, sending me a formal letter asking me to withdraw those words, which I have not done. And I still say, and I still say.
"And the point is we do have to take a stand and we do have to make our voices heard and if people take action themselves they are much more likely to use their vote and their power to change what government policies are doing.
"Individual action alone won't get us there even if we try our hardest; we need government policies."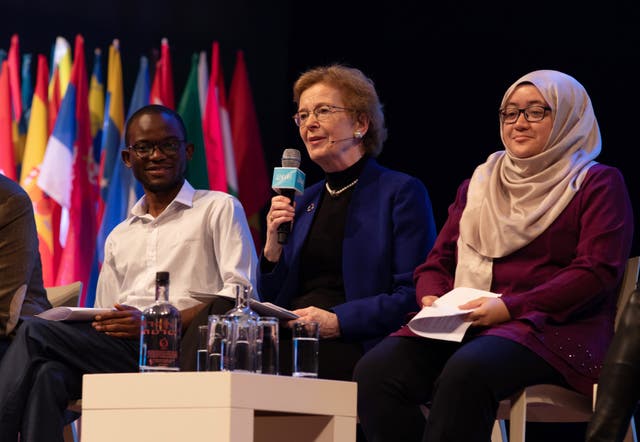 Expanding on her comments later in an interview with the Press Association, she described herself as "pro-farmer" and said Ireland could successfully diversify and market itself as an organic producer.
She said: "I know I'm criticised in Ireland for saying that we need to eat less meat, and we need to become more vegetarian, maybe even some of us vegan. I say this because there are studies that prove that we do need as a global community to eat less meat and the figures are actually quite startling of the reduction that we need to do."
She said diversification would be a positive thing for the country, adding that farmers should not be "blindly thinking there's only one way forward".
"We could market Ireland as an organic place for food that could be very important in the European Union," she said.
"I'm certain it could be a positive thing and should be, and I'm all for farmers having good incomes and being supported."
She told this year's summit, which is being attended by more than 1,900 young leaders from 196 countries: "Achieving climate justice, I believe, is the space race for your generation."
Mrs Robinson accused US President Donald Trump, who recently suggested climate change could "go back", of making "stupid remarks".
She told PA: "I don't think President Trump necessarily believes in anything but himself and his own advancement and the advancement of his family and the advancement of his friends who are more or less very much wedded to, and in the pocket if you like, of fossil fuel companies."
© Press Association 2018