Irish Defence Forces veterans and families march over pay and conditions
19th Sep 18 | News
Over a thousand veterans of the Irish Defence Forces, and the families of serving members marched in Dublin
More than a thousand veterans of the Irish Defence Forces, and the families of serving members, marched in Dublin on Wednesday over pay and working conditions that they say have plunged the armed forces into crisis.
The group, who marched from Dublin's Merrion Square to the government's main building in Leinster House, say the families and children of serving members are threatened with homelessness, and in receipt of state welfare to keep food on the table while their loved ones serve at home and abroad.
The organising group was keen to state that the parade was not a protest, but addressing what they call the dysfunctional relationship between military authorities, civilian members of the force and the Department of Justice.
Former member of the Defence Forces, and current Senator in the Irish parliament Gerard Craughwell slammed the conditions the rank and file members of the forces are faced with.
He said: "Forces are given a miserable 20 euros (£18) for 24-hour duty.
"Soldiers and their families are driven to two or three jobs at the same time just to make ends meet, children of soldiers are eating cereal for dinner.
"You cannot give loyalty where you cannot eat, you cannot be loyal when you cannot live."
One of organisers of the Wives and Partners of the Defence Forces, Shelley Cotter, condemned Taoiseach Leo Varadkar and The Minister with Responsibility for Defence, Paul Kehoe, claiming they had failed the men and women who serve.
She added: "These men and women are dedicated enough to sign on the dotted line, they serve their country, they train and travel wherever they are needed, all without hesitation, they are worldwide renowned for their peace-keeping abilities but at home they are ignored and dismissed – this ends now."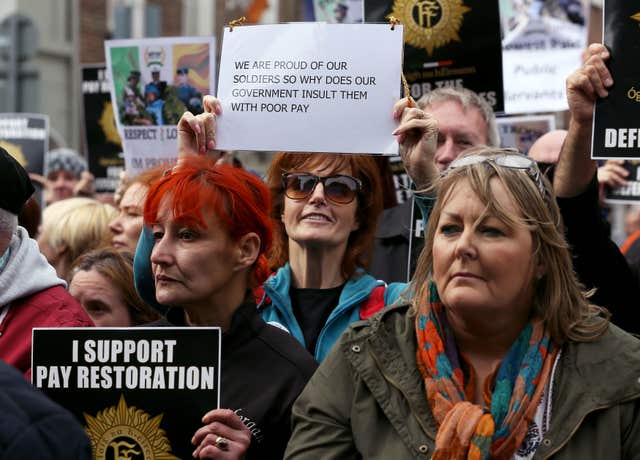 Nicola O'Neill, from Kilkenny – whose son has been serving for 12 years but was prevented from attending the march, says her son rents an apartment as the facilities available for troops are inhabitable, with blocked showers and toilets.
She said: "The burning issues are pay and living conditions, we assume that because people have signed up from a sense of patriotism that they should work for buttons, and that's not how it should be – they should be awarded the dignity and loyalty and respect that they deserve.
"My son's partner is a teacher and their incomes are just not comparable, even though he is a professional.
"He works 24-hour shifts, he's a highly trained driver, he's an emergency medical technician, they've trained him to the highest level and they will lose him because they don't honour them with the respect to keep them in the service."
Those who marched cited a University of Limerick study that states working conditions within the Defence Forces are poor, they also state that some serving personnel are living in poverty. However, last year the Department of Defence handed back a 27 million euro (£24 million) surplus to the government.
Senator Craughwell labelled the money hand back as the "winding down" of the Defence Forces, in one of the most threatening times of terrorism that Europe has faced in generations.
Retention and employment within the Defence Forces was also cited as a major issue – as a consequence of under-staffing, typically as a minimum, soldiers, sailors and aircrew could conduct two 24-hour security duties in a week along with a further 16 hours of routine duties.
Political opponents of the government have shown their support, with both Fianna Fail and Sinn Fein coming forward to back those who marched on Wednesday.
Employment Affairs and Social Protection Minister Regina Doherty said during Leaders' Questions in the Dail parliament that steps were being taken to remedy the issue.
She said: "It's because we value and want to retain the people in the Defence Forces that we have put an action plan around retention and recruitment to make sure we have full capacity of numbers."
Minister with Responsibility for Defence, Mr Paul Kehoe said: "We are in a process of restoring pay and reversing the cuts that were introduced across the public service during the economic downturn.
"The first 1% increase due from 1 January 2018 has been paid to Permanent Defence Force personnel, and a second increase is scheduled to be applied on 1 October 2018.
"The Government has requested the Public Service Pay Commission to examine issues of recruitment and retention in the Defence Forces.
"That process is under way and the Commission is engaging with individual serving members.
© Press Association 2018