As Zoella reveals she's suffering from imposter syndrome, here are 4 tips for dealing with it
20th Feb 19 | Lifestyle
Even the most successful people can feel like they're out of their depth.
On the surface, it probably seems like Zoella has it all. At just 28, she's a millionaire beauty guru with several published books and 11 million followers on YouTube.
But the 28-year-old influencer, real name is Zoe Sugg, has revealed that she still struggles with crippling self-doubt and a psychological condition called imposter syndrome.
It's a complex phenomenon where you doubt your accomplishments and have a persistent fear of being exposed as a fraud to others.
"I was sat contemplating what to put for the caption of this image for so long and the reason I think I was struggling is because I have major imposter syndrome at the moment," the Brighton-based vlogger posted on Instagram.
"I'm constantly doubting everything I've achieved, everything I'm working on business-wise and everything I'm working on in my personal life.
"Even down to second guessing if I should have said certain things, or 'did I do that properly'… it's bloody annoying haha," she added. "It's such a peculiar feeling and nothing I do seems to make it 'less so'."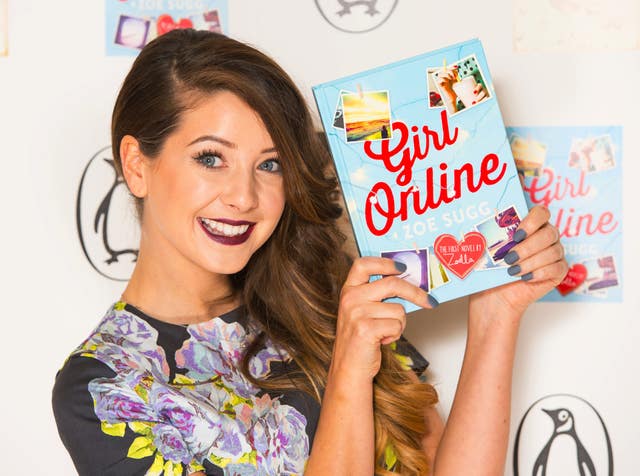 Sugg isn't the only high-profile person to have suffered with imposter syndrome. Comedian Tina Fey, poet Maya Angelou and actress Meryl Streep have all previously revealed that they have doubted their own talent, despite their impressive achievements.
It's pretty common to feel out of your depth at some point, particularly when you enter a new phase of your life – whether you've recently taken a job promotion or become a new parent.
Here, we asked Karen Kwong, organisational psychologist and owner of RenOC Consulting (renoc.co.uk) for some top tips on how to beat imposter syndrome for good.
1. Set the bar lower
"The best tip I can give to anyone looking to combat imposter syndrome is not to set expectations, as this simply sets you up for what you believe to be failure," says Kwong.
She recognises that this is a common mistake that many people make. "If you have a really good month, you expect the next one to be even better – so if something tiny goes wrong it can have a really negative affect," she explains.
"Celebrate the big wins, of course, but don't make them your standard reach," advises Kwong, "as you'll constantly be trying to work to that level and it will most likely cause stress and burnout.
"Instead, set yourself realistic goals that are reachable, but satisfying. This will give you a sense of daily achievement – you don't need to change the world every month to be successful!"
2. Take a break from Instagram
Posting less on social media, or having a social media detox for a couple of weeks, can work wonders for people who suffer with self-doubt.
"Social media can be very damaging for mental health, and seeing people's 'perfect' lives can cause us to have major cases of imposter syndrome," warns Kwong.
"There's also the issue of posting too. Sharing content can be verifying, so we soon begin to judge our success on likes, shares and engagements."
Kwong says that if your 'likes' start to dip, it can have a negative effect on your mental health. "You don't need strangers to verify your success – you need to verify your own success and determine what it means for you.
"Stepping away from social media will redirect your focus, and refresh your mind – and you will learn to celebrate your own successes without comparing yourself to anyone else."
3. Celebrate your strengths
Work to your strengths and practise positive affirmations. "Everyone has strengths and weaknesses, and imposter syndrome can hone in on your weaknesses and make your feel like a fraud," says Kwong.
Kwong says that you should make a list of what you are good at, no matter how small.
"Whether it's good at making decisions, or you're a good writer, or great a pitching, these are your strengths – they're what you bring to the table at work.
"No one is good at everything, and trying to be doesn't do anyone any favours.
"By focusing on your key strengths, and injecting them into all of your professional projects, you will find you have more wins and successes. Trying to do and be everything, to everyone, will only leave you feeling stressed."
4. Record your successes
Finally, Kwong suggests producing weekly reports of your activity.
"I know this sounds corporate, and a little 'micromanagement', but putting together a report of your successes – where your time has been spent, what you have learned, your plans for next week – is a really good strategy.
"It not only keeps you accountable to yourself, but you then get a written record of your achievements."
Over time, Kwong says you'll notice patterns of achievements, as well as everything you've learned on the journey. "It's an incredibly satisfying activity," she says, "and a sure-fire way to keep imposter syndrome at bay."
© Press Association 2019