How to make Sasha Gill's vegan almond and semolina sugee cake
13th Feb 19 | Lifestyle
You really can make vegan marzipan.
"Sugee cake and I have history: We go way back. Every birthday, wedding or celebration culminated in the slicing of one of these gloriously golden cakes," remembers cookbook writer, Sasha Gill. "No one made this cake quite like my grandpa did – he was something of an expert, despite never following a formal recipe himself.
"This cake is usually laden with egg yolk (at least six) and butter, to be eaten in small slices. As you can imagine, it wasn't the easiest thing to make vegan, but I kept at it until I cracked it."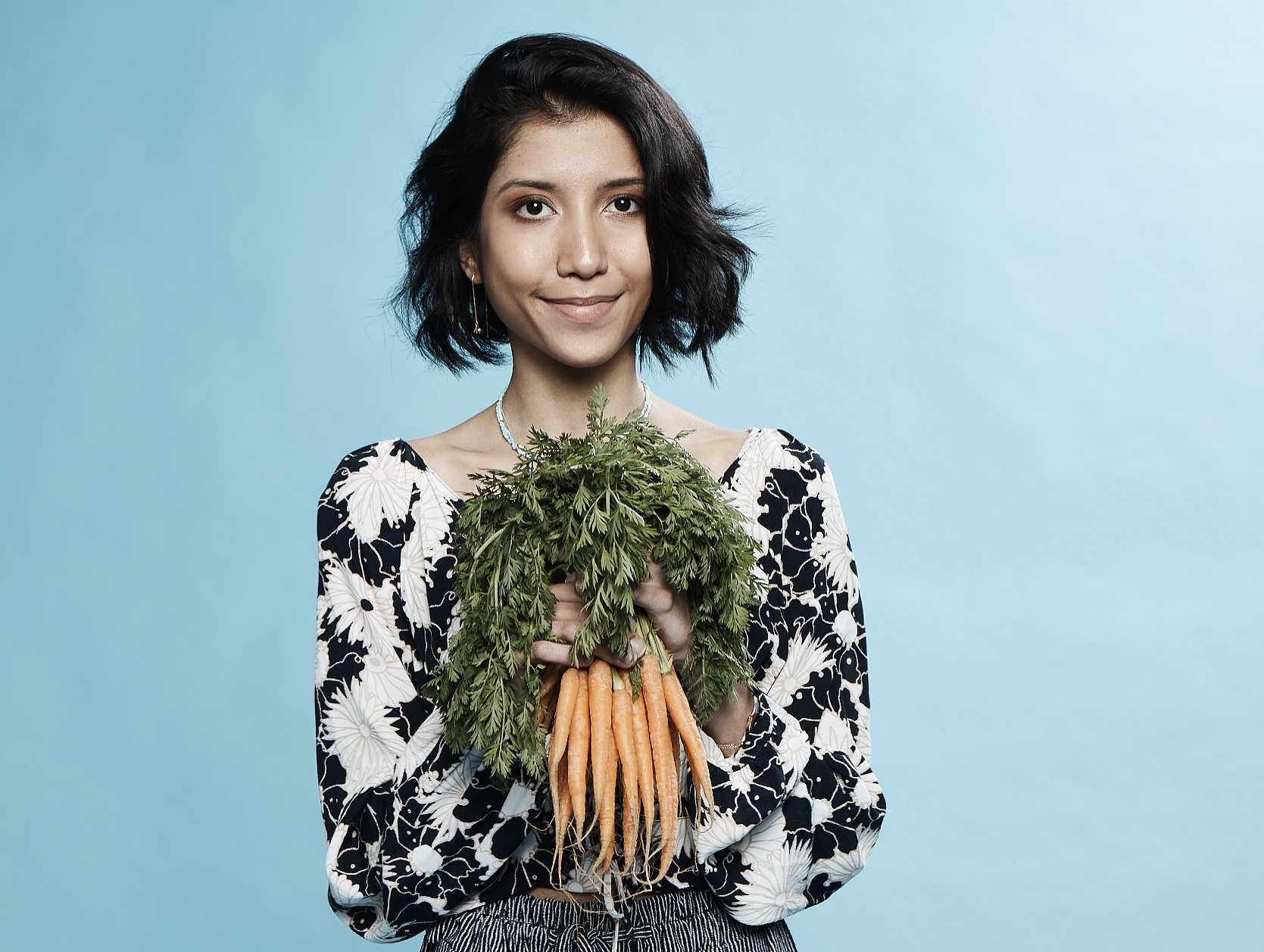 Ingredients:
(Serves 12)
115g vegan butter
300g fine semolina
250ml plant milk
75g plain flour
130g firmly packed icing sugar
130g vegan yoghurt or 125ml coconut milk
1tsp baking powder
1/2tsp bicarbonate of soda
Pinch of salt
1/2tsp vanilla extract
1/2tsp almond extract
1tbsp agave syrup
1tbsp brandy
1/2tsp ground cinnamon
40g finely chopped almonds
2tbsp apricot jam, for brushing
Flaked almonds and whole pistachios, to garnish
For the vegan marzipan:
150g ground almonds
110g sifted icing sugar
1tbsp maple syrup
1tsp lemon juice
1/4tsp almond extract – optional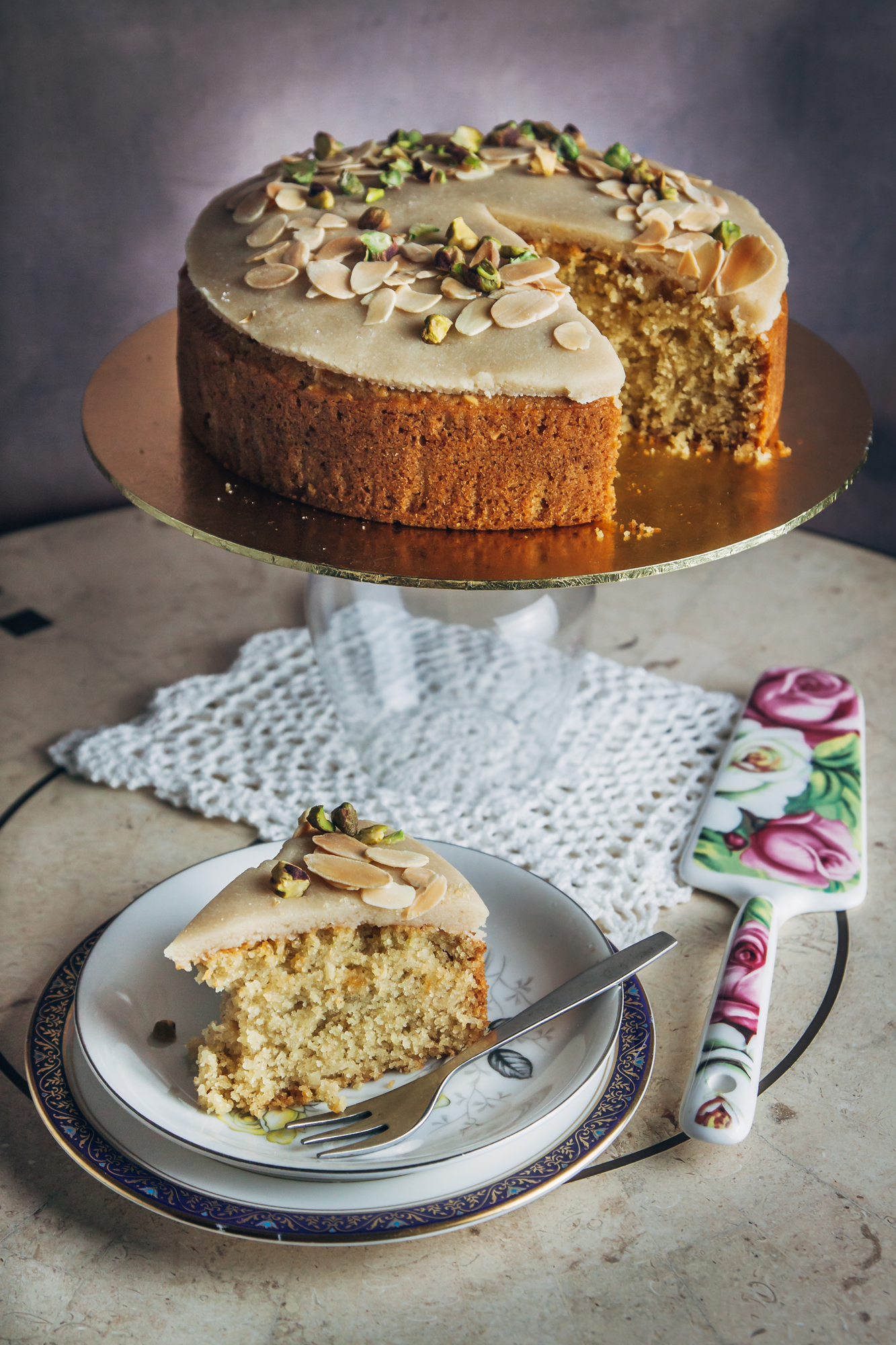 Method:
1. Cream the vegan butter in a large bowl to soften it, then mix in the semolina and plant milk. Cover the bowl and chill in the fridge overnight to soften the semolina.
2. Next day, preheat the oven to 180°C, and grease and line an 18cm round cake tin. Take the bowl of semolina from the fridge and sift in the flour and icing sugar. Stir well, then add the yoghurt, baking powder, baking soda, salt, vanilla and almond extracts, agave syrup, brandy and cinnamon.
3. Mix until just combined, then fold in the almonds. Pour the batter into the tin and bake for 45 minutes, or until a skewer inserted in the centre comes out clean.
4. Meanwhile, make the marzipan. In a food processor, blitz the ground almonds for 30–60 seconds to make them a little finer – but don't over-process or you'll end up with almond butter! Tip out into a large bowl and sift in the icing sugar. Drizzle in the maple syrup, lemon juice, one tablespoon of water, and the almond extract, if using. Knead until it starts to come together. Shape into a ball, then flatten into a disc – this will make it easier to roll it out later. Wrap in plastic wrap and chill for at least an hour before using.
5. Let the cake cool completely before turning out of the tin.
6. Roll out the marzipan into an 18cm circle. Warm the apricot jam in a small pan (or the microwave) and brush over the top of the cake. Lay the marzipan onto the cake, then garnish with almonds and pistachios.
Jackfruit And Blue Ginger: Asian Favourites Made Vegan by Sasha Gill is published by Murdoch Books, priced £18.99. Available now.
© Press Association 2019