How to make Sasha Gill's vegan fennel and parsnip tarka dal
13th Feb 19 | Lifestyle
Perfect for dipping.
"If I had to eat one meal for the rest of my life, I would choose dal in a heartbeat," says food blogger and vegan recipe writer, Sasha Gill. "It was a weekly staple when I was growing up, and I used to tear into fresh rounds of homemade chapatti just to mop my plate clean.
"This is a version I first made when I was homesick and in desperate need of a winter treat. Parsnip and fennel are perhaps unusual additions to a dal, but together they give it an almost herby, anise-like twang."
Ingredients:
(Serves 4)
200g red split lentils
1tsp ground turmeric
2 bay leaves
1L vegetable stock
1 large parsnip, peeled and cut into 5cm long batons
2 fennel bulbs, tops and roots cut off, outer layer peeled with a vegetable peeler, then diced
1tsp vegetable oil
1tsp cumin seeds
3/4tsp salt
75g coriander, leaves only, finely chopped
35g flaked almonds, toasted
Naan breads, rice or chapattis to serve
For the tempering:
1tsp vegetable oil
1tbsp mustard seeds
1tsp fenugreek seeds
1tbsp cumin seeds
Pinch of asafoetida – optional
1 red onion, finely chopped
5cm ginger, finely chopped
2 green chillies, deseeded and finely chopped
2 large tomatoes, diced
1tsp chilli powder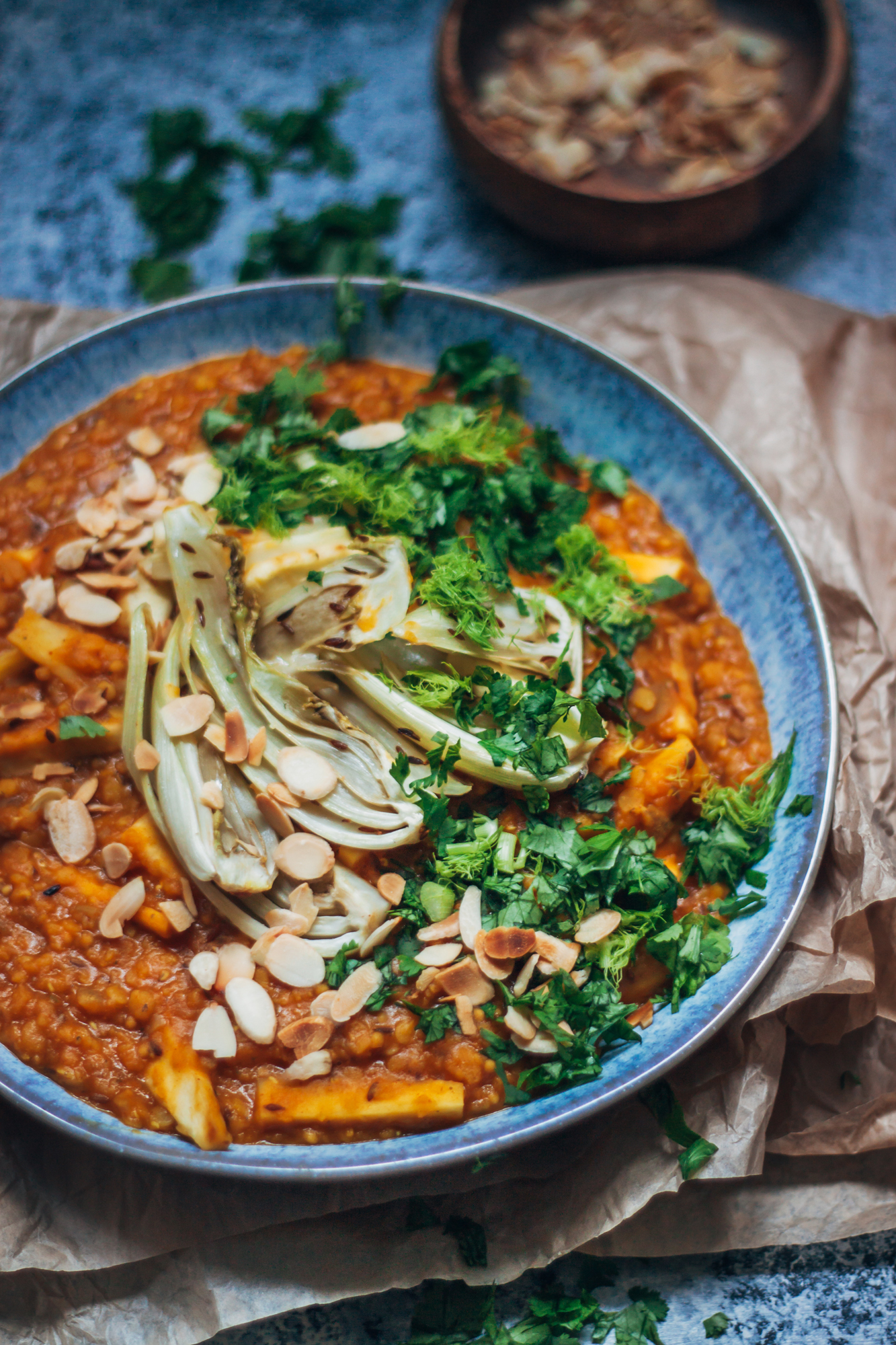 Method:
1. Preheat the oven to 200°C.
2. Put the lentils, turmeric, bay leaves and stock in a large saucepan over medium heat. Bring to the boil, then reduce to a simmer, cover and leave to cook gently for about 30 minutes.
3. In a bowl, mix the fennel and parsnip with the oil, cumin and a quarter of a teaspoon of the salt. Tip out onto a baking tray and roast for 25–30 minutes, or until tender.
4. Meanwhile, in a medium non-stick frying pan, temper the spices: Pour in the oil and set over medium heat. When it's hot, fry the mustard, fenugreek, cumin seeds and asafoetida until they're fragrant, the mustard seeds 'pop' and the pungent aroma of the asafoetida starts to subside.
5. Add the onion, ginger and chillies, and continue to fry until the onion is soft and translucent. Pour in the diced tomatoes and chilli powder, and cook for a further three to four minutes until the tomatoes have softened.
6. When the lentils are creamy and ready, season with the remaining half teaspoon of salt. Pour over the tempered spices and oil, then add the roasted fennel and parsnip, and mix well.
7. Garnish with coriander leaves and flaked almonds, and serve with naan breads, rice or chapattis.
Jackfruit And Blue Ginger: Asian Favourites Made Vegan by Sasha Gill is published by Murdoch Books, priced £18.99. Available now.
© Press Association 2019