Jeff Bezos split: How to tell people you're getting a divorce (that's if you want to tell them)
10th Jan 19 | Lifestyle
A Twitter announcement doesn't work for everyone, experts tell Jenny Stallard.
A 'loving exploration' can conjure up many different images – but for silicone valley super-couple Jeff Bezos and wife MacKenzie, it was part of a statement announcing their split after more than two decades of marriage.
For those who don't know, Bezos is the founder and CEO of Amazon: He married wife MacKenzie 25 years ago and they have four children. Telling your friends – if not the world – that you are separating in a social media statement isn't the only way to spread the news of divorce though. And indeed, you don't have to make a huge fuss about it if you don't want to. Here's what you need to consider…
Tell the kids first
Pip Wilson is CEO of Amicable, a divorce app which aims to help people keep their split friendly. "You may confide in an individual friend, but telling the kids first is really important. Telling them together and with a consistent message that 'mummy and daddy still love you'."
"Relationships break up," she adds, "it's very common – 42% in the UK – and is, and should be, viewed as a sad thing, but not necessarily a bad thing."
Consider family and friends before 'the announcement'
"There's no obligation to tell people, but telling them all together isn't bad. We help people who have decided together that this is the right approach, to get all their paperwork together and not go down the legal process, which can make things more acrimonious," says Wilson.
An announcement cuts through the conversations with everyone you meet, and it can come after you've told friends and family more personally. "One of our biggest 'dos' is that you have to tell those who will be really affected first, and in an appropriate way. If friends or family were to find out via social media, that's completely inappropriate."
Begin with good intentions
Whether you want to make a huge announcement, or tell people one by one, it's important to think about how you want things to pan out, says Laura Jennings, family law specialist and partner at boutique law firm Merali Beedle.
Jennings says: ''The UK's divorce arena is a myriad of formalities and rules, the majority of which can seem incredibly daunting for someone completely new to the process. With the rise of digital technology, there is an array of new and unconventional ways to commence a divorce, however, my top tip is to start the process as you mean to go on.
"Firstly, be transparent with yourself, what you want and how you want the proceedings to go. This is imperative in ensuring you can be honest and clear with your partner about your relationship, and where you want to go from there. The end goal becomes far more achievable in a shorter period of time if effective communication is central to your case."
Try to be grateful
The Bezos are by no means the first to make a statement about splitting up. In their post, the couple said that: "If we had known we'd separate after 25 years we'd do it all again." There's an element of making sure people know you are trying to stay amicable – and a joint statement, or saying the same things, can help.
Wilson says: "You might want to have a moan to your best friend, but to wider people, especially those you don't know as well, the more you can agree as a couple what your message is going to be, and that it's not about blaming the other person, the better that is. Then it avoids someone taking sides so much. Ultimately, once you've made the decision that it's over, you gain very little by blaming and holding that blame."
Keep the details short and sweet
"You might find that some people feel embarrassed and don't want to know too much, but others want 'the gossip'. If someone is pushing for too much information, you can say, 'We don't feel ready to talk at the moment'," says Wilson. "Tell them you've given them the news, but this is a process you have to go through. A good friend listens, but doesn't necessarily pry."
Focus on your own needs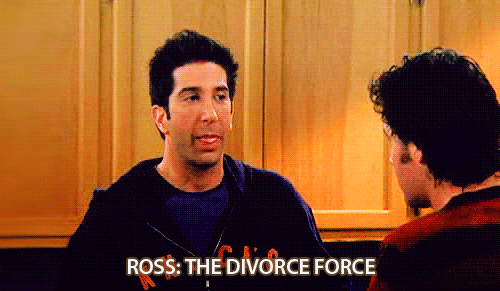 Don't agonise over other peoples' response, adds Wilson: "You can't predict how other people will be behave, and their reaction might be clouded by what they're going through.
"People you think will be understanding might not – they might be quite thoughtless in their response. If someone is going through a rough patch and worried their marriage might go the same way, they might react badly to you. But there is no point worrying about other peoples' reactions."
All you can do is put your news out there and focus on your own future and recovery.


© Press Association 2019