Tried and tested: Here's our verdict on the new McDonald's veggie Happy Meal
7th Jan 19 | Lifestyle
Step away from the chicken nuggets.
Incredibly, there hasn't been a vegetarian Happy Meal option until now.
Since 1979, carnivorous kids have been tearing into the iconic cardboard boxes, snatching out the toy (oh, the excitement) before scoffing their cheeseburger or chicken nuggets.
However, non-meat eaters were stuck with a choice of Filet-O-Fish (suitable for pescatarians only) or, well, chips and carrot sticks.
But no longer. In a new campaign, being fronted by singer and mum of two Frankie Bridge, the fast food chain has launched its first veggie happy meal: The Happy Meal® Veggie Wrap (209kcal, £2.49).
So what's in it?
A red pesto goujon with tomato ketchup and shredded lettuce, wrapped in a soft, toasted tortilla.
Is it vegan too?
It is both veggie and vegan – it's dairy free, although do be aware, the tortilla wraps pass through the same toaster as McDonald's buns, which contain milk. And you still receive the obligatory drink, side and toy.
Our verdict:

We were impressed. The goujons themselves are moreish, savoury and full of flavour (more so than the usual chicken nuggets), while the salad kept its crispness and the wrap made a nice change from the sweet-doughiness of the usual McDonald's burger buns.
One of our testers said: "Definitely the first thing I've eaten from McDonald's that hasn't left me feeling really guilty. Will actually order again!"
While another said: "This is tasty. The goujon is crunchy and has that naughty, fried food element I occasionally crave." However, this tester did find it marginally more guilt-inducing: "I wouldn't eat this too often though, because I didn't feel very virtuous afterwards!"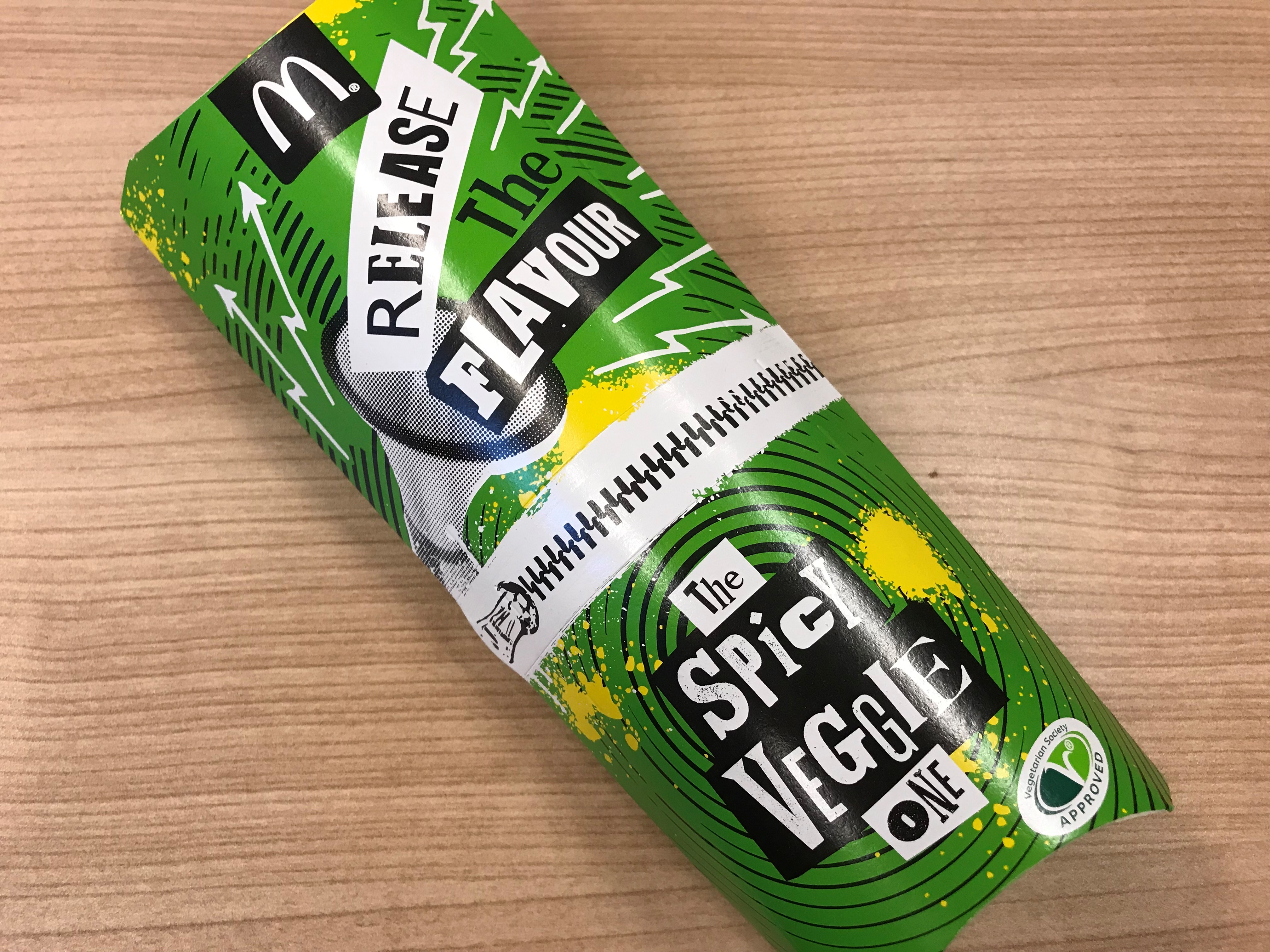 Of course, it's not one you'd be feeding the kids every lunchtime, but for a weekend treat, it's ideal if you're veggie, vegan, or just fancy a change from the hamburger norm. Here's hoping they introduce even more veggie wrap fillings in future.
Is there a version for adults?
Yes! The Spicy Veggie Wrap (364kcal, £2.99) is essentially the same, but features two goujons instead of one, plus a spicy relish, fresh tomato and a slice or two of raw red onion.
Just don't get your kid's wrap muddled up with yours, as one of our testers notes: "The spiciness is just right for an adult – I don't think my veggie 6-year-old, who only likes a little bit of spiciness, would manage it."
© Press Association 2019