As Ariana Grande and Pete Davidson allegedly split, here's how grief can affect your relationship
15th Oct 18 | Lifestyle
The couple have reportedly called time on their engagement.
They got engaged after just four weeks of dating, but according to reports, singer Ariana Grande and comedian Pete Davidson have decided to call it quits on their relationship.
The couple, who have been together since May, are said to have gone their separate ways "with both parties acknowledging that it simply was not the right time for their relationship to take off."
According to TMZ, a source close to the couple revealed that, although the pair still love one another, "things are over romantically."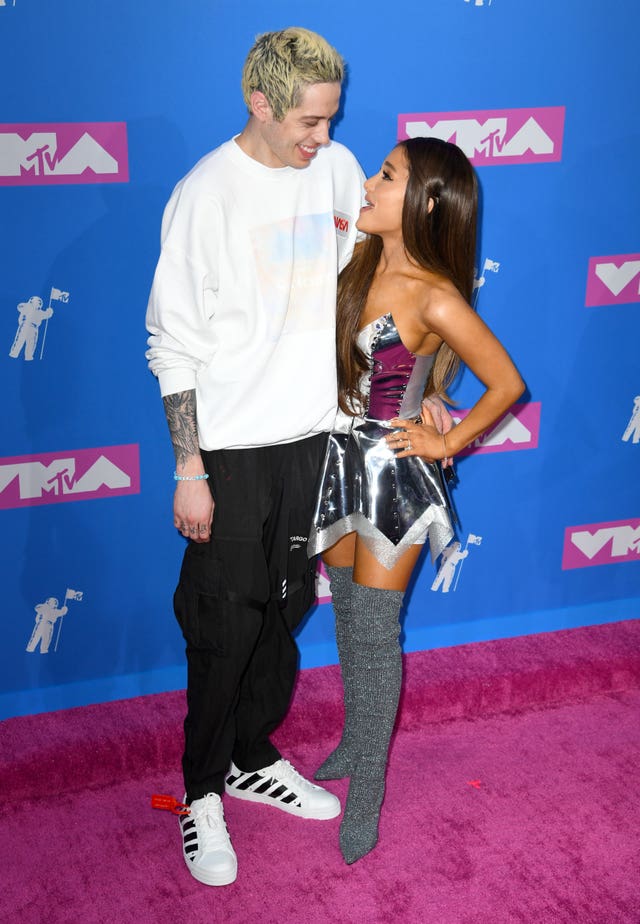 The website also claims that Grande "hit a life-changing fork in the road last month" when her ex-boyfriend Mac Miller died from a fatal drug overdose, and that his death was "the tipping point that led to their split."
Whether Miller's death played a part in the couple's reported split or not remains to be seen – neither Grande nor Davidson have confirmed the news – but there's no denying grief can test even the strongest of partnerships.
We asked experts to explain how the death of a loved one can affect a relationship – for better or for worse.
How does grief affect a relationship?
"Everyone handles grief differently but, a loss, even of an ex-partner, usually causes an upheaval of emotions," says senior therapist Sally Baker workingonthebody.com. "Situations and relationships that were left permanently in the past can be suddenly brought into sharp focus by the death of an ex-partner."
She explains that grief can be detrimental to a relationship when one half of a couple is not comfortable with how their partner is manifesting grief for an ex; even if their are no romantic feelings left, it might not be so obvious to a partner.
"A non-grieving person might feel vulnerable that their partner still has a strong sense of loss for someone from their past, and it can make them mistakenly question their partner's commitment to their current relationship," says Baker.
The nature of grief can also be different depending on the person's relationship and the circumstances of how someone died can make the grieving process more complex. "If it was sudden, or if there were any issues in the relationship, [a person] can be left with lots of unresolved feelings," say counselling service Relate.
"Some people might be more communicative, whereas others will retreat into isolation. It can take months or years to address the issue, or sometimes people can surprise you and seem to progress much quicker."
Can a relationship survive bereavement?
"When one partner is mourning the death of someone for whom they'd had feelings for in the past, any unresolved issues or insecurities in their current relationship can come under pressure," says Baker.
"If the relationship is strong, with good, clear communication, then a person will be able to mourn the loss of an ex and have their feelings acknowledged and respected, without their current partner feeling threatened by their obvious sadness and grief."
When someone is experiencing the death of an ex-spouse, their emotional response can be contradictory though. "They may feel surprised by the intensity of the sadness they feel for the loss of someone whom in reality treated them badly or let them down," warns Baker. "They are an ex for a reason, but empathy, care and even love for past partners isn't linear and doesn't stop entirely when the relationship is over."
The more loving, open and in touch with their emotions a person is, the more likely they are to be open to experiencing sadness and grief for an ex-partner or ex-spouse, believes Baker.
However, if the non-grieving party is jealous or impatient, it can make a person feel as though their grief for an ex is not permissible, or even inappropriate.
"In this case, the person mourning their ex will soon learn to hide their emotions so as not to upset their current partner or family," says Baker. "With their feelings ignored, they will often feel unsupported, and their sadness can take longer to process and release than it would have in a more supportive environment."
Not having their feelings respected "sows seeds of doubt that they're in the right relationship for them," says Baker, which can lead them to reevaluate their feelings about a current partner.
How can you stay connected as a couple during grief?
The good news is that Baker believes it's completely possible to stay together during and after grief. "Allowing your partner to mourn for an ex-spouse is to show the strength of the current relationship," she says. "Grief isn't logical and, as well as mourning the loss of an ex, a person is also mourning the loss of that particular time in their life and everything that episode conjures up for them."
Experiencing feelings of grief for a past partner isn't a measure of commitment to their current relationship either – but it can be a test."It's important to make it clear to a partner experiencing the death of an ex that their sadness is valid and it's okay for them not to be okay," says Baker
"The biggest part of being supportive during this time is being flexible," agree Relate. "If your partner wants to be alone, you'll need to respect this, even if it makes you feel anxious or excluded.
"Often, the best way to be supportive is to back away a bit and allow some space. If they want to talk about things, you can gently let them know you're always ready to listen."
It's not uncommon for a grieving person to flip between these states quickly, sometimes within the space of a single day. "While this can be difficult to deal with, you may need to be understanding and ready to console or retreat, depending on how they're feeling," say Relate.
You also need to be prepared to endure grief resurfacing from time to time.
"While grief can be complicated, in several ways, it's similar to lots of things that challenge relationships — it can be made easier by communicating effectively," say Relate.
"The whole grieving experiencing can actually improve a couple's bonding," agrees Baker.
"It can help build better communication and prove to both partners in their current relationship that they are resilient enough to cope with painful emotions as a team."
© Press Association 2018