Cookbook review: Vegetables All'Italiana by Anna Del Conte
15th Oct 18 | Lifestyle
Here's our verdict on a recipe collection that's all about celebrating veg. By Ella Walker.
Milan-born food writer Anna Del Conte is an institution in the world of cookery books. Nigella Lawson, for instance, is a huge fan.
Known for her simple, classic Italian approach to food and getting the best out of ingredients, she's been writing and sharing recipes since her debut collection, Portrait Of Pasta, was published in 1976.
Here's what we think of her latest selection of dishes…
The book: Vegetables All'Italiana by Anna Del Conte.
Who will love it? This is not a book designed purposefully for vegetarians (although they are well catered for, and pretty much all the non-vegetarian recipes can be made so). It features meat and fish; however, these snippets of guanciale, hunks of a lamb and slippery fillets of anchovy are, at all times, there to enhance and amplify the veg, not obscure it. So if you adore vegetables, and are flexible when it comes to animal products, it should work for you.
What is it trying to get us cooking? Veg, simply, and in line with the seasons, the crucial idea being to give your squashes, aubergines and peas "all the due reverence that they are in Italy".
How easy is it to use? Extremely. Most of the recipes use barely a handful of ingredients, and half of those you're likely to already have in the cupboard (extra virgin olive oil is mandatory). And everything makes sense: Savoy cabbage stewed with sausages, baked asparagus wrapped in prosciutto, pumpkin gnocchi, fried courgette flowers – everything is gentle, achievable and not too time-guzzling.
The best recipe is… A toss up between the leeks baked with cream and cheese (super moreish), and the grilled radicchio and chicory (very autumnal).
The recipe we're most likely to post pictures of on Instagram is… The courgette, tomato and mozzarella salad – tangles of courgetti and pops of bright red against the creaminess of the cheese? It's a winner.
The dish we're least likely to try is… The spinach mould (it's a bit like a souffle stuffed with spinach and quite retro) or the mashed potato, because everyone has their own special way of making mash (and Del Conte's addition of parsely is somewhat controversial).
Overall rating: 8/10. More photos please!
How to make Anna Del Conte's baked courgettes with mint and garlic
Ingredients:
(Serves 6)
6 courgettes
4tbsp chopped flat leaf parsley
8tbsp chopped mint leaves
3-4 garlic cloves
8tbsp dried breadcrumbs
100ml extra virgin olive oil
Sea salt and freshly ground black pepper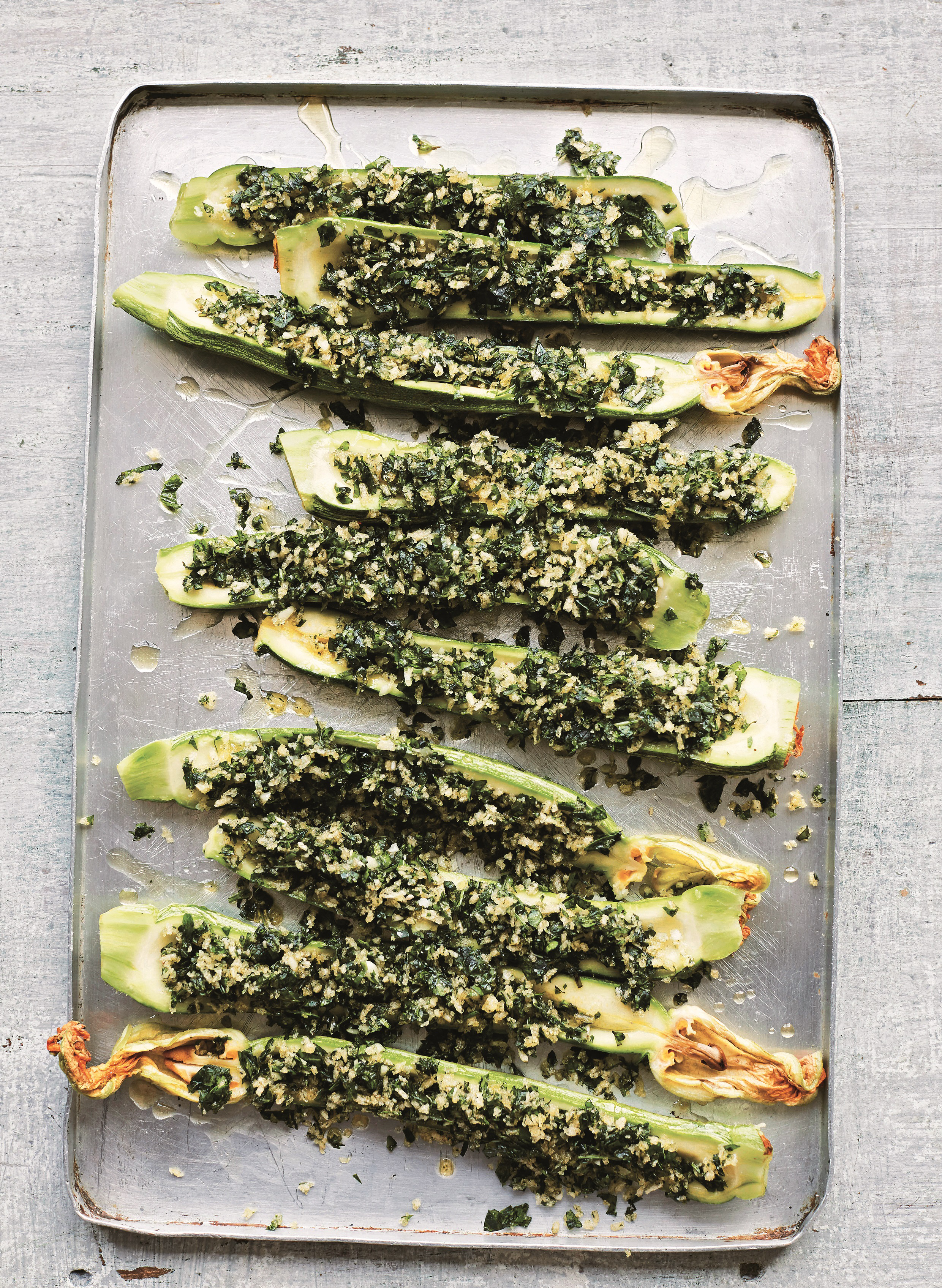 Method:
1. Wash and dry the courgettes, chop off the two ends and cut the courgettes lengthwise. Sprinkle the cut sides lightly with sea salt and place them on a wooden board, cut side down. Leave them for at least 30 minutes. During this time some of the vegetable liquid will drain away.
2. Heat the oven to 160°C Fan/180°C/350°F/Gas Mark 4.
3. To make the stuffing, put the chopped herbs, garlic and breadcrumbs in a bowl and gradually add half the oil, while beating the mixture with a fork. When this is done, season with salt and a generous grinding of pepper.
4. Brush a baking sheet large enough to hold the courgette halves in a single layer lightly with oil.
5. Wipe the courgette halves with kitchen paper and lay them, cut side up, on the sheet. Brush the courgettes with a little of the oil and then pile some of the herb mixture over each half. Drizzle with about half the remaining oil and place the tray in the oven. Bake until the courgettes are tender – test by inserting a knife into them – which will be about 20–25 minutes.
6. Remove from the oven and place two courgette halves on each plate. Drizzle the remaining oil over them and serve warm or at room temperature.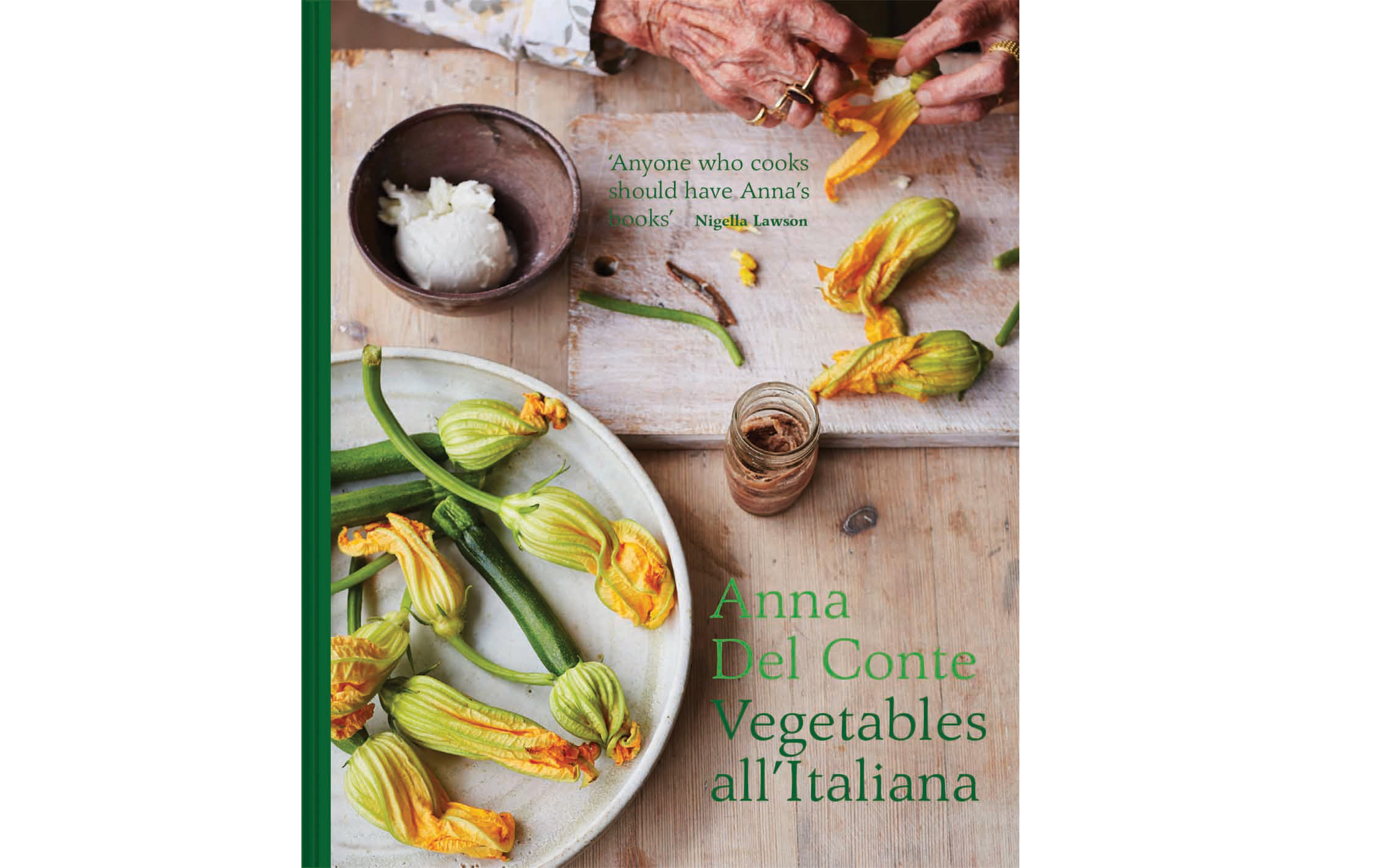 Vegetables All'Italiana by Anna Del Conte, photography by Laura Edwards, is published by Pavilion Books, priced £20. Available now.
© Press Association 2018