The latest fermentation craze: How to make your own kombucha
13th Sep 18 | Lifestyle
Kombucha brewer Louise Avery explains how to get into the wellness trend at home.
Louise Avery, founder of LA Brewery, first tried kombucha eight years ago on draft in a health food store in Vermont, US. She remembers it as "one of those rare delicious food moments when you discover a new taste".
"The kombucha I sampled was sour, sweet, fizzy and very moreish. I only later learned of the potential health benefits." She got back to the UK and ordered her first scoby (symbiotic culture of bacteria and yeast) to start making her own with.
"I love kombucha mainly for the taste profile and as an alternative to alcohol, but truthfully, it also helps to keep my anxiety in check and to ease digestion issues," she explains. "Kombucha is also a wonderful tonic to fight cold viruses, and hangovers. Home-brewed kombucha is especially good as it is generally stronger (even more packed with friendly bacteria and yeast) than commercial varieties."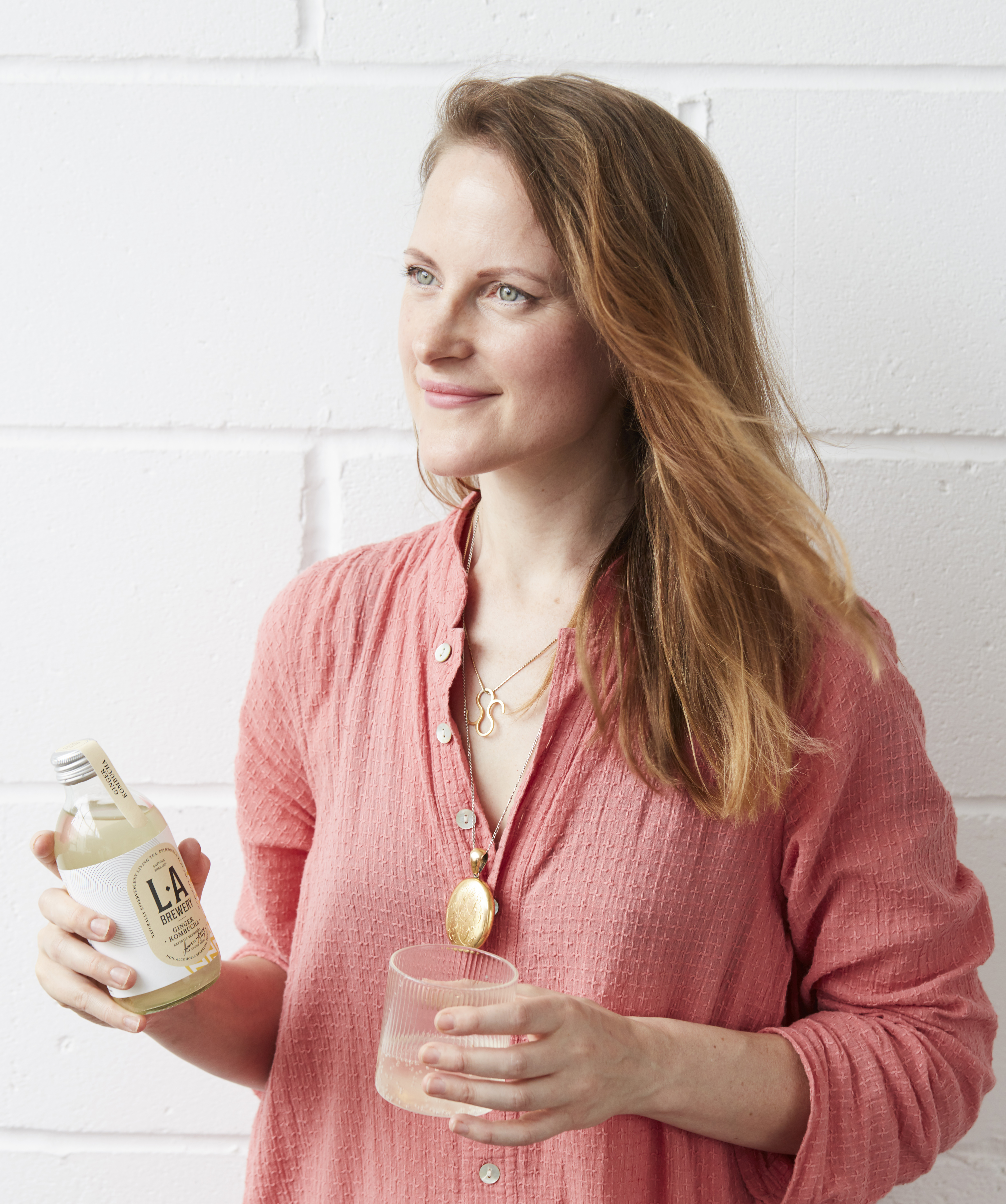 She's since progressed from homebrewing in her kitchen, to launching LA Brewery in 2017 and has also built a microbrewery in Suffolk. Now she's got a cookbook to match: Kombucha: Healthy Recipes for Naturally Fermented Tea Drinks.
"I have endeavoured to simplify the process of kombucha brewing so that it can be more accessible to people who want to have fun experimenting with food," she notes, "whilst simultaneously engaging with nature and supporting their local farmers markets."
Here's how to make Avery's basic unflavoured kombucha…
Ingredients:
(Makes 1 litre)
2–3tsp loose-leaf tea of your choice or 4-6 teabags
160g sugar
125–200ml unflavoured kombucha (from a previous batch, or may arrive with store-bought scoby) or 30ml distilled white vinegar
1 scoby (Avery recommends buying from happykombucha.co.uk)
Method:
1. Bring two litres of water to the boil in a stainless-steel pan. Leave the water in the pan or transfer to a heatproof brewing jar. If using loose-leaf tea, put it in a tea ball and steep the tea of your choice for four to eight minutes depending on how strong you like the flavour, or brew your teabags.
2. Remove the tea ball or bags and using a wooden spoon, stir the sugar into the still-warm steeped tea to dissolve. Allow to cool completely to room temperature. Cooling the tea is imperative as adding the scoby to hot water will damage it.
3. Add the unflavoured kombucha or white vinegar, and with clean hands, gently lower the scoby into the cooled, sweetened tea with the paler side facing upwards and any yeasty strands facing towards the bottom.
4. Cover the jar with the cotton cloth and secure with an elastic band. Set aside at room temperature, out of direct sunlight, for at least seven days before tasting. You should start to notice a vinegary flavour as the scoby eats the sugar. Taste daily and when you find the perfect balance of sweet and sour, it's time to bottle the kombucha ready for the secondary ferment. I often wait 30 days before it's sour enough for my tastebuds, so don't be afraid to leave it longer.
5. Decant into bottles, leaving about a 1cm air space at the top, then seal and refrigerate until ready to use.
How to make Avery's pear, cardamom and lime sour kombucha:
"This is one of my favourite recipes due to complexity of flavour with sour, sweet and salty notes which engage the palate," says Avery. "It's comparable to a whiskey sour in my mind, which can be difficult to achieve with non-alcoholic drinks, but the kombucha gives it the depth and tang."
Ingredients:
(Makes 1 bottle, serves 2-4)
1 large pear or 2 small pears (Conference work well, wash but don't peel)
Juice of 1/2 lime
1 cardamom pod
Tiny pinch of salt
About 400ml unflavoured kombucha (see above)
Method:
1. Juice the pear in the cold-press juicer. It should yield around 100–150ml of juice. Pour into a bottle with the lime juice.
2. Open the cardamom pod, pick out the seeds and add these to the juice. Add the salt and top up with the unflavoured kombucha leaving a 1cm air space at the top then seal tightly. Put the sealed bottle straight into the fridge and allow the cardamom seeds to infuse for 24 hours. Reawaken the juice the following day by giving the bottle a gentle shake, pour and enjoy.
3. Avery recommends drinking it within two days of bottling because the sweet pear will accelerate carbonation.
Kombucha: Healthy Recipes for Naturally Fermented Tea Drinks by Louise Avery is published by Ryland Peters & Small, priced £9.99. Photography by Clare Winfield. Available September 11.
© Press Association 2018