How to make your food beautiful, according to food stylist Frankie Unsworth
16th Jul 18 | Lifestyle
Get the foodstagram account you aspire to, with help from a professional, says Florrie Andrew.
Ever scroll through Instagram wondering how foodies make their food look so perfect? Frankie Unsworth has the answers.
The London-based food stylist works on professional photography sets and has acquired many tips for food preparation and presentation over the years. Her new cookbook The New Art Of Cooking offers an insight into the realm of beautifying food, and Unsworth hopes it shows home chefs how easy it is to make your dinner look as good as a professional dish.
Here are Unsworth's top tips for presenting food…
1. Freshness is key
"Keep things on ice, and source foods that are really fresh. Even plant a few things on your windowsill – you'll get a better result. On a photo shoot, we could be under studio lights and the food might sit around for a while, so we put herbs and leaves on ice. Not only is it good for the colour, but it makes them crisper, adding a flavour enhancer too."
2. Take a moment before you dish things up
"We're often quite rushed and hurry food onto a plate, but if you take a slightly calmer approach, have a quick look at what's going on your plate, and think about how you arrange everything – it can make a big difference. Mise en place helps, because if you've got it all laid out, you can see what colours are going to work with one another."
3. Don't crowd the plate
"Not overfilling your plate leaves breathing space for the food, so you can see the shape of things and it looks more elegant. If you see a massive hunk of quiche on your plate, it's got a less appealing look than a thin slither."
4. Add a final flourish
"Putting something on the top can harmonise what's on a plate if you've got different components. A sprinkling of dukkah – which is an Egyptian spice blend – scattered over at the end, unites everything on the plate in quite a gentle way, and adds a lovely texture and crunch."
5. Think about the atmosphere you're trying to create
"It's things like laying out a piece of linen – it doesn't take long, but setting the scene will make you enjoy the food more. It will feel a bit more precious, a bit more special. Light a few candles; it feels more relaxing and people then appreciate the look of the food more as well. A subtle, diffused light makes food look its best."
Here's how to make Unsworth's herby spelt and yoghurt flatbreads…
Ingredients:
(Makes 2)
250g white spelt flour (or strong white bread flour), plus extra for dusting
1tsp baking powder
1/2tsp fine sea salt
85ml natural yoghurt
85ml warm water
1–2tbsp extra virgin olive oil
1 large handful mixed herbs (I use a mix of flowering chives, oregano, borage, thyme, sage or rosemary)
Goat's milk ricotta to serve (optional)
Pistachio dukkah or other seeds, such as sesame, nigella or black onion (optional)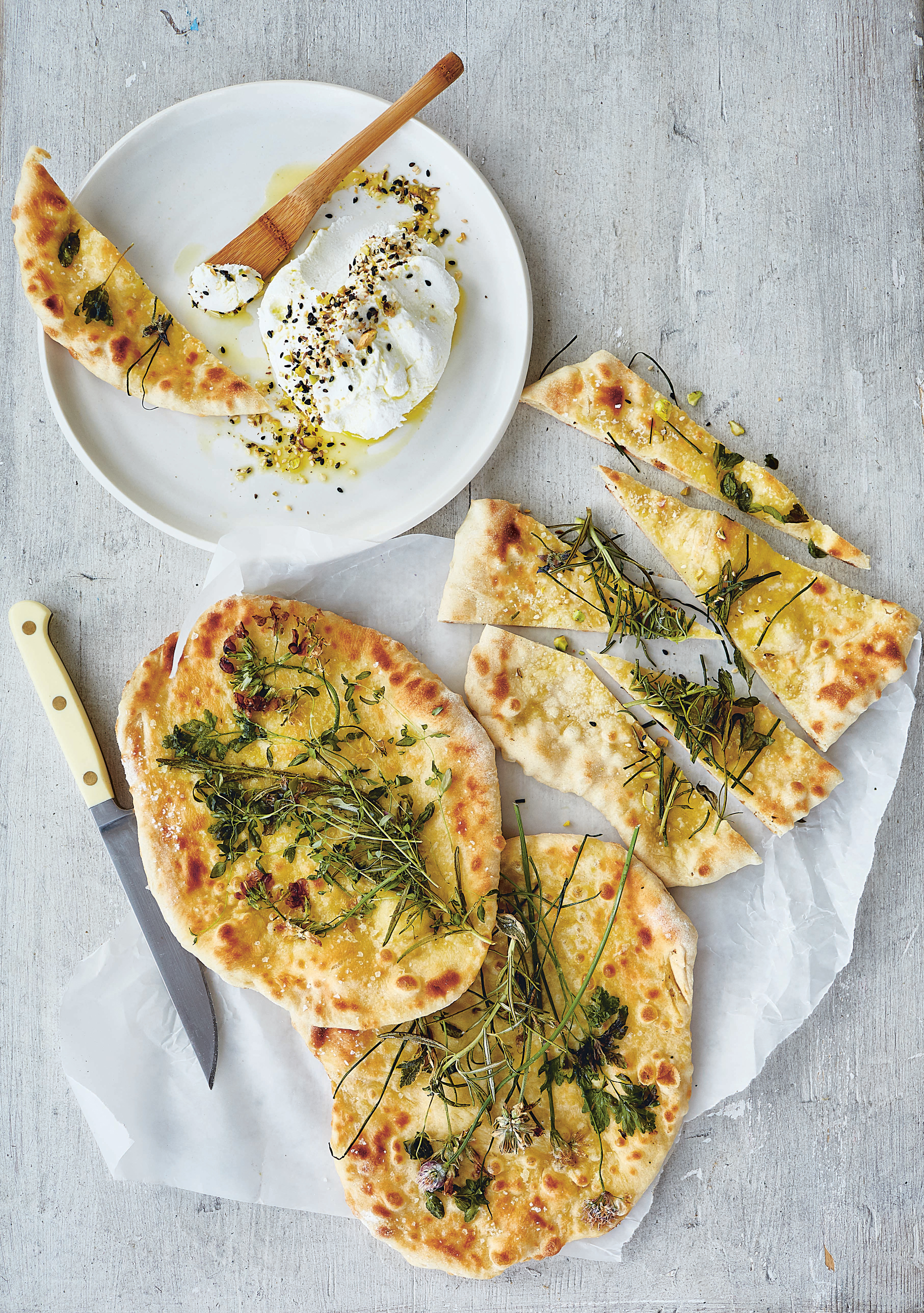 Method:
1. Mix together the flour, baking powder and salt in a large bowl. Make a well in the centre and pour in the yoghurt and warm water. Combine to make a slightly sticky mixture. Turn out and knead for a good five minutes until you have a smooth ball. Leave to rest for at least 15 minutes in the bowl, covered with cling film or a clean, damp tea towel. (It's even better if rested for a few hours.)
2. Divide the dough in half. Lightly flour a work surface and roll one half into a circle about 5mm thick. Brush the top with some of the oil and sprinkle with half of the herbs – the more haphazardly the better – leaving some of the sprigs whole. Repeat this step with the remaining piece of dough.
3. Preheat the grill to high.
4. Place a large frying pan over a high heat until it is as hot as possible. Add the first flatbread and cook for two minutes, or until the base is golden and the edges are puffing up. Place under the grill for a further one to two minutes, or until the top is looking golden in patches and the herbs have wilted into the bread. Set aside while you cook the other flatbread.
5. Serve the flatbreads warm as an accompaniment, snack or starter. I often pair them with my goat's milk ricotta scattered with some pistachio dukkah or seeds.
The New Art of Cooking: A Modern Guide to Preparing And Styling Delicious Food by Frankie Unsworth is published by Bloomsbury, priced £30. Photography Kristin Perers. Available now.
© Press Association 2018