Hardcore bike trails, honey cultivation and bizarre bridal traditions: Slovenia is full of surprises
11th Jul 18 | Lifestyle
Blessed with beauty spots but yet to attract big crowds, the eastern European country is holiday heaven, says Ryan Hooper.
Balancing gingerly on a paddleboard, I'm torn between basking in the dry heat of Slovenia's midday sun and abandoning everything to dive into the cool blue water beneath me.
I'm in – or, rather, on – Lake Bohinj, a fine example of the natural beauty this Slavic country has to offer. The setting is beautiful – crystal clear water below and rich green alpine trees in the distance, all enveloped by a section of the sprawling Julian Alps reaching high into the sky.
Slovenia is an almost completely landlocked section of eastern Europe, situated to the west of Hungary and above Croatia, which has slowly been gaining more attention from holidaymakers. Subsequently, the prices and crowds are still wonderfully modest.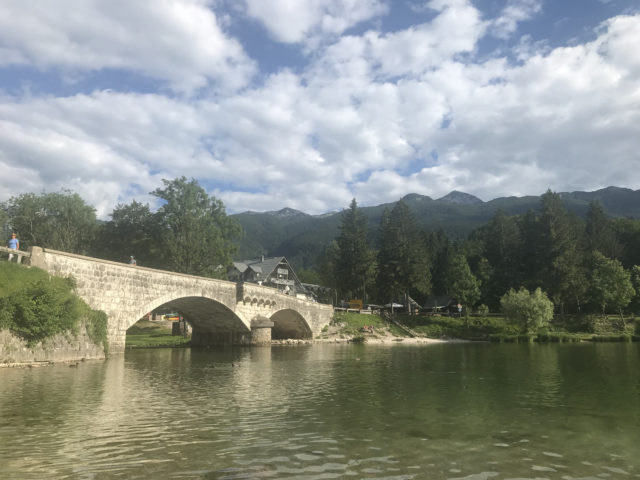 This is particularly true for Lake Bohinj, where families have bedded in for the day to enjoy their own slice of paradise as the sun reaches 26C overhead. Young lovers are paddling in the shallows, and a couple of older men are sat watching ducks from the shade of a tree.
It's possible to spin 360-degrees on my paddleboard – hired from nearby PAC Sports at a price of €30 (£26) for two hours with tuition – and barely see a single trapping of the 21st century.
Life here is sweet
Along with adrenaline-pulsing, calorie-burning activities, there are plenty of opportunities to indulge as well. Honey, for example, is one of the country's biggest exports. Subtle reminders of how important the sweet product is are dotted across capital city, Ljubljana, just over an hour's picturesque drive from Lake Bohinj.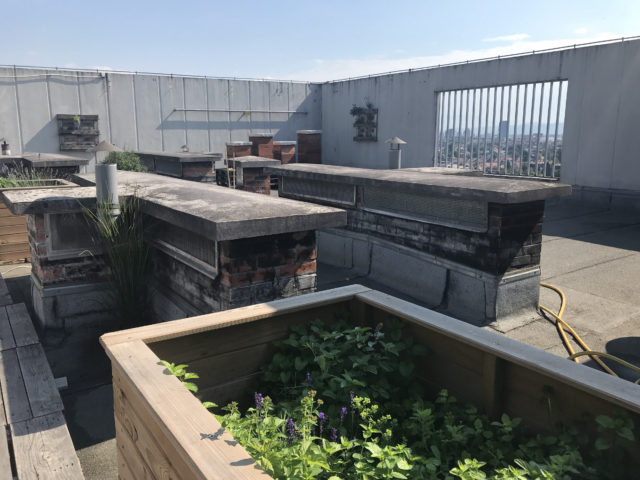 "Honey is so central to being Slovenian," says local resident and guide Martin Sustersic during an early morning tour of the medieval city.
"A typical Slovenian breakfast is bread, butter and honey. We sweeten coffee with honey, and every important building here in Ljubljana has a beehive at the top. There are hundreds of urban beehives in this city."
One of those properties is Hotel Park, a contemporary city-centre hotel with a strong ecological focus. Its hives produce 60 to 80 kilos of the nectar every year, some used within the hotel and the rest sold to local businesses.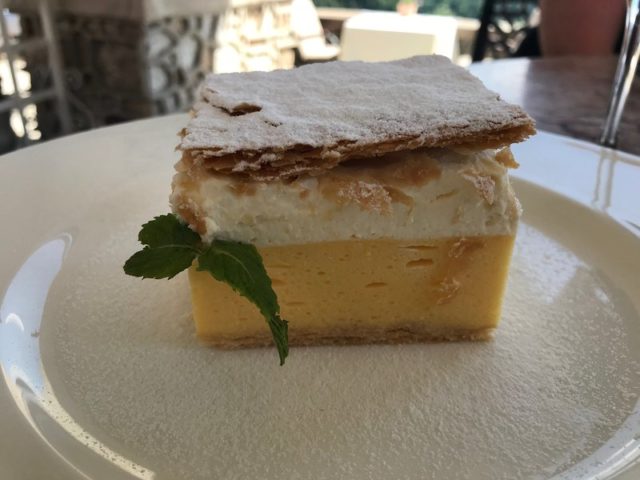 Honey is also used in one of the country's cherished delicacies, potica, a sort of nut roll which features brown walnuts or green tarragon, and is best enjoyed at the top of a hill after a long slog to the summit.
Perhaps Slovenia's best-known delicacy, though, is Bled cake – a three-layer slab of creamy goodness which owes its name to Slovenia's popular holiday destination.
The lakes are magical
Aside from good cake, there are many more reasons to visit Lake Bled, the beauty spot in the far north-west of Slovenia, and one of the few places where it's possible to find a crowd.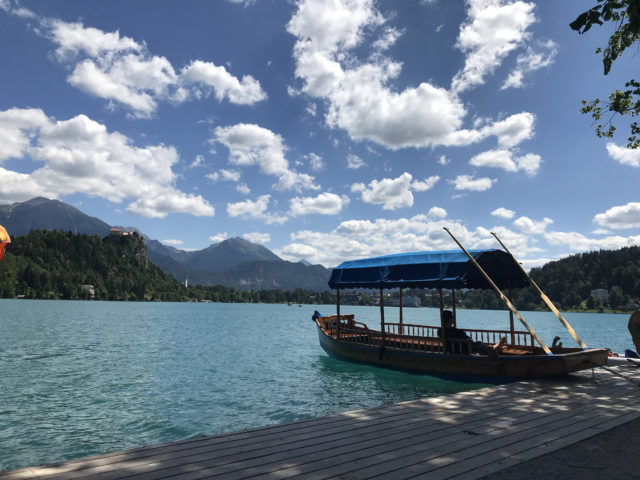 It is hard to imagine just how many pictures are taken on its banks each year. From the beautifully quaint platna boats – the Slovenian equivalent of a gondola carrying passengers to tiny Bled Island in the middle of the lake – to the pure waters of Bled itself, it's impossible to find a view unsuitable for the family photo album or Instagram.
"Yes, the water is normally this colour," says Croatian-born tour guide Dobrivoj Soboljev, also known as George, a man who moved to Slovenia three decades ago and has lived here ever since. It is possible that George, who has the demeanour of a librarian but the physique of a World's Strongest Man contestant, has the firmest handshake of anyone in Slovenia.
"We had some American tourists a while back asking how much we paid for the chemicals to make the water look so good," he laughs, explaining the bright blue is caused by limestone deposits.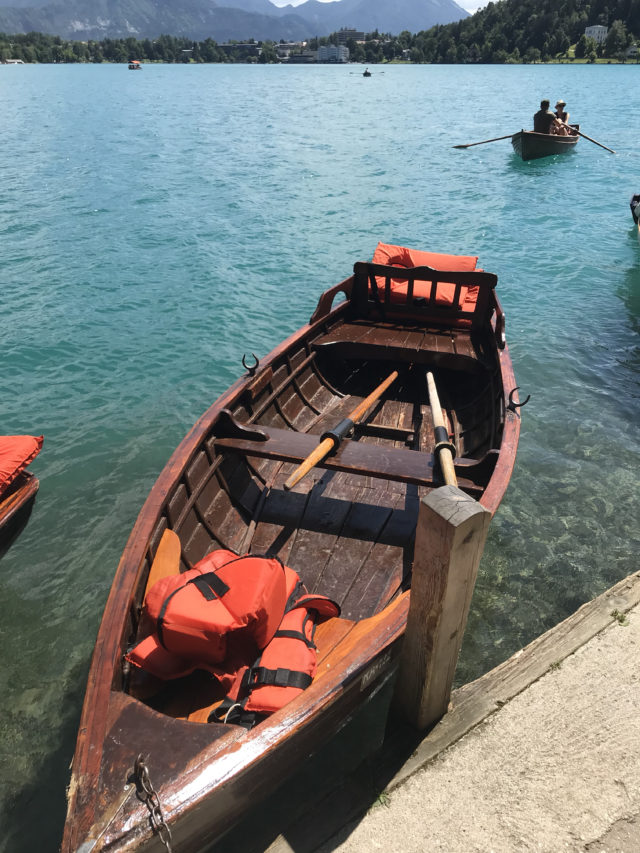 Bled Island has its own traditions. Around 50 brides a year get married in its 60-seater Pilgrimage Church of the Assumption of Maria. It has a wishing bell which must be rung three times with the ringer's back to the door, while grooms are required to carry their wives-to-be up the steps to the church.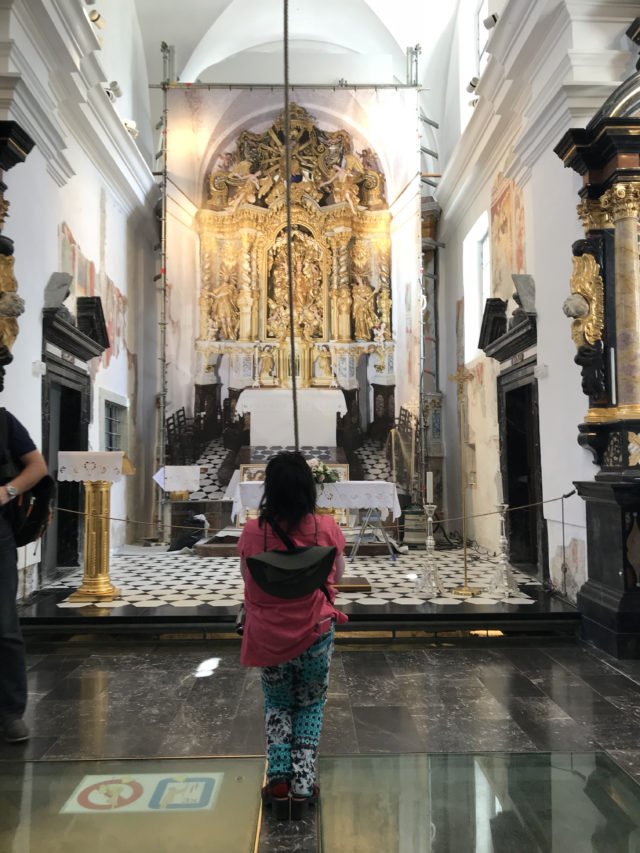 As our own platna moors on the island, the scale of that task becomes apparent. "It's 99 steps. Not easy," George smiles. "If they make it, they then go into the church and ring the 'wishes bell' three times. It's big business." Failure is not really an option, he says.
It's more than just the landscapes which are green
Along with possibly the toughest pre-matrimonial challenge on the planet, Slovenia also lays claim to being one of the most environmentally-friendly destinations.
Cycling tours are an extremely popular way of getting a feel for Ljubljana's history in a short space of time, zipping around the significant cultural landmarks, such as the workplaces and homes of the three mustachioed men – Joze Plecnik, Ivan Cankar and Rihard Jakopic – credited with shaping the modern-day capital.
But those wanting to explore more physically-challenging trails can be given a helping hand with an e-bike, particularly in Kranjska Gora, an alpine resort in north-west Slovenia, which transforms into a skier's paradise in the winter when the snow falls.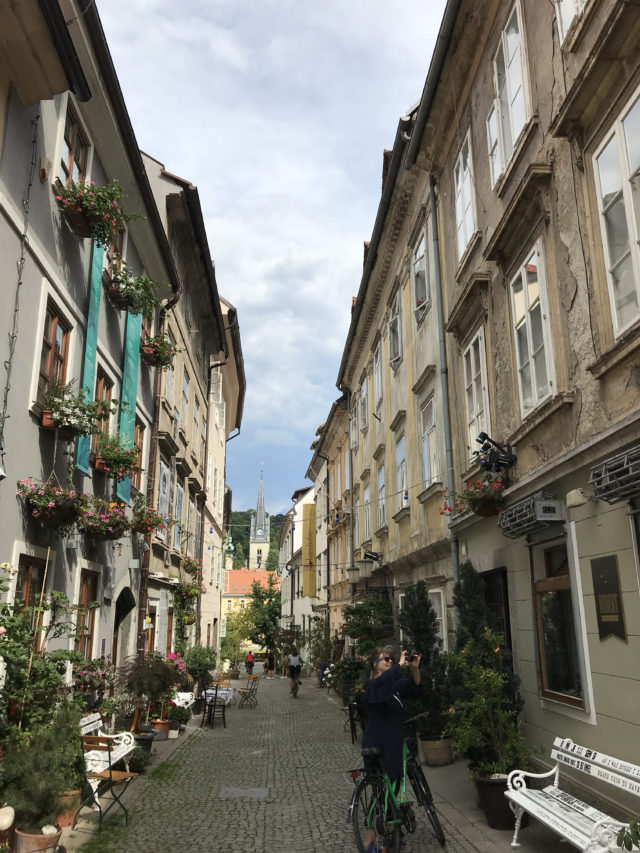 E-bikes are heavy, like a London 'Boris bike', but can mean the difference between getting to the top of the hill to take in the views of the magnificent Tamar Valley, and not.
We rent ours from nearby company Julijana for €25 (£22) for the half day, although regular bikes cost even less.
Within an hour, we have left the Hotel Kompas and are breathing in the beauty of the Planica alpine valley and its famous 400m ski slope.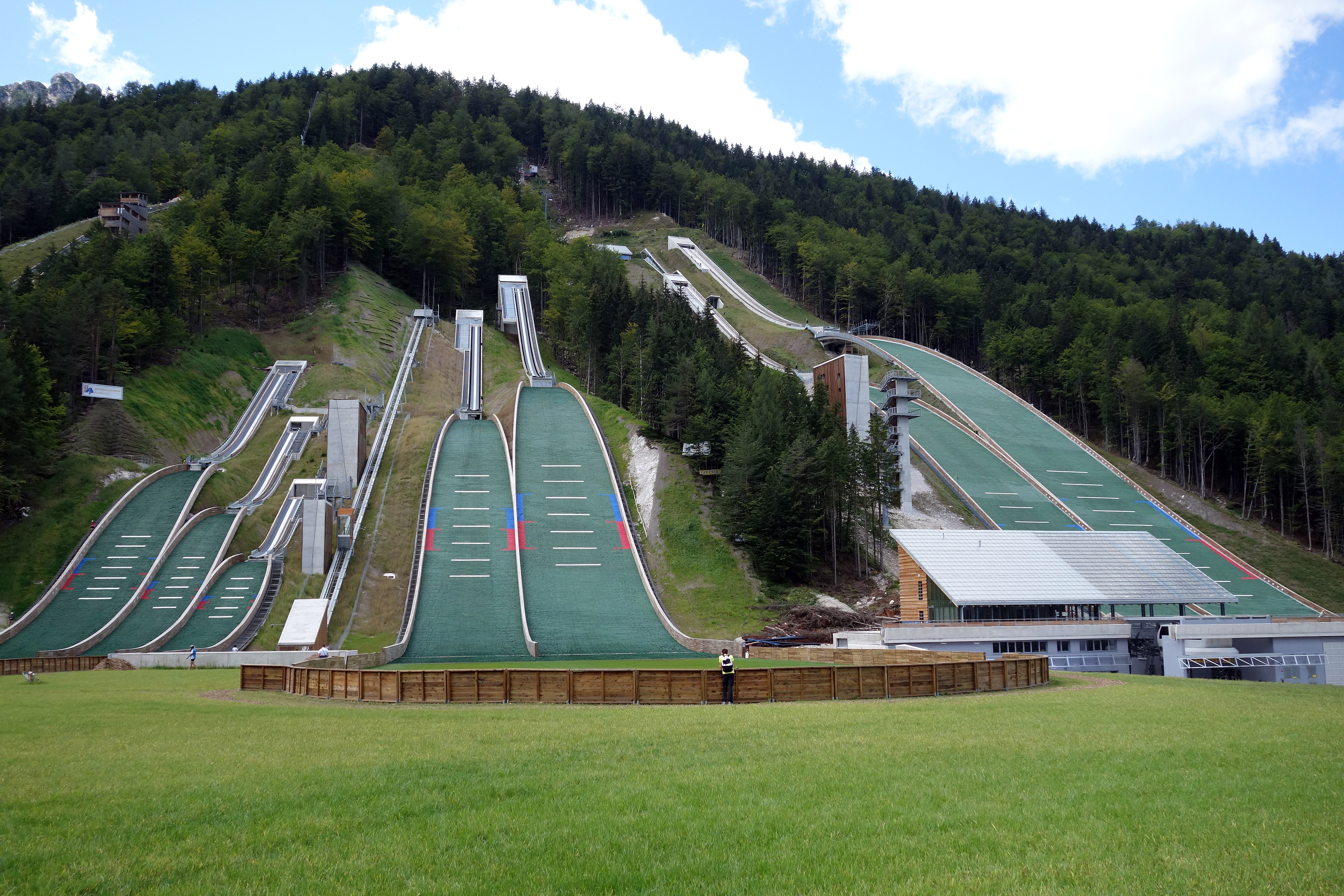 "This was the only ski slope Eddie the Eagle was not allowed to do," says larger-than-life local journalist Andraz Sodja, our jolly guide, who pauses for us to take in just how difficult the slopes look, even without any sign of the white stuff.
"We nicknamed him 'Safety Risk Eddie'. It was too difficult for him to compete here," he jokes.
In the summer, the ski slope doubles as the stage for the toughest 400m race in the world, the Red Bull 400, with athletes sprinting to the top in a madcap reverse of the famous Gloucester cheese rolling competition, in which brave competitors seek to get down to the bottom of the steep incline as quickly as possible.
Going upwards, in the baking heat, is a different challenge altogether. The Planica race record is five minutes and five seconds, though attempts to better that are not for the faint-hearted, trust me.
Had Eddie been looking for something else to do in the area, he could have done a lot worse than swing by the hidden gem that is the Zelenci Lake.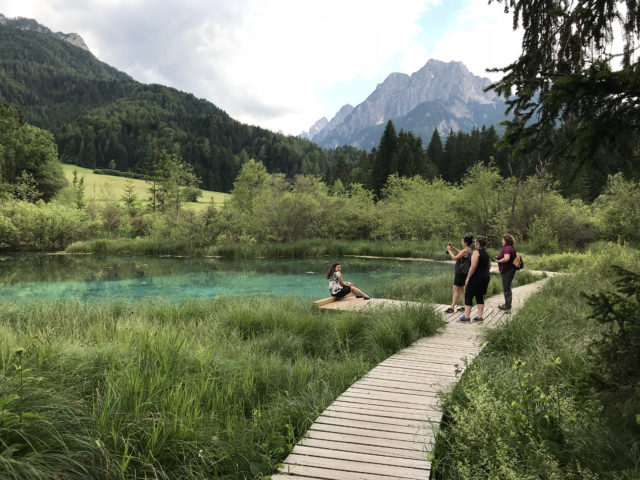 The Green Lake, as it's known, is a popular destination for those looking for peace and tranquillity. The glacial meltwater is at a near-constant temperature of 7C, with the white chalk base perfectly reflecting the sky above to create an unbelievable vivid green.
Getting an energy fix
Funicular railways, cable cars and e-bikes offer several means of reaching some of Slovenia's highest peaks, while hiking is also incredibly popular for those keen to burn calories gained from the variety of rich, delicious food served in restaurants – with some of the greatest examples found back in Ljubljana.
At the capital's Gostilna na Gradu restaurant, it is possible to enjoy the finest locally-produced fare in the grounds of the capital's stunning castle.
Try the beef tongue, which comes with asparagus, pea mash, marjoram, pumpkin oil and smoked cottage cheese, with a glass of Slovenian wine, described by locals as the country's best-kept secret. (Budget about €35/£30 per person for two courses and drinks.)
The views over Ljubljana are free, while the toilets – down several steps in the well of the historic castle itself – are bizarrely atmospheric.
Sampling the variety of fine, local dishes, I'm reminded of a comment made by one of our earlier guides, Martin. He playfully joked there was only one McDonald's restaurant in the whole city.
That's not strictly true, but he was right to point out that many of the global franchises that have infiltrated cities and diluted identity across the globe are yet to really permeate Slovenia. For me, that's the country's real charm.
How to get there
Inghams offers a 10-night, three-centre holiday, staying three nights on a bed and breakfast basis at the four-star Hotel Slon, Ljubljana, followed by three nights on a half-board basis the four-star Hotel Kompas, Kranjska Gora, followed by four nights on a half-board basis at the four-star Hotel Jezero, Lake Bohinj, from £1,341 per person, based on two sharing, including return flights from Gatwick to Ljubljana or Salzburg. and all transfers. To book, visit inghams.co.uk/lakes-mountains-holidays or call 01483 791 116.
© Press Association 2018