What's it like to do a yoga class on the roof of London's 02?
21st Jun 18 | Lifestyle
Daredevil? You can climb this famous dome and do downward dogs at the top. Lauren Taylor gives it a go.
If you're used to doing yoga classes in sweaty rooms with strangers' mats millimetres from your own, the experience is pretty different 52 metres high, with a panoramic view of London's skyline and the morning sun on your skin.
Now imagine you've first hauled yourself up the outside of the building to get there.
What is the climb and yoga experience?
Up at The 02 are offering the opportunity to strap on a harness and climb to the viewing platform, with the help of expert guides, before rolling out some mats and doing a 50-minute yoga class, then climbing back down the other side.
It's a pretty unique challenge but you don't have to be an expert yogi (or climber) and everything from the climbing equipment to the mats is provided.
Why do yoga outside?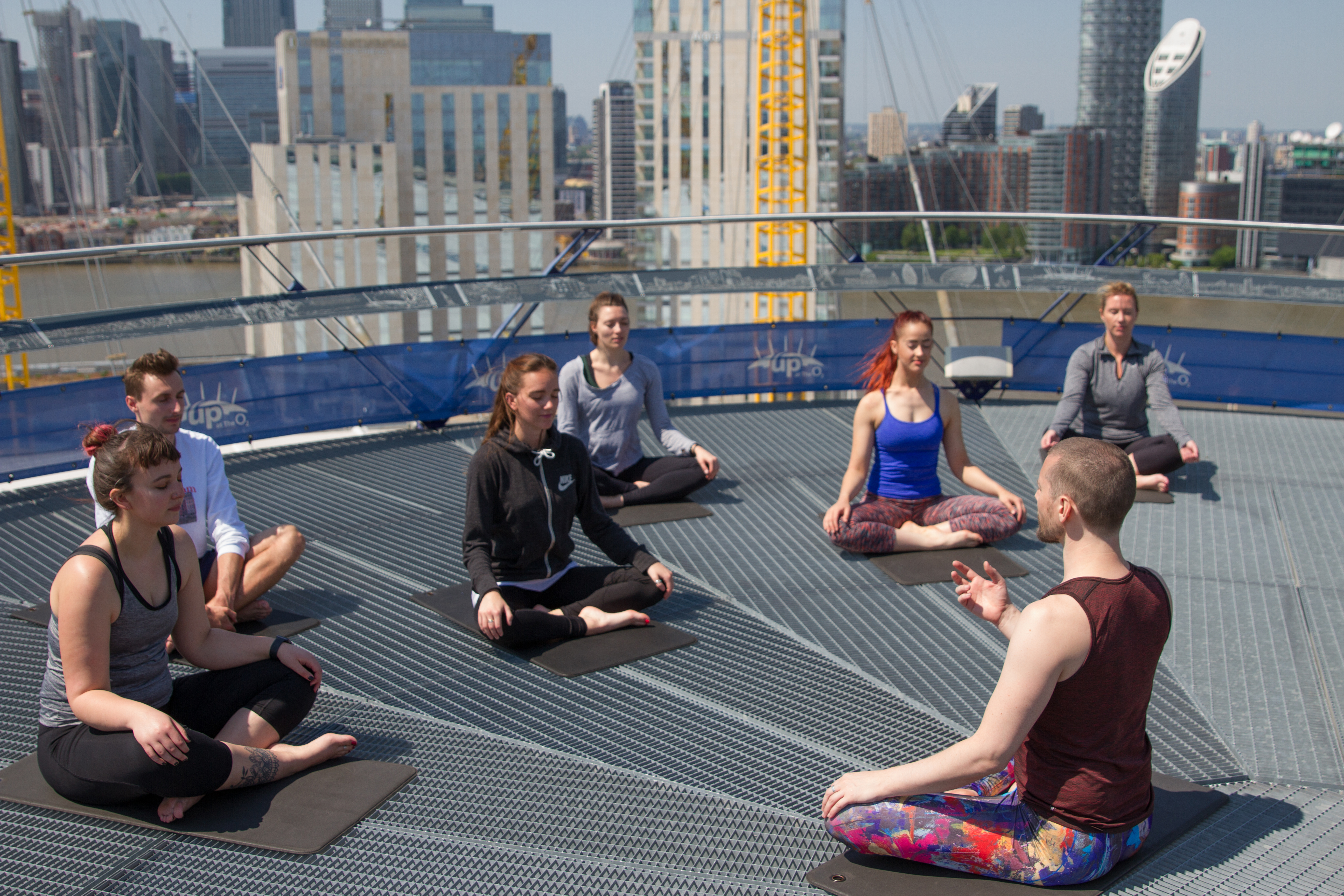 Yoga instructor Craig Norris teaches Forrest yoga classes, a style based on Hatha yoga but it involves holding positions for longer and quite a bit of core work. All about connecting with your feelings, it's said it can help with working through difficulties in your life.
"The word yoga means union. That can mean connecting to yourself, to a feeling within your body, but also the world around you," says Norris. "And feeling the sun and the breeze on your skin while you practise can help us connect to the world around us – especially as we're often stuck inside for a lot of the day. If you're new to yoga, I hope it's a good introduction – but if you're used to practising yoga inside, you can get stuck in a routine, so doing something different like this can help you become more present."
So what's it like?
Stepping into a harness and hiking boots, I feel as if I'm about to scale a pretty serious mountain. After a safety briefing, a team of three take our group to the start of the climb and demonstrate how we'll be attached to a rope with a sturdy-looking device guiding us up to the top. So even the most height-fearing participates will feel very safe.
I'm clipped in and begin to take on the (surprisingly bouncy) 28-degree incline. It's pretty simple – holding onto the 'climb latch' means you can move and if you let go, a safety switch keeps you stationary.
As long as you can walk up a hill slowly without stopping for a breather, it's not a challenge physically – apart from the awkward process of getting your latch through each 'gate' spaced a few metres apart on the rope.
Scaling the dome is a bit surreal, having been inside it so many times, and on a clear day the views are amazing. Just 10-15 minutes later, we've made it to the summit and it's time to kick off the boots and settle onto a mat.
I have to admit, climbing-induced adrenaline probably isn't conducive to the sense of calm needed for yoga, so it's a strange feeling stretching into a downward dog, while hearing planes bound for London City airport overhead and some building work to the side, and seeing Canary Wharf upside down.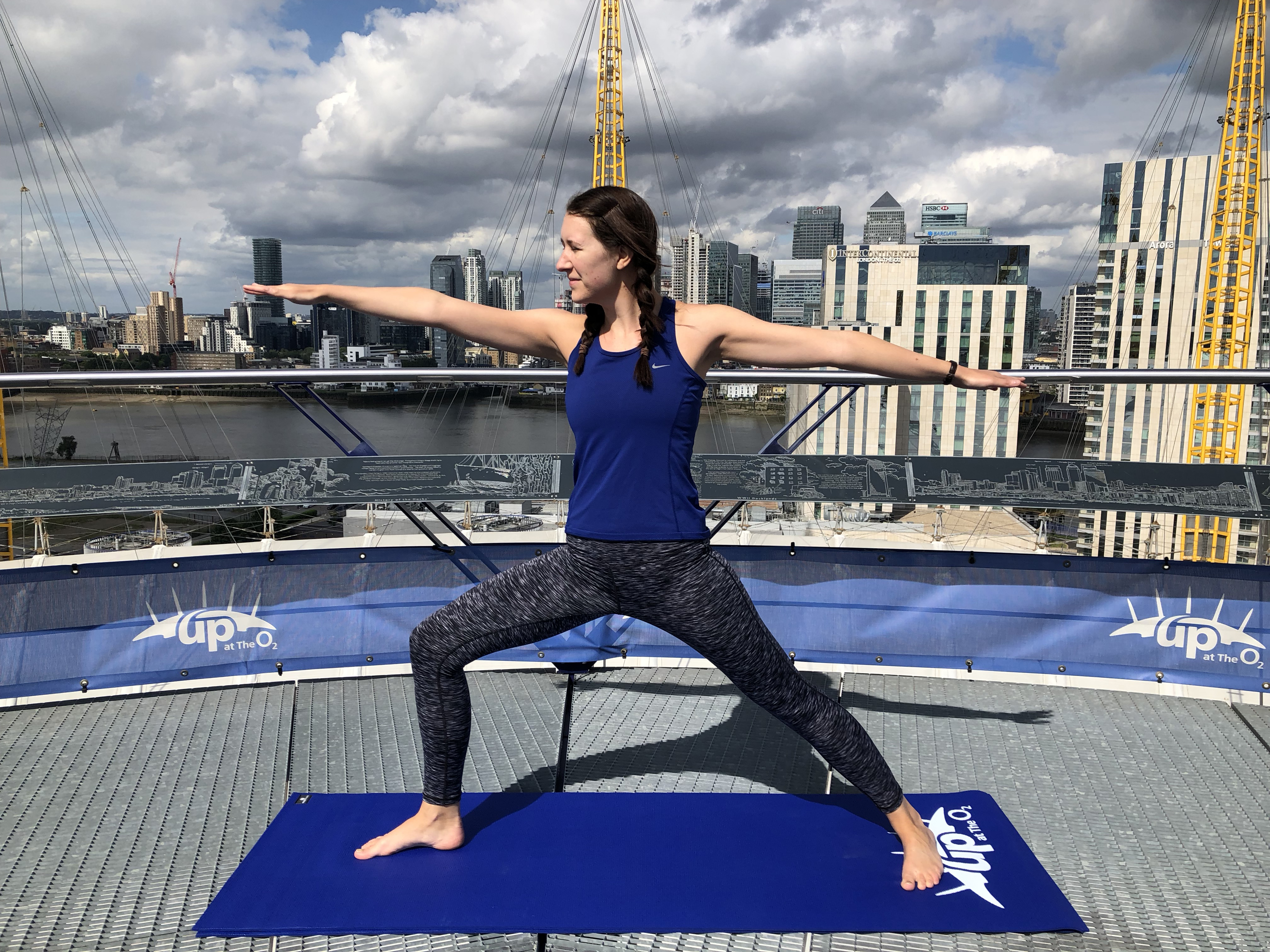 The class is slow enough for any beginners, with some challenging variations for regular yogis. Norris reminds us to stay present in the moment (because, really, how often do you do sun salutations on top of a London landmark?) and moving into different poses in the breeze with a view of the Thames curling around the 02, gives you a good reason to do so.
As the class ends with Shavasana (lying on our backs to rest) the sun comes out from behind the clouds – total bliss. The only problem is I feel way too zen to climb back down the side of a building.
How to book: The climb and yoga experience costs £50 per person, and can be booked for June 23 and June 30 here.
© Press Association 2018