10 ways to create stylish outdoor dining settings this summer
14th Jun 18 | Lifestyle
With al-fresco party season coming into full swing, Sam Wylie-Harris serves up some top finds to snap up now.
We all love the summery feeling of eating and drinking in the open air, especially when blue skies inspire thoughts of long lazy lunches set against lush foliage. Or balmy nights encourage summer socials in the garden, with the sound of laughter and smell of wood smoke drifting through the air.
And to give those warm-weather get-togethers an even bigger boost on the feelgood front, make sure you set the scene in style. Luckily, the shops are packed with colourful summer dining and al-fresco entertaining collections right now: Here are some of our favourite finds to furnish your pop-up feast…
1. Sea Birds Bamboo Salad Bowl with Lid, £18, Salad Servers, £6, and Dip Tray Trio, £14, Cath Kidston stores nationwide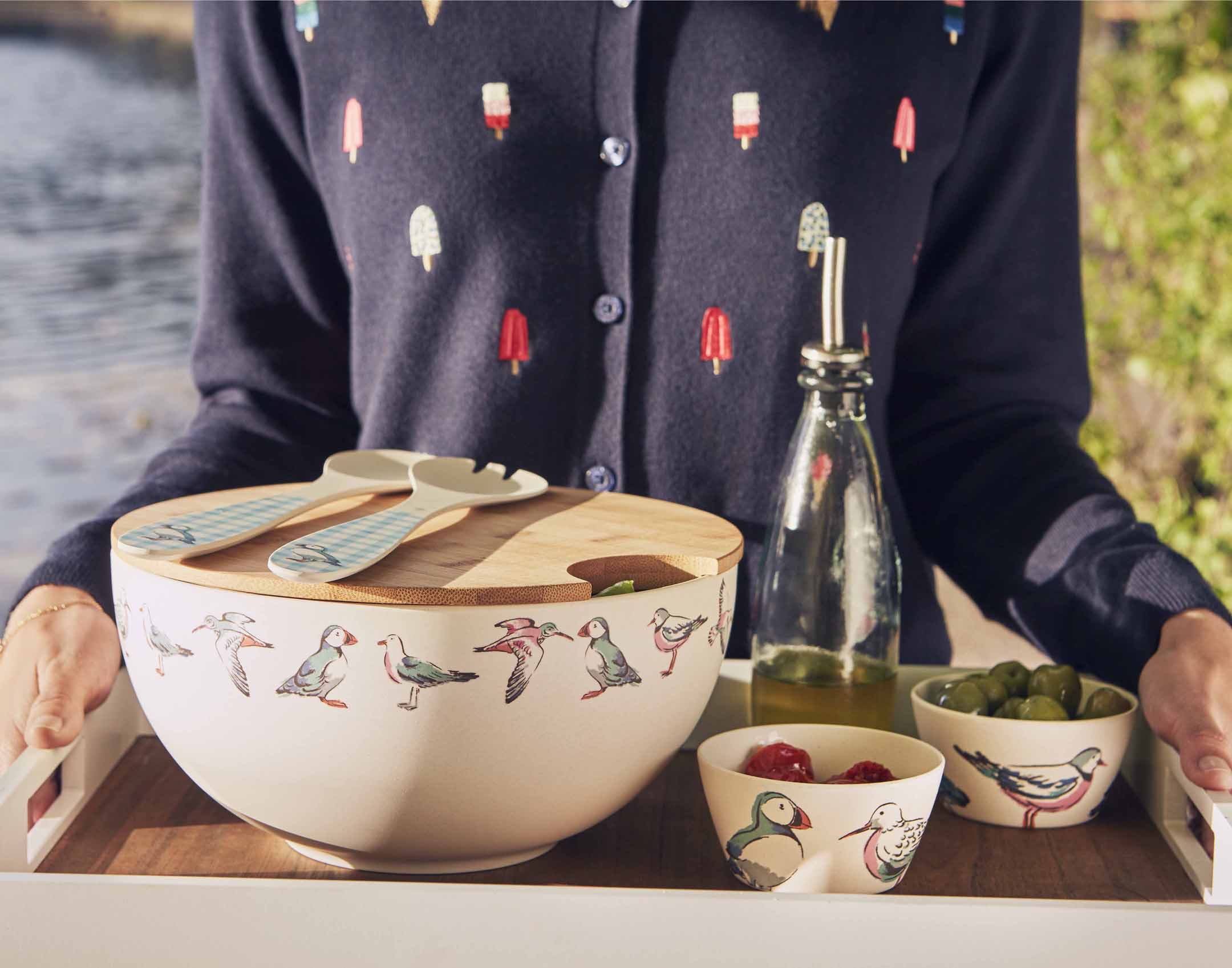 We love Cath Kidston's quirky seaside bird print, which evokes thoughts of childhood summer holidays, building sandcastles on the beach and walks along the coastline. Best of all, the salad bowl lid can be used as a chopping board, and to fend off any flying picnic pests.
2. Les Jardin de la Comtesse Exotic Flowers Dinner Plates – Set of 2, £20, Bowls – Set of 2, £14, Joanna Buchanan Shrimp Napkin Ring – Set of 2, £49, Bitossi Bloom Wine Goblet – Pink, £6, LSA Basis Jug, £20, Seletti Industry Garden Chair, currently reduced to £112 from £160, and matching Garden Table – White, currently reduced to £199.50 from £285, Amara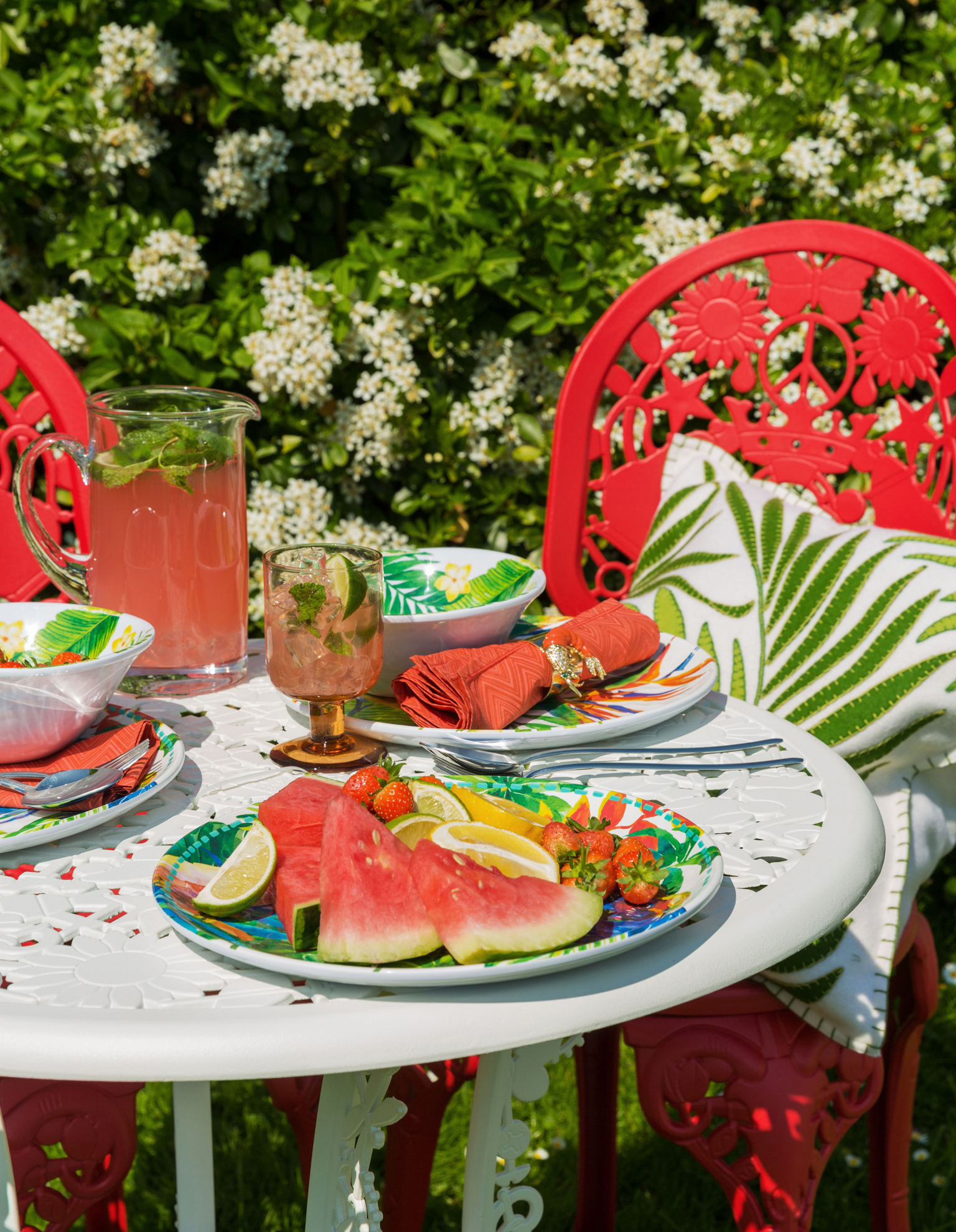 Amara is a one-stop shop for some of the most talented interior designers and their stylish home decos, and this bijoux table and chair teamed with palm print tableware, and little gems such as the bejewelled shrimp napkin rings, bring home entertaining to another level. Bellissimo!
3. Portmeirion Botanic Garden Tableware currently from £7.25 each (sale price), 10-inch Dinner Plates, £16.50 each, and other serving pieces from a selection at Portmerion (picnic hamper, tablecloth and other props, stylist's own)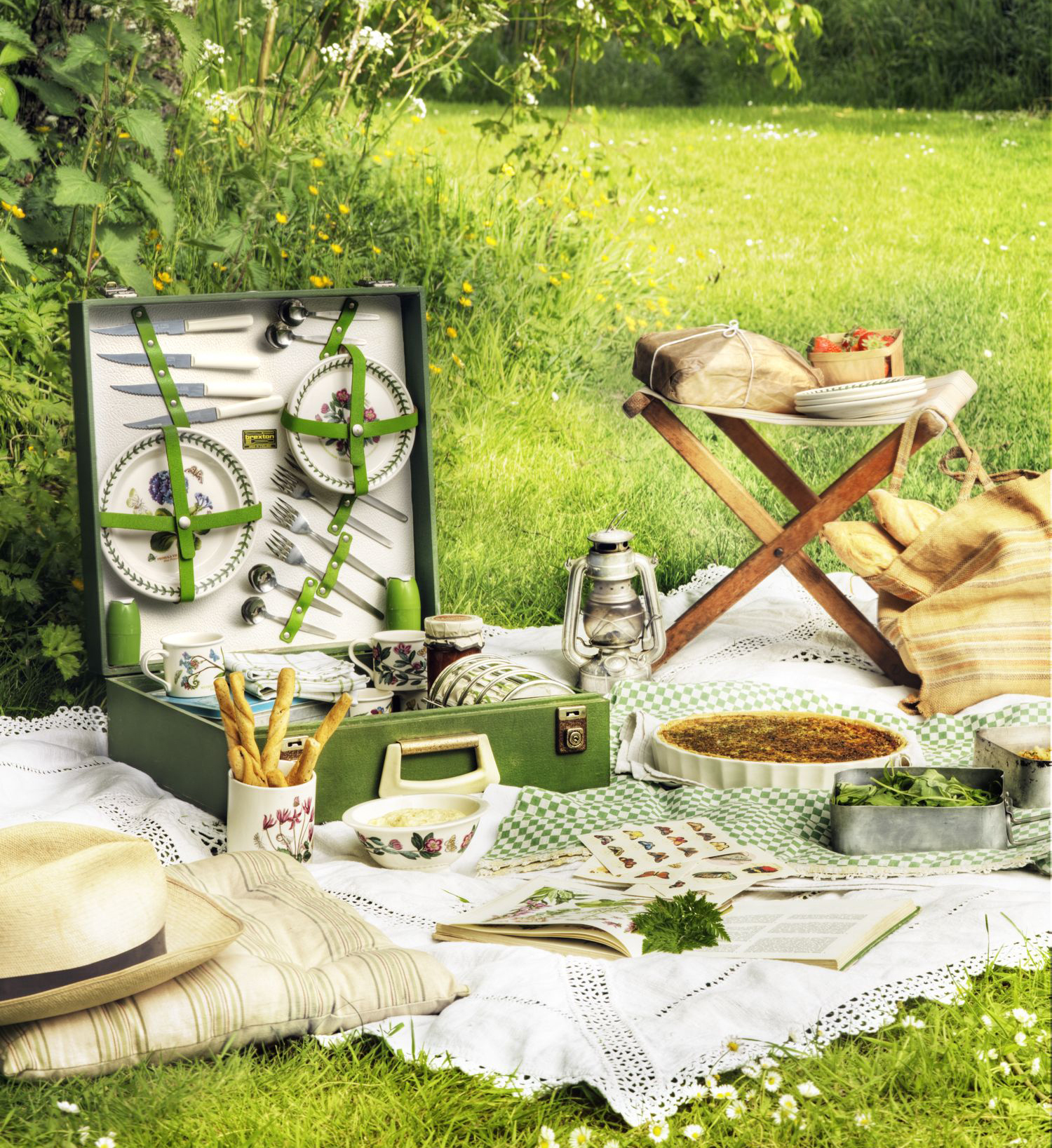 Portmeirion's classic Botanical Garden print has been in bloom for 40 years, and there's good reason why we still covet these lovely ceramic pieces with their whimsical floral prints. Timeless, they can effortlessly be placed together without having to worry about being too matchy-matchy, and the flora and fauna can also be paired with pretty pastels to bring out colour palette – or highlight seasonal produce and favourite family recipes, of course.
4. Four Person Fresh Greens Hamper, £59, Marks & Spencer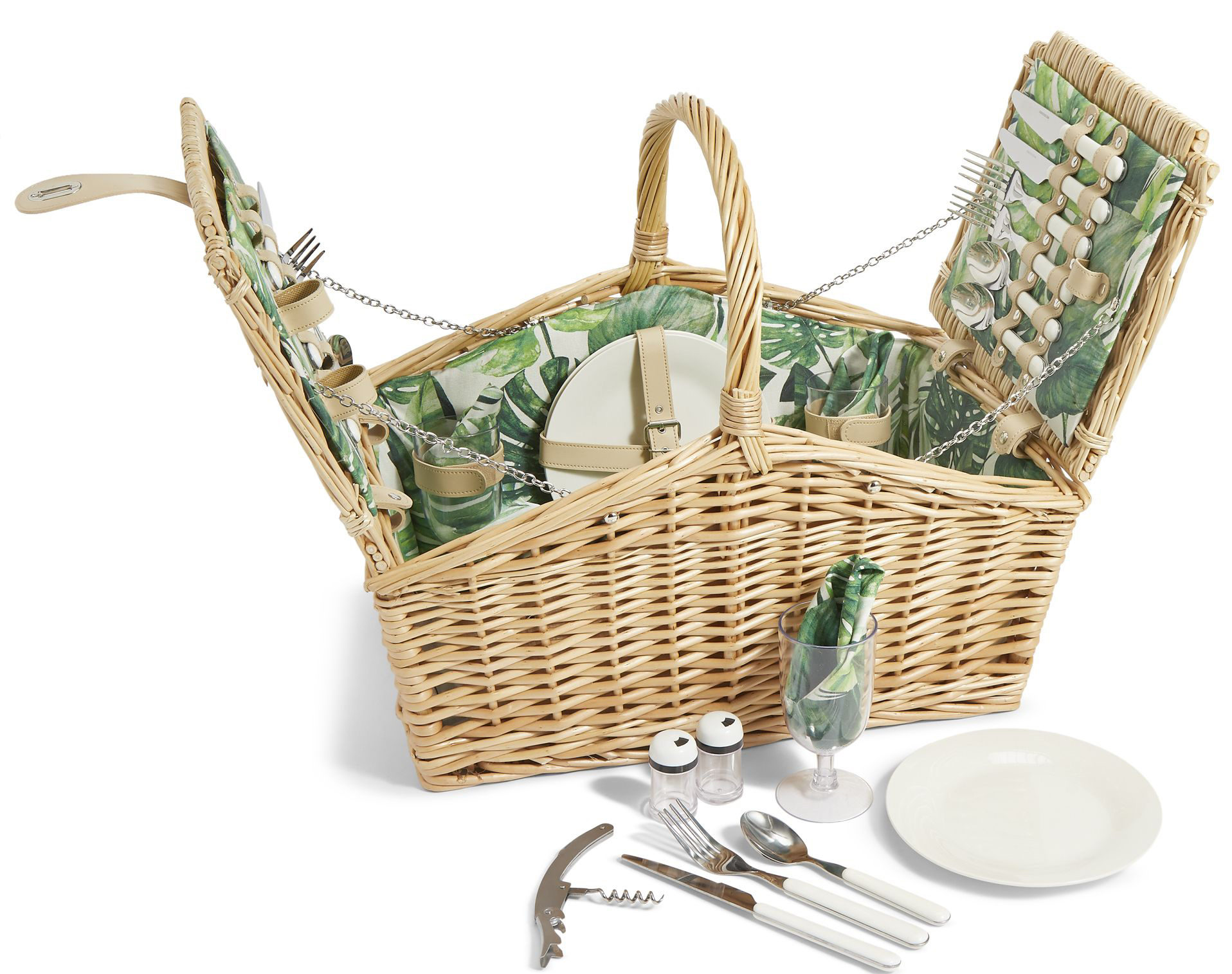 At one with nature, this pretty hamper has a decorative leaf print design and holds all the necessities for your open-air spread. Along with ceramic plates, plastic wine glasses, cutlery, salt & pepper shakers and a bottle opener and corkscrew, there's just enough room to pack the sarnies and coronation chicken. A chilled bottle of wine or six-pack of beer will need to be carried separately in a cooler bag.
5. Wilko BBQ Pizza Oven Grill and Smoker, £140, Wilko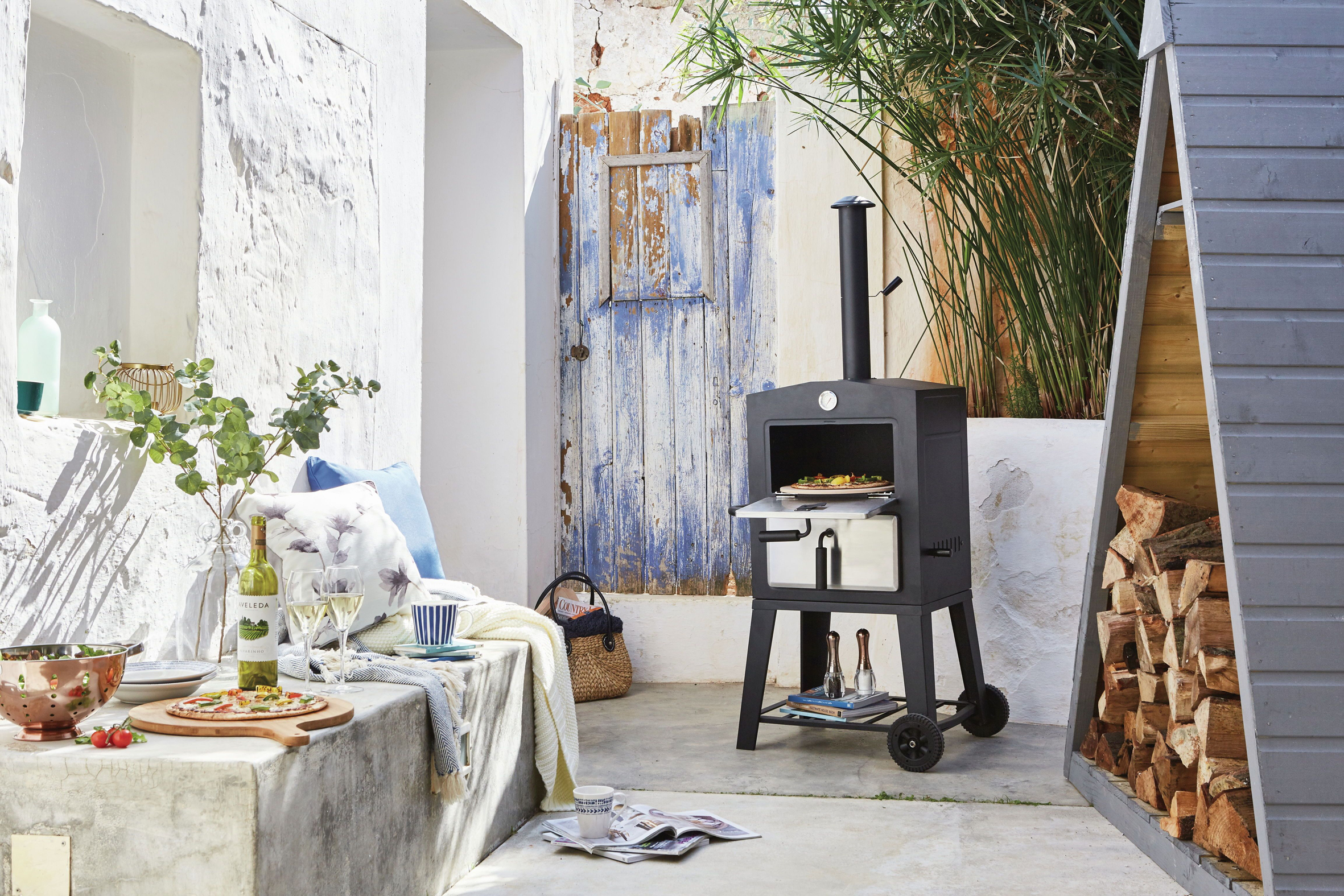 Entertaining the idea of serving a piping hot pizza, as well as kebabs from the grill? This pizza oven, grill and smoker boasts several different functions with the option of a pizza stone, charcoal pan and a smoker with a water pan to slow-cook red meats and get the juices flowing. It looks smart too, and is easy to handle.
6. Rattan-style Keter Cool Bar, £43, Morrisons stores nationwide until August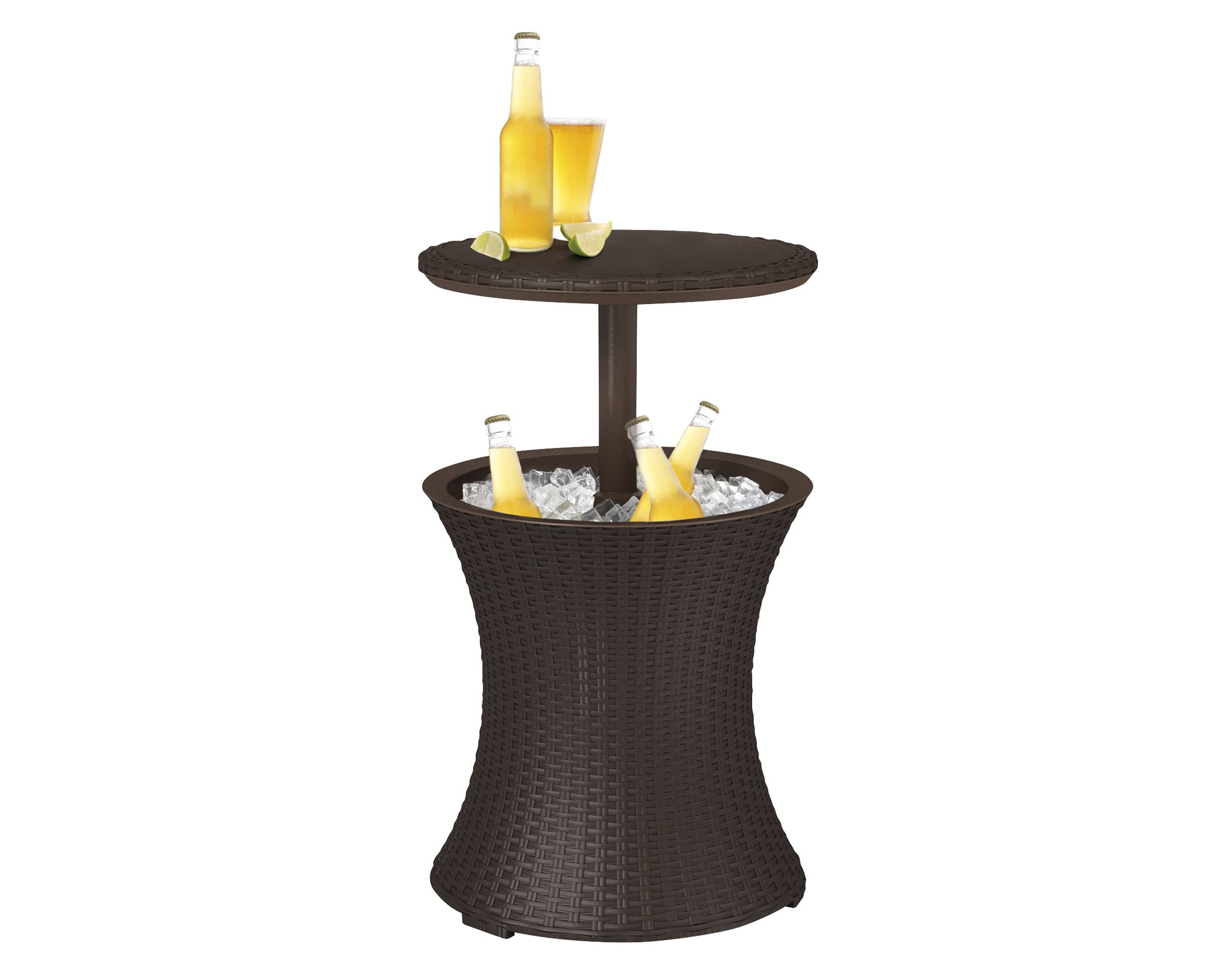 What's not to love about this weatherproof party table, which doubles as a poser table and cool box all in one? The table lid extends over an ice bucket base with double wall insulation, to keep your wine and beer perfectly chilled while you're firing up the barbie and marinating the chicken thighs.
7. Cocktail Jug with Stirrer, £45, The White Company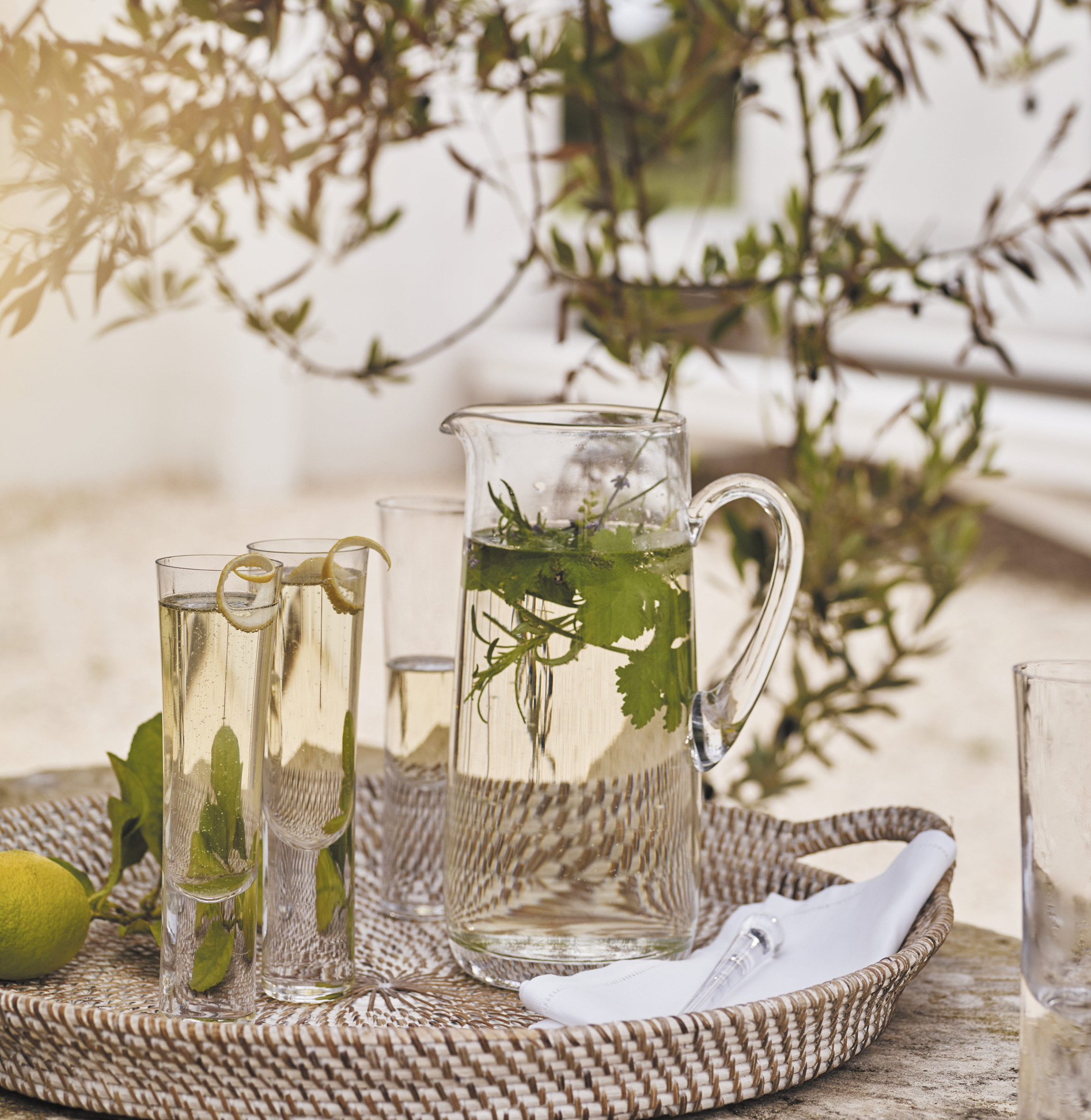 With so many long refreshing drinks, such as a P&T (white port and tonic – also dubbed the new G&T), tickling our taste buds, this cocktail jug is a must for smart summer soirées.
8. Pasha Bowl – Red/Green, £14, Pasha Large Plate – Red/Green, £34, Keramas Acrylic Tumblers – Set of Four, £34, Artichoke & Desert Plant Candle Holders – Set of Three, £96, Karaman Floor Cushion – Multi, £245 each, Oka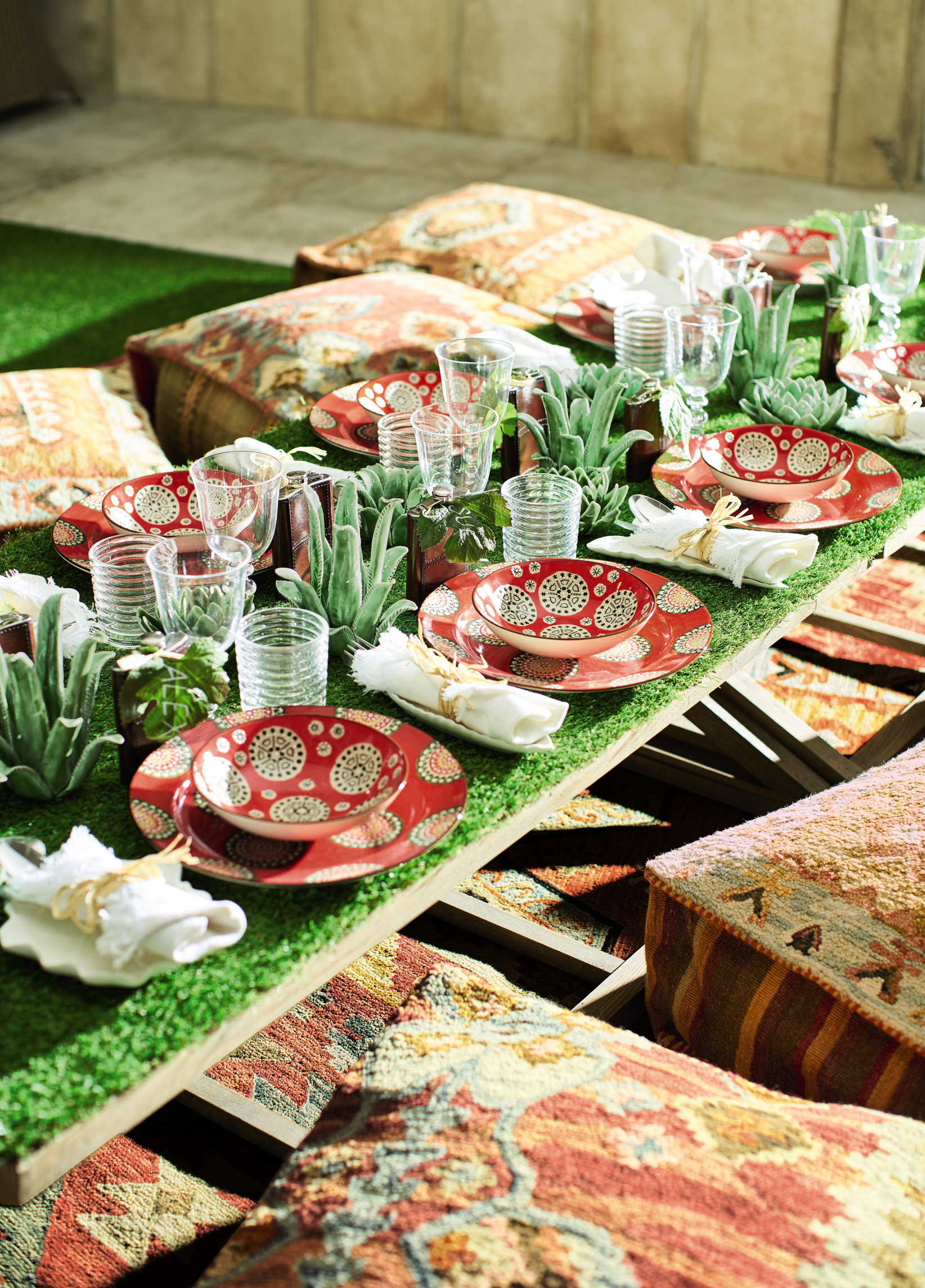 If you're going to plant yourself outside and host a garden party, you may as well invest in some statement tableware complemented by green thistles, such as these lovely artisan artichoke candle holders, and dinner plates in burnt orange to mirror the setting sun.
9. John Lewis Poolside Gin Glass, Orange, £8, Highball Glass, Turquoise, £6, Fun Watermelon Tumbler, £5, John Lewis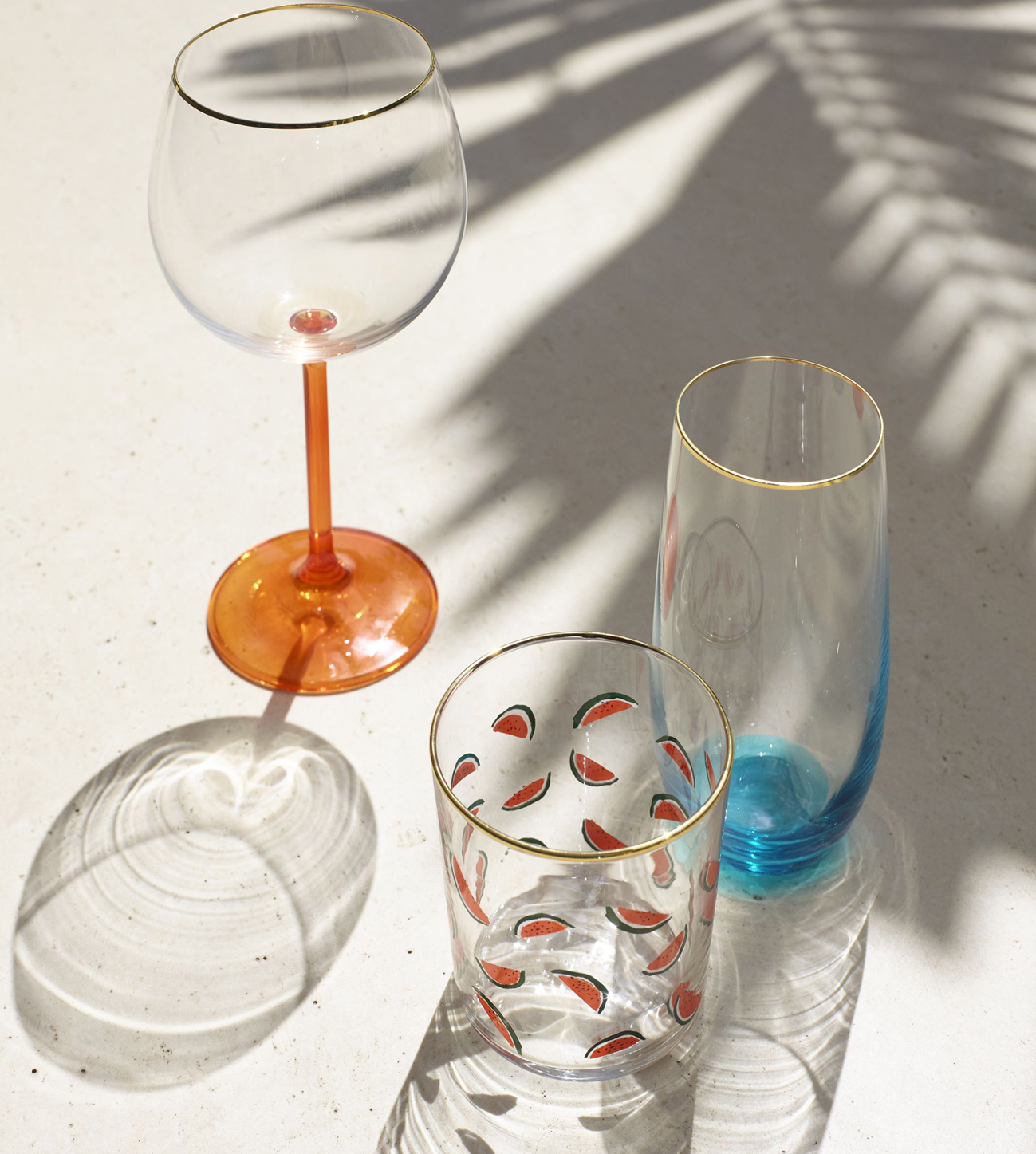 Of course, we'd all like to be poolside this summer, but if your outdoor space can't accommodate a swimming pool, John Lewis' 'Poolside' stemware range is the next best thing. And you can always pump up the paddling pool, dip your toes in and reward yourself with a G&T…
10. Antigua Painted Wood Bistro Set, currently reduced to £74.99 from £99.99, Very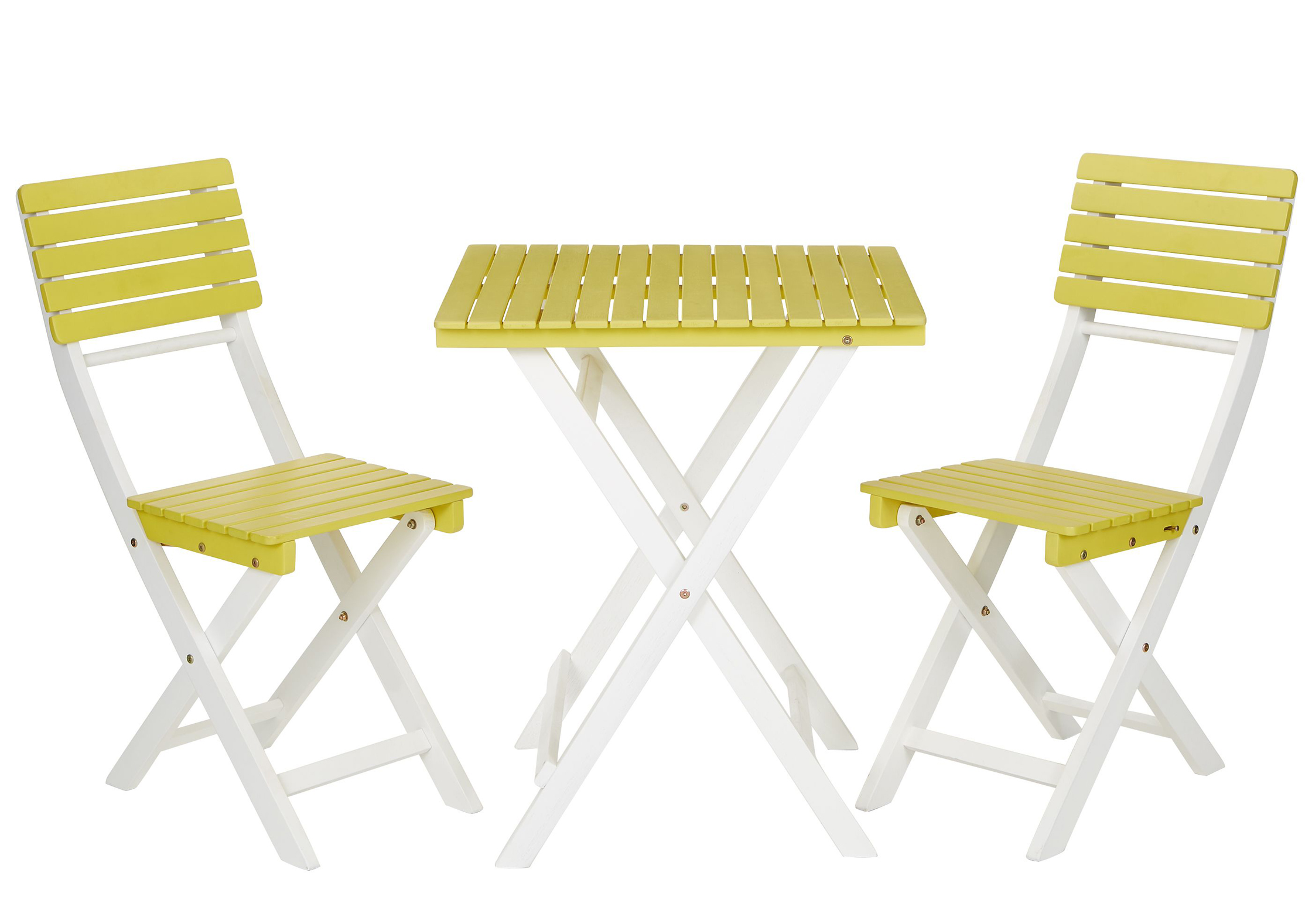 An instant style update, even the smallest balcony should be able to accommodate this folding bistro dining set, which is ideal for small spaces. Made out of solid wood with a hard-wearing finish, the canary yellow colour screams summer and it can be folded away when not in use, or placed in a cosy corner with a lovely vase of fresh flowers for a cheerful scheme indoors.
© Press Association 2018