Video: Everything you need to know about how the royal wedding cake is being made
18th May 18 | Lifestyle
Watch baker Claire Ptak make a layered lemon and elderflower cake like Harry and Meghan's.
Meghan Markle and Prince Harry's wedding cake will be displayed in a pretty non-traditional way – in an installation – and it's almost finished.
Claire Ptak who's been commissioned to make the three-part, layered lemon and elderflower cake, is the owner of small Violet bakery in east London, and has been working with her team of six bakers full time for five days in the kitchens of Buckingham Palace. Part of it is still being baked and iced.
Designed exclusively for Harry and Meghan, layers of lemon sponge drizzled in elderflower syrup are being sandwiched with buttercream and lemon curd. The outside will be decorated with a white elderflower swiss meringue buttercream.
Ptak says: "The buttercream is sweet and the lemon curd is very tart, so you get a very lovely thing happening when you take a bite, which is to get all of these flavours and sensations perfectly balanced."
The recipe includes some 200 Amalfi lemons, 10 bottles of Sandringham Elderflower Cordial (from the Queen's Sandringham estate) 20kg of butter, 20kg of flour, 20kg of sugar and 500 organic eggs from Suffolk.
She says: "The elderflower is so quintessentially British to me as a Californian. It's of this moment. It's May so they're just opening this week. It's a kind of an ethereal, floral flavour which I think is very special, especially for a wedding."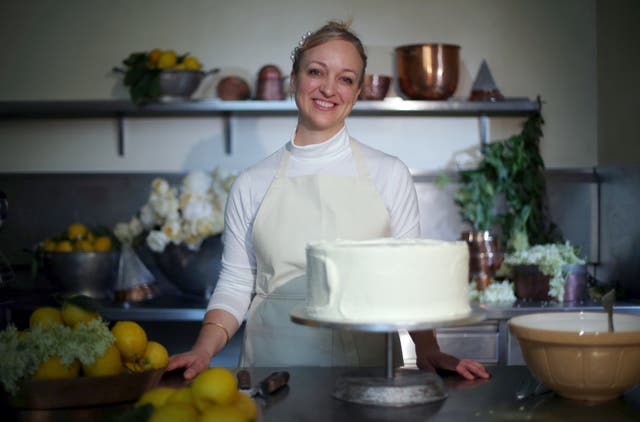 The cake will be served to the 600 guests at the lunchtime reception in St George's Hall after the ceremony.
You might think a backup cake would be made, in case of disaster, but Ptak isn't making one. She says: "It's cake. It can't go that wrong. We have enough cake and we don't want to be wasteful."
© Press Association 2018