How to make Prawn On The Lawn's whole roasted monkfish tail with Vietnamese marinade
14th Mar 18 | Lifestyle
A fish dish with an Asian twist.
"Covering a whole fish with this marinade is a sure-fire way of getting loads of flavour into any fish. It's not too overpowering and brings an awesome fresh, clean taste that you often don't get when eating out," explains chef Rick Toogood of Prawn On The Lawn.
"This method works equally well on flat and round fish. Although not essential, when using flat fish, ask your fishmonger to remove the top layer of skin for you, to ensure the marinade flavours penetrate the meat. If the skin is still present, or if using round fish, just score the skin before marinating."
Ingredients:
(Serves 4)
8tbsp Vietnamese marinade (see below)
1.5kg monkfish tail on the bone, skinned and butterflied (ask your fishmonger to do this)
4 spring onions, finely sliced
4 sprigs of coriander, leaves only
4 sprigs of holy basil (Thai basil), leaves only
A handful of toasted peanuts, chopped (optional)
1 lime, cut into wedges
For the Vietnamese marinade:
(Makes 150ml – enough dipping sauce for 10)
2 garlic cloves, peeled
A handful of coriander, stalks and all
5 kaffir lime leaves
1 thumb-sized piece of fresh ginger, peeled
1 birdseye chilli, roughly chopped
2 lemongrass stalks, topped and tailed, roughly chopped
A splash of Thai fish sauce (nam pla)
Juice of 2 limes
50ml extra virgin olive oil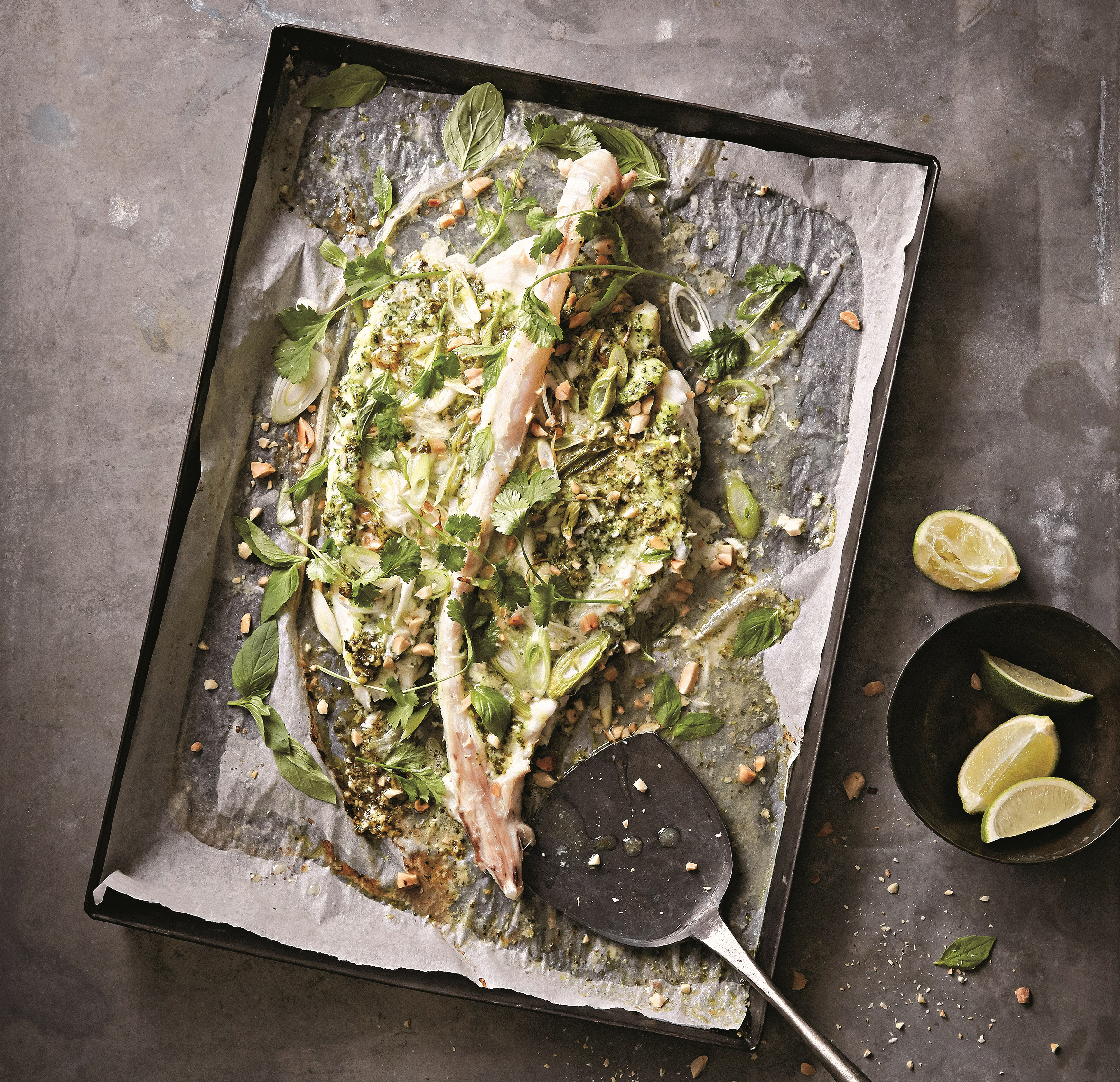 Method:
1. Make the marinade. Put all the ingredients into a food processor or blender and blitz until as smooth as possible. Don't worry if it looks a little 'bitty', as it will soften down during the cooking process.
2. Preheat the oven to 160°C fan/180°C/350°F/gas mark 4. Line a roasting pan, large enough to hold the monkfish tail, with greaseproof paper.
3. Spread two tablespoons of the marinade across the greaseproof paper and place the monkfish tail on top. Make sure the meat of the butterflied monkfish is opened out and spread the remaining marinade over the fish. If you are using a different fish you may need more or less marinade – just make sure the fish is well covered.
4. Sprinkle with half the spring onion and roast in the hot oven for 20 minutes. When the fish is cooked, the meat will start to peel away from the backbone.
5. Transfer to a serving plate and pour the cooking juices over the fish.
6. Garnish with the remaining spring onion, coriander, basil and peanuts (if using). Serve with lime wedges on the side.

Prawn On The Lawn: Fish And seafood To Share by Rick and Katie Toogood is published by Pavilion, priced £18.99. Available now.
© Press Association 2018