How to make Prawn On The Lawn's crab-stuffed courgette flowers
14th Mar 18 | Lifestyle
A delicate summery snack.
"This recipe combines the produce from two of our best suppliers. Ross has a kitchen garden just outside Padstow and grows incredible veg; Johnny fishes crab and lobster for us just out of the Camel Estuary," explains chef Rick Toogood, who runs Prawn On The Lawn in Padstow, Cornwall.
"Both have been a huge support to us, as well as becoming good friends. Understated in appearance (the dish, not Ross and Johnny!), it takes just one bite and you'll not want to share."
Ingredients:
(Serves 4)
150g white crab meat (unpasteurised)
1tbsp crème fraîche
2 spring onions (scallions), finely sliced
1tsp lemon juice
Sea salt and freshly ground black pepper
4 courgette flowers, with the baby courgettes still attached
1L vegetable oil
For the tempura batter:
75gcup plain flour
50g cup cornflour
11/2tsp baking powder
Approx 150ml chilled sparkling water (you may need more or less)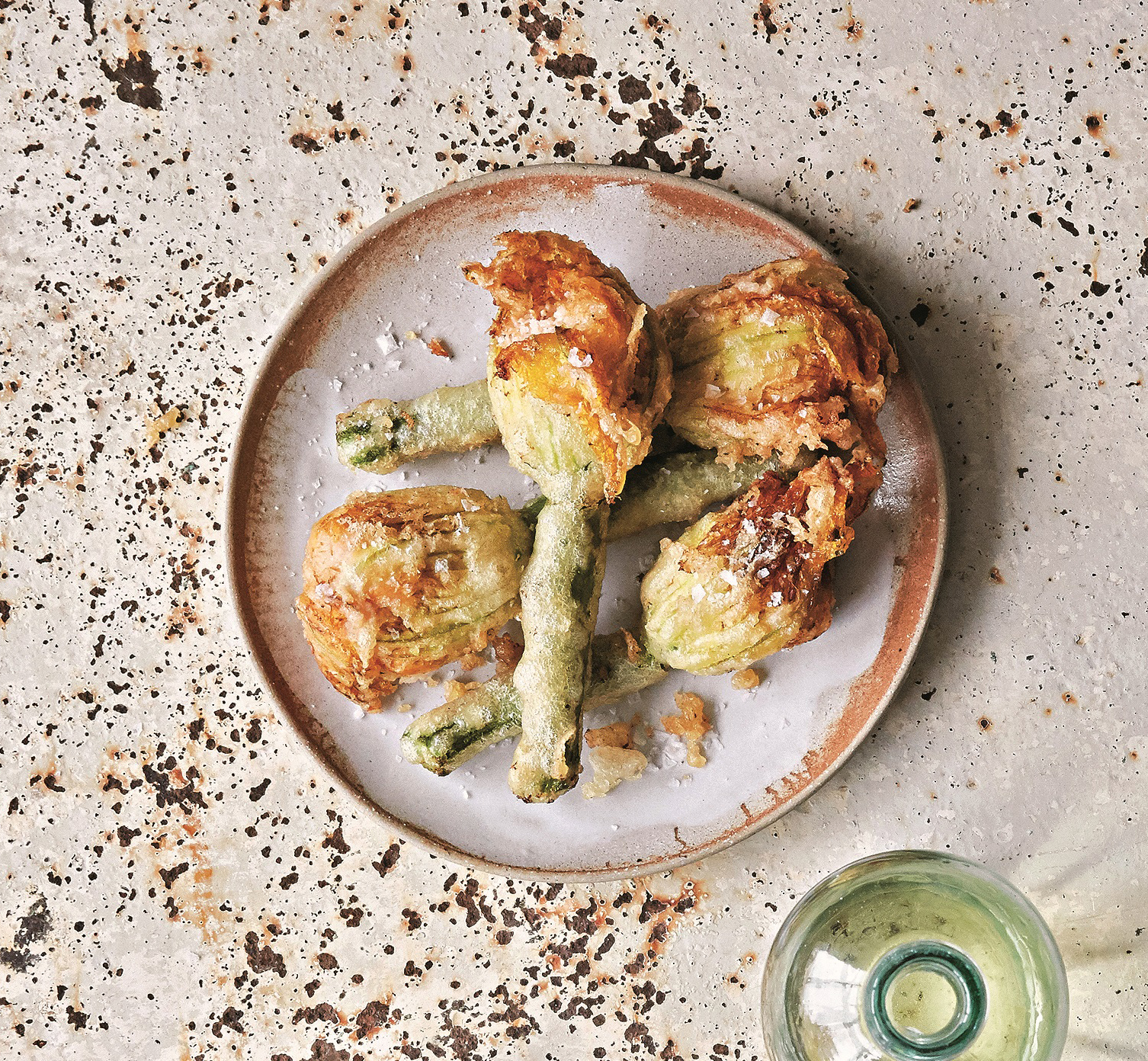 Method:
1. In a mixing bowl, add the crab meat, crème fraîche, spring onions and lemon juice and mix together, seasoning to taste.
2. Gently open the petals of the courgette flowers and spoon equal amounts of the crab mixture in between the petals, packing the mix in tightly and leaving enough space to be able to twist the petals back together. Ensure there are no gaps for the crab to escape out of.
3. Ideally, use a deep-fat fryer (if you haven't got one, use a heavy-based saucepan) and heat the vegetable oil to 190°C/375°F. Test the temperature by putting a cube of bread in the oil – if it immediately starts to crisp up, you're ready to go.
4. Meanwhile, make the tempura batter. Mix the plain flour, cornflour and baking powder together and slowly add the chilled sparkling water, whisking as you go. You're aiming for the consistency of double cream (you may need to add more or less than the quantity given – be guided by the consistency).
5. Gently coat the stuffed flowers in the batter and, using a spoon for support, slowly lower a flower into the hot oil, flower-end first. After a few seconds, let it submerge fully and fry for about one-and-a-half minutes, until golden. Repeat for all four flowers.
6. Remove with a slotted spoon and place on paper towels to absorb any excess oil. Season with sea salt and they're ready to serve.
Prawn On The Lawn: Fish And seafood To Share by Rick and Katie Toogood is published by Pavilion, priced £18.99. Available now.
© Press Association 2018