Love Island's Gabby Allen launches a new fitness class - so what's it like?
13th Mar 18 | Lifestyle
We got an exclusive sneak peek of the ITV star's new boxing-inspired workout routine.
Aside from the drama, cat fights and "mugging off", one thing that kept us guessing during last year's series of Love Island was Gabby Allen's ridiculously toned midsection – just how does she maintain her incredible abs?
Well, now the personal trainer from Liverpool has let us into a major secret: she's a huge fan of boxing to keep fit. She says throwing punches can help you strengthen your core (hello, abs of steel), improve your balance and build upper body strength.
Thanks to Gigi Hadid and the rest of the Victoria's Secret squad's endorsement, boxing is now pretty big news in the world of fitness, and with good reason too – it's fun, it's challenging and you don't need to block off loads of time in the gym to do it either.
If you fancy giving it a go, Allen has just created a 20-minute boxing-inspired workout video, believing that everyone can benefit from getting into the ring every now and again.
The new workout is now totally free to watch on the Groupon website, but we were one of the lucky few to get a preview of the class with Gabby herself, way before anyone else. Here's what you can expect…
The concept
Training like a boxer is all about intensity, so this savagely hard workout packs in high-intensity movement with very little rest. Expect lots of fast and varied exercises with an emphasis on brute strength and endurance.
The workout is split into two 10-minute sequences with one minute of active recovery in between. You don't need to have any prior experience in boxing to try it out, but it's worth brushing up on the lingo before you press play, so you know how to properly execute crosses, jabs and hooks.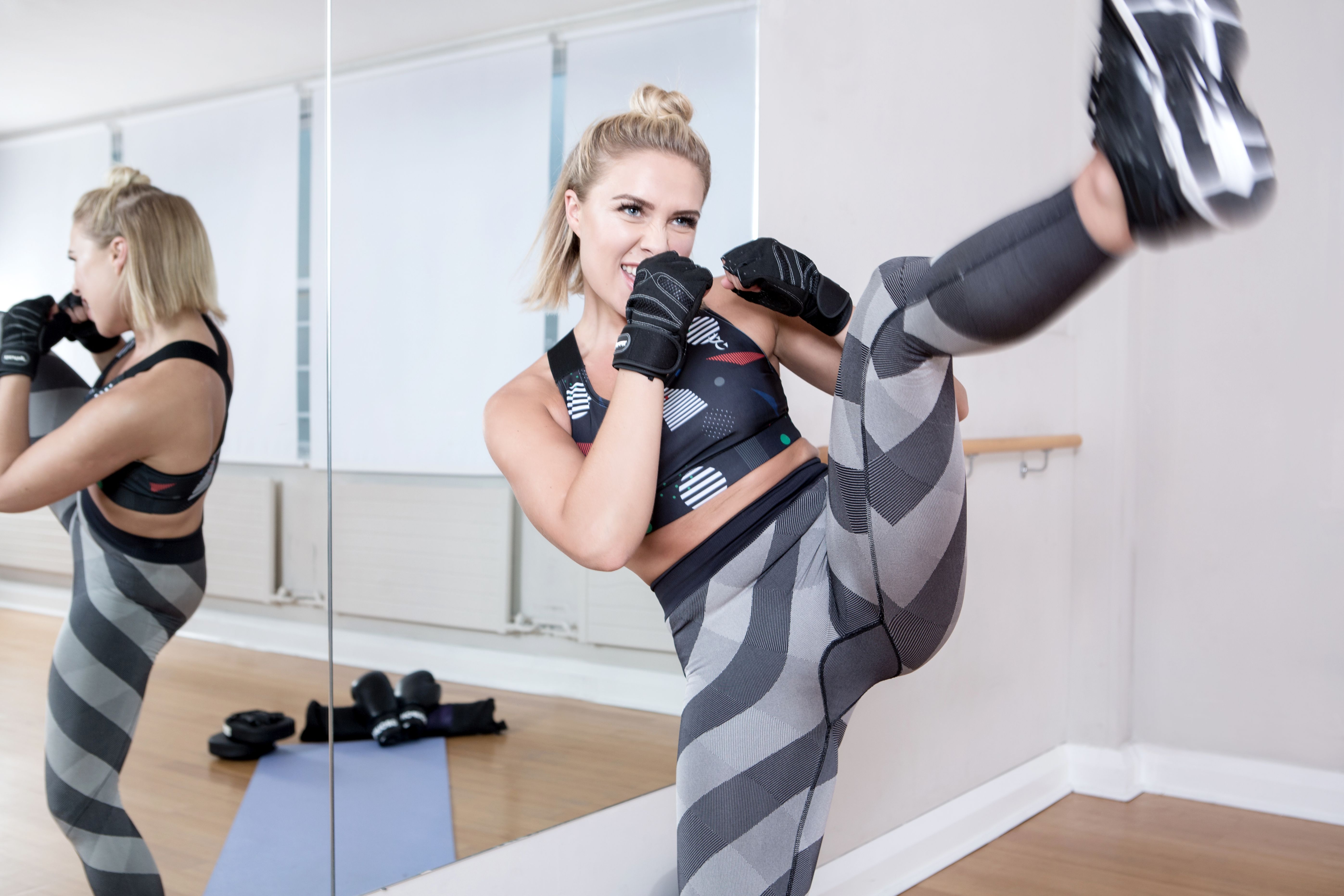 As well as throwing punches, expect to be put through your paces with boxing-inspired moves like high knees, sprawls (basically a boxer's version of a burpee), sprinter hops, jump squats and fast feet.
Once you've learned the 10-minute sequence, you get a minute to grab your water, mop your brow, and then you repeat it all over again.
What are the benefits?
It's a killer total-body workout that challenges everything from your core to your arms to your brain (remembering all of those combinations isn't easy).
Because it uses high intensity interval training (HIIT), you'll see a major spike in your heart rate followed by a short rest period – these short bursts of high intensity cardio are shown to burn more fat than a steady state cardio session, and also continue to burn more calories long after the workout is over.
Sticking with this class a couple of mornings a week will help to build endurance, balance and agility, as well as burn fat and build lean muscle.
There are mental benefits too: the intense physical activity involved in boxing can decrease stress, increase endorphins and improve sleep. Couple that with throwing punches and kicking into the air when you've had a particularly stressful day at work, and you have a pretty cathartic workout on your hands.
Over half (53%) of women surveyed by Groupon admitted they don't think they are strong enough to box, so the 20-minute workout is also a great entry level way into the moves needed for the sport.
"I find it hard to believe that more women do not do boxing, it is such a great way to keep fit and sculpt your body. There are so many benefits, physically and mentally and it has become one of my favourite ways to train," says Allen.
"The workout I have created is inspired by boxing and is a fantastic cathartic release, designed to improve overall total body strength and endurance and help with your hand-eye coordination.
"Each exercise challenges your body and mind in a different way, keeping it interesting and working all of your muscles. The routine can be completed in 20 minutes at home or in the gym and can be built around your current lifestyle."
What equipment do I need?
All you'll need is a yoga mat (if you're working out on a hard surface), a skipping rope and a bottle of water. We'd also advise completing the workout in as little training gear as possible (i.e shorts and a t-shirt or sports bra) as you'll quickly start to sweat.
Gabby Allen's exclusive workout video and a step-by-step PDF of the moves involved is available to access for free from Groupon until March 30th: gr.pn/fightingfit
© Press Association 2018