Gymnast Aly Raisman has done a nude photoshoot with a powerful message about sexual abuse
14th Feb 18 | Lifestyle
She's making a bold statement in the wake of the Larry Nassar scandal.
Gymnast Aly Raisman wants you to know she's a survivor, and she's done a striking nude photoshoot to prove it.
Raisman is a hugely talented sportswoman – she's been to the Olympics twice, won three gold medals, and was part of the "Final Five" of US gymnasts that took Rio by storm. Raisman is also a survivor of sexual abuse.
The 23-year-old recently came forward as one of the many victims of former Team USA physician Larry Nassar. She gave a powerful statement during Nassar's sentencing in January, in response to the abuse she endured from when she was 15.
She said to Nassar in court on January 19: "You are so sick. You took advantage of our passions and our dreams. I am here to face you, Larry, so you can see I have regained my strength. That I am no longer a victim, I am a survivor."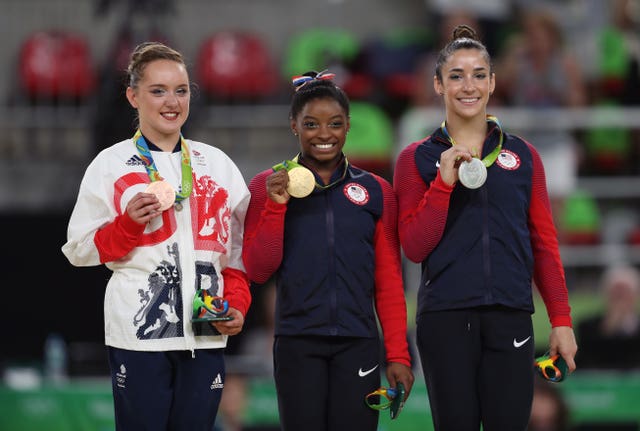 Nassar has since been sentenced to 40 to 125 years in jail for three counts of sexual assault, as well as another 40 to 175 years for admitting seven counts of sexual assault of minors and 60 years for child pornography charges.
Now, Raisman has the word "survivor" painted on her chest as part of a black and white photoshoot for Sports Illustrated.
It's part of the magazine's feature 'In Her Own Words', where models were given creative control to write whatever message they wanted on their bodies.
Raisman, clearly taking the power back, chose: "Live 4 You", "Abuse Is Never OK", "Trust Yourself", "Women Do Not Have To Be Modest To Be Respected", and "Fierce".
Raisman told Sports Illustrated: "I would like to remind everyone that being a survivor is nothing to be ashamed of, and going through a hard time does not define you. I hope that we can one day get to a point where everyone realises that women do not have to be modest to be respected… For me, 'In Her Own Words' serves as a reminder that we are all humans, we are all battling something, and it is OK to not be OK. We are not alone and we need each other."
Not only is it a powerful message about speaking out against abuse, but Raisman is also showing that what a woman does with her body is entirely her choice – a message people have really been appreciating.
While Raisman celebrated the sentencing of Nassar, she is continuing to be vocal about the fact more work needs to be done to prevent anything similar from happening again. Expect to hear a lot more from her in the future – both as an activist and as a gymnast.
© Press Association 2018