The Winter Olympics is under way - 7 foods you have to try when you visit Seoul
8th Feb 18 | Lifestyle
Inspired by the Winter Olympics? This is the Seoul food worth getting your teeth into, says intrepid taster Mark Staniforth.
Take a short stroll round South Korea's capital Seoul, and the bond Koreans have with their favourite dishes is obvious – many of which are deeply embedded within the nation's turbulent cultural and political past.
From the ubiquitous kimchi to the increasingly famous Korean barbecues and countless spitting, steaming food shacks selling all manner of delicacies on almost every street, Seoul is a true foodie capital.
So, whether you're headed to the PyeongChang Winter Olympics 2018 in South Korea or not this month, here are the dishes to look out for.
1. Kimchi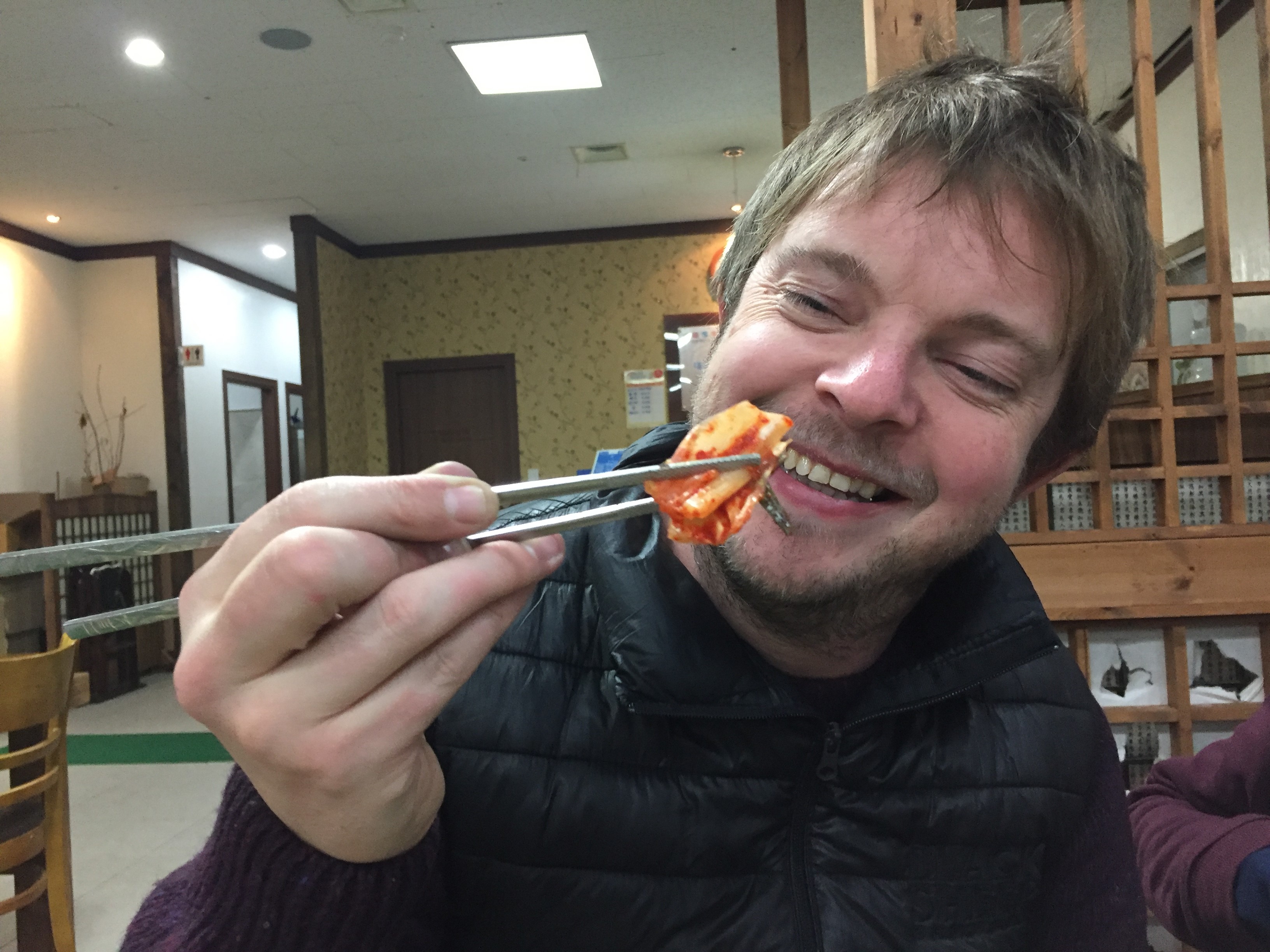 Come to South Korea, and kimchi is impossible to avoid. Vegetables – usually cabbage, but the varieties are almost limitless – fermented in fish sauce and chilli powder may not be everybody's cup of tea, but to Koreans it's almost a religion and served as side-dish to every meal, including breakfast. Plus it's super healthy.

Our verdict: Kimchi is a crunchy, spicy speciality I'll definitely hunt out – or even make myself – when I get home.
2. Congee
If kimchi is a challenge to western palates, congee takes things to a whole new level. Effectively a bowl of thick, gloopy rice porridge, Seoul-ites favour theirs flavoured with vegetables and seafood – typically, mushroom and oyster or abalone – and they slurp it up for breakfast, with a side-dish of kimchi, of course.
Our verdict: Congee tastes wonderful but the sloppy texture and time of day made it a struggle to finish.

3. Bulgogi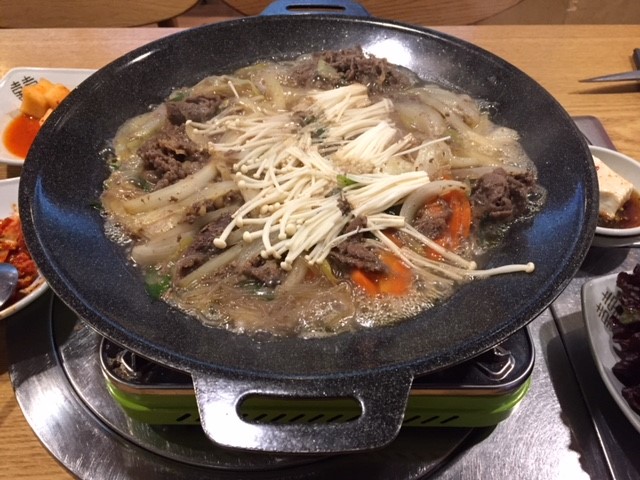 Perhaps the most popular of Korean meat dishes, bulgogi consists of thin, marinaded strips of beef barbecued at your table – by you, not the chef – and served in a dish with vegetables and sometimes noodles.
Our verdict: I loved the spectacle of effectively cooking it myself in the centre of the table – and it tasted pretty good too.
4. Bibimbap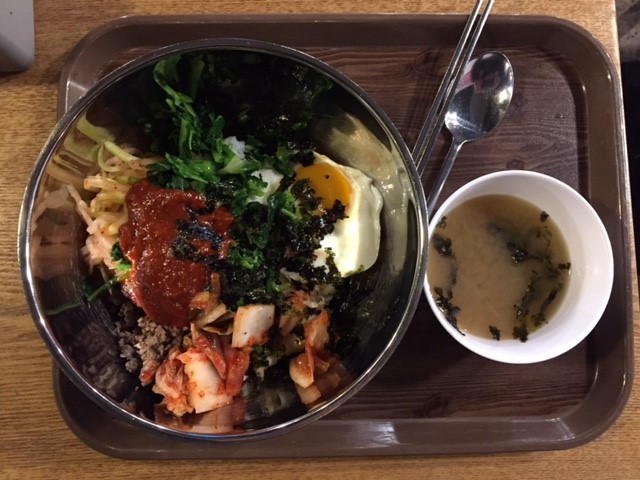 Bibimbap is fast becoming one of South Korea's biggest culinary exports and it's not difficult to see why. Served in fancy restaurants and tiny, subterranean shacks for less than the equivalent of a fiver, bibimbap – the word means "mixed rice" – is served in a bowl with your choice of accompaniments, usually mince, vegetables and, you've guessed it, kimchi.
Our verdict: The range of textures was great, and adding extra red pepper sauce to really spice up the dish made all the difference.
5. Tteobokki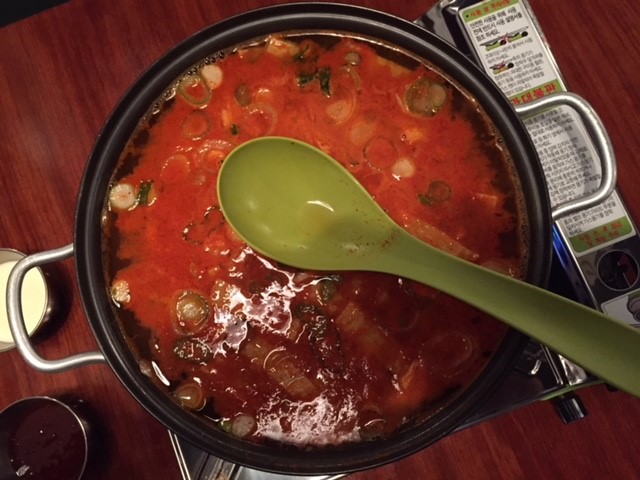 Tteokbokki, a popular Seoul delicacy, involves thick sliced rice cakes served in a spicy sauce, and sometimes features fish or meat and lots of spring onions.
Our verdict: Texture-wise it's a bit like strings of gnocci in a spicy pepper sauce. I'm not sure I'd seek it out again.
6. Street food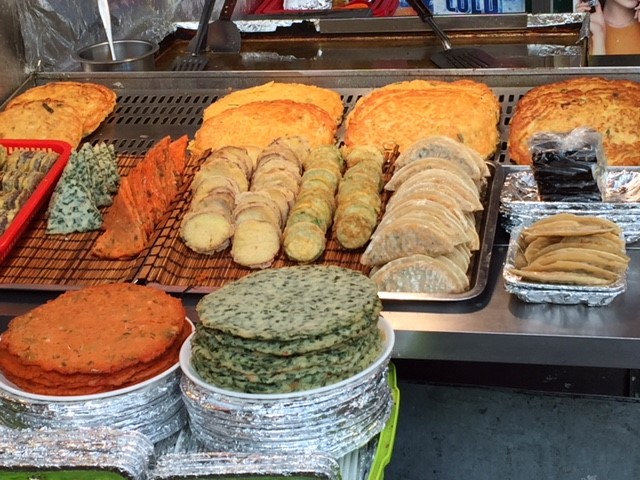 No visit to Seoul would be complete without diving into the maze of street food stalls at one of the capital's many sprawling markets. Offering everything from pancakes to dumplings and gimbap – a sushi-like combination of rice rolled in seaweed – the stalls tend to offer outrageous value and, perched on a tiny bench right in front of the scalding stove, the experience of eating like a true local.
Our verdict: Given it's mostly deep-fried snacks, the street food on offer proves a rare guilty pleasure in Korean cuisine, but one you wouldn't want to submit to too often.
7. Fusion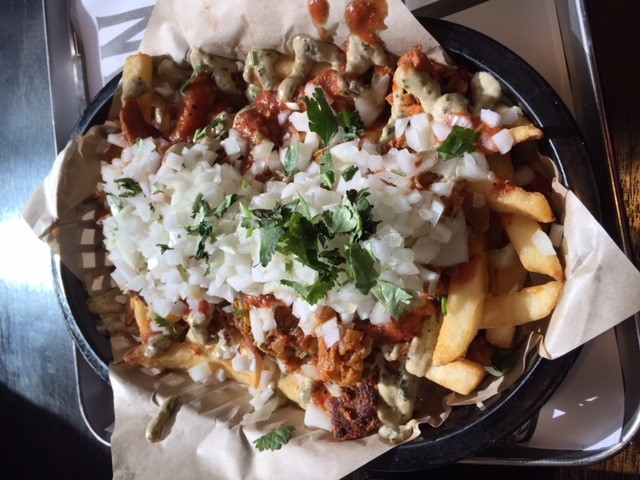 While the rest of world is just starting to discover South Korean food, the Koreans themselves have already moved on. The latest trend to hit Seoul is fusion, with Korean-Mexican restaurants in particular starting to pop up at a significant rate. Try tacos made with slices of Korean barbecue beef or the ultimate fusion cuisine, kimcheese fries – fries topped with cheese and.. you've guessed the rest.
Our verdict: I can't get enough of spicy food so Korean and Mexican was a match made in heaven. Those fries were incredible.
© Press Association 2018