Christmas in Leicester Square: Mulled wine and movie magic at London's new festive pop-up
11th Dec 17 | Lifestyle
Fancy a festive weekend in the capital? Abi Jackson explores a new winter wonderland in the heart of the city.
Slap bang in the middle of Theatreland, with a star spot on the global cinema map (it lays down the red carpets for more than 52 film premieres a year) and home to the world's 'biggest sweet shop' (aka M&M's World), it's little wonder Leicester Square is one of London's most famous tourist hotspots.
It's also fair to say it's among the most crowded and clichéd – but that doesn't mean a visit to this West End favourite should be overlooked this winter.
Leicester Square's been given a bit of a festive makeover for the holidays, with shows, stalls and goodies galore waiting to be explored, whether it's a romantic date night, family fun day or get-together with friends that's on the cards. We hopped on the Tube for a girls' day out, to discover some of the highlights…
Soak up some festive spirit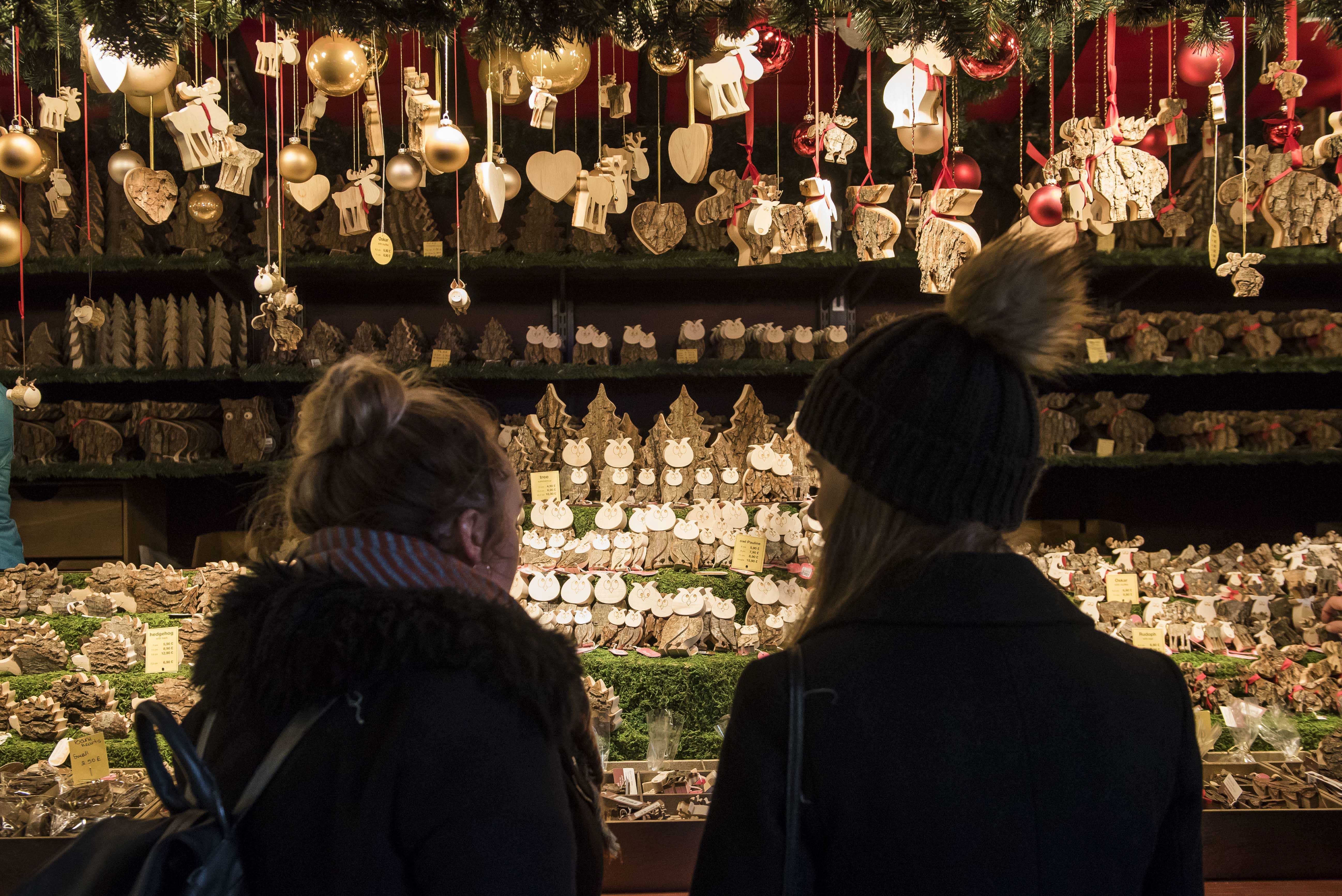 Billed as the 'ultimate festive pop-up', Christmas In Leicester Square – created by the Underbelly events team in partnership with Hilton Hotels & Resorts and running until January 7 – has seen the square transformed into a European-style Christmas market, complete with trees, twinkling lights and a Santa's grotto.
Browse the Alpine-esque wooden stalls selling hats, crafts and artisan gifts, as the festive aromas of roasting chestnuts and hot, chocolatey crepes waft in the background, before refuelling with a steaming mulled wine at the outdoor bar.
Take in a show or some movie magic
The Christmas In Leicester Square pop-up also features a traditional 1920s-style 'spiegeltent' (mirror tent), where a string of live performances, including comedy, cabaret and dance, are set to take place (advance booking recommended). Visit christmasinleicestersquare.com
Alternatively, why not treat yourself to last-minute tickets at one of the theatres nearby, or take in a movie at Odeon Leicester Square? Yep, tickets might cost double what you'd normally pay out of town, but as a treat for cinema-buffs, it's worth it – just imagine all the famous bums that've sat in those seats?! Remnants of the iconic cinema's Art Deco design, and the vastness of the Screen 1 auditorium, make it pretty special. Visit odeon.co.uk
Enjoy a moment of calm at the Japan Centre
A whole day at Leicester Square might drive even the coolest of cucumbers a little crazy. Thankfully, there are lots of peaceful pockets to be found around and about the side streets – including the wonderful Japan Centre on Panton Street, just five minutes from the square.
Eastern culture vultures and foodies could easily while away a few hours marvelling at the colourful supermarket shelves neatly stacked with Japanese products and feasting on gloriously fresh sashimi, crispy tempura and their signature chicken and wagyu buns from the deli counter.
Looking to warm up a little before heading back out into the cold? Then try some sake tasting; the Centre stocks an array of the Japanese rice wine – be sure to try the sparkling one! Visit japancentre.com/en

Finish with dinner and a nightcap at W Hotel

If you like a spot of people-watching with your cocktails, or fancy a bit of a Lost In Translation moment (as in, drinking in a swanky hotel bar in the middle of a metropolis – you probably won't bump into Bill Murray, sorry), head to the new Perception Bar at W Hotel (couldn't be easier to find – it's right next to M&M's World).
The bar team have put their own Leicester Square twist on some classics – so don't be surprised if you're sipping your cocktail out of a 'popcorn box' – while the restaurant team promise to keep diners on their toes by shaking up their menus every few months. Right now until February, Magnus Reid, the chef behind Shoreditch favourite C.R.E.A.M, is at the helm, with a modern taken on Mediterranean-Australian fusion (the Hand Chopped Onglet and Jerusalem Artichoke, and Tagliatelle with Sausage and Fennel Ragu are seriously good).
Visit wlondon.co.uk.
For more information about what's going on in Leicester Square this festive season, visit leicestersquare.london. For Christmas In Leicester Square dates, times and to book show tickets, visit christmasinleicestersquare.com
© Press Association 2017