How to make Marcus Wareing's plum clafoutis
6th Dec 17 | Lifestyle
A quick and simple dessert that's bound to impress.
Michelin-starred chef Marcus Wareing likens clafoutis "to a sweet version of a Yorkshire pudding – but don't tell the French!"
This recipe can be adapted depending on what fruit you have available; cherries, apricots and blackberries also work really well – just make sure that whatever fruit you use, they're very ripe.
Ingredients:
(Serves 4)
50g butter, plus extra for greasing
4tbsp demerara sugar
6 ripe plums, halved and stones removed
150ml double cream
150ml milk
Seeds from 1 vanilla pod
Grated zest of 1 lemon
2 eggs
45g caster sugar
45g plain flour
1 tbsp icing sugar, for dusting
ice cream, to serve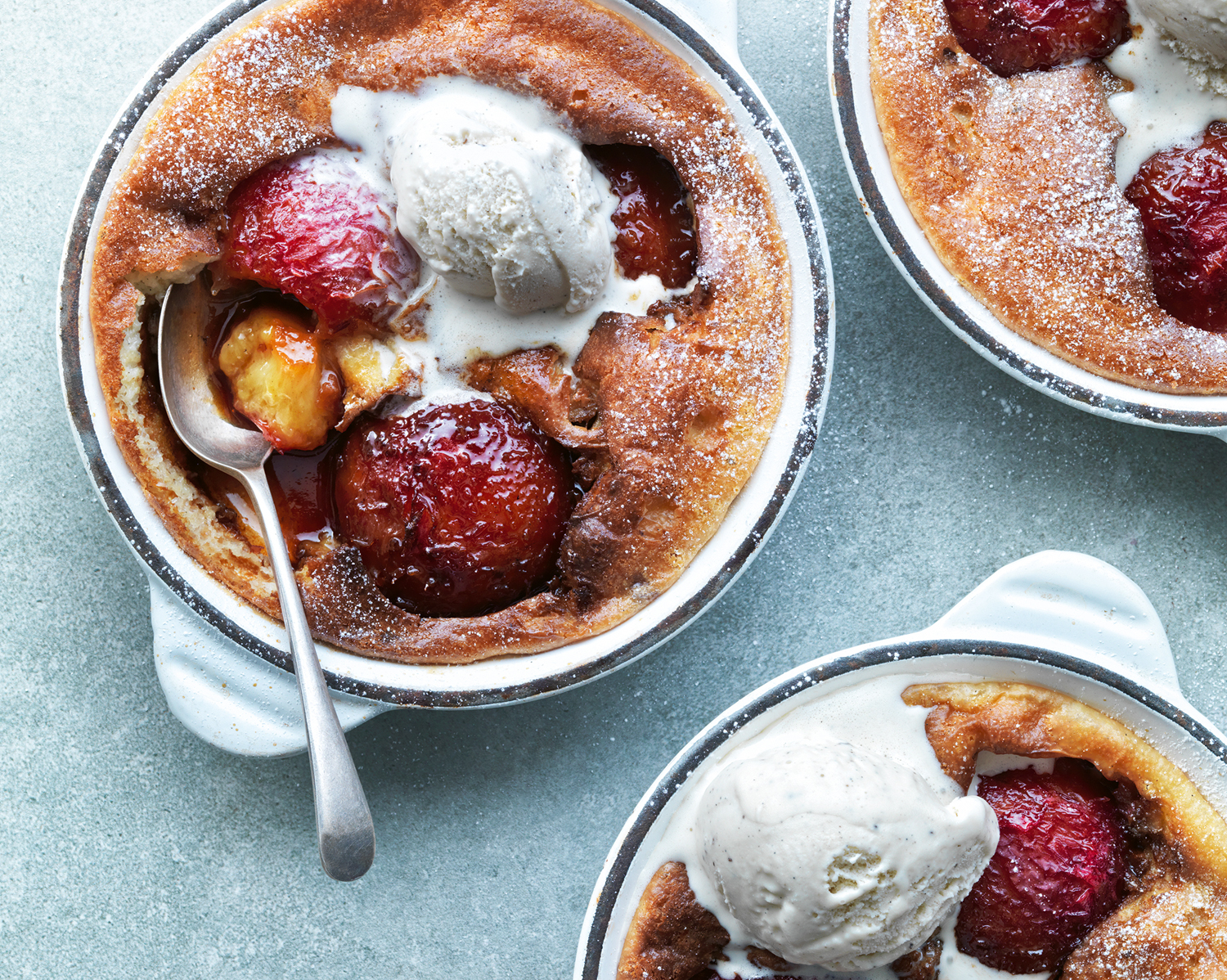 Method:
1. Lightly grease four 12–13cm ovenproof blini pans or ramekins with butter. Preheat the oven to 180°C/160°C fan/gas 4.
2. Put the demerara sugar in a small heavy-based saucepan or frying pan. Place over a medium heat and leave to melt and caramelise to a deep golden colour, swirling the pan occasionally (do not stir) to get even caramelisation – this will take five to eight minutes. Add the butter, whisk well and simmer for one to two minutes until well combined.
3. Pour a quarter of the caramel into each blini pan or ramekin then quickly, while the caramel is still hot, place three plum halves, cut side down, into the caramel.
4. Put the cream, milk, vanilla seeds and lemon zest in a small saucepan and gently bring to the boil. Remove from the heat.
5. In a deep bowl, whisk together the eggs and sugar. Whisk in the flour, then gradually add the hot milk and cream, whisking continuously.
6. Pour the batter over the plums in each pan or ramekin then place in the oven for around 15 minutes, until golden and cooked through. Remove from the oven, dust with icing sugar and serve immediately with your favourite ice cream.
New Classics: Inspiring And Delicious Recipes To Transform Your Home Cooking by Marcus Wareing, photography by Jonathan Gregson, is published by HarperCollins, priced £20. Available now.
© Press Association 2017