Victoria's Secret model reveals what she eats between shows
7th Dec 17 | Lifestyle
They look like ethereal goddesses when they're walking down the catwalk, but what really goes into making an Angel?
A Victoria's Secret model has revealed what she eats when she isn't training for a runway show – and it's not as gruelling as you might think.
Bridget Malcolm, who walked in the lingerie brand's Shanghai fashion show last month, shared a 'what I eat in a day' post to debunk the myth that she follows a restrictive diet all year round.
She wrote: "It has come to my attention that all my day on a plates are for when I have been deep in training mode for certain clients.
"This seems to have perpetuated the myth that I only eat vegetables, protein shakes and gallons of water in a day.
"I need to break this myth; I only exist like this for very short periods of time throughout the year!"
She says starts her day by drinking two litres of water before meditating for 30 minutes. Her breakfast is typically healthy and consists of either oats cooked in almond milk with apple and cinnamon or a vegan protein shake.
To make the plant-based shake, the Aussie model whizzes up one scoop of Vega One plant-based protein blended with almond butter, kale, spinach, berries, flax and hemp seeds.
Every day she makes sure she eats an avocado, and she snacks on tomato cherries if she's feeling peckish.
The 26-year-old Instagram star previously shared her day on a plate during show season, which included 14 hours of fasting and drinking one gallon of water per day.
But when she's not training for a show, Bridget writes that she has a very different routine.
Lunch and dinner consist of either brown rice Japanese sushi, teriyaki tofu or Thai curry with sweet potatoes with fresh vegetables.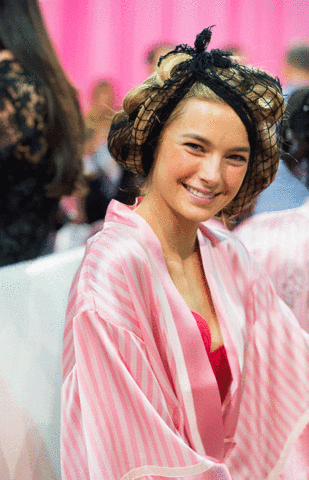 In typical model style, one of her golden rules is to eat a leafy salad with each meal and she says she attempts to eat as organic as possible.
And while she writes that her diet is "varied and delicious", you won't find her heading to McDonald's after a busy day in the gym.
Her treat foods include allowing herself to indulge in tacos – although they are entirely vegan.
If you're feeling intimidated by her virtuous routine, Bridget does admit to having one very human food habit that she's finding hard to kick.
"I am attempting to stick to two coffees a day," she writes. "This is hard. Really hard. I love coffee."
So if you're struggling to make it through the day without glugging down several jumbo coffees as well, it seems Victoria's Secret models might not be so different from the rest of us after all…
© Press Association 2017