How to make Gino D'Acampo's Mamma Alba's meatballs
15th Nov 17 | Lifestyle
This is one family recipe you'll want to adopt as your own.
"The secret of my mother's meatballs is very simple – always use two types of mincemeat for texture and flavour (in this case pork and beef) and keep the tomato sauce simple, so you can appreciate the flavour of the meatballs," explains Gino.
"She also used to bake the meatballs before simmering them in the tomato sauce rather than frying them, as is often the case. Always use fresh breadcrumbs rather than dried or toasted, or the meatballs will be tough and chewy."
He recommends serving these guys with plenty of warm crusty bread to mop up all of the sauce.
Ingredients:
(Serves 4)
Olive oil for greasing
400g minced pork
400g minced beef
150g fresh white breadcrumbs
2 garlic cloves, peeled and crushed
5tbsp chopped fresh flat-leaf parsley
100g freshly grated Grana Padano cheese
2 medium eggs, lightly beaten
Salt and freshly ground black pepper
For the sauce:
2 x 400g tins of chopped tomatoes
690ml jar of passata (sieved tomatoes)
4tbsp extra virgin olive oil
1/2tsp dried chilli flakes
10 fresh basil leaves, plus extra to garnish
Salt to season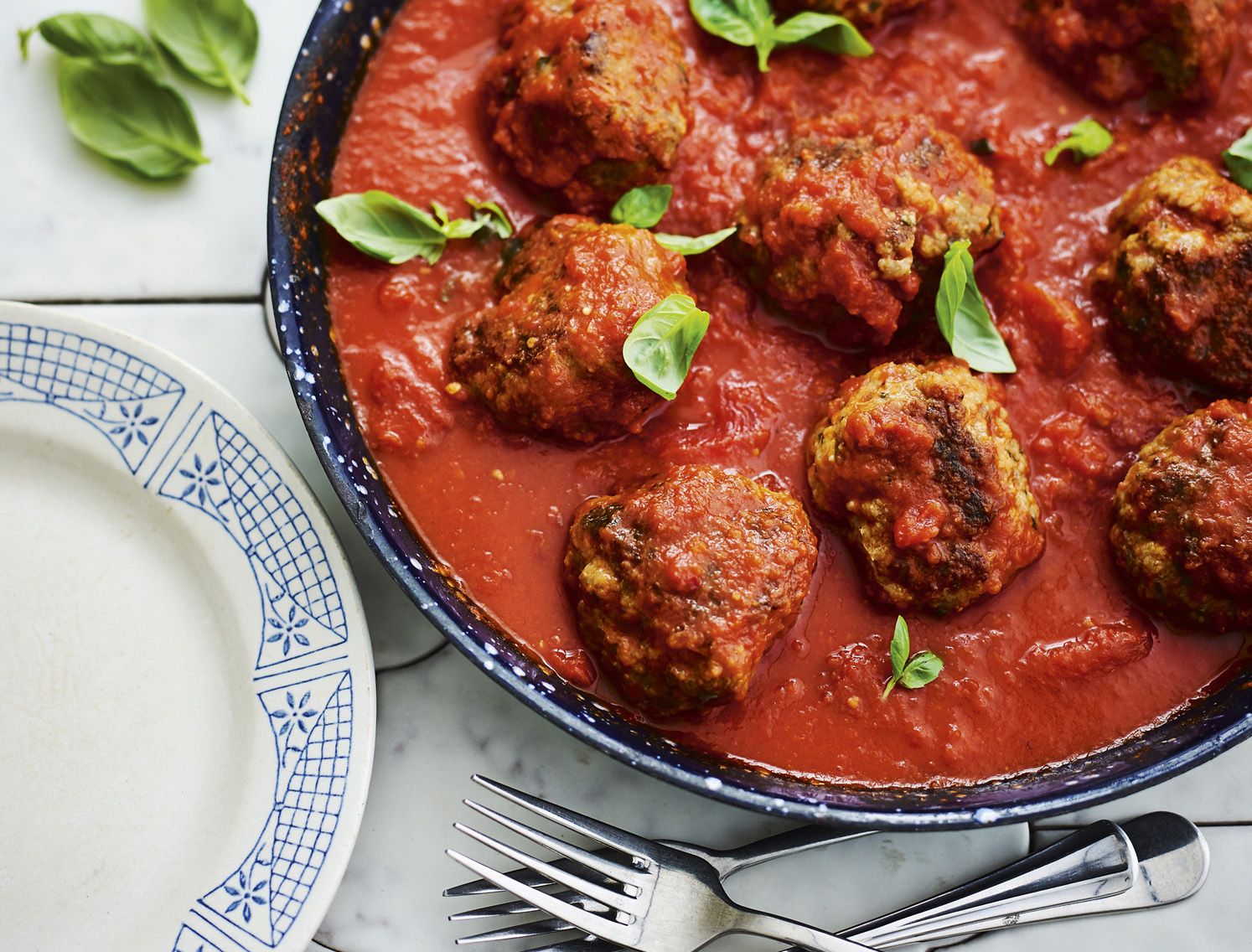 Method:
1. Preheat the oven to 220°C/gas mark 7. Grease a large baking sheet with oil and set aside. Place the pork, beef, breadcrumbs, garlic, parsley, Grana Padano and eggs in a large bowl. Season with salt and pepper. Mix with your hands until everything is thoroughly combined.
2. Using dampened hands, take small amounts of the meat mixture and roll into 12 equal-sized balls. Place the balls on the baking sheet. Bake for 12 minutes.
3. Meanwhile, make the sauce. Put the tomatoes, passata and oil in a large saucepan over a medium heat. Stir in the chilli flakes, basil and some salt. Bring to the boil. Reduce the heat, partially cover the pan and simmer for 10 minutes, stirring occasionally.
4. Carefully place the meatballs in the tomato sauce and partially cover the pan again. Simmer for 30 minutes, turning the meatballs occasionally. If the sauce gets too thick, add a little hot water. To serve, scatter over a few basil leaves.

Gino's Italy Coastal Escape: A taste Of Italy From The Aeolian Islands To Elba, by Gino D'Acampo, is published by Hodder & Stoughton, priced £20. Available now.

© Press Association 2017