Women are making a point about the gender pay gap by putting their OOO on... for the rest of the year
10th Nov 17 | Lifestyle
If you're a working woman, you're effectively working for free for the rest of this year.
If you're a woman currently working in an office, bank, school – in fact anywhere – you may as well shut up shop and go home now. Because if women were to be paid the same pro rata rate as their male equivalents, their work for 2017 would effectively be done and dusted today.
That's why the Fawcett Society, a charity working for gender equality and equal rights, has declared November 10 Equal Pay Day. According to their research, women work an average 51 days a year for free, so theoretically we shouldn't be clocking on again from now until January.
Frustrated by the dire inequality, some women are sticking their 'out of office' on for the rest of the year.
Equal Pay Day 2017 falls on exactly the same date as last year, which means we're making zero progress. Pathetic.
So ladies, why not make a symbolic stand by copying the OOO below for your own email for the rest of the day? Or year, if you're feeling bold enough.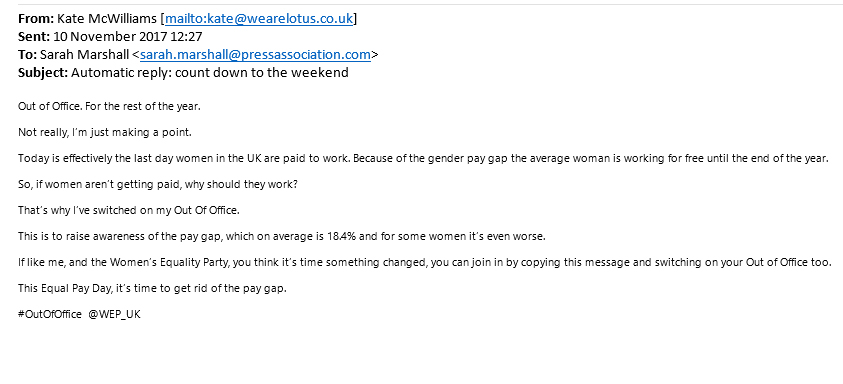 © Press Association 2017