TripAdvisor will identify hotels where sexual assault or other safety concerns have been reported
9th Nov 17 | Lifestyle
Three resorts in Mexico have been issued with the badges warning customers on the TripAdvisor listings pages.
Travel website TripAdvisor has started adding badges to pages warning potential customers that sexual assault or other major safety concerns are alleged to have arisen there.
When an issue relating to a business, like a hotel, is reported by 'credible media sources' or the TripAdvisor traveller community, around health and safety or allegations of discrimination, the badge notification will be displayed on the listing page.
A TripAdvisor spokesman said: "The aim of the badge is to alert travellers to issues they may want to more fully research outside of TripAdvisor."
They added: "We've made the decision to badge several hotels in Mexico, most recently reported on within the press for having issues with tainted alcohol and sexual assault."
The red banners will remain on TripAdvisor for up to three months but if issues persist the company say they may extend the duration of the badge.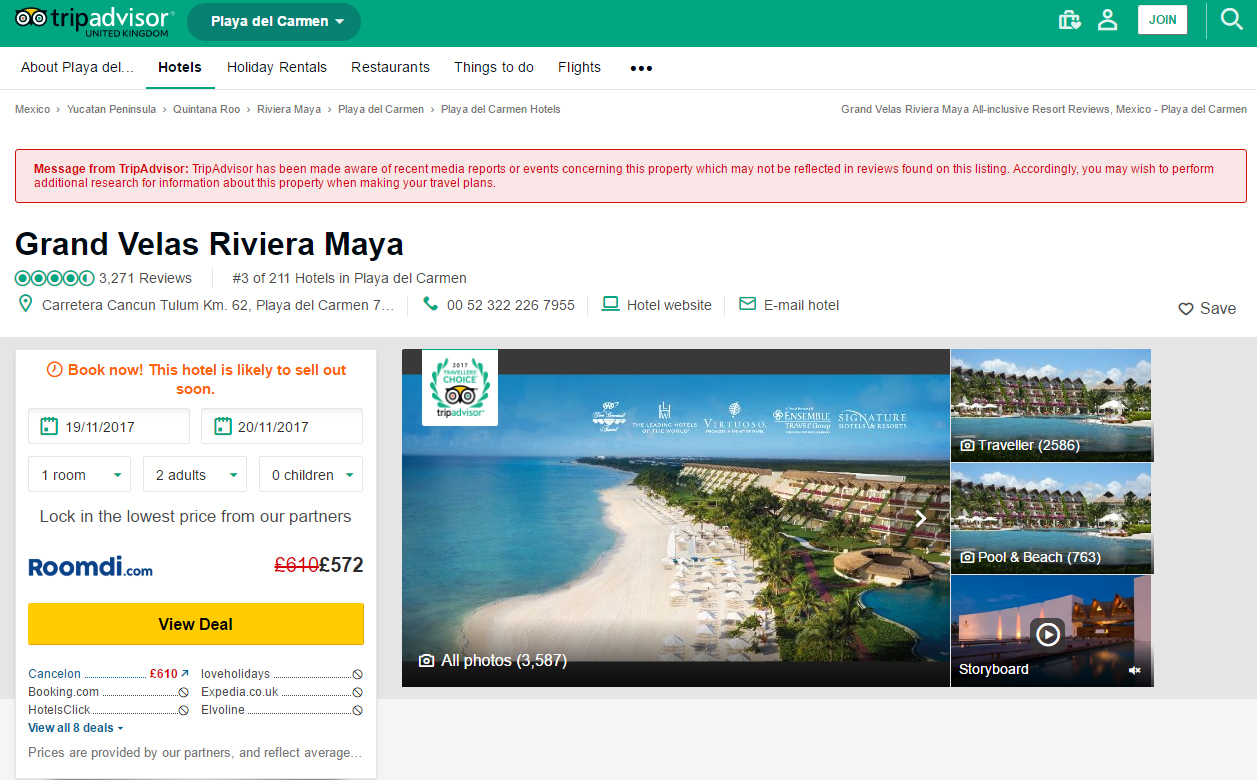 The three resorts in the Playa del Carmen region, Mexico, that have been given badges are the Grand Velas Riviera Maya, the Iberostar Paraiso Maya, and the Iberostar Paraiso Lindo. All of them have a four and a half star average by customers on TripAdvisor.
The TripAdvisor spokesman added: "We will issue the badge any time we believe there is a current health, safety or discrimination issue relevant to travellers as reported on by either our traveller community or by news media."
Adding: "These badges are intended to be informative, not punitive."
It comes after several people told the Milwaukee Journal Sentinel they were sexually assaulted at Mexican hotels and resorts, including a woman who said she was raped by a security guard. When she mentioned this in an online review on TripAdvisor in 2010, the post was deleted, as were the posts by other people who'd posted about their experiences.
The company have said the reviews were taken down at the time because they were found to be in violation of their "family friendly" policies that required language in reviews to essentially be G-rated, but that those policies were relaxed a few years ago to allow reviews that included first-hand accounts of crimes.
The company said in a statement last week: "We believe any first-hand experience should be posted to our site as a means to communicate to other consumers looking for information on where they should travel. We are horrified that this victim experienced this assault on her vacation in Mexico, and other travelers should be aware of this incident."
The woman's review was reposted last month and another review was reposted after it was rewritten to meet guidelines.
© Press Association 2017