Is Poundland the new Primark? We put the budget retailer's party fashion range to the test
11th Dec 18 | Fashion
The collection starts from as little as £6.
You might think of Poundland as somewhere that you dash into to grab some dishwasher tablets or a bottle of shampoo, but the chain is hoping to become known for more than just household essentials with its own-brand clothing line.
The Pep & Co party season fashion collection is available now, and in pictures the burgundy co-ord sets, plisse jumpsuits and strappy tops look stylish and on-trend. But do they measure up in reality?
We decided to try out a selection of items to assess the quality, fit and fabric.
It should be pointed out that these clothes do not, in fact, cost £1 each, but at around £6 for a top and £10 for a dress the prices are similar to high street favourite, Primark.
So can Poundland – which has 800 stores – really give the affordable fashion giant a run for its money?
Here's what we thought when the tried out the Pep & Co party wear range…
Sam tried: Black Velour Top, £6; Velour Trousers, £7
"This is a brilliant buy! The matching leggings and short sleeved round neck tee not only look good but feel good too.
"With a shimmery, velvety feel, the fabric may be 90% polyester, but feels great close to the skin. Size 12 is not skimpy, it's true to size and there's good length to the leggings (I'm five foot four). The waistband fits snugly and comfortably and the tee hangs well with a small vent on each side of the hem.
"Teamed with a fitted jacket, Butler & Wilson jet necklace and spiky heeled boots who's to know this isn't Zara?! Honestly, I'm totally sold on Poundland – now I just need to find my nearest branch!"
Jenny tried: Black Chevron Trousers, £10; Glittery Trousers, £8
"I'm a regular in Primark, especially for party season, so I was intrigued to try Poundland's new range. The prices were – while reasonable – a surprise as I (and friends) expected them to be closer to £1.
"But fast fashion aside, the sizes were very generous: I fitted a 12 and 14 in two different trousers, and often normally grab a 16. Elasticated waists helped.
"The black trousers were very flattering and soft to wear. I'd pop these on if I was going to see friends for dinner with a sparkly top. They went nicely with a block heel boot."
"The leggings were very comfy, long enough (I'm five foot six), and high-waisted, which would make these a winner with a lot of women. I paired them with a jumper dress but they'd be just at home with a black top and statement necklace.
"I would buy from Poundland if I was in a rush, on a whim or if the 'do had a sparkly theme, but I think deep down I'll always prefer the wider range at a store like Primark or New Look."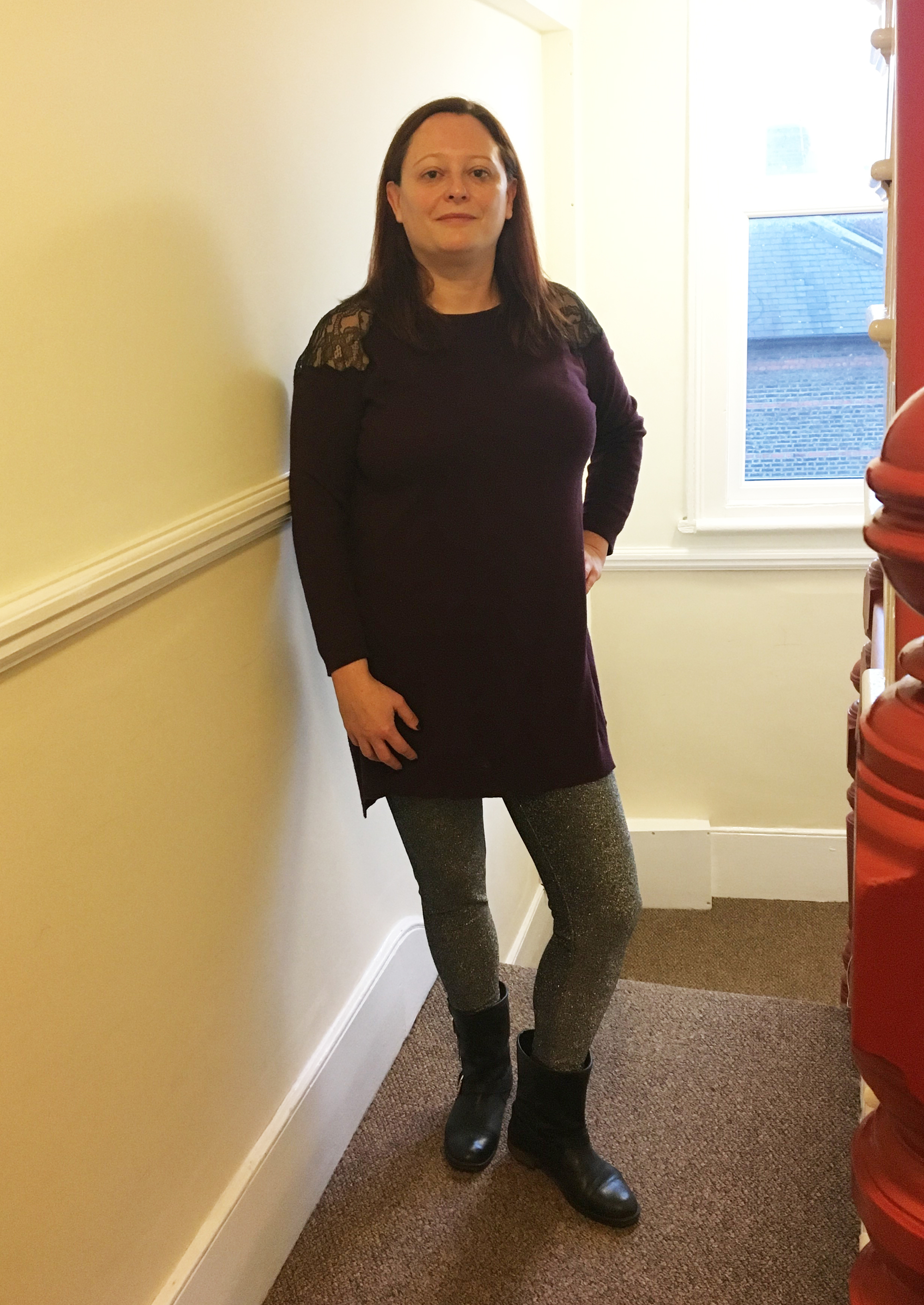 Katie tried: Glitter Dress, £10
"I got so many compliments when I wore this dress to a festive lunch and there were gasps of disbelief when I revealed where it was from.
"The seriously sparkly material meant the sleeveless A-line dress didn't need much embellishment so I styled it with a vintage belt and simple strappy heels.
"The fabric had a nice weight and swish to it, and though it was a little bit itchy around the collar and a bit of the glitter came off, that's to be expected with anything this sparkly – for a tenner this is a major party season bargain."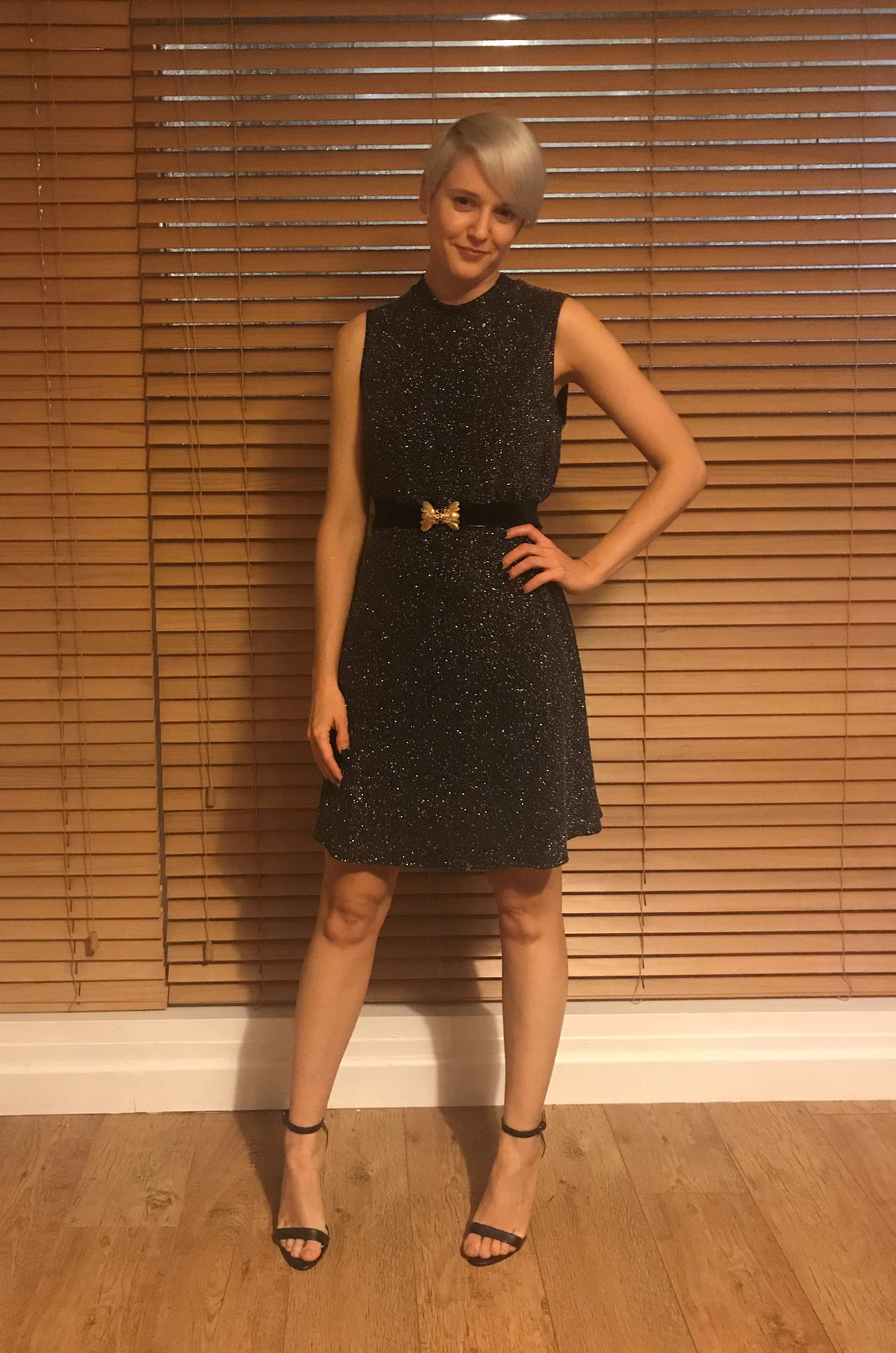 Liz tried: Black Top, £8; Burgundy Chevron Trousers, £10
"I love this outfit and am really pleasantly surprised at both the quality and fit. The trousers are made from a soft crepe material that doesn't feel stiff or uncomfortable to wear and the T-shirt is oversized in a really flattering way.
"The sizes come up quite generous so if you're not sure, I'd recommend sizing down. I would totally wear this to more parties and events over the Christmas season though – I don't think you'd guess it was Poundland at all!"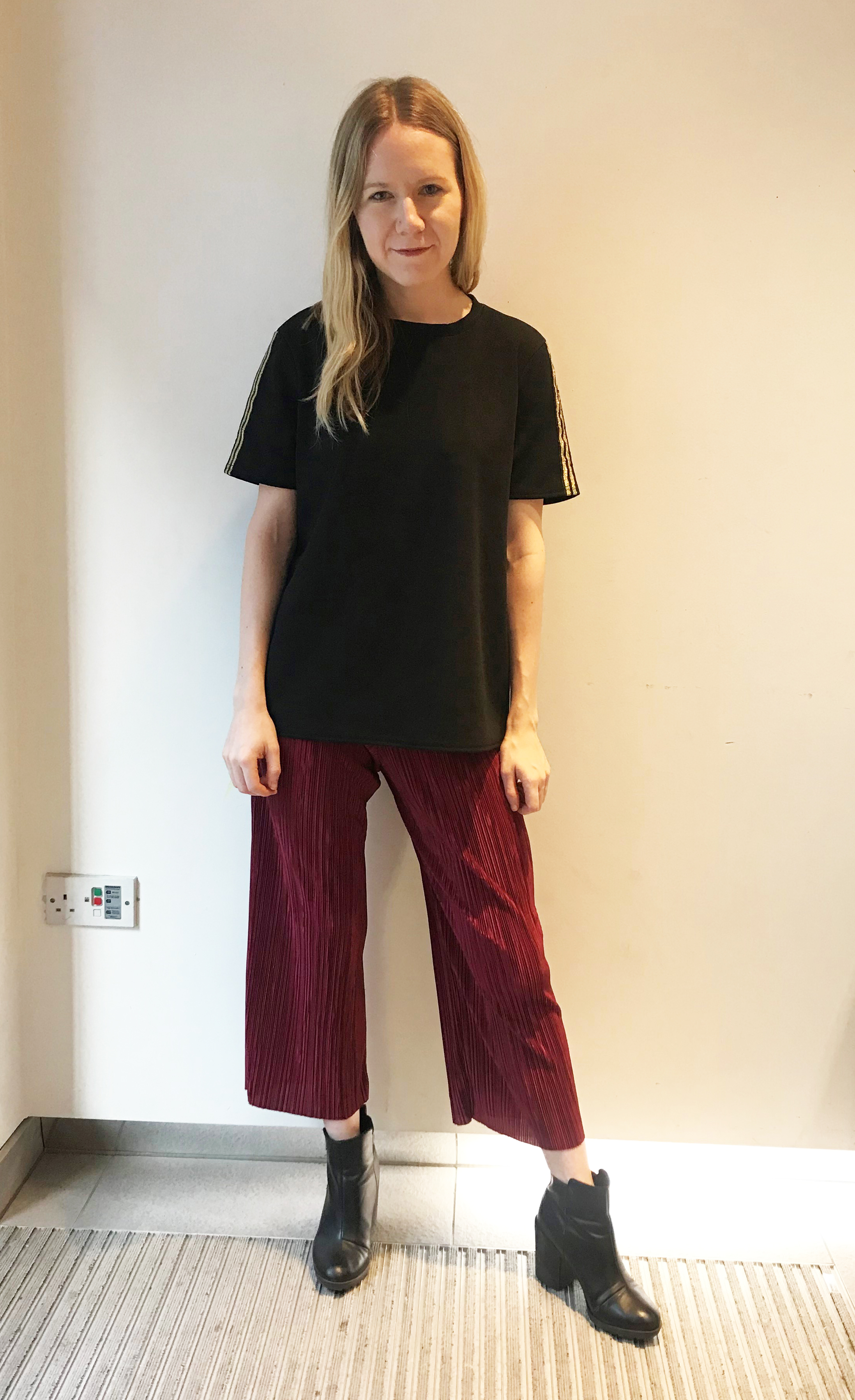 Abi tried: Chain V-Neck Cami, £8
"It just so happened that I had a Joan Collins/Eighties glam themed party to attend this weekend – ideal testing ground for this sparkly metallic vest top.
"The straps aren't adjustable (cue potential for less-than-ideal bra flashing) but thankfully the fit was pretty good.
"It's slightly loose-fitting and the fabric is fairly sturdy – so it really doesn't scream 'Poundland'. In fact, as soon as I took my coat off, compliments started rolling in and a few people asked where it was from.
"My only minor negative is that the seams are a little scratchy. But then again, that's probably to be expected with anything this spangly."
The verdict
It's fair to say that even the Primark fans among us were sceptical about Poundland's fashion range, but we were all proven wrong by the stylish selection.
The garments fit well and, bar a couple of scratchy sparkly fabrics, the clothes were comfortable and felt like good quality.
Most of us didn't go head-to-toe Pep & Co, but when styled with items from our own wardrobes the range really shone, and we got lots of compliments on our outfits.
Plus, the prices were incredible. We all agreed we'd happily wear Poundland clothing again. Primark had better watch its back…
The Pep & Co party season fashion range is in store now. To find your nearest branch visit the Poundland website.
© Press Association 2018