Meghan starts royal trip in dress by Aussie designer: What other Antipodean brands might she wear?
16th Oct 18 | Fashion
The Duchess of Sussex opted for a sleek white dress on her first day in Sydney.
The Meghan effect is alive and well – Australian designer Karen Gee's website crashed after the Duchess of Sussex wore one of the brand's white dresses on the first day of her royal tour abroad.
Considering Meghan has just announced she's pregnant with her first child, it seems particularly fitting the outfit she chose is called the 'Blessed Dress'.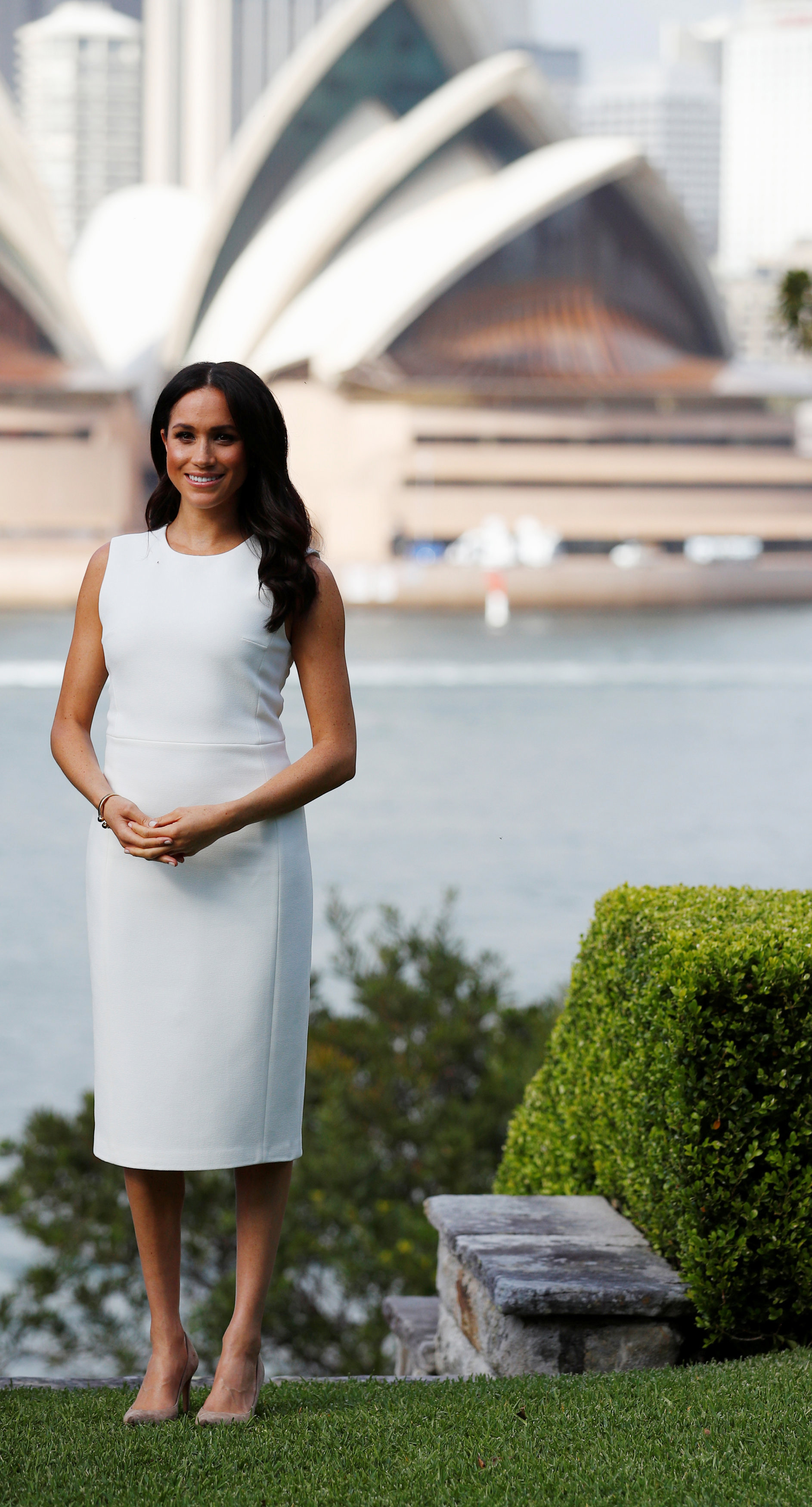 The royal couple has begun their tour in Sydney, and are embarking on a 16-day journey around Australia, Fiji, Tonga and New Zealand.
The Duchess paid tribute to Australia by picking a native designer, and Gee is a good choice to cater for her growing bump as the brand's ethos is all about body positivity and catering to all shapes and sizes.
Luckily, the website is back up and running and you can buy the dress yourself – if you've got A$1,800 (£1,365) to spare.
Chances are Meghan will be wearing various designers from the countries she's visiting during our trip, so here are our predictions of who she might pick…
Zimmermann
Founded by sisters Nicky and Simone in Sydney in 1991, Zimmermann has since gone global – the brand shows at New York Fashion Week.
Well-known for its swimwear, we're more likely to see the Duchess in one of Zimmermann's instantly recognisable dresses. The floaty, floral designs are perfect for the warmer weather in Aus, and would ensure Meghan and her growing bump are as comfortable as possible.
If Meghan did opt for Zimmermann she'd be in good company – Leighton Meester, Katie Holmes and Beyonce are all fans.
Ellery
Sleek, structured sophistication is the vibe at Ellery, who would be a great pick for an evening event. The label is the work of Kym Ellery, who launched it in Sydney in 2007 and has been worn by the likes of Cate Blanchett and Rihanna.
We can definitely see Meghan wearing one of the brand's pastel gowns, or even one of the structured suits – the Duchess is known to be a fan of block colouring and tailoring.
Ellery is quite an avant-garde label, so would be something of a bold choice for Meghan, but it wouldn't be the first time she's taken a sartorial risk.
Sarah & Sebastian Jewellery
Sarah & Sebastian is the work of Sarah Gittoes and Robert Sebastian Grynkofki, and it has gained cult status since being founded in 2011.
Meghan is definitely a jewellery fan – at Princess Eugenie's wedding she wore multiple rings and a bracelet from Pippa Small. Sarah & Sebastian would be the perfect Australian choice, as it fits Meghan's usual aesthetic: Delicate jewellery that can be easily stacked and played around with.
Yu Mei
Whether it's a Givenchy crossbody or a Mulberry tote, Meghan tends to pick some well-loved big name labels when it comes to what she carries, so which New Zealand designer might she pick on her visit?
Our money's on Yu Mei – a Wellington-based leather goods brand that offers classic luxury, a good fit for Meghan.