Do you know how much plastic is actually in your clothes?
17th Sep 18 | Fashion
Awareness of microfibres is growing among the fashion crowd.
Many of us are so conscious of our plastic consumption that we've made the switch to aluminium water bottles and have given up drinking through plastic straws.
So much more coverage is being given to plastic pollution, and rightfully so – it's a huge environmental problem. But while most of us know about single-use water bottles, what about all the other places where plastic lurks?
Take our clothes, many of which are full of microfibres.
As London Fashion Week kicks off, lots of us are thinking about the impact the industry is having on both the environment and our health. Awareness of microfibres will no doubt grow as fashion becomes more conscious – so here's what you need to know about them.
What are microfibres?
According to Friends of the Earth, almost a quarter of clothes produced in Europe are made of plastic. This includes fabrics like polyester, nylon, acrylic and polyamide.
This is where microfibres come in. These are the teeny tiny strands of plastic that are shed when clothes made of these materials are being washed. According to Greenpeace, one piece of clothing can release 700,000 fibres in just one wash.
"Washing machines and wastewater treatment plants aren't designed to trap the minute plastic fibres that our clothes shed," Friends of the Earth says. "Many of these fibres sneak into our waterways and ultimately the oceans."
What impact do they have on the environment?
To put it simply – plastic in our oceans is bad news. Microfibres are so small that they can be ingested by tiny sea creatures, and the pollutants in these plastics can be absorbed into the animals' bodies.
How can it affect us?
It's not just marine life that will be harmed by our plastic problem, but it could come back to bite us in the rear end as well.
The food chain means that the microfibres ingested by the smallest of sea creatures can travel up to bigger animals, and have the potential to make their way into the food we eat.
Friends of the Earth puts it this way: "If you don't like the idea of eating your own clothes, we need to find alternatives to using plastic."
How does this link to London Fashion Week?
It feels like the fashion industry is having a moment of reckoning and designers are thinking more about how their clothes impact the environment. This London Fashion Week is the first to completely ban fur, which is a huge win for animal rights activists.
It makes us think – where next for the industry? The next battle for campaigners like Friends of the Earth seems to be microfibres, and on the first major day of LFW they've launched a petition calling for retailers to take plastic out of clothes.
Even though it would be nearly impossible to completely remove plastic from fashion, organisations like Friends of the Earth and Greenpeace want to raise awareness and convince manufacturers to reduce their usage.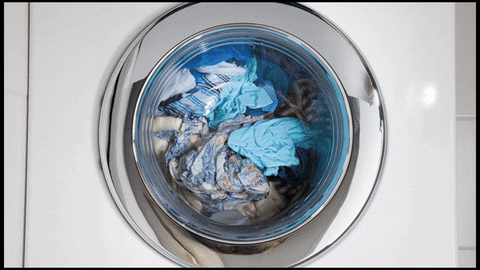 © Press Association 2018